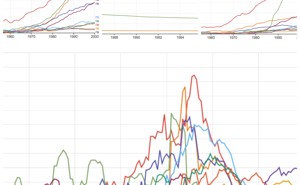 Google's Ngram Viewer Goes Wild
With the addition of wildcard search-term capabilities, Google's fabulous language-analysis tool gets even more powerful.
Bigger, Better Google Ngrams: Brace Yourself for the Power of Grammar
An update to Google's Ngram Viewer gives us a much deeper portrait of how English is changing, but still has some weaknesses.
The Rise of the Zuckerverb: The New Language of Facebook
This is what happens when language is optimized for social data-mining rather than natural communication
The Corpus in the Court: 'Like Lexis on Steroids'
Say goodbye to the dictionary definition. Courts, long dependent on the vagaries of language, have new quantitative tools they can use to precisely pin down how words are used.
Is It Time to Welcome Our New Computer Overlords?
Is Watson, despite its limitations, a precursor to a HAL-esque machine that can mimic natural language, if not reproduce it?