Keep Your 'Frenemies' Closer
A newcomer used the term in a presidential debate for the first time ever—and it turned out to be the most apt descriptor of the night.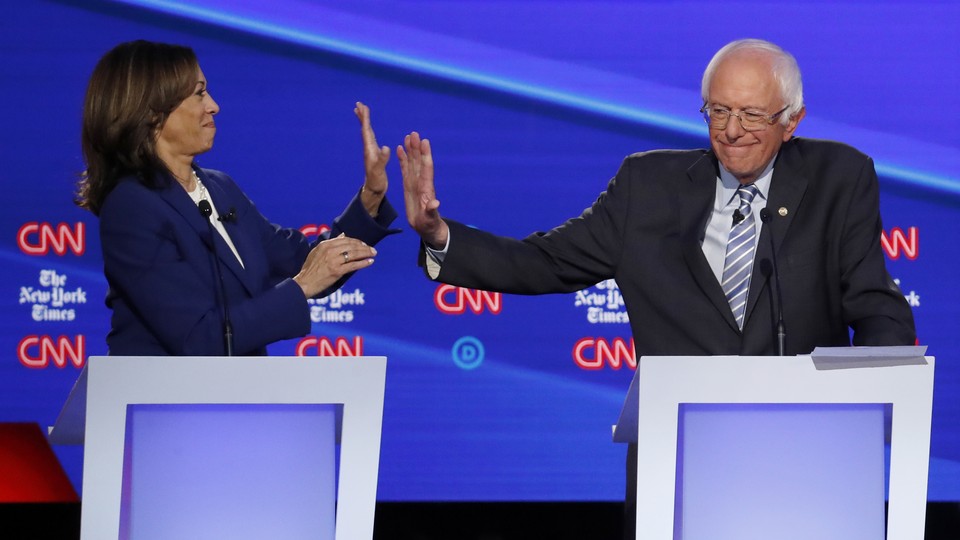 At last night's Democratic presidential debate, the candidate who spoke the least was the one newcomer: the billionaire businessman Tom Steyer, who had managed to pass the polling and fundraising thresholds to qualify for his debate-stage debut. His total speaking time in the three-hour debate, according to The Washington Post, was a shade over seven minutes, less than a third of the time spent by the most talkative candidate, Elizabeth Warren. FiveThirtyEight calculated that Steyer spoke a total of only 1,318 words (compared with 3,695 for Warren).
But one of Steyer's words was particularly notable. Addressing the climate crisis, he stressed the need for international cooperation, saying, "I've been working on it for 10 years, taking on the corporations. But we have to work with our allies and our frenemies around the world."
As soon as he uttered the word frenemies, Twitter lit up. Numerous observers—among them Evan McMurry of ABC News, Ryan Teague Beckwith of Bloomberg News, Nick Baumann of HuffPost, Lisa Guerrero of Inside Edition, and Jon Levine of the New York Post—wondered aloud if this was the first time that frenemies had ever been used in a presidential debate. I can answer: Most definitely.
And while some argued over whether "frenemies" was a good way to describe the relationship between the United States and other countries that are difficult to work with, others saw the word as particularly apt on a night when the Democratic candidates appeared to be at turns both cordial and combative toward one another. After a tense exchange between Beto O'Rourke and Pete Buttigieg on gun control, the comedy editor Ryan Case tweeted, "Are Beto and Mayor Pete frenemies?"
While Steyer may take credit for introducing frenemies to the debate stage, the term has proved useful for decades in labeling relationships—both personal and political—that straddle the divide between "friend" and "enemy." As a blend of two opposing words forming a catchy oxymoron, frenemy (sometimes spelled "frienemy") has been reinvented by wordsmiths countless times over the years.
One early isolated example found in a trawl of newspaper databases is from a December 1891 issue of The Champion of Norton, Kansas, which tells cryptically of a local politician, "Hon. George A. Spaulding, the Machiavelian diplomatist of Philipsburg," who was pursuing a legal matter "not in the hands of his frienemies himself." Perhaps well-informed Kansans of the time would have been able to infer exactly whom Spaulding's "frienemies" were, but the item is unfortunately opaque to modern readers.
The word popped up again in 1932, used by the popular writer Walter Winchell in his slangy syndicated gossip column, "On Broadway," which appeared in The Morning Post of Camden, New Jersey. "Ted Stillman has at last discovered the best way to refer to a Broadway 'pal.' Call him a frienemy." No doubt the Broadway world of the time was full of faux friendships masking professional rivalries and hostilities, and Winchell's witty correspondent provided just the right label.
An Iowa-based columnist, Harlan Miller, reintroduced the word in the December 1938 issue of Better Homes and Gardens, attributing it to his young son. "For use in his endless war games with spears and bows and arrows, our 5-year-old has coined one of the most useful new words of the year 1938—'frenemy,' a person who is your friend part of the time and your enemy the rest of the time."
Miller found the word so useful that a few months later he put it in his syndicated Green Bay Press-Gazette column—again crediting his son, but now relating it to fractious European allies on the verge of war. "If you listen to the chatter in diplomatic circles, you're apt to conclude that the alliances and axis in Europe aren't worth the paper clips that hold 'em together," Miller wrote. "In fact, my 5-year-old has coined the word, 'frenemy' which describes these allies perfectly. A frenemy is someone who's your friend today, but may be your enemy tomorrow."
The idea of applying frenemy to contentious geopolitical relations—similar to Steyer's debate usage—reemerged in April 1953. It was Winchell again, straying from his usual celebrity gossip to make an observation about the leadership of the Soviet Union, then undergoing a power struggle after the death of Joseph Stalin. Winchell asked in his column, "Howz about calling the Russians our frienemies?"
American writers weren't the only ones using the word frenemy. Jessica Mitford, an English journalist and activist who escaped the aristocratic life of her famous sisters to settle in the U.S., wrote in 1977 that frenemy was "an incredibly useful word that should be in every dictionary, coined by one of my sisters when she was a small child to describe a rather dull little girl who lived near us." In an essay titled "The Best of Frenemies" that appeared in both the Daily Mail and The New York Times, Mitford mused, "I wonder whether most of us do not, in fact, spend more time with frenemies than with actual friends or outright enemies?"
It would take another couple of decades, however, before frenemy became more firmly established in the cultural consciousness. In the 1998 hit song "You Get What You Give," by the Los Angeles–based band New Radicals, the front man Gregg Alexander sang of "frenemies, who when you're down ain't your friend." The rap group Arsonists titled a track "Frienemies" the following year. But it made a bigger splash in 2000, when the HBO show Sex and the City aired an episode called "Frenemies."
Throughout the aughts, frenemies grew into the go-to term for celebrity pals who clashed in the public eye (think Lauren Conrad and Heidi Montag from The Hills). From pop culture, the term made its way back to politics. After Barack Obama was elected president in 2008, it soon came out that he was considering appointing his erstwhile rival from the primaries, Hillary Clinton, to be his secretary of state. In The New York Times, Maureen Dowd wrote about the news in a column titled "Team of Frenemies," playing off Doris Kearns Goodwin's book about Abraham Lincoln's Cabinet, Team of Rivals.
Talk of frenemies even penetrated the White House briefing room. Josh Earnest, the last of Obama's press secretaries, was confronted with the word in two different press briefings in 2015. In April of that year, one reporter asked, "Are the Russians friends? Are they foes? Are they frenemies?" And a few months later, Earnest fielded the question, "How would you describe the U.S.-Pakistani relationship now? Are we frenemies?" Earnest chuckled and asked, "Is that a technical term?"
Meanwhile, old political rivalries have retrospectively received the "frenemy" treatment. When the working relationship between Ronald Reagan and Tip O'Neill was hailed as a model of bipartisan cooperation by both Obama and Mitt Romney in a 2012 debate, O'Neill's son Thomas P. O'Neill III looked back on that history in an opinion piece for The New York Times titled "Frenemies: A Love Story." And going back even further, the feuds that Alexander Hamilton had with Aaron Burr, Thomas Jefferson, and James Madison (as dramatized in Lin-Manuel Miranda's musical Hamilton) have even elicited the "frenemy" tag. Starting this weekend, the Virginia Museum of History & Culture is launching an exhibit called "Founding Frenemies: Hamilton and the Virginians."
By now, frenemy is sufficiently entrenched in the lexicon to be included in major dictionaries from Merriam-Webster, Oxford, and American Heritage. And in politics, it's commonplace enough that The Washington Post can easily call Elizabeth Warren and Joe Biden "longtime frenemies" in a headline. So perhaps the more appropriate question about Steyer's invocation of the term would be: How did it take so long for frenemies to show up in a debate?