The Atlantic Devotes Its December Issue to a Special Report: "How to Stop a Civil War"
Essays consider how America is coming apart—and prospects for rebuilding a more civil, functional, and unified society.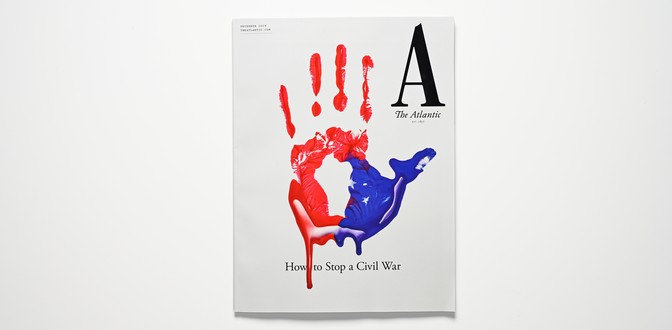 "We don't believe that the conditions in the United States today resemble those of 1850s America. But we worry that the ties that bind us are fraying at alarming speed—we are becoming contemptuous of each other in ways that are both dire and possibly irreversible," writes editor in chief Jeffrey Goldberg in an introduction to The Atlantic's December issue, "How to Stop a Civil War." The American experiment as we know it is not guaranteed to be eternal. This observation orients every article and essay in this singular edition, with today's best writers confronting questions of American unity and fracture, and working to explain this particular dispiriting moment. As Goldberg writes: "Our immodest hope is that this special issue, appearing on newsstands exactly 162 years after our first issue, will provide at least a partial road map for a country stuck in a cul-de-sac of its own making."
The design of The Atlantic has been remade in striking, and gorgeous, detail beginning with this issue. The Atlantic's new visual identity is reflected at TheAtlantic.com and with a new iOS app out today that offers a unique way to experience The Atlantic's journalism. Among thousands of design changes, the most radical is on the cover: The Atlantic flag that's topped the magazine for a century and a half has been replaced with a simple and declarative A.
Essays and arguments that make up the December cover package are divided into three discrete sections: "On the Forces That Pull Us Apart"; "Appeals to Our Better Nature"; and "Reconciliation & Its Alternatives." Among those writing are The Atlantic's Adam Serwer, Yoni Appelbaum, Megan Garber, Caitlin Flanagan, Andrew Ferguson, Sophie Gilbert, and David Frum, along with contributions by Tom Junod, on what Mister Rogers would do in this moment; Tara Westover, examining the urban/rural divide in the context of our national fracturing; Retired General James Mattis, on the democratic principles that citizens must embrace; Danielle Allen, on how more robust citizen participation will enhance social cohesion; and Lin-Manuel Miranda, on art's power to reflect the world.
Please find below details about these articles and others that make up our December issue. Additional stories from this package can also be found online.
---
Yoni Applebaum's "How America Ends" dissects the exceptional challenges America faces as a unitary construct. Applebaum notes that no rich, stable democracy has made the demographic transition we are now experiencing. As America's historically dominant group is on its way to becoming a political minority, a sharp political backlash has already begun, exploited and exacerbated by the president. Appelbaum writes: "Numerous examples from American history—most notably the antebellum South—offer a cautionary tale about how quickly a robust democracy can weaken when a large section of the population becomes convinced that it cannot continue to win elections, and also that it cannot afford to lose them."
Megan Garber's "No Apologies" examines why powerful people can't quite bring themselves to say "I'm sorry" even when acknowledging wrongdoing. "In some ways it's understandable, this widespread apology aversion," Garber writes. "The America of the current moment is heated and hasty, and an apology can be easily weaponized." She points to the stark contrasts between Al Franken's resignation and Donald Trump's election after both were accused of sexual misconduct. "I'm sorry, said sincerely, is supposed to be the first step toward forgiveness. But forgiveness is difficult to discuss when justice is so unevenly distributed—when there's no meaningful consensus about who deserves redemption, or under what conditions."
Adam Serwer's "Against Reconciliation" argues that the gravest danger to American democracy isn't an excess of vitriol—it's the false compromise of civility. Serwer likens the current state of American politics to the Reconstruction era, "when the comforts of comity were privileged over the work of building a multiracial democracy." He argues that the illusion of peace and civility is often purchased at the expense of true progress. "The danger of our own political moment is not that Americans will again descend into a bloody conflagration. It is that the fundamental rights of marginalized people will again become bargaining chips political leaders trade for an empty reconciliation."
Andrew Ferguson's "Can This Marriage Be Saved?" considers whether the techniques of couples counseling might help save our polarized electorate from the same feelings of mutual contempt that spell doom for a marriage. Ferguson attends a workshop put on by the grassroots citizens' group Better Angels, and finds that teaching people to listen better to those with different political views is helpful for those who want to understand one another. However, he notes, even techniques and classes that are effective at reducing rancor are limited to a self-selecting group, since "the world—for better or worse—isn't a workshop."
Caitlin Flanagan's "The Things We Can't Face" makes the case that the abortion debate will never be won by either side. Flanagan describes how Lysol was once commonly used—even prescribed by doctors—as an agent for at-home abortions, a sign of great desperation and an indicator that women will continue to get abortions whether or not they are legal. "When we made abortion legal, we decided we weren't going to let that happen anymore," she writes. "We were not going to let one more woman arrive at the hospital with her organs rotting inside of her."  She notes, "the argument for abortion, if made honestly, requires many words: It must evoke the recent past, the dire consequences to women of making a very simple medical procedure illegal. The argument against it doesn't take even a single world." Her call to humility is powerful and essential.
Also publishing today: "Why It Feels Like Everything Is Going Haywire," a look at social media's impact on democracy from Jonathan Haidt and Tobias Rose-Stockwell; "The Road From Serfdom," Danielle Allen's argument for enhancing participation among the electorate; and "The Enemy Within," a piece from former Secretary of Defense James Mattis on teaching future generations the principles of democracy.
Other features from the issue—including Jeffrey Goldberg's conversation with Tara Westover about the roots of the urban/rural divide, and Lin-Manuel Miranda's essay on how art can bring America together—are now available at The Atlantic. Find the December issue on newsstands beginning next week.
###
Media Contact
Helen Tobin, The Atlantic
press@theatlantic.com