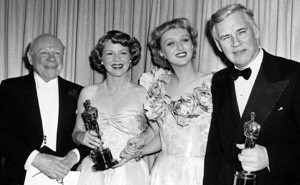 Oscar Night in Hollywood
"Not only is the motion picture an art, but it is the one entirely new art that has been evolved on this planet for hundreds of years. It is the only art at which we of this generation have any possible chance to greatly excel."
Writers in Hollywood
To the writing of his detective stories RAYMOND CHANDLER brings the experience and the skepticism of a newspaper reporter, the narrative gifts of a born storyteller, and a mastery of pungent American dialogue. His leading character, Philip Marlowe, is a professional detective who has held the spotlight thus far in four novels, all of which have been purchased by the movies. One of them, The Big Sleep, in which Lauren Bacall plays the lead, is soon to be released. In his screenplays as in his books, Mr. Chandler has scored a personal success, but he has done so without losing sight of the difficulties encountered by the creative writer in the studios. For this is the anomaly: the producers pay their authors large fees apparently for the purpose of disregarding their advice and their text.