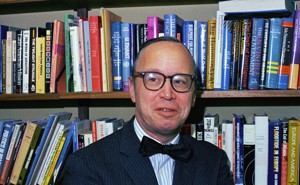 Letters From Camelot's Historian
Arthur Schlesinger Jr. remembers what Jackie Kennedy thought of Hillary Clinton, upbraids John Boehner for misquoting Lincoln, and denies JFK's philandering.
A Man From Mars
Fifty years ago John Gunther, a brilliant foreign correspondent, published a famous book about "the greatest, craziest, most dangerous ... most powerful and magnificent nation ever known."
The Supreme Partnership
"Would the two men ever have been passionate friends had they not been President and Prime Minister in the time of Hitler?
Is the Vice Presidency Necessary?
No, argues historian Schlesinger. It is like the human appendix, a vestigial organ on the body politic. John Nance Garner called the office a lot of things, some of them not as polite as "a spare tire on the automobile of government."
The Runaway Presidency
As a steady stream of disturbing revelations surfaced in the Watergate investigation, Arthur M. Schlesinger Jr.—a Pulitzer Prize-winning historian and a former adviser to President Kennedy—argued that under Richard Nixon's insidious influence, the power of the presidency had spiraled out of control.
Twenty Letters to a Father
"This book is not the work of a sensationalist or a traitor. It is wrung from an agonized conscience and a sickened heart."
On the Writing of Contemporary History
The country has widely discussed the so-called "management of news." The controversy over William Manchester's Death of a President, together with lesser contretemps over earlier books, about President Kennedy and his Administration, suggests a companion subject: the management of history. When do contemporary affairs become history? What are the responsibilities and obligations of those who propose to write that history and of those who help to make it? One man's view is conveyed in this elaboration of an address to the American Historical Association. Mr. Schlesinger writes both as a historian (The Age of Jackson, The Age of Roosevelt) and as a participant in many of the events recorded in his widely read A Thousand Days, a chronicle of John Kennedy's presidency.
Mark Twain, or the Ambiguities
"When we remember that we are all mad," Mark Twain wrote in his notebooks, "the mysteries disappear, and life stands explained."