The Atlantic Wins Top Honor of General Excellence for Second Straight Year at 2023 National Magazine Awards
Caitlin Dickerson, George Packer, Jennifer Senior, Clint Smith, and Graeme Wood nominated for reporting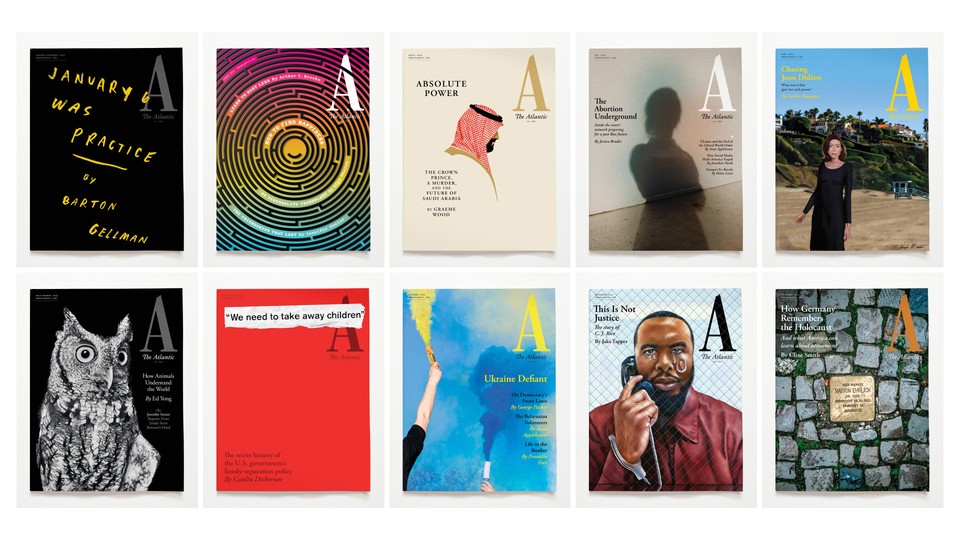 The Atlantic for the second straight year was awarded the top honor of General Excellence for a News, Sports, and Entertainment publication at the 2023 National Magazine Awards, the most prestigious category in the annual honors from the American Society of Magazine Editors.

Editor in chief Jeffrey Goldberg said: "It's quite unusual for a magazine to win the top National Magazine Award two years in a row, but the judges saw what our readers already know: that the team making The Atlantic regularly produces the most ambitious, challenging, and beautifully written stories in the country."

In 2022, The Atlantic helped its readers make sense of the world's most complicated issues and shined a light on injustices the world over. It was a finalist in a number of the most competitive categories for reporting and features by staff writers Caitlin Dickerson, George Packer, Jennifer Senior, Clint Smith, and Graeme Wood––several of which appeared as Atlantic cover stories in 2022:
Previously announced honors went to staff writer Jerusalem Demsas, a recipient of the 2023 ASME NEXT Award for Journalists Under 30; the Best Print Illustration for Sally Deng's illustration for the feature "My Escape From the Taliban," a moving first-time essay by Atlantic editorial fellow Bushra Seddique; and a finalist nomination in the Digital Illustration category for an illustration by Esiri Essi for "They Called Her 'Black Jet.'"
In the past year, The Atlantic has paired journalistic excellence with growth across the company, including record subscriber growth for the third straight year. Last year also marked the return of in-person events, including The Atlantic Festival in September in Washington, D.C.; the publication of the magazine's entire archive, dating back to 1857, online for the first time; and the launch and publication of the first six books in a new imprint, Atlantic Editions, with the independent publisher Zando, collecting the work of Atlantic writers and editors.
–END–
Press Contact:
Anna Bross, SVP of Communications
anna@theatlantic.com
202.680.3848