Part 1
Lowell, MA

Helping Patients Help Themselves
Once a week, Sonith Peou, the director of the Metta Health Center, appears on the local public access television channel in a program designed specifically for the Cambodian community in Lowell. The Metta Health Center, a dedicated part of the Lowell Community Health Center (LCHC), brings together Western and traditional Eastern approaches to health care as part of an ongoing effort to get members of the community invested in their own health.
"We talk about symptoms of certain illnesses that people need to pay attention to," says Peou. "When people exhibit symptoms similar to what they see on the radio and TV, that is when they start to think about seeing the doctor and setting up the appointment."
A recent community health needs assessment showed that the availability of high-quality care is Lowell's biggest asset. But for Lowell, as well as hospital systems across the country, the standard of care is only half of the population-health equation: It must get to as many people as possible, which requires outreach. Programs that target specific groups, like the Metta Health Center, play a pivotal role in engaging Lowell's diverse communities in their own health care.
The goals of patient engagement range from getting people to review and manage their medical records and follow prescribed treatments to adopting healthy behaviors and seeing their health-care providers as partners. That kind of engagement has proved it can both lower costs and improve health outcomes—one reason why patient engagement has been called "the blockbuster drug of the century."
A Robert Wood Johnson Foundation study of more than 30,000 patients, for example, showed that individuals who were the least equipped to engage with their own health care incurred costs up to 21% higher than those of engaged, thoroughly informed patients.  A study on smoking cessation in the Journal of the American Medical Association showed that three out of four patients who were actively engaged in and counseled on the process by their doctors were likely to try to stop smoking, while only half of smokers who weren't similarly engaged were likely to try quitting.
"The more a patient is engaged with their care," says Sheila Och, director of community health promotion at the Lowell Community Health Center, "the better they respond to their treatment, the better they follow the regimens, and the better they manage their chronic conditions. If individuals start achieving milestones it encourages them to continue."
An example of a simple but effective form of outreach is the community health fair. Last spring, Lowell General Hospital hosted a health fair with the Housing Authority. In a three-hour period they screened 125 people with limited or no regular access to medical care, checking on their blood pressure, blood sugar level, body mass index, and nutrition. Beyond that, they were able to provide advice on ways to get healthier—including, for smokers, the best ways to quit.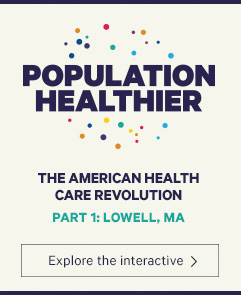 "That was a great effort to try to bring those programs out to those residents," says Pamela Huntley, director of community relations at Lowell General Hospital. "Those are screenings that they wouldn't have had access to because they typically don't always see a primary care physician."
Beyond tools like the community health fair and Metta's television program, Lowell General also recruits its community health workers from among the populations they will be serving—bilingual, bicultural members of the community who spend about half of their time in outreach efforts, visiting churches, mosques, barbershops, and salons. According to Och, community health workers in Lowell reach nearly 13,000 individuals every year, and 10 to 20 percent of them continue to seek care within the system.
"When we first opened our doors we were projecting we would see 10,000 new patients over a five-year period," says Och. "Instead we saw close to 10,000 in a three-year period. Build it and they will come."
The result is an engaged community of people who know about whatever conditions they may have and can tell when it makes sense to see a doctor—and that means fewer costly ER visits, and fewer expensive diagnostic tests. To produce that level of engagement, though, requires an extensive, multifaceted network of educators and partners that reaches much deeper into the community than the hospital and the doctor's office.
"We have a presence on the ground to get community members into the hospital system," Och says. "So the multiple ways that we start engaging people really starts outside of the walls of the health center, before they come in."