Part 3
Cleveland, OH

More People Have Insurance. Now What?
Ohio's uninsured rate has been slashed in half since 2012, the Ohio Department of Medicaid disclosed in a recent statewide survey, with massive enrollment following the passage of the Affordable Care Act. The survey, called the Ohio Medicaid Assessment, has found that the rate of Ohioans without insurance dropped from 17.3 percent in 2012 to 8.7 percent this year.
University Hospitals has been among the most active advocates in pushing through the expansion of Medicaid at the state level, which drew $2.5 billion in extra funds from the federal government to provide coverage for the 275,000 Ohioans eligible for the program. UH leaders also testified before the state legislature, and UH employees sent some 6,000 letters in support of the expansion.  
"We've been a big advocate to get Medicaid expansion and it's been really beneficial for underserved patients in northeast Ohio," says Heidi Gartland, UH's vice president of government and community relations. "We've really worked to identify anybody and everybody and getting them to sign up."
But the sudden and sweeping expansion in insurance coverage posed several structural challenges: Many of the newly insured simply didn't know where to turn for care. "We were seeing so many people signing up to Medicaid in early 2014 and they were all coming in to the emergency department," Gartland recalled. "We could get them covered, but they didn't have a primary-care physician." Visits to the emergency room are very costly to the system. The average cost of an ER visit for more than 8,000 patients across the U.S. was $2,168, according to a 2013 Time Magazine investigation.
In trying to come up with ways to tackle the problem, UH has struck on an innovative plan heralded by the hospital's emergency department: It developed what is known as a medical-access clinic, an area just outside the ER where patients—once they've received triage to determine if they need emergency care—are connected to primary care. There, they can receive urgent-care services, get information about benefits, and schedule follow-up appointments with a primary-care physician if necessary. As a result, Gartland says, people who were used to going to the ER for treatment were less likely to end up back there for anything less than a medical emergency.
Such targeted clinics, Gartland added, should have a "short life," since patients who do not know how to access care the first time around will have had enough information to know where to turn the second time. "It becomes a continuing reduction of the frequency, so hopefully we put ourselves out of business in the medical access clinic," Gartland says, adding: "It's not often you say you want to put yourself out of business in health care, but in this case it would be ideal."
University Hospitals is also working, through its Accountable Care Organization (ACO), to reach out to patients proactively. "We looked at the care locations our patients frequent the most, the doctors with the most visits," says Nathan Hunt, the director of UHACO. "We then placed patient navigators in those communities and in those physician practices to work with people face-to-face and serve as a bridge to these patients. They build trust, build relationships, and then do follow-ups to help the patients better manage their care."
These face-to-face encounters in the community are done by so-called patient navigators—qualified healthcare professionals who help patients navigate the health system and eliminate any barrier to the treatment they need. For parents of children with chronic disabilities, such help can be crucial. As one Cleveland parent testified, on the importance of UH's comprehensive care in her daughter's life, "I can't even begin to explain how hard it was before—from the paperwork to the meds and everything in between." Now, the parent said, "Things are looking up." Another mother, whose daughter has a severe genetic disorder known as Trisomy 13, said that for "over five years I have tried to handle it all. But now I feel that I can [relax] a bit because I am not alone."
Other noticeable improvements that came as a result of the passage of the Affordable Care Act have happened in mental-health insurance. Until now, this sector of the population experienced a catch-22 when it came to coverage. "These are folks who have sometimes been unable to work because they have a severe mental issue, but who hadn't been able to be covered by Medicaid because they were single or childless and between the ages of 18 and 64," Gartland explains. "With Medicaid expansion that whole of group of people had the ability to sign up. There are many who don't want to sign up, so we do a very good job of helping them understand the benefits to them, of getting them the medications on a continual basis—really all the things to keep them out of the most expensive place, which is the hospital."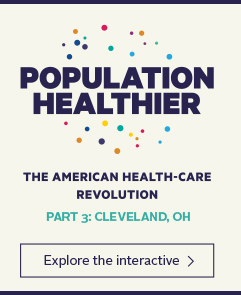 On the whole, increased Medicaid coverage has allowed hospitals to help patients manage their health "upstream," while they're still well. And the work of UHACO now ensures that the delivery of health care is done under a single, streamlined system, which is better able to manage preventive care. This makes both medical and financial sense. "There's no question about it," Dr. William Steiner, interim president and medical director of UHACO, said. "Better information and better coordination leads to reduced costs. When treatment is fragmented and not coordinated, the treatment is done in episodic fashion rather than looking at the long-term big picture."
There is still lots of potential for improvement in coverage. A new study by the nonprofit Kaiser Family Foundation shows that almost 70 percent of Ohio's uninsured residents who are eligible to receive Medicaid coverage or subsidized insurance have yet to sign up. As the next open-enrollment period rolls in, health-care advocates are hoping to see an even greater uptick in coverage than has come before. As Dr. Michael Anderson, chief medical officer at UH Cleveland Medical Center, puts it: "The more financial stability a busy delivery system like this has, the more positive things it can bring into the community."