Part 3
Cleveland, OH

When Health Care and Employment Go Hand-in-Hand
In 2005, the city of Cleveland was experiencing a pattern that has been replicated across the country: Once a destination for major corporations and industry, Cleveland was leaking jobs, along with much of its younger, educated population. In 2003, it had been declared the country's poorest city, with a poverty rate of 31.3 percent. The recession would only make conditions worse in the years to come; in 2010, Cleveland had the third-highest rate of population decline in the country, and in 2013, the poverty rate was 36.9 percent.
But what had remained intact, for the most part, was Cleveland's robust health-care market. A number of major, acclaimed hospital systems—University Hospitals, Cleveland Clinic, and MetroHealth chief among them—remained powerful players in the local economy. University Hospitals, the regional health system, which is now the second-largest private employer in northeast Ohio, saw an opportunity to distinguish themselves in a highly competitive market and to help its hard-hit communities in a way that went beyond pure medicine.
In 2005, UH announced Vision 2010, a five-year strategic growth plan that would expand UH's footprint across Ohio and address the socioeconomic issues that tend to plague older industrial cities: racial and geographic disparities in income and health, rising poverty rates, and high rates of unemployment. Vision 2010 would construct five new medical facilities and expand a number of existing ones; the total budget was $1.2 billion. And, as much as possible, UH would keep its spending in the community by hiring locally and working with minority- and female-owned businesses. It was going to be a true anchor institution, consciously growing the wealth of the city to which it was so deeply committed.
"Health care unfortunately has become, in many aspects, big business," says Dr. Donald Sheldon, UH regional vice president of community hospitals. "Some institutions say 'no margin, no mission.' But being committed to being vested in the community—a symbiotic relationship—is critically important to us."
Steven Standley, University Hospitals chief administrative officer, and CEO Thomas Zenty met with Cleveland Mayor Frank Jackson early on in planning for Vision 2010, establishing a collaborative relationship with the city that continues today. The partnership is so successful that Vision 2010 was the subject of a 2013 case study conducted by MIT and the University of Maryland. The authors of the study concluded that Vision 2010 "has set a new standard in the City of Cleveland for what is expected in terms of diversity, inclusion, and local spending on large construction projects." Indeed, teams from universities and hospitals from around the nation continue to visit and learn from UH about how the model can be replicated elsewhere.
UH exceeded most of its own goals: Seven percent of business contracts for Vision 2010 went to women-owned businesses, and 17 percent to minority-owned enterprises; 92 percent of goods and services were from local and regional firms; and 18 percent of construction workers were local city residents. UH helped innovate a Project Labor Agreement that would guarantee diverse hiring. It also retained an independent third party to monitor its progress.
But what exactly would hiring minorities and women and injecting capital into local neighborhoods do for Cleveland's health? And after Vision 2010 construction was completed, how would UH continue to wed the impact of its business to the overall health of its communities?
UH knew that if the social determinants of health—employment, education, and housing status, among others—could be managed, the city's most vulnerable populations would only get healthier. "The equation here is that health is directly related to jobs," Standley says. According to the Robert Wood Johnson Foundation, unemployed workers are 54 percent more likely to have poor or fair health, and 83 percent more likely to develop stress-related conditions, which include fatal heart diseases.
Take, for example, Cleveland's underserved Midtown neighborhood. University Hospitals plans to open a new primary-care clinic for women and children in a long-dormant Midtown lot by early 2018. "The main drivers have been both that it's in an area of very high infant mortality, but also very poor broader health indicators," says Dr. Michele Walsh, division chief of neonatology at UH Cleveland Medical Center and interim chair of the department of pediatrics at UH Rainbow Babies & Children's Hospital. "So by partnering with this broader development, we want to improve access to healthy food... and use our anchor strategy to create new jobs in that neighborhood where there have been no jobs for a long, long time."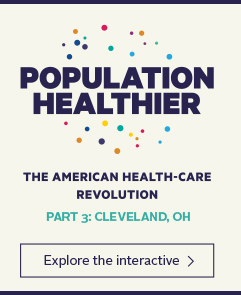 And job creation can extend past temporary construction projects and internal hospital hires. UH can incentivize companies to open up branches in neighborhoods plagued by unemployment and poor health by signing long-term contracts with firms that can offer accessible, entry-level local jobs. They've collaborated on local co-ops—an industrial laundry facility, a solar panel company, and a fresh produce greenhouse—employing hundreds of local residents and offering health-care benefits and equity.  "I am so proud of this place every day I come to work," said Charla Coleman, a worker/co-owner at the greenhouse, in UH's most recent Community Benefit Report.
The anchor initiative is as virtuous as it is practical. The health-care market is now more than ever a consumer's market: Patients, providers, and vendors can choose and filter where they receive care, work, or do business. Consequently, hospitals can no longer be passive and reactive: Standley believes that they have to be engaged, themselves members of the community, with a reputation that its employees and patients will respect.
"Everyone's going to figure out very quickly that you can't just sit there and wait for people to come and show up at your hospital," he says. "You need to be involved…. You're going to have to establish that relationship early on to be successful in the future."
Initiatives like Vision 2010 set University Hospitals apart in Cleveland's competitive health-care environment: their conscious identification and addressing of social and economic barriers to health, a true local commitment, and the conscious inclusion of those who bear the brunt of systemic discrimination. "The one thing UH is known for is the people—the way you are treated, the diversity of the organization, the approach we use," Standley says. "It's not corporate medicine."
At University Hospitals, addressing health-care problems includes addressing social issues, including jobs. To UH, they mean more than simple employment: They mean participation in a system that anchors the community, and they mean financial access to health care. They mean representation of women and minorities in a city where, as in many urban centers, health indicators often fall along racial and gender lines.
"The business imperative is just an extension of our mission now," Standley says. "This is the way we can impact health."