Part 3
Cleveland, OH

Treating the 'New Florida'
Scan the headlines of local newspapers in Cleveland and you'll quickly observe a pattern: "Too Old for Treatment?" asks one. "Alzheimer's Still Confounds Researchers; Patients Expected to Increase," says another.
Cleveland's population is rapidly aging: 21 percent of the city's population is over the age of 60  (the national average is roughly 18 percent).  By 2020, as an op-ed in Cleveland's Plain Dealer recently stated, 35 of Ohio's 88 counties will have populations that are more than one-quarter elderly. "Ohio will be the new Florida," the editorial predicted.
A growing number of health-care professionals and advocates are working to ease the city's transition into an elderly-centric demographic and to better serve its aging population. This is by no means an easy task. At $26,217, the city's median household income is less than half the national average. This means that the senior population of Cleveland represents a doubly vulnerable sector: elderly and predominantly poor.
Older residents also tend to shun assisted-living facilities. "People are definitely wanting to age in place, as opposed to going to an institutionalized setting," says Heidi Gartland, vice president of government and community relations at University Hospitals. "So we see that people—when they do decide to go to a nursing facility or a living environment where they're not at home—are much older and much sicker."
Earlier this year, UH Cleveland Medical Center launched the Center for Lifelong Health, an initiative devoted entirely to providing care to the senior population. By bringing together the whole range of geriatric health services that are offered throughout the UH system, the Center for Lifelong Health effectively functions as a "one-stop shop," an all-encompassing program through which patients can gain access to a variety of centers and practitioners regardless of what physical hospital or facility they visit.
This includes facilitating access to social service organizations as needed. It also includes a coordinated concierge team that helps the region's senior patients navigate the labyrinth of available health services. For patients who require prolonged recovery time following an illness or a surgery, the Center for Lifelong Health's concierge services are able to connect them to one of more than 40 rehabilitation facilities near home.
"The Center for Lifelong Health is the front door to our health care system," says Cyndie Bender, the center's manager. "We coordinate the care. We get the patients to the right providers. We make those  introductions, and it's seamless."
"It shouldn't be difficult to navigate a health care system," she adds. "This should be a one-call process for our patients." Yet it is all too often difficult to navigate, which means that appropriate care for seniors—making sure that the hospital doesn't become a revolving door for them—can easily fall by the wayside.
That's why UH created a program aimed at ensuring that patients are given the option to receive care from the right providers for their needs. The program, called Partners in Lifelong Health, facilitates the transition of the individual patient from hospital to home. The program coordinates services through 14 nurse practitioners, as well as physicians and disease-specific care providers, in certain post-acute-care locations. The idea behind the program is to guarantee, says Bender, "that everybody's goals are aligned with the patient's goals."
Part of the center's work is to monitor patients' progress and to ensure that their needs are being met: that their primary-care physician sees their discharge summary from the hospital, that the nurse practitioners are advised of the care path that has been mapped for them, and that the patients don't end up staying in a facility longer than they should. "What we don't want to have happen is, a patient goes to a post-acute care facility and instead of being there for 10-15 days they are there 30 days, when there is really no benefit to the patient," Bender says.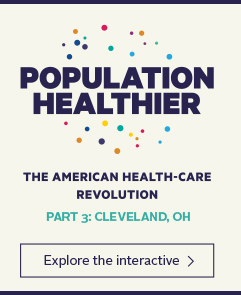 UH's Center for Lifelong Health is also a key component of the health system's population management and ACO strategies. "We focus on wellness rather than sickness," as Bender puts it. The emphasis is on "addressing patients' needs upstream, before they are sick."
When it comes to senior and geriatric care, such a program is particularly beneficial, since it focuses on preventive care that is relatively easy to deliver, monitor, and manage. For some patients, this kind of preventive, forward-thinking care means connecting them with their doctors digitally, through advancements in tele-medicine. For others, it means making use of pedometers provided by the Center for Lifelong Health to encourage walking and physical activity.
Increasingly, the center, alongside the medical and health care professionals at University Hospitals, are providing the kind of comprehensive, holistic approach that is proving vital in a rapidly graying city.
"We want to be able to bring the patient back to their previous level of activity," says Bender. "Not sick care, but well care—making sure that folks can live the best life that they possibly can, and that the health system plays an integral role in ensuring that they receive resources to stay well."