Jaylen Davis, 9, tries on his new backpack during a back-to-school event in the 24:1 Community outside St. Louis.Photo: Copyright 2016 Tracie Van Auken. Courtesy of the Robert Wood Johnson Foundation.
Health disparities are rooted in where we live, what we learn, and what we earn. Research has shown that those inequities can impact children starting at birth. In response, many communities are recognizing the need to adopt programs that give every child an equal chance, starting in early childhood and continuing through early adulthood. Every year the Robert Wood Johnson Foundation honors communities that have devised unique and innovative strategies to ensure that all residents have the opportunity to live longer, healthier, and happier lives. Here are some of the compelling ways 2016 RWJF Culture of Health Prize winners are nurturing children from cradle to career:
Ensure Quality Education From Day 1: Train Childcare Providers To Help Families
24:1 Community, Missouri
For Tina Mosley, owner and director of Our Daycare and Learning Center, which serves twenty-four municipalities northwest of St. Louis, caring for children and enriching their lives is a round-the-clock job. Open 24 hours a day, seven days a week, her preschool caters to parents who juggle two jobs or work and school. Most of the families can't pay much, if anything, for child care, but their children get high-quality care nonetheless.
That's the goal of Programs Achieving Quality, or PAQ, run by the St. Louis nonprofit United 4 Children in the 24:1 footprint: Give child-care providers, whether center- or home-based, the resources to create the best learning environment possible for young children. Because Our Daycare and Learning Center and PAQ's three-dozen other preschools serve mainly families who receive childcare subsidies, the schools are unable to raise tuition rates, says Director Alleta Kyd. They can't afford to pay their staff more than $10 to $10.50 an hour, let alone invest in professional development or new playground equipment. Some of the owners are so strapped they can't even buy toys, Kyd says.
Preschools that become part of PAQ benefit from monthly coaching on how to motivate staff, run a ship-shape business, and market their services to parents. They receive grants for things like renovating a sunroom for all-weather play or giving teachers bonuses. And they get free professional development, certification classes, and CPR training for their staff.
Video – 0:34Collective Impact on Health & Education: 24:1 Community
"For young children, being in a consistent, high-quality early-childhood facility gives them the ability to move forward in the first stages of development," Kyd says. "It allows them to really learn what is expected in school, and that allows them [eventually] to learn what's expected in a career."
PAQ fits into a larger initiative in 24:1 to ensure all local children are prepared for school by age 5. Called 5ByAge5, the project engages more than 30 partners that provide five building blocks to children ages 0 to 5 and their families: health-care services, developmental screening, parenting support, community connections, and early learning.
"Everybody deserves a chance at a great start," says Beyond Housing's Lindsey Noblot, who coordinates 5ByAge5 on behalf of the partners. "The better quality services we can provide to children at a younger age, the better life outcomes they will have."
Make Schools a One-Stop-Shop: Focus on Families in High-Poverty Neighborhoods
Manchester, New Hampshire
In the 19th and 20th centuries, French Canadian, Greek, Irish, and Polish immigrants settled in Manchester to work in the mills, building neighborhoods around their churches. Today, the same neighborhoods welcome new arrivals from Latin America, Asia, the Middle East, and Africa. These new Americans are greeted with new opportunities, as well as the challenges of making a new place home. One of the greatest needs to be addressed in these neighborhoods is child poverty, which affects both new arrivals and lifelong residents.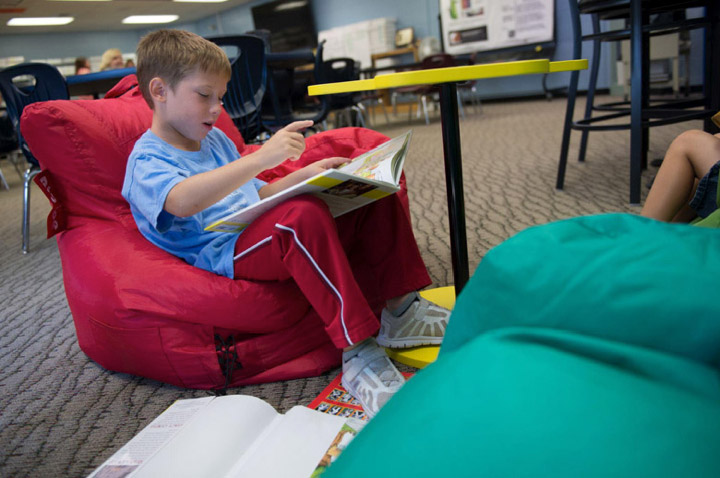 To ensure better health, education, and lives for residents no matter their country of origin, the city is creating a new center of gravity for the neighborhoods: their schools. With seed money from the Robert Wood Johnson Foundation and matching funds from Granite United Way, the New Hampshire Charitable Foundation, the Endowment for Health, and the Cogswell Benevolent Trust, Manchester set up two community schools starting in 2012. The schools are safe havens in neighborhoods facing crime and violence. More than half a dozen partners bring health care, social services, family support, and community-building activities such as block parties and health fairs right to the schoolhouses. Work at two more schools began last year.
"By addressing health and social factors, we can free up the teachers to do what they do best, which is to teach," says Jaime Hoebeke, who leads the Manchester Health Department's Division of Neighborhood Health. "They were overwhelmed with health needs."
Many students and families at the community schools face poverty, domestic violence, and drug issues, says Wanda Castillo, one of four community-health workers employed by the Manchester Community Health Center to assist families at the schools. Castillo, who speaks English and Spanish, might help them apply for Medicaid, get dental treatment, talk to the electric company about a disputed balance, or find housing. Two social workers—called family success coordinators—also work in the schools. As an extension of the school staff, they help keep kids in class and engaged in their schooling by calling home when students don't show up, serving as mentors for students who are struggling, addressing behavior issues, and providing brief mental health interventions.
Encourage Higher Education for All: It's a Proxy for Quality of Life
Louisville, Kentucky
What does a college degree have to do with health? Quite a lot, says Mary Gwen Wheeler, executive director of 55,000 Degrees. Her organization has an audacious goal: see to it that at least half of adults in Louisville have an associate degree or higher by 2020.
People with college degrees enjoy higher average incomes, are less likely to have ever smoked or to be obese, have fewer divorces, and are more likely to exercise compared to those without a degree.
"We set this goal because we saw it as a proxy for increasing quality of life," Wheeler says.
The dozens of business, education and community-based partners that launched 55,000 Degrees in 2010 have witnessed significant progress. The number of high school students who graduate with the skills to attend college and start their careers reached 63 percent last year, compared with 45 percent in 2012. The number of college students completing degrees has gone up at 4-year institutions, even as enrollment has gone down.
"We've been able to move all populations, but we haven't been able to close the gaps" between white and minority students, Wheeler says. "That led us to the mayor's Cradle to Career initiative. We understood we needed to start much earlier."
Now 55,000 Degrees is one of four organizations with lead roles in a continuum of programs that begin with preschool and bolster education and training for Louisville residents beyond their high school and post-secondary graduations.
The United Way will spearhead work to get more children into quality preschool programs and prepare more than three-quarters of students for kindergarten by 2020, compared to about half today and a little more than one-third a few years ago.
The school district aims to have every student reading at grade level by the end of third grade. By 2020, it plans to raise the number of students who graduate from high school to more than 9 in 10 and ensure that 85 percent of high school graduates enroll in college, using steps such as summer coaching to keep new graduates on track.
The nonprofit KentuckianaWorks offers training and programming to give working-age residents the skills to get jobs and succeed in the region's manufacturing, tech, and healthcare sectors.
Taken together, these efforts will ultimately give more Louisville residents a chance at obtaining a degree—and a better life.
Build Scaffolding for Careers: Grow Young People's Skills, Nurture Civic Engagement
Louisville, Kentucky
Young people at YouthBuild Louisville do their daily chores, picking weeds in the garden and courtyard of their LEED-certified green campus—just one beat in the rhythm of this 16-year-old vocational training, education, and community-service program.
"It's part of the garden," says YouthBuild graduate and now intern Brittany Carson, 25, of the need to weed. "You gotta do it every day."
Based on a national model with the dual mission of training young people in construction and building affordable housing, Louisville, Kentucky's YouthBuild teaches participants not only what they have to do, but also what they can do. Not just for themselves, but also for their city and neighborhoods. Program participants—many of whom are young parents—earn high school diplomas and acquire the skills to work in one of four career tracks: construction, environmental design, nursing assistant and culinary arts. What's more, they learn valuable skills—such as showing up on time, being a team player and solving problems—that translate to any field.
"We're making the connection between service, urban design, environmental issues and public health issues," project manager Josh Poe says.
During her time with the organization, Carson has worked on low-income housing construction, planted 40 trees around the city to bring shade to the city's "heat islands," helped build a playhouse for a blind child, and this summer she even traveled to France's Potager du Roi, or King's Kitchen Garden, near Versailles. There she learned urban gardening techniques and other wisdom that seem to apply equally to plant life and to the budding young adults being nurtured at YouthBuild, such as harvesting every day so the plant can continue to grow.
"It's really important to us, when we choose a young person for the program, that we take them on for the long haul," says Executive Director Lynn Rippy. "That means we prepare them educationally, we prepare them vocationally and we prepare them socially to be really active members of this community and advocates for themselves and their children."
Support Kids as They Grow: From Neonatal Nutrition to College Prep
Miami-Dade County, Florida
When Cecilia Gutierrez walks through Miami's Liberty City, she is besieged by children. They want a hug, they want to dance and they want her to help them tend one of 20 community gardens. Gutierrez, president and CEO of Miami Children's Initiative, in turn encourages the kids to eat healthy snacks, asks whether they did their homework and dances.
The initiative is tightly intertwined with Liberty City, home to more than 160,000 people and one of the oldest black communities in Florida. Once a thriving middle-class area, since the 1960s Liberty City has been hard hit by joblessness, low-performing schools, crime, drugs and poor health. To bring Liberty City back to strength, in 2009 the Florida Legislature created Miami Children's Initiative to address the neighborhood's problems with a laser focus. Local residents and businesses along with leaders in health care, education and human services banded together to provide a "cradle-to-college" support system for children in Liberty City, with services ranging from neonatal nutrition to college prep classes.
Today, the initiative is focused on improving schools, health and employment opportunities in Liberty City, a tall order for an area with 16,000 children spread out over 6 square miles. It hopes to succeed by transforming Liberty City block by block, starting with an "impact zone" of 29 blocks surrounding an elementary and middle school, and particularly the three blocks adjacent to those schools, where more than 600 children live. There the initiative runs early-learning centers, after-school and summer programs and workshops for parents. Staffers, working alongside residents, have rehabilitated a basketball court, organized daily trash pickup, set up a bike-sharing program and opened a community center, which many kids describe as their "safe haven."
Every day, Gutierrez and her staffers go door-to-door reminding residents they are here to help. One of those residents, Alicia Wilson, said at first she and her neighbors were suspicious, but then realized the initiative wanted to work alongside them to transform the area, not tell them what to do. "Miami Children's Initiative came in and made us want to do better as parents, made us want to do better as people, made us want to do better as a community," she says.
Within five years, Miami Children's Initiative hopes to ramp up dramatically, expanding its reach to 250 blocks. Gutierrez figures many of the children in the initiative's programs today will be in college by then. "That's when we know that we've been successful," she says, "when there are thousands of kids from Liberty City in colleges and universities across the country."
Measure Well-Being: Then Respond With Coordinated Care
Santa Monica, California
Few people in Santa Monica will forget the afternoon of June 7, 2013. After a family dispute, a 23-year-old man murdered his father and older brother, set their house on fire, and shot passengers on a bus and students at Santa Monica College with a semi-automatic rifle before being killed by police.
The tragedy followed the 2011 suicide of a high school athlete and the 2009 killing of a 20-year-old man as he left an art class at Virginia Avenue Park.
The deaths were a clarion call. A coalition emerged—called Santa Monica Cradle to Career—which linked parents with educators and service providers. The group began examining how the community could support its most vulnerable young people and their families and create an environment for them to thrive.
"We were saying, 'We won't let this happen again,'" says VaLecia Adams Kellum, president of the St. Joseph Center, a nonprofit provider of services to children, families and homeless individuals.
The city felt an even greater sense of urgency after the 2014 Youth Wellbeing Report Card found high rates of substance abuse, social isolation, bullying and symptoms of depression among young people. The survey—funded through a Bloomberg Philanthropies grant as part of the city's Wellbeing Project—also reported that only one-third of 5-year-olds were prepared socially to enter kindergarten.
The city took decisive action. They invested funds not only in early childhood development, but also mental health services in schools. As part of the Cradle to Career initiative, Santa Monica High School soon will have a new Thrive Center, offering mental health screening, coordinated care for the most at-risk students and a range of well-being interventions.
St. Joseph Center, meanwhile, started youth resource teams to help disconnected youth and their families get back on track by coordinating services in a team approach. Some of the 41 participants, from 13-year-olds to young adults, were referred by schools; others were identified by law enforcement.
"The idea is to inspire hope," Kellum says.
A team helped 18-year-old Sabrina Giannette, who had missed too many school days because of family responsibilities. When she transferred to an alternative high school, she was paired with Raquel Perez, a case manager who worked for the Boys and Girls Club. Perez helped Sabrina with small issues like getting a bus pass or supplies, and with larger challenges like finding work and earning class credits. Last June, Sabrina delivered a graduation speech and now attends community college. "Even last year, I didn't think I would be here today," Sabrina says.
---