Lauren Kraemer (left) and Julia Sanchez at a community cooking class at One Community Health, a federally qualified health center in the Columbia Gorge Region of Oregon and Washington. Photo: Copyright 2016 Josh Kohanek. Courtesy of the Robert Wood Johnson Foundation.
How do you think about health? Is it a visit to the doctor's office? A daily exercise habit? Eating wholesome food? Those are all important components of health, but there's so much more to making sure everyone in a community has equal opportunity for health and well-being. Every year the Robert Wood Johnson Foundation honors communities that have devised unique and innovative strategies to ensure that all residents have the opportunity to live longer, healthier, and happier lives. Here are some of the surprising ways the 2016 RWJF Culture of Health Prize winners have impacted health:
Collaborate With Unlikely Allies: The Better to Build Momentum
Columbia Gorge Region, Oregon, and Washington
Paul Lindberg's new job is to connect the dots. Officially, he is a collective impact health specialist for the Columbia Gorge region.
Translation: He encourages groups that may not be used to collaborating to solve problems. Then he helps them find funds to support their ideas through grants or other sources.
Many organizations would not have the resources to research funding opportunities or to apply for grants on their own. But collectively they have found success, securing close to $3 million in public and private grants since 2014.
In one collaboration, four school districts, a clinic, health officials, and private dentists secured a commitment of $290,000—spread over four years—to develop a comprehensive school-based dental program for every first- and second-grader.
In another example of cross-pollination, the health department in The Dalles, Ore., the county seat of Wasco County, is starting walking groups to educate people on health, exercise, and nutrition. By design, the routes will run past corner stores that the Gorge Grown Food Network is working to supply with more locally grown produce. The idea is that when walkers get to the stores, they can use Veggie Rx vouchers—another Gorge Grown initiative—to buy snacks. Both the walking groups and the healthy corner stores have received $50,000 apiece from the Knight Cancer Institute.
Lindberg says "the anchor" for his work are the goals set in the community health improvement plan. "That's the document that we all can point to and say, 'That's what our community said we need,'" he explains.
Lindberg works through United Way of the Columbia Gorge, which receives funding for his position via Providence Hood River Memorial Hospital. A former lawyer who moved to Hood River, Oregon, in 2000, Lindberg connects with community groups, nonprofit organizations, medical providers, health departments, schools, private practitioners and social-service providers.
"It's a very community-based, very collaborative effort," Lindberg says, "and that has been one of the key components to our success."
Mark Thomas, the chaplain at Providence Hood River Memorial Hospital who also works on mission integration, sees Lindberg's role as fostering more eagerness among groups to work together. "The system is strengthening as momentum is building," he says.
Govern Well: And Pool Together Resources Across Communities
24:1 Community, Missouri
Over homemade turkey ribs and peach cobbler, a dozen North St. Louis County mayors and city representatives discuss matters large and small at their monthly gathering: their struggling school district, whether they should jointly bid on computer networking and security services or the cost of road salt.
A mayor's job isn't always exciting. But for 24:1's tiny municipalities, which range from fewer than 200 people to about 5,000, every dollar and efficiency counts. The cities share contracts, best practices, and monthly conversations in the quest to bring better services, health, and well-being to residents. Six of the municipalities now also share a police department, the North County Police Cooperative.
Viola Murphy, mayor of the City of Cool Valley, says 24:1's collaborative governance started when one of the other mayors asked what she paid for salt. "I told her what we paid and she was like, 'I pay much more than that,'" Murphy says. "So we started to look at how could we save money for our communities and get things done."
Less money spent on basic services like salt and garbage removal has meant more money for community policing, neighborhood sports leagues, biking and walking trails, and other initiatives that boost health and quality of life, the mayors say. Banding together has also enabled the cities to secure federal and state grants to begin widening streets, building sidewalks, and planting and trimming trees—efforts that make 24:1 safer, healthier, and more attractive for residents.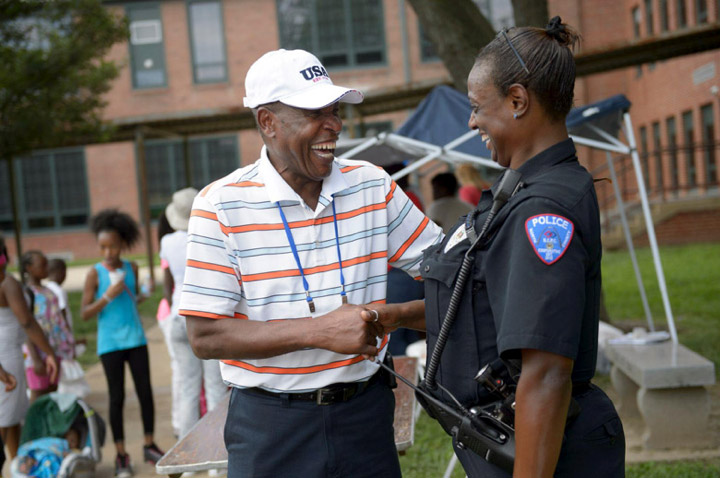 To hold themselves accountable to their communities, the mayors wrote a set of 10 best practices, including having an annual budget, an annual audit, and police coverage. In a state that has come under intense scrutiny following the death two years ago of 18-year-old Michael Brown in a police shooting in Ferguson, a suburb just outside of 24:1, they were ahead of the curve. Last year, Missouri passed a statute that put in place 12 similar standards for municipalities across the state.
Mayor Mary Louise Carter of the City of Pagedale says helping each other live up to the best practices is just one way the mayors pitch in for all of the communities.
"When I have a ribbon-cutting ceremony, mayors from all around 24:1 come to support me," she says. "When they opened the senior housing over in Pine Lawn, I was over there to support them. That's what we do."
Keep Native Culture Alive: Connect Youth and Adults to the Past
Shoalwater Bay Indian Tribe, Washington
As a child, Earl Davis loved to go with his father to the homes of tribal elders and listen to their stories. "He always thought it was real important to hear what they had to say before they passed," Davis recalls.
His fascination with the past led Davis to work on restoring the cultural heritage of the Shoalwater tribe. "We have 10,000 years of history and culture in this area, and in the last 150 years, it's almost been completely wiped out," says Davis, who coordinates cultural programs for his tribe. "I feel like there's a lot of ground to be made up for."
In a shed on the reservation, Davis teaches young members how to shape logs and planks into images and characters from the legends he heard as a child. Other members teach basket-making or show children how to identify edible plants in the wild.
For Shoalwater tribe youth, a rite of passage is the summertime canoe journey that draws thousands from tribes in Washington, California, Oregon, Alaska, and Canada. This year, Shoalwater tribe members joined neighbors from the Chinook Indian Nation to paddle in their canoes, covering 200 miles in eight days. The epic journey started at the Skokomish Reservation on the Hood Canal and ended at the Nisqually Reservation near Olympia, Washington, on Puget Sound.
Like so many communities, the Shoalwater tribe wrestles with how to keep youth from engaging in risky behaviors, such as drinking and using drugs. Members increasingly emphasize connecting youth to their native culture as a way to anchor them. "The best prevention factor in Indian country is culture, period," says Tony Johnson, the tribe's manager of education programs.
The canoe journey, an experience that is not only physically but also emotionally and mentally challenging, binds the generations. "With that comes self-esteem and pride, which is hard to come by," Johnson says. "You cannot overstate it."
Prioritize Peace: Uproot Norms That Contribute to Violence
Louisville, Kentucky
One of the most sobering inequities in Louisville may be that its most dangerous neighborhoods have violent crime rates 35 times higher than the safest ones. This came into sharp focus in May 2012 when, on a single day, six people were shot and three died in the West Louisville neighborhood of Russell.
With West Louisville's high unemployment, poverty, hunger, drugs, vandalism, abandoned homes, and violent crime, "a lot of risk factors for violence are just bubbling up," says Rashaad Abdur-Rahman, director of the city's Office for Safe and Healthy Neighborhoods, which was formed in the wake of the 2012 shootings. "Youth feel compelled to carry weapons even if they don't intend to use them."
That's because for young people the consequences of not responding to violence with more of the same are extremely high, says Monica Wendel, a professor at the University of Louisville and director of the Youth Violence Prevention Research Center. Those who don't stand their ground face bullying, shaming, feelings of powerlessness, name-calling, and even more violence.
Video – 3:09Louisville's Focus on Health Equity: A Deeper Look
Wendel has hired West Louisville high school and college students to help uproot the underlying norms that support violence. In spring 2017, the group will launch a campaign to boost young people's understanding of and pride in their African-American heritage and their individual power to be activists for good, while connecting them to social services such as mental-health counseling and youth-employment programs.
Since last year, Abdur-Rahman's office and its partners have used quarterly meetings between youth and city officials to spark candid conversations and build bridges between the groups. The city is also promoting alternatives to the juvenile justice system for youth who have been in trouble with the law. They are matched with case managers and mentors who help them set and achieve academic and employment goals. Another project, launched this spring by KentuckyOne Health, the nonprofit Peace Education Program, the city's health department, and the University of Louisville, employs caseworkers from West Louisville neighborhoods, many of whom have experienced street violence. They invite 18- to 34-year-olds—an age group at high risk of experiencing or perpetrating violence—who have come to the emergency room with gun or knife wounds to join a project called Pivot to Peace. The effort provides comprehensive social and emotional supports to help participants move in a positive life direction, safe from retaliation.
"People say, 'A rising tide lifts all boats,' " says Abdur-Rahman. "But how do we lift the boats that most need to be lifted?"
---