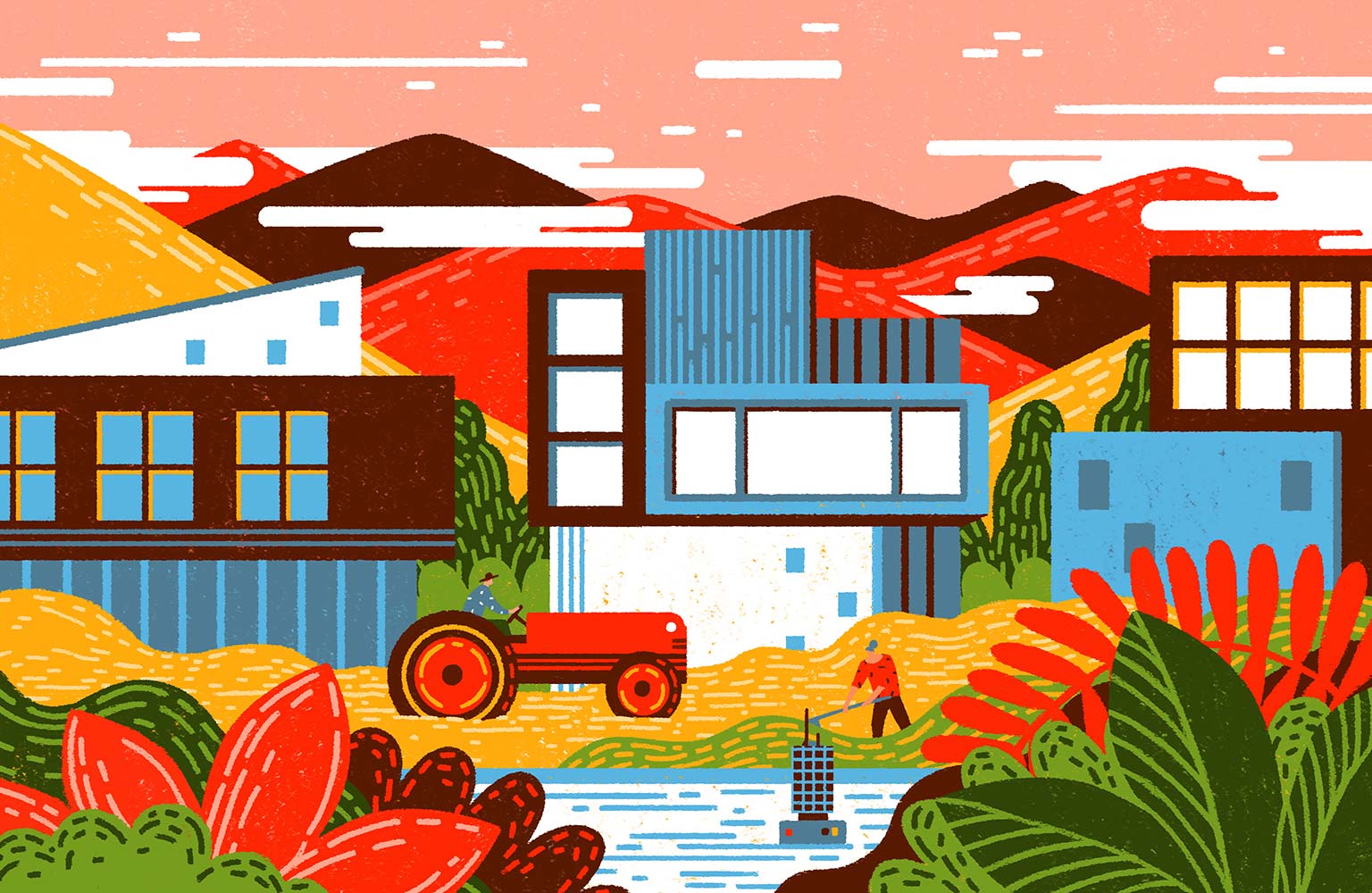 Grow: Expanding our ability to provide, through technology
Taking "Smart" to the Country
ReGen Villages brings an off-grid farming community into the modern age with smart technology, solving global resource problems in the process.
Almere, a small planned city on a lake just a half hour outside of Amsterdam, will soon be the site of a novel experiment: a smart village.
The concept is a spin-off of a "smart city," an idea that was pioneered more than a decade ago and has led to major cities' use of sensors and cameras of all kinds to measure everything from air quality and noise to traffic flows and energy use. The sensors collect data that is intended to make cities more livable even as their populations grow. And grow they will—by 2030, cities are expected to house 60 percent of the world's population. But not everyone can or will want to live in a bustling metropolis. So what about the other 40 percent?
Exploring what happens when possibility becomes reality.
That's the question James Ehrlich, an entrepreneur in residence at Stanford University, set out to answer with his project ReGen Villages. Ehrlich is a former producer of a television show about organic living, and he has a background in tech entrepreneurship. ReGen Villages was inspired by some of the farming communities that he visited for the show. By 2019, the project will turn Almere into its first closed-loop, regenerative, self-sustaining, off-grid smart village. It will house about 200 families on 40 acres of land and marry on-site solar- and wind-energy generation and storage with clean water recycling, waste-to-resource management, on-site aquaculture, small-animal ranching, and organic farming.
While this may sound more utopian fantasy than reality, decentralized self-sustaining villages like the one Ehrlich proposes have the potential to solve several global problems at once: acute shortages of housing, water, and healthy produce for a growing global population. They'll also limit excess greenhouse gas emissions and waste. At the most basic level, they'll solve a conundrum that Ehrlich finds embedded in the very concept of the smart home: What's the point of having a single-family smart home if it's based in a dumb village? After all, much of what you save will still go to waste.
ReGen has built its own neighborhood operating system around a suite of open architecture smart-home technologies such as smart glass, smart lighting, smart electricity, and smart water pumps. The project will embed its custom sensors in farming operations to measure everything from moisture and pH balance to temperature; cameras will record footage of aquaponic fish tanks to determine which fish are ready for harvest.
All of the data collected from individual homes as well as from farming operations and the neighborhood as a whole will then be funneled into a central repository in the cloud. This data will be managed by machine-learning algorithms, said Ehrlich, so the system can become self-correcting for maximum efficiency. Eventually, when more villages are built, all of this data will feed into a larger repository that villages in similar climates can use to learn from one another. After Almere is complete, ReGen plans to replicate the model in Sweden, Norway, Germany, Denmark, and Belgium.
As the nature of work becomes more mobile and less tethered to a single geographic location, and as autonomous vehicles, high-speed transit lines, and broadband internet from small-earth orbit satellite become more widely available, Ehrlich believes smart villages could be moved farther away from major metropolitan areas. "We imagine people could live very happy, healthy lives, pretty far away from cities, and have what they need at the same time," he said. This smart-wired, technology-driven, decentralized kind of neighborhood "really could be the promise for humanity in the next 30 years."
The Possibility Report is an ongoing series about how technology is changing our understanding of the world around us. This article is part of GROW, our discussion on how technology is impacting the ways we cultivate, prepare, and deliver food at home and beyond.