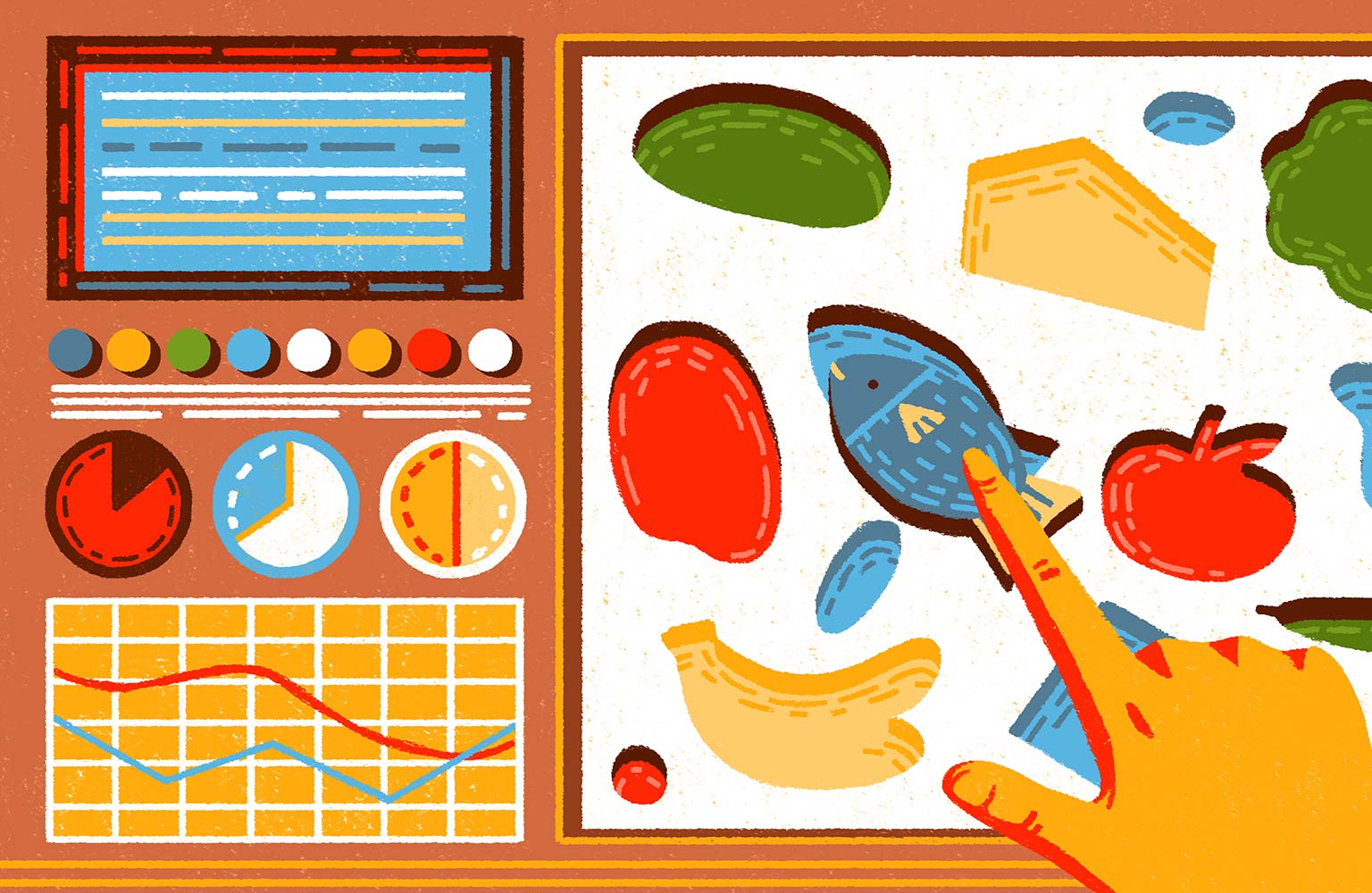 Grow: Expanding our ability to provide, through technology
Feeding the Hungry with Data Science
There is a glaring mismatch between food waste and hunger in the U.S. One young student set out to fix this problem with a matchmaking system that relies on data crunching, email, and text.
The U.S. is known for its supersized portions, but the amount of food wasted is staggering. Americans throw away as much as $218 billion worth of food a year, or 40 percent of what they intend to consume. At the same time, many Americans don't get enough to eat: Around 41 million Americans rely on food banks. That's one in eight.
As a teenager in small-town Iowa, Maria Rose Belding saw both sides of this problem up close. She volunteered at the food pantry of her local church and watched many of the pantry's clients suffer from hunger or poor nutrition. Meanwhile, her friends who worked in the town's only grocery store would complain to her about all of the perfectly edible food that went to waste. Belding thought it must just be a rural Midwest problem, until she started doing some research. It turned out that no one in the U.S. had been able to crack the food-waste code—to successfully match need to excess—so she took it on herself.
Exploring what happens when possibility becomes reality.
Teaming up with her friend Grant Nelson, who was at the time a second-year law student with an undergraduate degree in data science, Belding created the MEANS database and nonprofit organization. (MEANS stands for "Matching Excess and Need for Stability.") Using a system of emails, texts, and cloud-based data crunching, MEANS matches food kitchens and pantries that need food with anyone who has too much of it: nearby restaurants, grocery stores, beverage companies, mom-and-pop caterers, and massive food manufacturers, among others. "Our donor pool is really, really diverse," said Belding.
Both parties must agree to the swap. One big problem in the food pantry world is that massive amounts of the wrong kind of food often get dropped off: For instance, 400 pounds of ramen noodles might land on the doorstep of a church pantry that serves mostly senior citizens with hypertension and low-salt diets, or 10,000 packets of Pop-Tarts and hundreds of cans of fruit in syrup will show up at a food pantry that has a lot of diabetic clients. Often, the food pantries end up having to pay to dispose of these items. With MEANS, they can swap with another food pantry that can actually use the donations.
Getting food pantries into the network was more of a challenge than Belding expected. MEANS's interns made 10,000 calls in a single summer and found that less than 25 percent of listed phone numbers provided by state social service agencies for these pantries were correct. Ultimately, they were most successful at getting a response when they sent handwritten notes to physical addresses, which rarely change. In other words, before they could really apply data science to the problem they were trying to solve, they had to collect a lot of data the old-fashioned way. "We are probably the only tech start-up in the universe that has used postcards as a really effective marketing strategy," said Belding.
This strategy was worth it. Today a total of 3,000 members are in the database. Belding's nonprofit has helped reduce food waste in 48 states and has moved 1.6 million pounds of food to people who need it. Typically, food doesn't travel very far; it rarely crosses state lines. Through its database, MEANS is able to get it at $0.04 to $0.07 per pound.
It may be impossible to ever completely eliminate food waste or hunger, but in the meantime, the MEANS database fills a major gap. The group has just partnered, for the first time, with an entire state: Rhode Island. And it's constantly tweaking its formula, looking at the data, and trying to improve the rate at which database members find a match. According to Belding, the group has a "start-up mentality of always being able to do better."
The Possibility Report is an ongoing series about how technology is changing our understanding of the world around us. This article is part of GROW, our discussion on how technology is impacting the ways we cultivate, prepare, and deliver food at home and beyond.