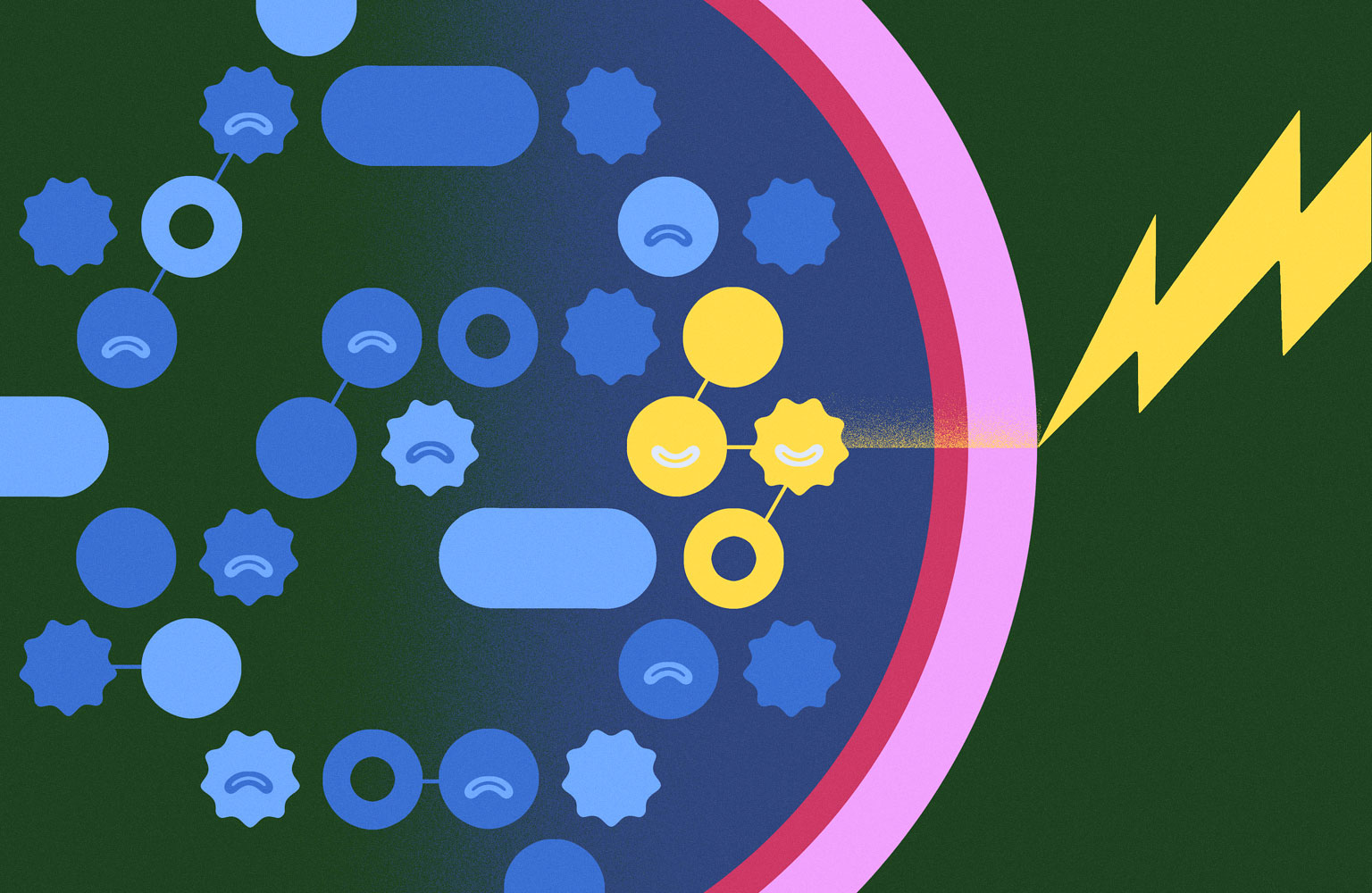 Heal: Emerging technology making the world healthier
In Some Cases, Bioelectronics Is the Best Medicine
For diseases and health conditions related to nerves, highly specific electronic impulses could do more healing than any pharmaceutical drug.
Scientists and doctors have long harnessed the power of electricity to solve medical problems, such as the pacemaker for heart arrhythmias or deep brain stimulation for Parkinson's disease. But a new field called bioelectronics is turning the old paradigm upside down by applying electricity to ultra-specific, molecular targets. And that could one day replace drugs for diseases like Alzheimer's, rheumatoid arthritis, and hypertension, according to Kevin Tracey, a neurosurgeon and president and CEO of The Feinstein Institute for Medical Research.
Tracey's bioelectronics research focuses on finding therapies for patients with rheumatoid arthritis. He's known for his work with tumor necrosis factor (TNF), a molecule important in the regulation of the immune system. In patients with rheumatoid arthritis, the immune system makes too much TNF, which leads to inflammation and joint pain.
When Tracey and his team set out to understand the underlying molecular mechanism behind TNF, they found that the vagus nerve played an important role in TNF regulation.
Exploring what happens when possibility becomes reality.
"In bioelectronic medicine, you begin with a molecular mechanism or a molecular target, and then you screen for neurological mechanisms to control the target," Tracey said. "Once you map, discover, and prove the neural control mechanism of the target, you then have the specifications to build a device to modulate the nerves that control the target."
A series of clinical trials by Tracey and professor Paul-Peter Tak of the University of Amsterdam explored the effects of delivering an electric current to the vagus nerve using an implanted electronic device. The study showed that stimulating a specific subset of the vagus nerve's more than 100,000 nerve fibers led to decreased TNF production in patients with rheumatoid arthritis. That small implanted device lessened disease severity in patients who had tried other rheumatoid arthritis drugs without success.
The technology could be a game changer for managing and treating chronic, long-term diseases for which current treatment options are high-maintenance or generally inaccessible. In the case of diabetes, the Feinstein Institute is working on an implantable electronic device that would analyze and modulate diabetes-related neural pathways, helping the body regulate itself without the use of insulin.
"What's new is that we're connecting the dots between neural mechanisms and specifications for devices to control molecular targets," he said.
Because neuroscience has advanced so much in recent years, bioelectronics will soon be used to find treatments for chronic diseases that have proven expensive to manage. Using the bioelectronic method, scientists may one day be able to combat paralysis in people who have spinal cord injuries.
"I think you're going to see an explosion of attempts to develop electronic devices to replace drugs that will, frankly, challenge one-third to one-half of the currently available drugs on the market," Tracey said.
The Possibility Report is an ongoing series about how technology is changing our understanding of the world around us. This article is part of HEAL, our discussion about the ways technology can be used to heal human bodies, animal populations, and the entire planet.