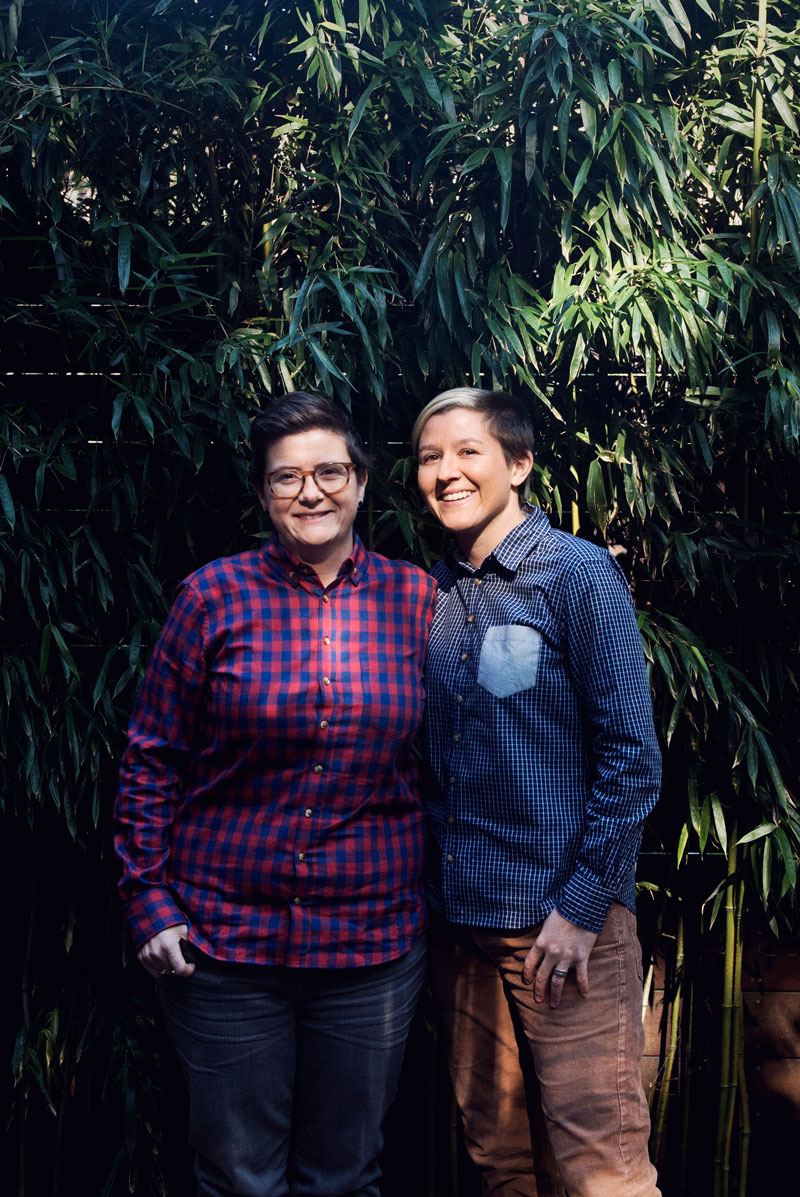 We often think of entrepreneurs as lone wolves, self-motivated individuals who strike out on their own. But when a couple share that impulse, the results can be just as innovative and in some ways easier and more fun to achieve. We've seen such collaborations throughout history, in couples from Franklin and Eleanor Roosevelt, who worked together to rebuild the United States, to Seretse and Ruth Khama, who defied norms to bring rapid progress to Botswana. Taking a look at three couples who are currently expanding the boundaries of design, fashion, and food—as well as three historic counterparts—provides clear evidence that teaming up inside as well as outside work can double the reward.
The Futurists
Meg Donohoe and Mitch Paone are the founding partners of DIA, a small, independent creative agency running out of an airy studio in SoHo.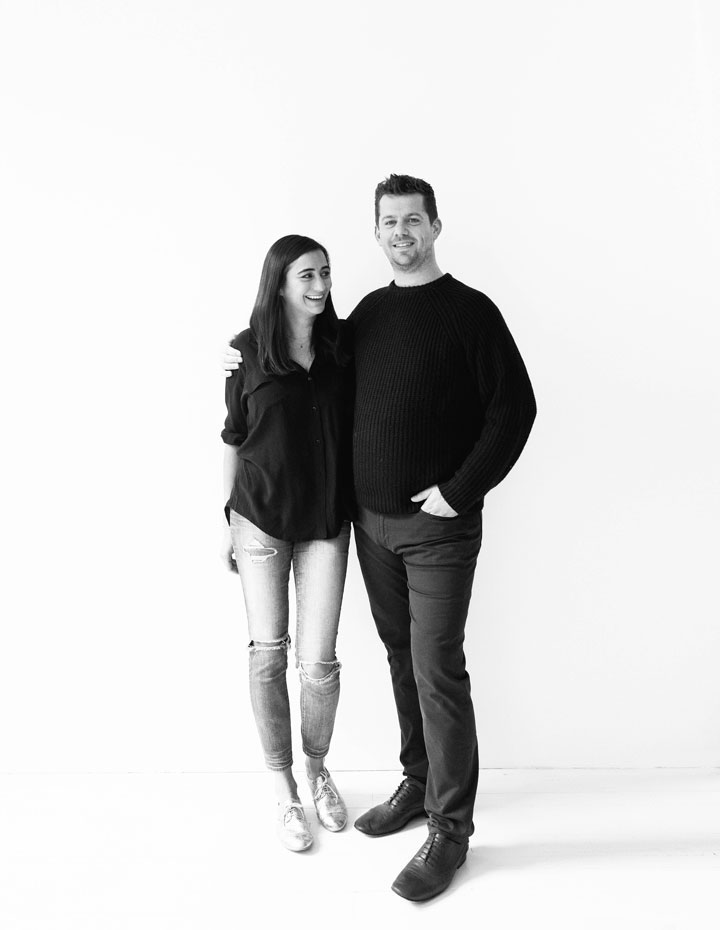 Meg Donohoe and Mitch Paone are the founding partners of DIA, an independent creative agency in SoHo. Both Kansas City natives, they met in New York City, when they were freelancing at the same company. Mitch's strategizing (gummy bears left on Meg's desk) and a lot of work lunches eventually led to a few things: Marriage, a branding firm for clients ranging from Samsung to the U.N. to FX, and a common affection for Layla, their giant rescue dog, a companion at home and office.
While Meg is the managing director and Mitch the creative director, the organizational lines at DIA are porous. Since they know each other so well that they can practically finish each other's sentences, they can weave in and out of each other's projects seamlessly, always keeping the goal front and center.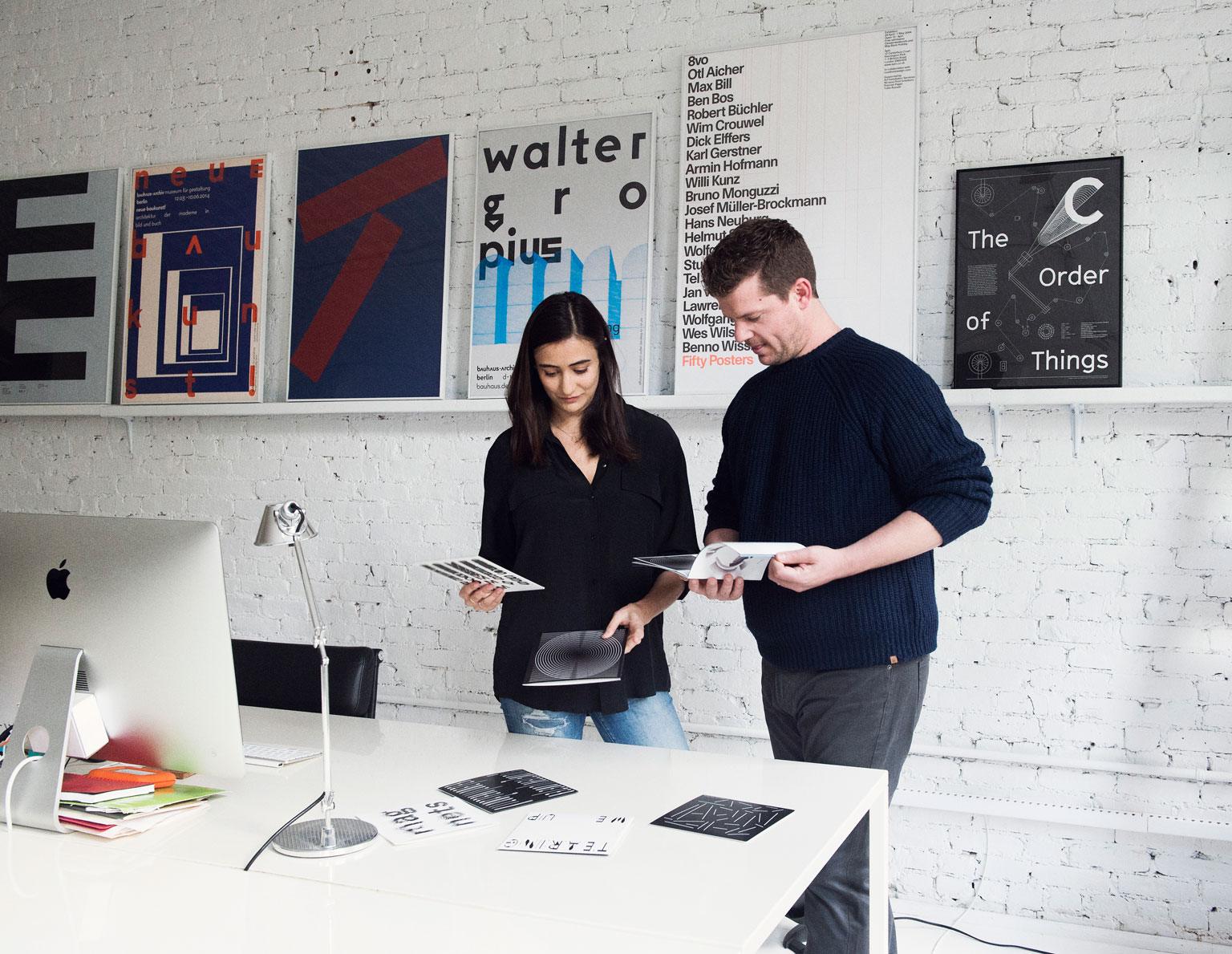 Meg: He had me at gummy bears. You don't get gummy bears for just anyone.
Mitch: We converged. We were like, "We're going to lunch, and we're going to scheme for the future."
Atlantic Re:Think: And those schemes turned into DIA. What drove the decision to start your own agency together?
Mitch: Even before I met Meg, I've always wanted to go for something bigger and have ownership of something. Then, when I met Meg through work, we realized that our roles were in new business for these companies we were freelancing for. We'd go to lunch or drinks, and we'd be like, why do we keep giving other companies so much work? We should try to figure something out for ourselves at this point.
Meg: We had both been freelancing for a while, and we learned what to do and what not to do, how to treat people and how we didn't like being treated.
Mitch: We wanted to create an environment where everybody who works with us, from employees to freelancers to clients, is super happy. Obviously, there are challenges, but for the most part that's how we've operated. It's pretty peaceful in here.
"If you just have a business partner, you might have different life goals, while for us, they're one and the same. If your business is successful, you can experience that success in your life."
Meg Donohoe
AR: Tell me about those challenges. Do you still face them today?
Mitch: Sometimes people come in and have a certain perception of us and say, "We're not going to take you guys seriously. You're a married couple and have a small, mom-and-pop firm." We are small, but if you look at the work that we're doing, that should be irrelevant to the conversation.
Meg: I think some of our clients like that we're married sometimes, because they know that we're in it, we're focused, this company and our work is our baby. I think in the New York scene and design in general, a lot of studios come from a larger or better-known firm, whereas we had a different path and don't necessarily have the same traditional senses.
Mitch: We feel like there's a lot of resistance. That's a good thing, because it makes you push a little harder. One of my favorite quotes is that "Resistance is what makes an airplane fly."
AR: How do you divvy up the responsibilities at DIA?
Meg: I handle the majority of the business side: clients, scheduling, estimates, strategy, and writing. Mitch is all things creative. We have divides in that sense, but it always intersects, and if I have questions he always helps me answer them. And I do the same for him.
Mitch: She's going to see details that I'm not seeing, on a creative level as well as the business aspect.
AR: Does that collaboration relate to your relationship? Does it create an understanding in work that might not happen otherwise?
Meg: Definitely. If you just have a business partner, you might have different life goals, while for us, they're one and the same. If your business is successful, you can experience that success in your life.
Mitch: It's very one-to-one. We put all our eggs in one basket. Beyond our relationship, we believe in this creative goal so much that we're going to throw everything in. It's risky, because if it doesn't pan out, all your eggs are gone. But we wouldn't do this if we weren't aligned on a way deeper level. Everything in our lives syncs up, so there's no blurriness in where we want to take the business.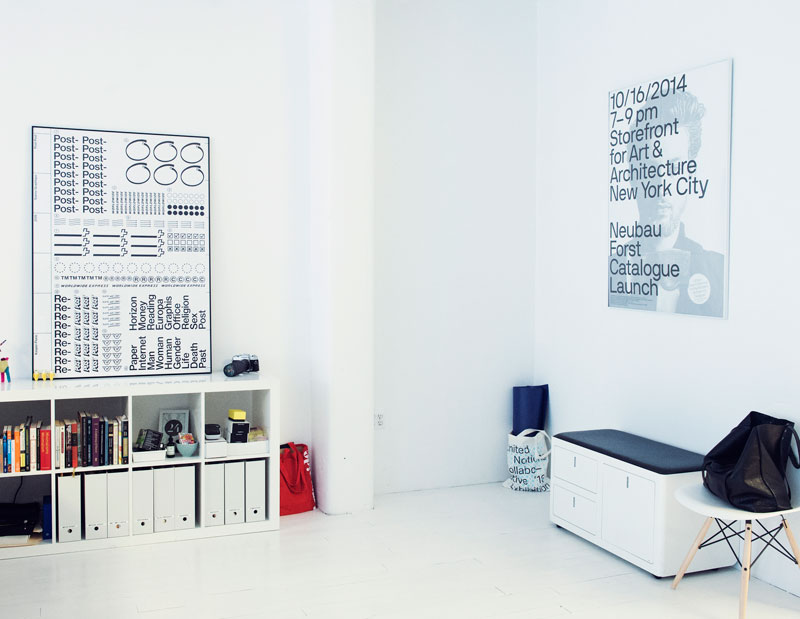 AR: The philosophies that you take to your work—are they also things you prioritize in your relationship together?
Meg: Absolutely. I think being adaptable is number one, in work and in life. If you can't roll with the punches, you're screwed, and if you don't have a sense of humor, you're going to make things so much harder for yourself.
Mitch: At the same time, even outside of the work, I have an overall philosophy of taking everything you do, whether it's making the bed or a brand identity project, and going for it. Put everything you have into it.
AR: What are you happiest or most excited about when it comes to DIA, and when it comes to your relationship and your future?
Meg: With DIA, I'm excited to change the face of American design. We're trying to do something different.
Mitch: Brand identity work is the one area where no single country has really pushed the envelope incredibly hard. If we can redefine what brand identity means for American design in the next three to five years, that'll be really cool.
Meg: People are more appreciative of design today than they were five years ago, so I think we can keep pushing people's taste levels, pushing what people are used to, and pushing people out of their comfort zones.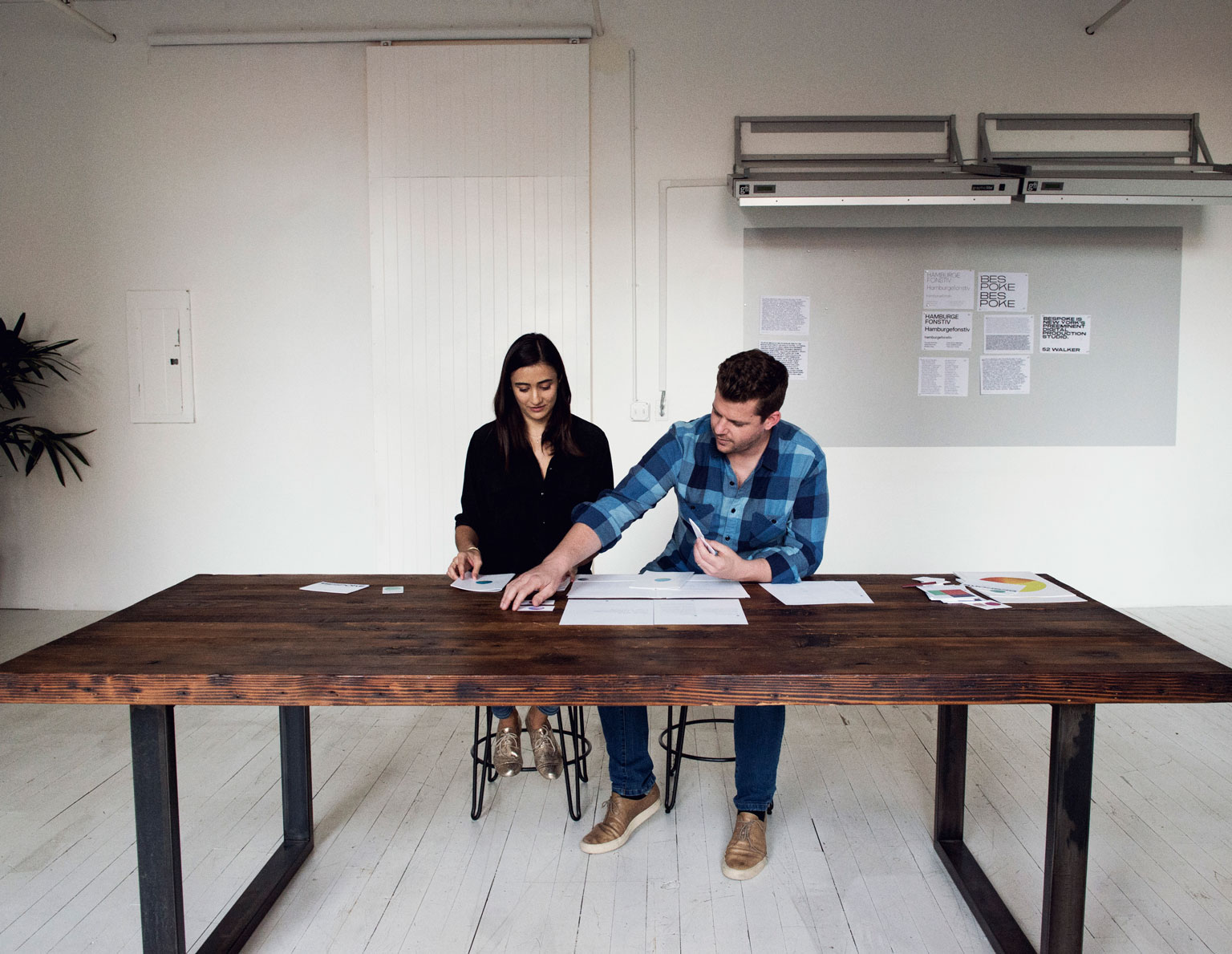 AR: And when it comes to the two of you?
Mitch: What really makes me happy is the tranquility. You both get out of work at the same time. You can both just completely relax and be comfortable in your space together. It's completely peaceful, and you're sharing that with somebody else. You're completely present with that person.
Meg: Sometimes, people ask, "How do you do it? You're crazy, don't you want to kill each other?" Working with your partner or spouse might not be for everybody, but I think it makes things better. You can have conversations about your work that you both understand. If he has to work late, I fully get it. You build something together, and that's huge.
The Pioneers
Laura and Kelly Sanders Moffat were tired of other people limiting the clothes they could wear. So they started making their own.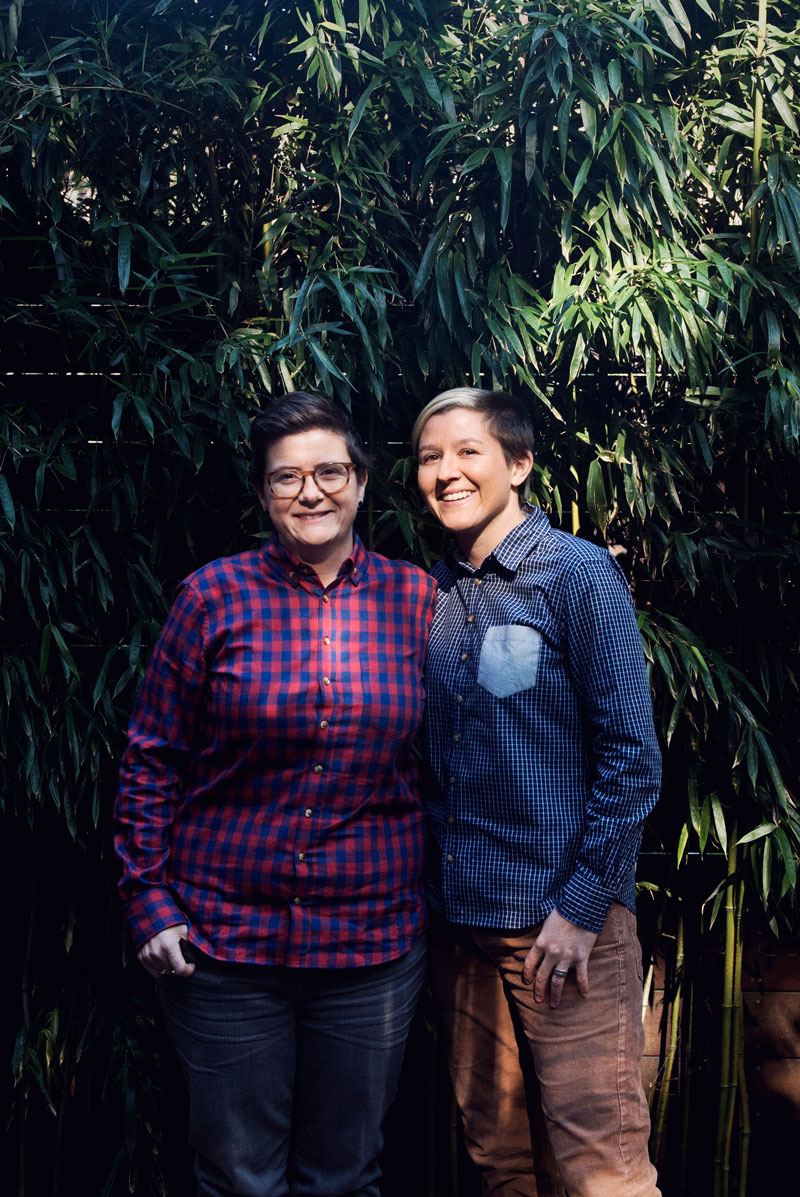 Laura and Kelly Sanders Moffat almost didn't meet. Their first date coincided with a miserable January blizzard, and they both remember dreading going anywhere in that weather and toying with the idea of cancelling. Fortunately, they both showed up that night to a restaurant in Brooklyn and hit it off right away, talking so much they almost forgot to order food.
Five-and-a-half years later, Kelly is no longer a librarian and Laura has left her job as an agency strategist. They're also no longer single: They married in the summer of 2014 and co-founded Kirrin Finch, an independent clothing brand, in 2015. Together, they oversee all its operations, including production, which is based entirely in New York. Neither Kelly nor Laura previously knew anything about fashion, but they did know that there was an industry need going unfilled: menswear-style clothing that would fit women. It all began taking shape while they were still on their honeymoon, traveling through Southeast Asia.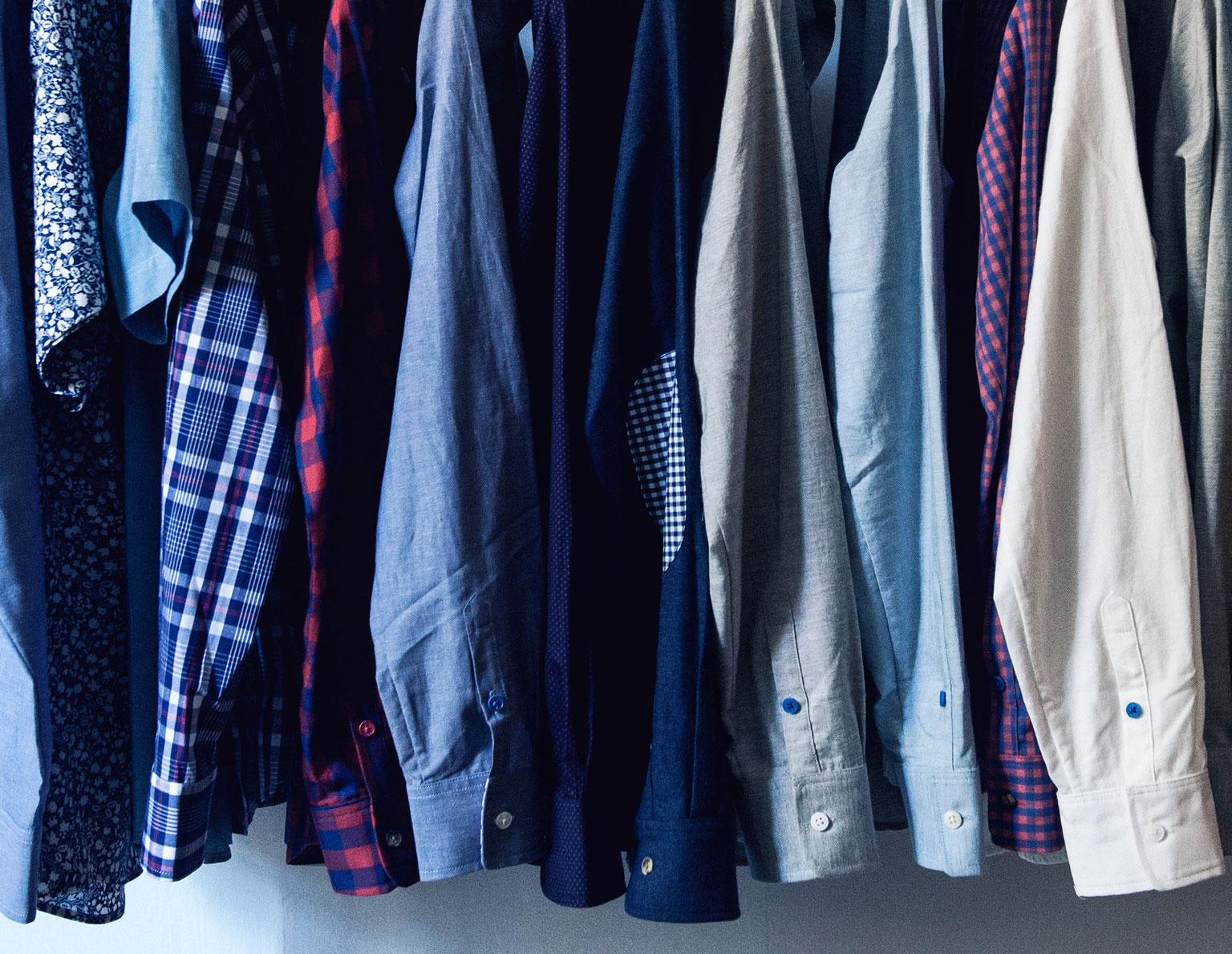 Kelly: I made a shirt one night on our travels when I had had too much of some Vietnamese concoction. That went badly. Luckily, our shirts are much better now.
Laura: Once we got home, we went for it, guns blazing.
AR: So you came home to a new adventure?
Kelly: I'm a little more laidback: "Everything's going to be fine. We'll figure it out." Laura likes to know exactly: "At 9 p.m., we're doing this. At 9:05 p.m., we're doing this."
Laura: It wasn't that I wasn't excited about it! It was a transition. There are a lot of fears associated with starting a new adventure. Working together: What's that going to be like? How are we going to delegate our tasks? All of that takes time, for any couple or any business relationship. It's been about a year and a half now, and one of the best things that has come with that time is knowing who owns what. We see each other all the time. That's really wonderful, and it allows us to experience amazing things together, but you need to have your own space, too.
"Without Kelly, I honestly don't think that I could be in business as an entrepreneur. I think my striving to be perfect all the time would catch up with me, and I wouldn't be able to move forward. We're a balance of optimistic and pessimistic together, and that's perfect."
Laura Moffat
AR: How do you create that space?
Kelly: I have my little side projects and she has hers.That creates opportunities for us to actually have some occasional mental and physical space. If we didn't do things like that, we'd talk about work all the time.
Laura: That's one of the toughest things. Everything becomes work, so we have to create some boundaries and plan some activities that are completely unrelated to work.
AR: How did you start the process of learning the industry and the business of fashion?
Laura: When we came back from our trip, we signed up for all kinds of things. We took classes. New York is great because there are amazing resources for small businesses. There's SCORE, the Small Business Development Center, the Business Outreach Center: so many free resources for small businesses. It was the Business Research Center that suggested we apply to the Brooklyn Fashion Design Accelerator. There were also other brands in the accelerator that we could consult. That's been instrumental.
AR: Did it help that both of you were starting from square one?
Laura: I think the hardest part of being a couple who are in business together is maintaining a balance: feeling like we're both contributing on the same level and both getting the same amount of it. When we don't define responsibilities, if you don't feel like you really own a project, it can feel like you're floundering. I think the fact that we started from the ground up together and have learned together allowed us to divide off what we each care about. We have to divide and conquer to be as efficient as possible.
Kelly: Laura taught herself how to use Adobe's Creative Suite. Prior to this she literally knew nothing about Photoshop or Illustrator. I think one of the ways we balance each other out is that Laura's perpetually looking for absolute perfection. I'm more, "Let's take a risk! It all looks great!"
Laura: Without Kelly, I honestly don't think that I could be in business as an entrepreneur. I think my striving to be perfect all the time would catch up with me and I wouldn't be able to move forward. We're a balance of optimistic and pessimistic together, and that's perfect.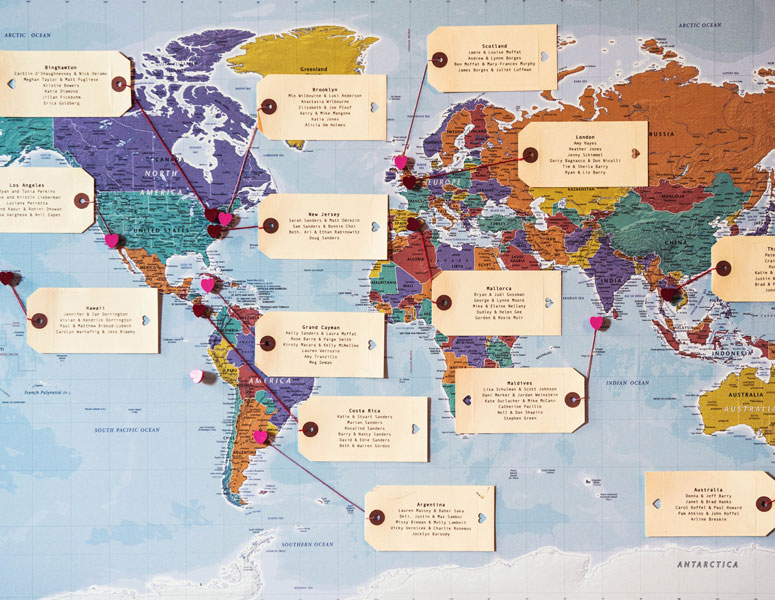 Kelly: I do think that, because of your attitude, we have a quality product. You make us push to be excellent at what we're doing, and the balance between us is part of our success so far.
Laura: We had the business idea earlier in our travels. And I said that if we can make it through the nine months' traveling together and still want to be married, still be happy—if we can make that together, then we can be in business together. It's a good test of what it could be like, to be together and make decisions together all the time.
AR: What are the principles you follow in running Kirrin Finch?
Kelly: One of the things we focus on doing is supporting women and the LGBT community, and we've donated a bunch of our shirts to silent auctions for human-rights campaigns.
Laura: We also really focus on sustainability. We're always thinking about new ways that we can be sustainable. We're using a lot of sustainable cotton, and adding more hemp and linen. We don't use any synthetics at all in our button-up shirts.
Kelly: And we use recycled plastic bottles to make our T-shirts.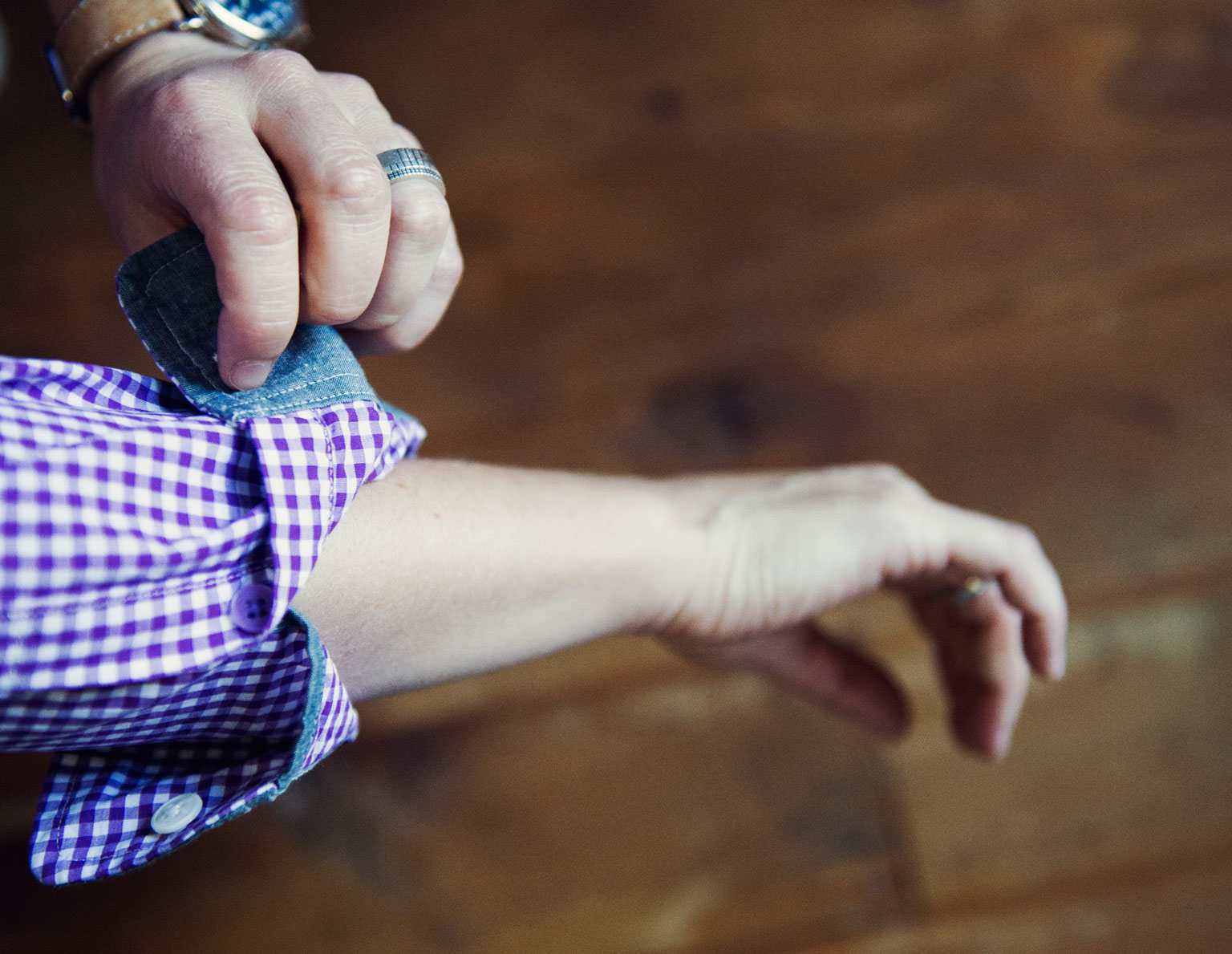 AR: And how did you come up with the name Kirrin Finch?
Laura: Well, we're both tomboys and we've always been tomboys, and we took the name from two literary tomboys. "Kirrin" is from the Famous Five book series, and we took "Finch" from Scout Finch in To Kill A Mockingbird. And kids are inspiring because when you're a kid and it comes to clothes, where are the rules? You can wear this, wear that, and you're free. So Kirrin Finch is kind of about that: It's being free to wear whatever you want.
The Entertainers
The founders of Pinch & Plate want to curate gourmet dining experiences that transform your kitchen and dining room for just one night.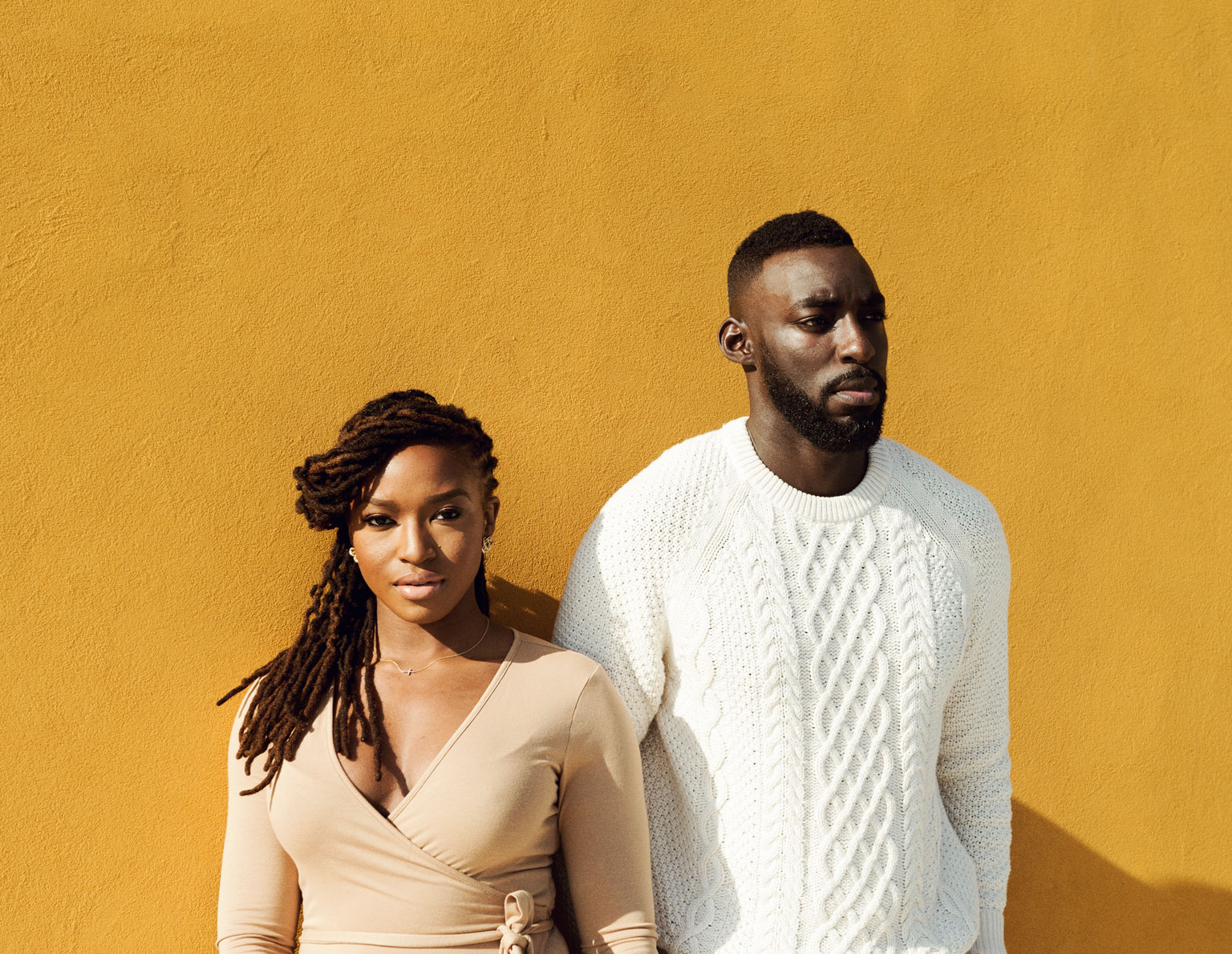 Janell Mack and Eric Adjepong have different accounts of how they first met. Hers is that she spotted him at a mutual friend's party and says they were briefly introduced (even if, as she jokes, he didn't remember her). His version is that he saw her first in Facebook photos from that party and was so struck that he asked for an introduction. A few direct messages later, and they met up for dessert. The next day, Janell texted a friend to say she'd met her future husband. A year later, he proposed at the same café, and they're planning to tie the knot in May 2017.
Towards the beginning of their relationship, Eric made Janell dinner for the first time: lobster ravioli and apple pie. She knew he was a private chef but says anyone could have made those dishes. She's a tough sell. It was only once she saw him prepare a meal from start to finish that she realized he's the real deal, a culinary artist with serious dedication to his craft. She's creative in her own right, too. On top of a career in business consulting, Janell runs a private interior-design firm. As they prepared to host a few of Janell's girlfriends for dinner one night, Janell set up the room while Eric handled the kitchen. At one point he walked into the dining room and saw what she had put together, and they both realized there might be something more to this relationship than a love affair.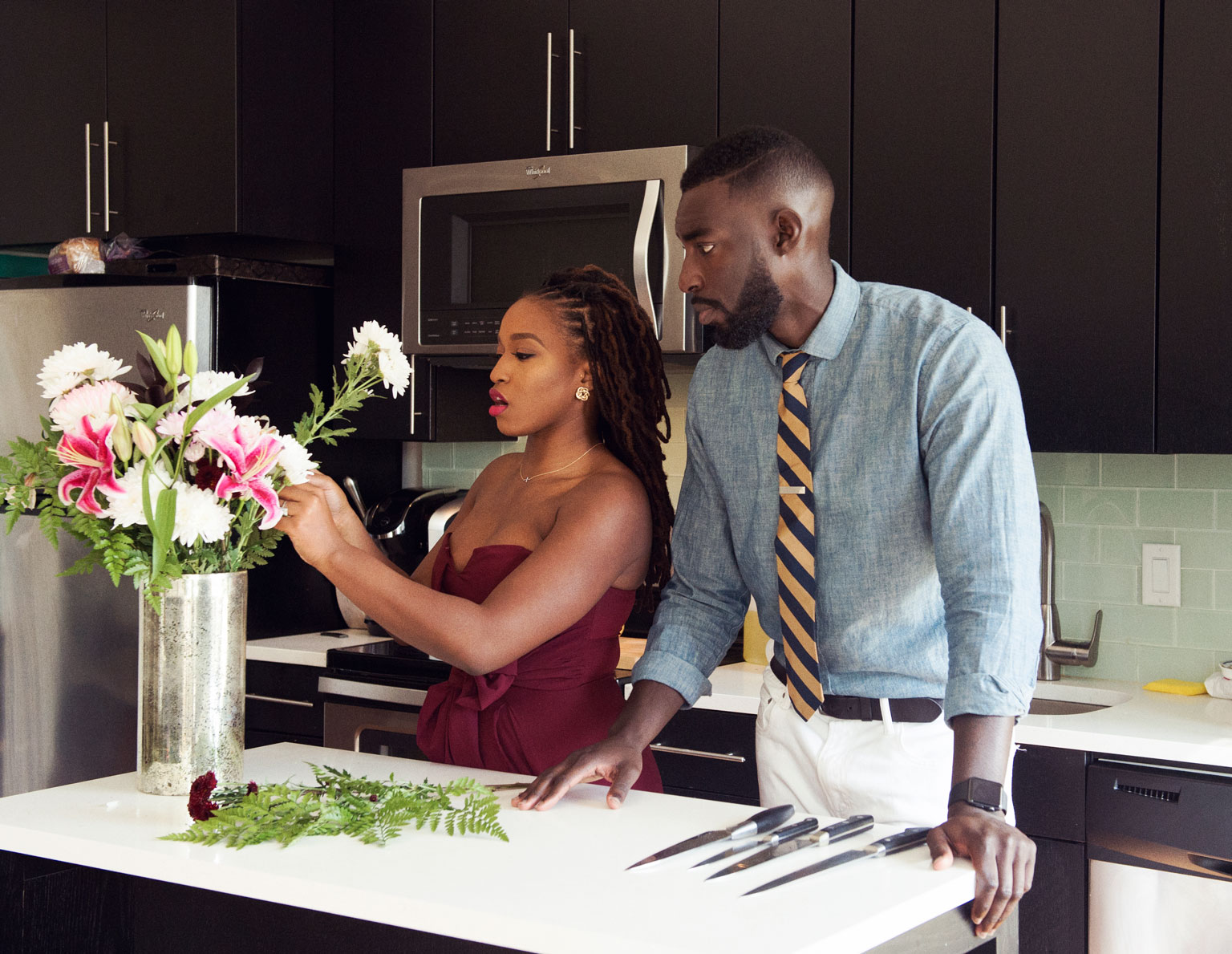 Janell: We talked about the menu and everything, but I didn't really mention anything to him about what I planned on actually doing at the party or how I wanted it to look.
Eric: I had no idea what everything was going to look like, so when I turned that corner and saw the table, I'm like, "Whoa." I yelled out to her, she was in another room, and I'm like, "I think we have something!" Then she kind of chimes in, "I think I know where you're going with this."
AR: That eureka moment was the beginning of your company, Pinch and Plate. How did it evolve from there?
Eric: It's a restaurant type of experience, and we can basically set up shop at any location. We bring everything, we take everything with us, we do the dishes, we clean up. It's a full-service type of restaurant at your house.
Janell: I greet guests when they come in, so the host can actually socialize with the guests that are already there. I give them a drink, they come in, we have the music playing. It's really a whole experience.
"[I]t was just kind of perfect because I have a business degree and he's the creative person. He's the starving artist type and I'm very structured, organized, analytical, so naturally that's the dynamic of our relationship."
Janell Mack
AR: You mentioned that when you met, neither of you were really looking for a relationship. It sounds like Pinch and Plate started with a similar mindset?
Janell: Neither one of us was looking for the next big thing. It just so happened that we found it, and it was just kind of perfect because I have a business degree and he's the creative person. He's the starving-artist type and I'm very structured, organized, analytical, so naturally that's the dynamic of our relationship too. I naturally fall into the manager role anyway.
AR: At the time, you were both living in Harlem. Eric proposed right before you moved to Connecticut for a long-term work project for him. A few months ago, you decided to move to Janell's hometown, Washington, D.C. What inspired the move?
Janell: When his project was ending in Connecticut, we had a decision of whether or not to go back to my apartment in Harlem, or to choose somewhere else. Then we got to thinking ... It was your idea though.
Eric: Janell eventually wanted to end up back here. I started thinking, let's do it now instead of waiting.
Janell: Ultimately I was thinking that's where I would like to be when we have kids. We don't have a real timeline but the reality is we're married, within some point about a year or two later you're going to have baby. We're also renovating a condo a few miles away. It's an investment for now but that way when the time comes we can just move in and it'll already be decorated the way I want.
AR: How does your relationship impact your business partnership?
Janell: We have so much fun with it, and it's effortless. We're together on the weekends anyway, so for us to knock out a dinner party, it's the time we'd already be together. That's the reason why the business is so great, because we do it effortlessly. I'm into interior design, so I can put together a table with nothing, and Eric, he can whip up whatever with leftovers in the refrigerator so for us it really is effortless. It just so happens that now we get paid for it.
Eric: Knowing her personality and how she is, there are certain things I'm afforded as we turn into the business side of things. That comes with just me knowing her personally, so when it comes to detail, touch, the really small fine-tuning things, I can trust her. When you're working with someone, especially if you're a new company or new office, you're still trying to feel people out and you want to make sure that you're liked and you want to like everybody else, so we took care of that stuff as we were dating.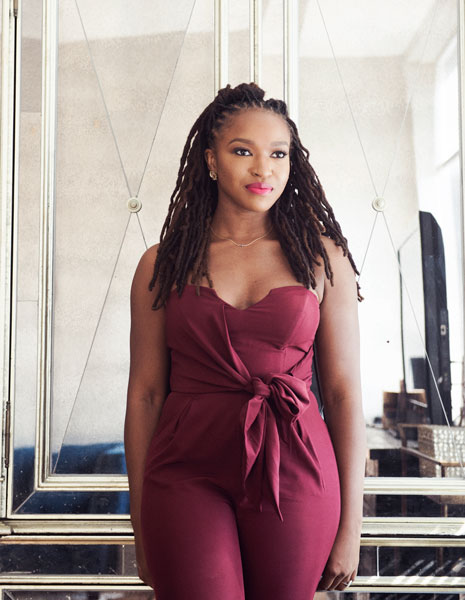 AR: Where would each of you be if you hadn't met each other?
Eric: She would be flourishing, I'd be somewhere, I don't know where I'd be, to be honest. That single bachelor life.
Janell: I don't know. My life would probably be similar, it just wouldn't be as action-packed. All of the attention we're getting is because of him. I'm the more calm one, not really out there. But people are drawn to him. And people are drawn to us because of him.
Eric: I don't know about all that. She's the star of the show.
AR: How do you divvy up the responsibilities?
Janell: We don't really. He does all the culinary. I handle everything else. As soon as we get the first email in, I interact with the client until we talk about the menu. I brief Eric, and then he has a separate conversation with the actual host.
Eric: During the event, I think I take over. She's definitely there and curating and making everything happen, but when it comes to the food, I'm just zoned in and you know that's all on me.
Janell: He doesn't know anything about decoration and I don't know anything about what he does.
AR: So being a couple definitely makes a difference for you?
Eric: I think the fact that our dynamic, the fact that we're a couple, really drives our success, to be honest. It kind of gives people a sense of familiarity or just being comfortable about it. I don't know, but I think people are trusting the fact that it's a couple doing this. I think that's what it is.
AR: What's next for you guys, and for your company?
Janell: I don't know how I feel about it yet, because it's so personal. There's no plan. There's no rules to it. Every situation is different. Everyone is customized. I don't know how I would teach that to someone else.
Eric: We'd really like to be a brick and mortar.
Janell: If we buy a property, it would be a big studio kitchen for him. Teaching classes and tasting and all that—he needs his own domain. It would be nice if we could just live upstairs from it. He's an all-day, all-night person. He wants to get up at three in the morning and work on recipes, so it would be nice if he could just go to a kitchen that's already there. Double ovens, the gas stove with all the burners, and all that. If we found the space, that's what we'd like to do.