On Wall Street, being first matters. If a tip isn't fresh, it isn't a tip.
Once upon a time, some of the best tips were in printed on paper—the Wall Street Journal, Barron's and the Value Line newsletter, for example. In the '90s CNBC made cable TV the go-to spot for on- and off-the-floor market buzz.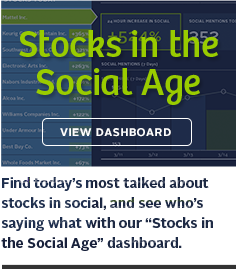 Next came the Internet. Thanks to online trading platforms that made investing in stocks cheaper, faster and easier, new investors started getting into the game by the millions. At that point everyone thought the market had been thoroughly democratized. Access to advanced trading tools and good information was ubiquitous, leveling the playing field.
And then came social media, which set a whole new standard for speed as Facebook, Twitter, LinkedIn and others brought a flood of fresh news and insight from the markets—some of those tips quite valuable, others not so much.
The gate for market news having been flung open wider than ever before, some investors have had to learn the hard way something that had been axiomatic in the days when print was king: For a tip to be good, it has to be true.
There is a lot of truth in there, but on sites like Twitter and Facebook, where posts come at a rate of millions per hour, truth can be hard to discern. As investment banker, Morning Joe economics analyst and former Treasury official Steven Rattner puts it, "Getting your investment information from social media is like drinking from a fire hose. You can't find the pure stream of unbiased advice."
Whatever the pitfalls, however, Twitter and its social media siblings cannot be ignored as a source of important financial news.  Mainstream journalists and specialty publications use it every day to find and convey information that investors need, and individual investors use it increasingly as a primary source as well.  A research study by the Brunswick Group, published early last year, found that social media—including sites like Facebook and Twitter as well as message boards and the blogosphere—influenced half of all their respondents' investment decisions. It also reported the sense among investors that social media's power was growing stronger. The data underpinning that study is now almost two years old.
One sign of that growing influence is that some of the biggest names in finance are becoming Twitter handles, like @Carl_C_Icahn and @jimcramer. Icahn is the author of one of Twitter's most famous stock tweets, an announcement that he had taken a big position in Apple, which raised the company's value by $17 billion inside of an hour.  Jim Cramer, founder of TheStreet.com, and host of CNBC's Mad Money, uses Twitter to reiterate the analysis he has shared on his website and CNBC.  "Social media is a good way to let people know that you have already talked about something in depth in another venue," he says.  Every financial journalist has her list of tried and true professionals to follow, ranked by other pros, and there's no trouble finding them.   
Still, caution is called for. Not even the most reliable advisors know the true provenance of every tip they get. Most people with money to invest have heard from enough Nigerian finance ministers and British lottery officials to recognize a completely bogus come-on when they see one.  The danger increases when the tip comes from someone you know, or think you know.
Consider the tweets sent out by 50 Cent—yes, the rapper, Curtis Jackson—in which he touted H&H Imports, a penny company that hawked 50 Cent headphones and slippers with night lights. Without mentioning that he owned a 12.9% stake in the company, 50 Cent started tweeting about the shares: "They are no joke…. You can double your money right now."  Within hours, enough of his 3.8 million Twitter followers responded to send the share price soaring 270%, increasing the value of his shares by $8.7 million.  Perhaps in recognition that what he had done was potentially illegal, new tweets from his account advised people that HNHI "may or may not be right for u. Do your homework…. Talk to financial advisor about it." With that, the stock retreated. There is no evidence that 50 Cent cashed in on the run-up, but for those who bought into it, the damage was done.
The Securities and Exchange Commission is so worried about unregistered advisers giving out advice when they don't know a debenture from a convertible bond that it has issued warnings to seniors and the general population about frauds perpetrated on unwitting investors via social media.  And for people tempted to sip from the social-media fire-hose, the SEC's advice is worth reading very carefully.
For better and worse, some corners of the market will always be the Wild West.  Social media has made it more democratic, not more civilized.  But investing is only a dangerous game if you play it like one.  It doesn't have to be that way.