We asked seven families who have adopted teens to write letters to their teenage children telling them what they learned and gained from adopting them. The children also wrote to their parents to tell them about what being adopted has brought to their lives and what it has meant to them as they've become adults. The letters tell stories about resilience and compassion…and about missed curfews and their favorite TV shows.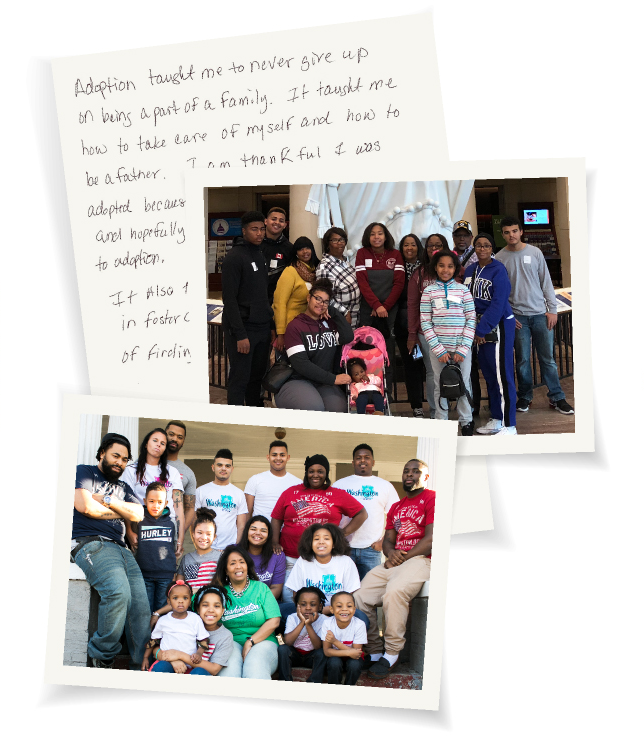 The Crenshaws
When he heard that there was a need for foster families in their community, Floyd Crenshaw told his wife, Raenell, "I believe this is a part of our calling."
The couple fostered and ultimately adopted three children in 2013, two of whom were teenagers, aged 15 and 16 years old. Raenell is grateful that they did.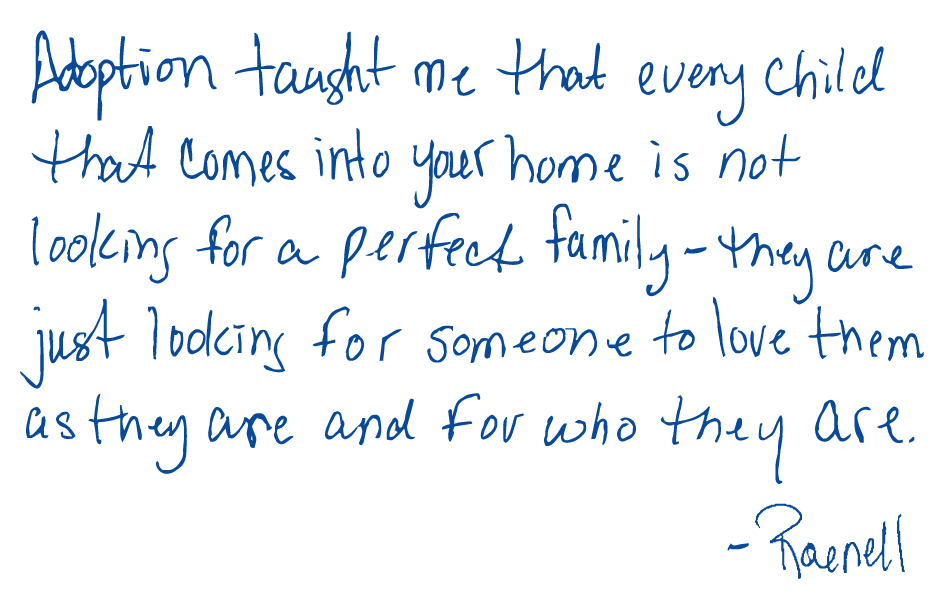 Sadly, Floyd passed away three years ago, but Raenell is still surrounded and supported by her family, both biological and adopted. And according to her son Keontae, whom she adopted when he was 16 years old, she can rest assured that her children are grateful.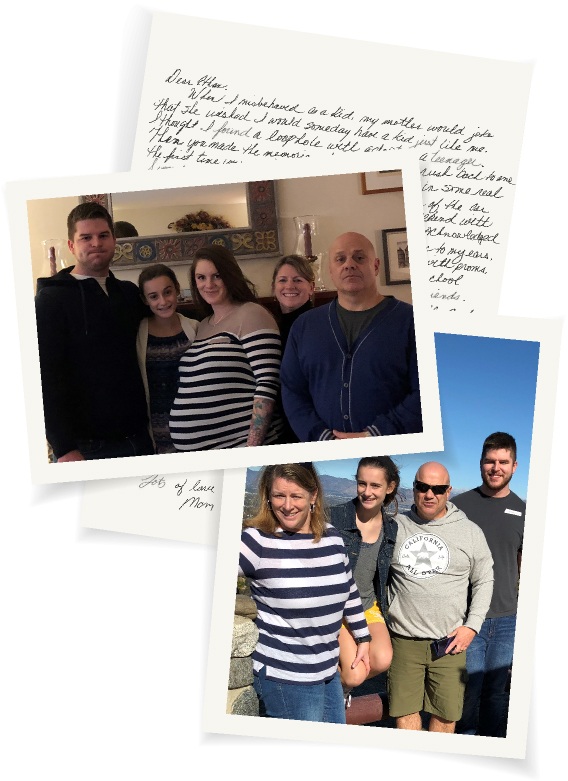 The Pascuccis
Karen Pascucci laughs when she remembers the "knuckleheaded things" that her son, Ethan, did as a teenager, after they adopted him at age 17. It reminded her and her husband, John, of what they used to be like as teenagers—so they knew exactly how to respond, balancing discipline with understanding, always showing Ethan that adopting him meant that he would always be able to come back to them.
And now that Ethan is older, the three of them can laugh together at the missed curfews. Karen teases him that he'll know what it feels like the first time his kids miss curfew.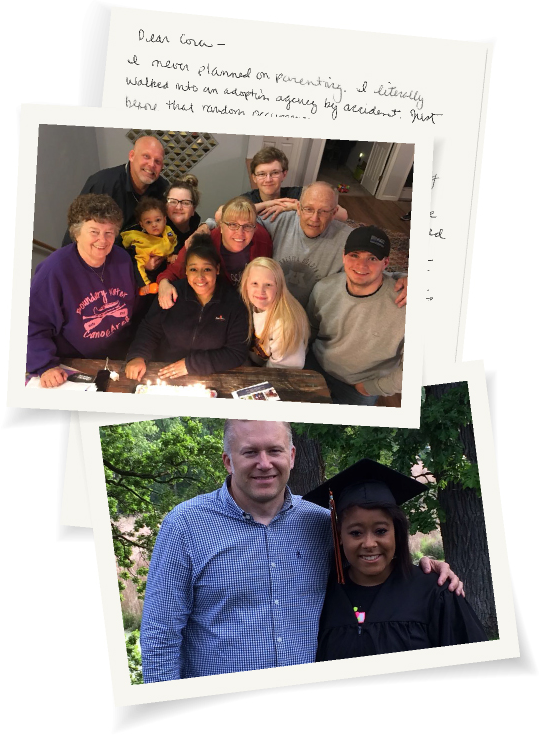 The Iversons
Chris Iverson never planned on being a parent—in fact, he walked into an adoption agency on accident. Coincidentally, the same morning, he'd heard a story on the radio about the challenges that many foster children face when it comes to finding permanent families. Standing in that agency, the idea clicked: This was a way for him to contribute to social justice. That's why he started the process to adopt Cora when she was 16 years old, though it wasn't always the plan.

But, according to Cora, Chris wasn't the only one who was changed.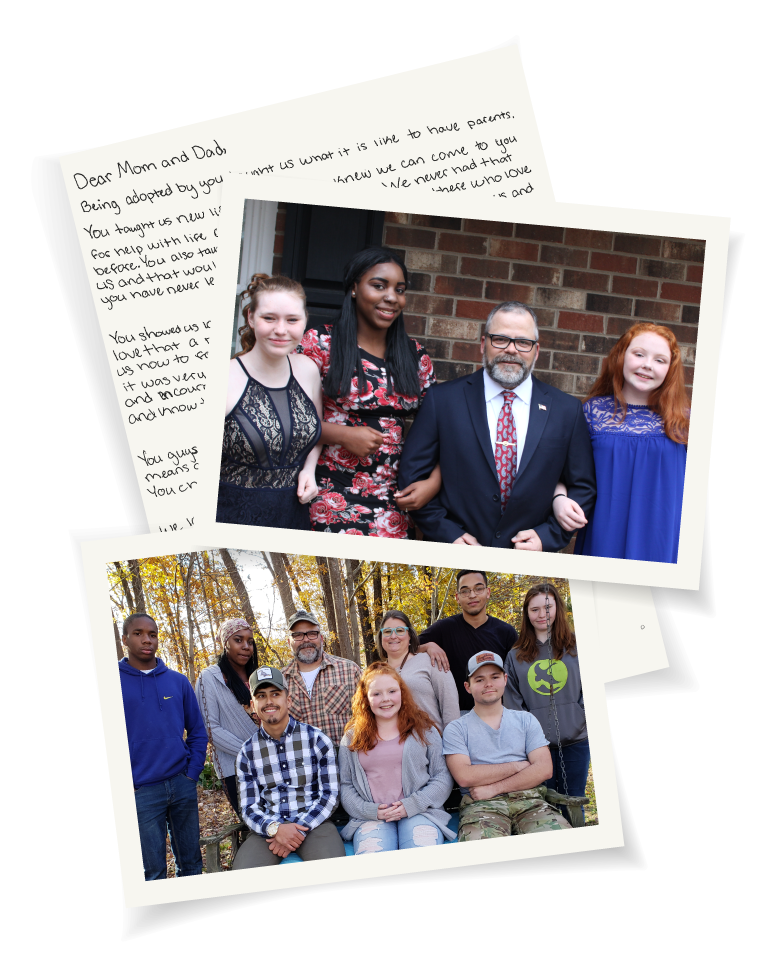 The Allreds
Before Mike and Jennifer Allred adopted Andrew, along with Misty and Amberlynn, he had been placed in 16 foster homes. But even as an older adoptee, at 20 years old, he never gave up on finding a family. Mike and Jennifer count this as a blessing.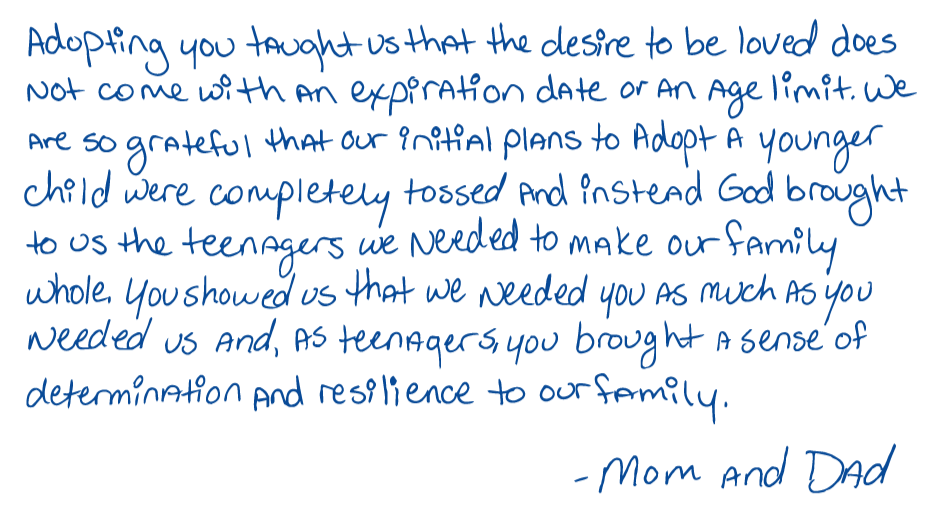 Jennifer remembers calling him one night during a parenting crisis with one of their younger children and realizing that he could give her advice, too. He told her to just keep doing what she was doing because it worked for him and the other children.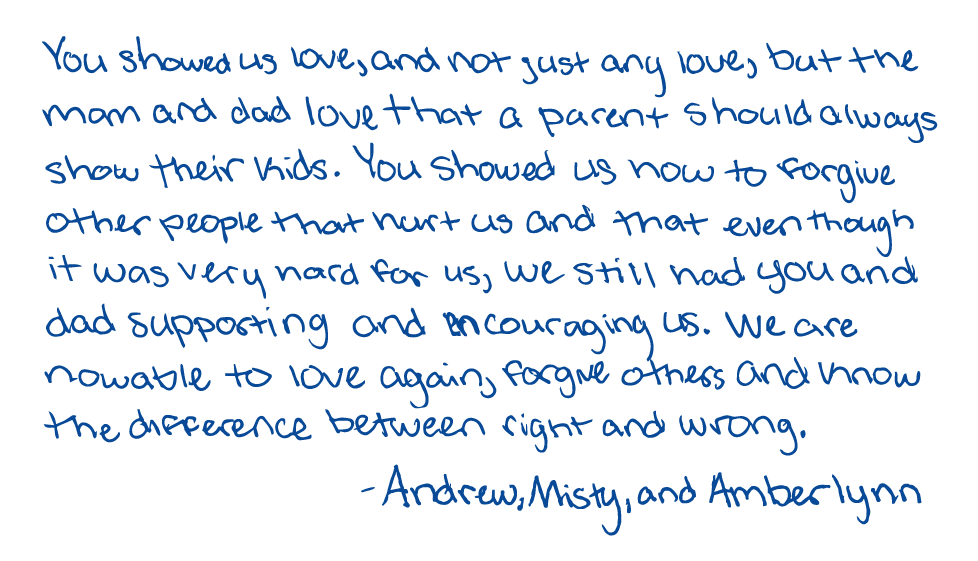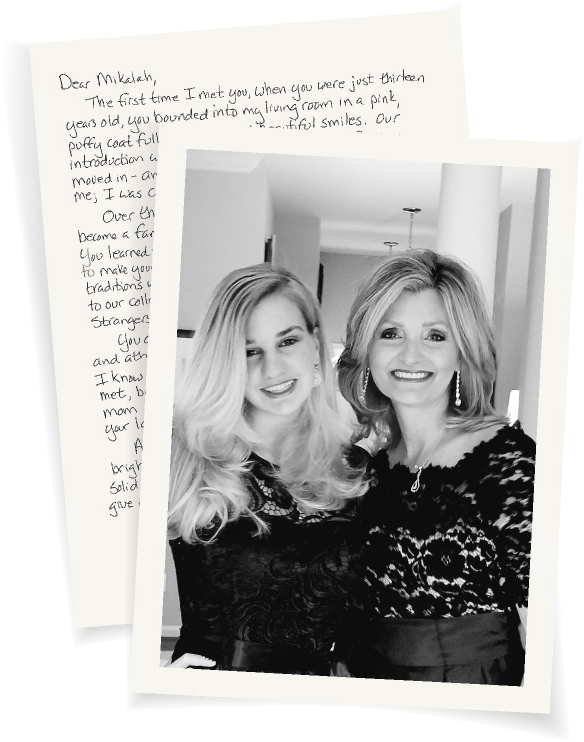 The Fields
Lesley Field vividly remembers the pink, puffy coat that her daughter, Mikalah, was wearing the first time they met. Her mind was made up when they hugged goodbye that day: 16-year-old Mikalah was going to be her daughter.
Six years later, Mikalah is an honors student, musician, and athlete. She describes her life as one full of color, thanks to Lesley.

And Lesley feels just as grateful for having Mikalah in her family.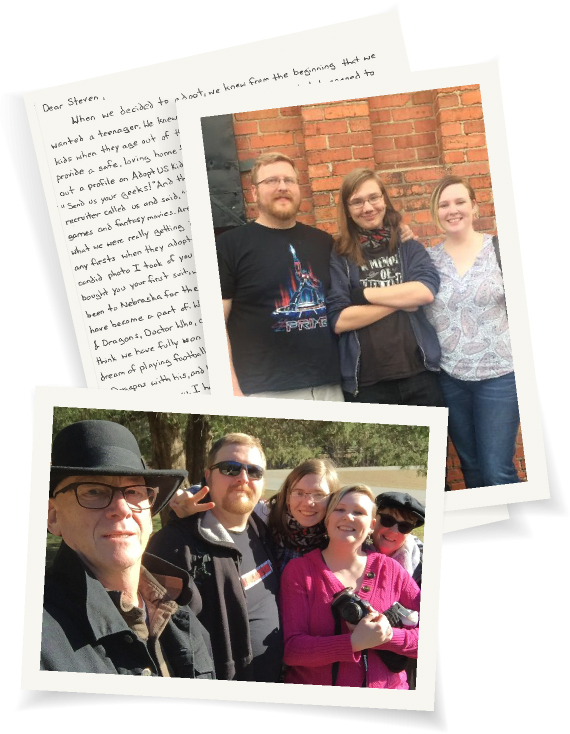 The Bradleys
Venus and Jo Bradley knew they wanted two things: They wanted to adopt a teenager, and they wanted that teenager to be "a geek." When they heard that Steven, 18, loved dragons, video games, and fantasy, they thought he could be their son.
And now he is. The Bradleys have taught him about fantasy role-playing games, sci-fi, and their favorite comic books, but they've also learned from Steven.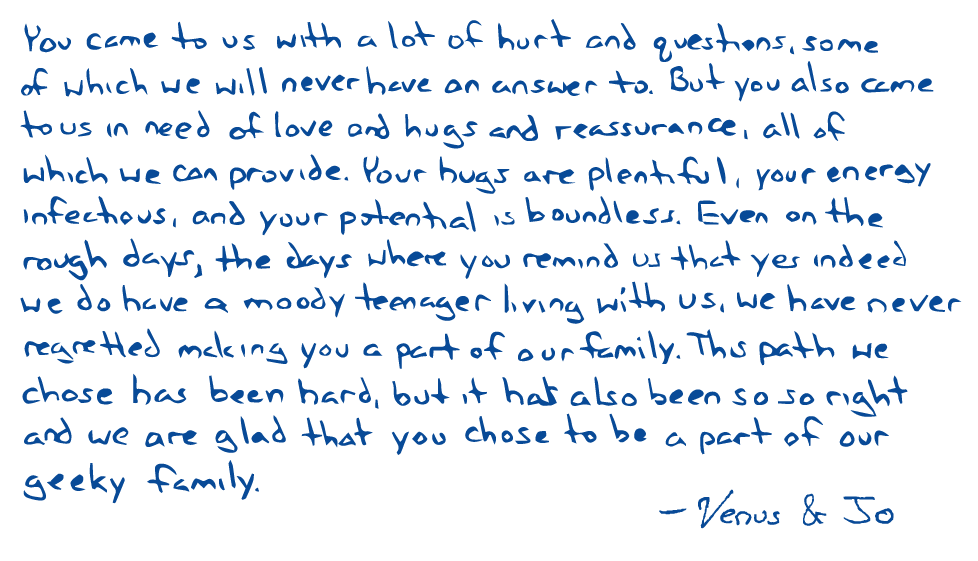 And Steven, who had struggled with the knowledge that his biological mother could no longer take care of him, learned that his life would go on.

The Cox-Okawas
Ken Cox-Okawa and James Cox remember being incredibly nervous before they met Helen and Reniel, 14 and 12, respectively. But as soon as the four of them were together in person, Ken and James knew that the two children were going to be a fundamental part of their family. And after their adoption, both Reniel and Helen have felt more like themselves.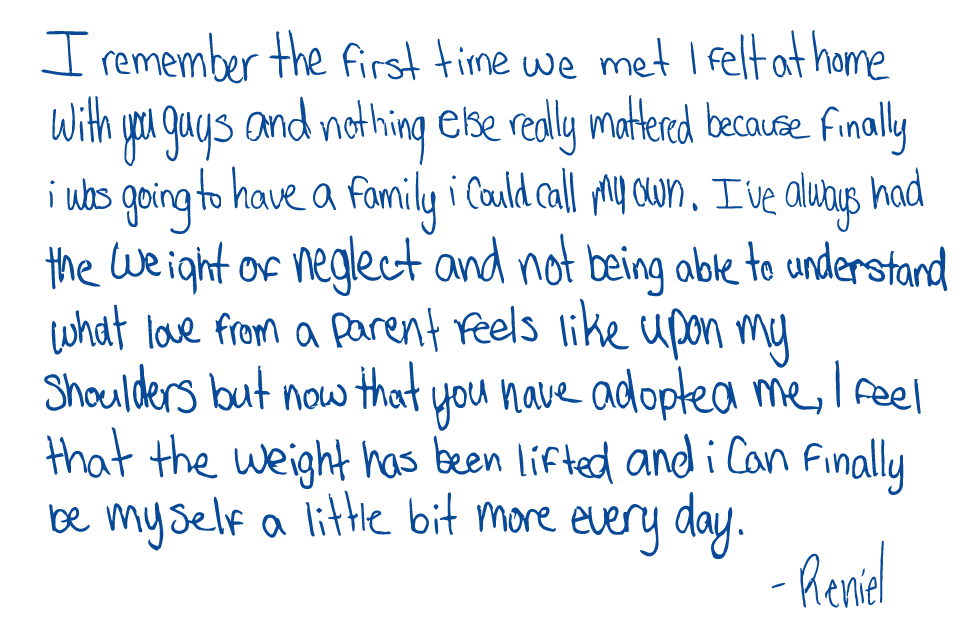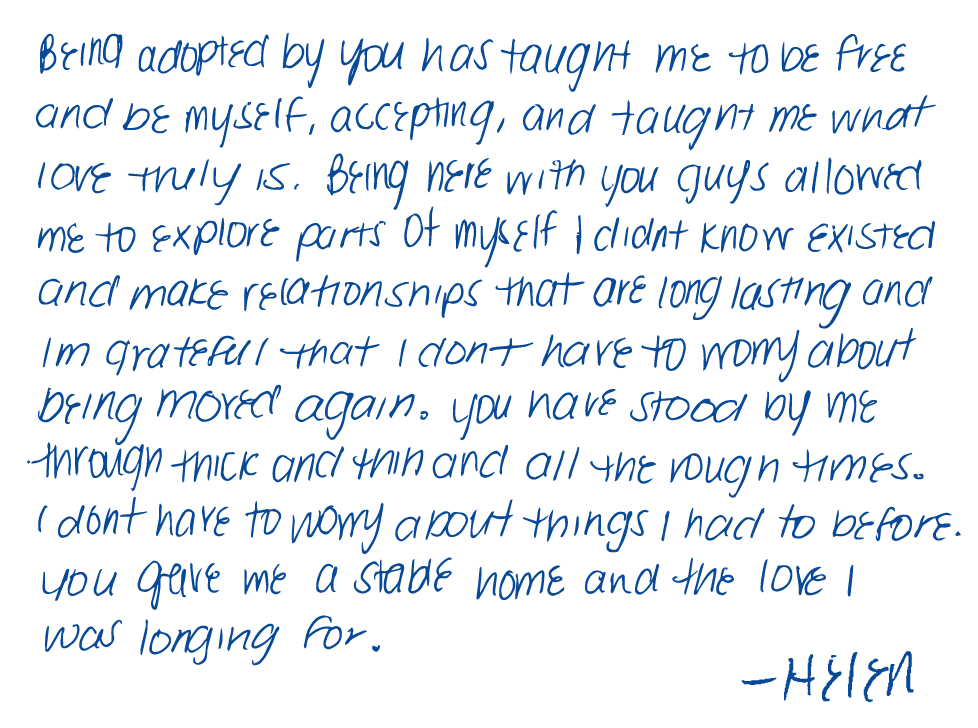 Teenagers deserve loving families just as much as younger children do. And they might end up being an unexpected source of wisdom and hope.
But the number of teens waiting to be adopted continues to increase, and teens face a particularly challenging time getting adopted. AdoptUSKids exists to raise awareness across the U.S. about the need for adoptive families for the hundreds of thousands of youth in foster care. Through its programs and by sharing stories like these, the project works to connect children and teens with potential adoptive families who will give them the support and encouragement they need throughout their teen and adult lives. To find out what teenage adoption can teach you and how to begin the process, visit AdoptUSKids.org.