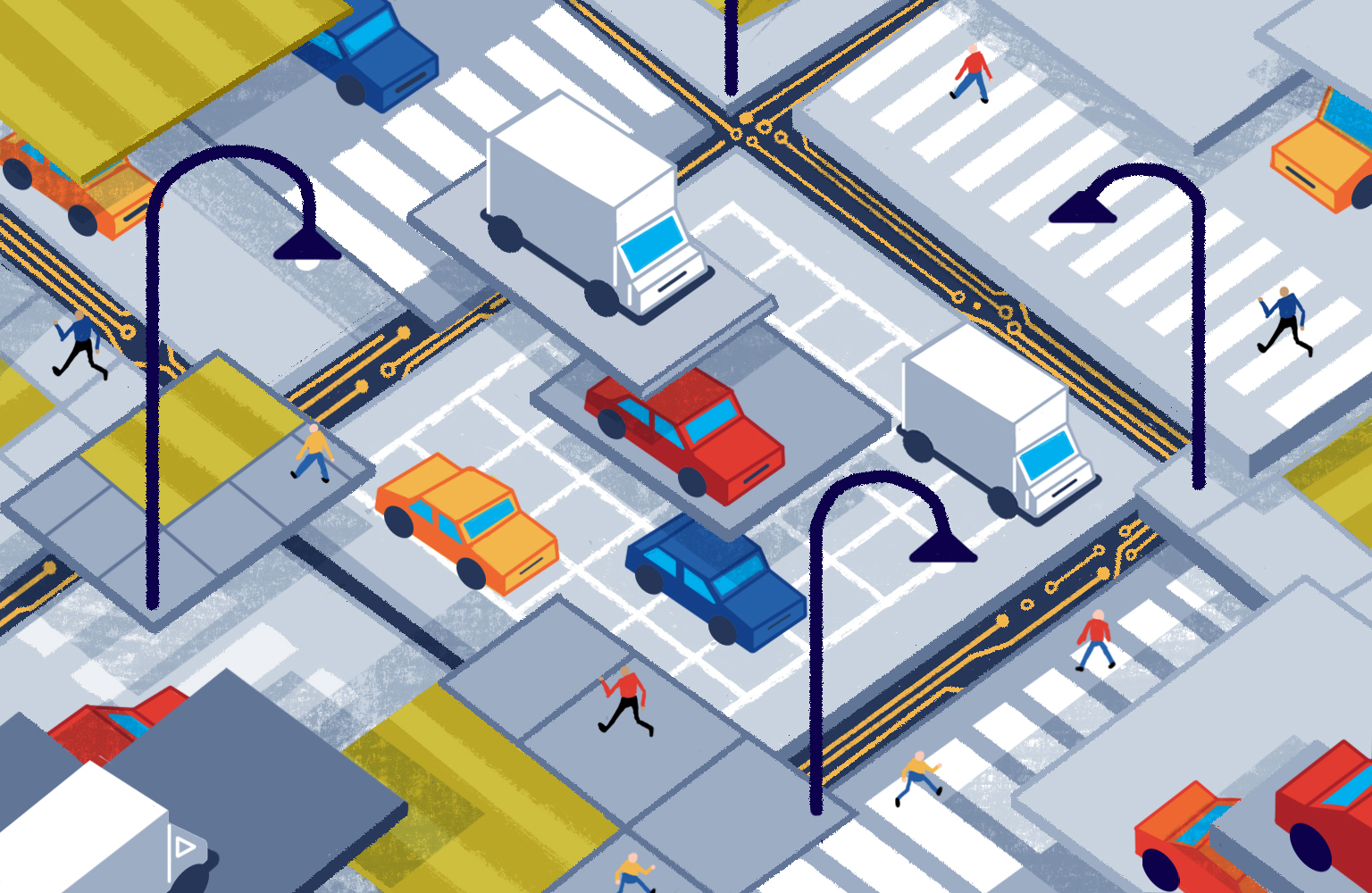 Move: The innovations reshaping how we get around
Soon, Your Streets Will Be Watching You
Driver surveillance was designed to make streets safer and more efficient. But what else could be done with the data that shows what we're like on the road?
We live in the era of mass surveillance. Most of what we do is carefully tracked: the websites we visit, the way we spend our money and, in some places, the way we drive. Certain cities and states across the nation already collect information about driver behavior using sensors and cameras embedded in their infrastructure; that data is later shared with city planners or the Department of Transportation to help them understand what kinds of changes need to be made—a new street light here, a stop sign there, a new road over there.
But who else is that data useful for?
According to Nino Tarantino, CEO of the data analytics agency Octo Telematics, it could be instrumental to insurance companies as they determine rates and process accident claims—i.e., figure out how much money they'll spend on their customers. As it stands, analytics companies like Tarantino's—ones that collect information about driver behavior and share it with insurance providers—rely entirely on devices embedded into vehicles to gather data. The information they get comes from activity inside the car, such as how much a driver tends to accelerate, how frequently they brake, and how diligent they are about using their turn signal.
Exploring what happens when possibility becomes reality.
But since that information is only about what happens inside a vehicle, insurance companies still have a somewhat limited understanding of their drivers' patterns of behavior, especially when it comes to traffic accidents. After all, most of the things that influence someone's driving decisions happen outside the car. Which means that collecting information about what happens on the road could be just as useful as the data about what happens inside a car, per Tarantino.
"[Driver-generated data] is much more powerful when it's integrated with contextual data, coming from around the vehicle," Tarantino says. "What was the condition around the vehicle when the event happened? Weather information, geographical information, but also city data—there's so [much] additional information, like traffic lights, new road conditions—that can be integrated."
Gathering data from environmental sensors—those on the road, not in the car—could also notify insurance providers exactly when an accident happens, allowing them to be more responsive to client in the event of an emergency. And it could empower them to immediately verify the conditions surrounding an accident, instead of relying on driver testimony, which can lead to more accurate and transparent claim processing. (According to Tarantino, the longer a driver waits to file a claim with their insurance provider, the higher the cost tends to be, "because they have more time to think about it.")
And as more customers become aware of their own driver data, they may become less accident-prone, and collisions will be a less common issue in the first place: according to Tarantino, many customers who have access to their own driver profiles tend to become responsible on the road within four or five months.
"They use this technology and they have the feedback, [so] they improve. They change their behavior, " he says, which is ultimately the point. "The goal is to have a safer driver, a better driver."
Of course, driverless vehicles might soon take human drivers out of the equation. In the years to come, as they permeate the automotive market, environmental surveillance will become essential to figuring out what causes an accident, Tarantino says. It will be tricky for insurance companies to figure out what causes accidents among driverless cars unless they have environmental data at their disposal.
Whether it's the human drivers of today or the artificial intelligence that may be driving our cars tomorrow, data that paints a holistic picture of our driving environments is going to be necessary to not only improve transparency in insurance, but also to make for safer streets.
The Possibility Report is an ongoing series about how technology is changing our understanding of the world around us. This article is part of MOVE, our discussion about how today's innovations could shape what we know about transportation, exploration, and navigation.