Tim Gehman, director of design for Toll Brothers, still vividly remembers his grandmother moving in with his family when he was a child living in Pennsylvania.
"We would hang out in her room watching The Brady Bunch," he says. "I have always looked back on the time we lived together and the things that concerned her, like her privacy." Gehman's memory highlights the central conflict at the heart of the multigenerational home between the benefits and the challenges of extended families living together.
Today, Toll Brothers is one of the largest homebuilding companies in America, and the company has found a niche in building homes across the nation for families that look a lot like Gehman's. In recent years, more Americans are looking for houses designed to accommodate multiple generations—specifically, grandparents moving in with their children and college graduates returning to live with Mom and Dad.
In 2012, the U.S. Census reported that more than 56 million Americans were living with at least two adult generations under one roof. Several years later, despite continued economic recovery following the recession, the trend is holding strong. At this point the "sandwich generation"—middle-aged adults living with and supporting both their children and their parents—has become such a fixture in American life that it's having an impact on everything from personal finance to architectural trends.
"We used to talk about the sandwich generation as people who were caring for an ailing parent and young children," says Andrew Cherlin, a sociologist at Johns Hopkins University. "But the story now is that the older adult generation is providing help to a growing number of young adults who can't quite make it on their own. At the same time, they have older parents who need some help. That's the new sandwich generation."
In the years since the recession, job prospects for many recent graduates remain dim. Adding to the challenge of finding work, college debt is a major motivation for kids to move back in with their parents after graduation. These recent graduates are also carving out more time in their lives to be single, delaying marriage and child-rearing longer than their parents did.
Nearly half of adults ages 40 to 59 have provided some financial support to at least one grown child in the past year, and nearly 40% say that both their grown children and their parents are reliant on them for financial and emotional support.
And data from the younger generation backs them up. Close to 15% of 25- to 34-year-old Americans—a record number—report that they are living with their parents today.
"This new life stage of early adulthood, in which many young people in their twenties are neither children nor adults…was not as prevalent a generation ago," Cherlin says. "It is as if a new stage of life has opened up after adolescence, in which young adults still need some assistance from their parents, and face a decade or more of transition into full adulthood."
For their parents, this can add pressure to save for more than a college education—which alone carries an average annual cost of $23,000—in order to prepare for the possibility of their college grads' return home. And when combined with the financial obligation of supporting an aging parent—in 2015, the national average monthly cost for assisted living was $3,600, or $43,200 annually—planning with both scenarios in mind is imperative.
As part of preparing for these possibilities, many Americans are reimagining how they build their homes. Companies like Toll Brothers are responding to this need by providing home designs that include separate living spaces for extended family. Their Duke home design, pictured in the rendering and blueprint below, includes an option to add an additional suite to the property, which can accommodate extended family members or college grads returning home.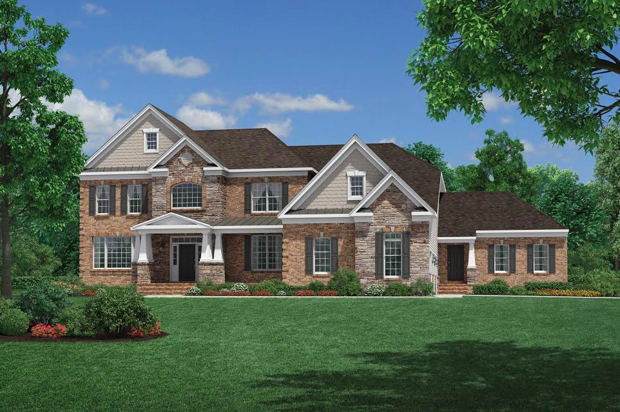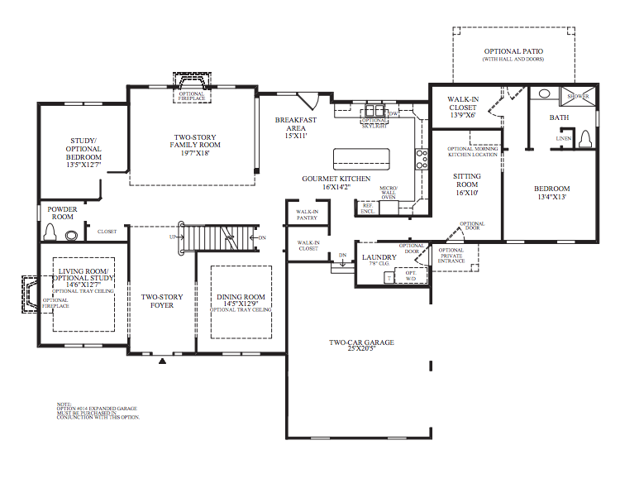 Like Toll Brothers, Lennar is another major U.S. homebuilder that has entered the market for multigenerational residences. Their NextGen home design essentially creates two homes under one roof—perfect for a family that includes parents, children, and grandparents. The design features a separate entrance, kitchenette, laundry, bedroom, and sitting room, all intended for a grandparent-in-residence, but it could also be used for an adult child.  Sales of the NextGen home grew 58% year-over-year in 2014, and were 39% above the company's average. Lennar is now building these homes in hundreds of communities across the country.
Even as multigenerational homes have grown popular in response to modern economic and social challenges, they offer solutions to many of the problems faced by these families. Beyond financial support, this living arrangement allows adults to support their parents with practical help, says Juliana Horowitz, associate director of Research at the Pew Research Center.
"Financial support typically flows downstream from aging parents to adult children, but at the same time, people are helping their parents by giving their time," says Horowitz.
The boomeranging college grads can help out too. If they are in the same household, for example, a grandkid can help her grandmother get to the doctor on time, relieving the stress on her sandwich generation parents. And in many cases, adult children and grandparents earn additional income that they can contribute to the household.
For many in the sandwich generation, the benefits outweigh the costs. Another recent Pew study found that eight in ten adults say they find it rewarding to help an aging family member, and less than a third find it stressful. With proper planning and foresight, the arrangement can have extremely positive effects on families facing these challenges.
What's clear is that the American home is changing—both the structures themselves and the lifestyles of the people living in them. "It used to be more about having a private space within the home," says Gehman, "but really your living space wasn't completely separate. You had a nice separate room. [In new multi-generational homes] you now have almost two different living spaces. My grandmother would have loved it."