Unlocking the Value of Biosimilars to Broaden The War Against Disease


A new category of medicine expands on the benefits of biologic medicines, and the results could be transformative for the health care system.
Illustrations by Raymond Biesinger

This is a biologic medicine.

It was produced from a living cell.

Biologic medicines come in different forms, such as monoclonal antibodies and growth factors. Their capacity to precisely target signaling pathways and cells is revolutionizing the battle against difficult-to-treat diseases, including cancers, rheumatoid arthritis, and inflammatory bowel disease (IBD).
A biosimilar medicine is highly similar to an approved biologic product, also known as a reference product, which is why it's known as a "biosimilar."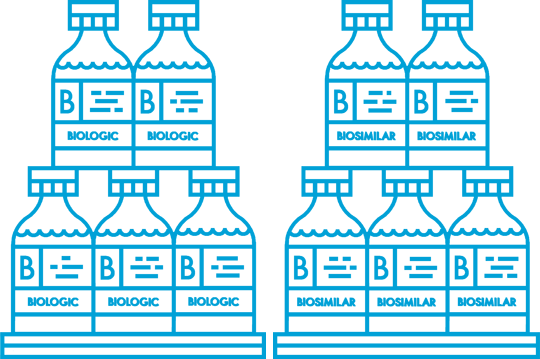 Biosimilars are approved by the FDA based on data that shows they have no clinically meaningful differences in safety, efficacy, or purity compared to that reference biologic. They could help transform the treatment of difficult-to-treat diseases by helping health care systems manage them more cost-effectively. By providing options that can be more affordable for health care systems, biosimilar medicines can allow for the reallocation of resources to other areas of patient care, while still delivering similar quality, efficacy, and safety as the originator biologic. This is why the pharmaceutical industry is turning its attention to bringing more biosimilars into the health care landscape.
Biosimilars are more complex than chemical drugs.

Biologic medicines are large molecules, complex, and heterogeneous, which makes them challenging to fully characterize and require sophisticated technology and methods. Biosimilars are highly similar to an approved, licensed biologic medicine, and are designed to perform the same functions. Rigorous analysis and testing is performed at all stages of developing and manufacturing a biosimilar to ensure it is highly similar to the reference biologic.


They require more specialized manufacturing processes compared with those used to develop generic medicines.
In that sense, biologics, including biosimilars, are fundamentally different from the chemically-synthesized drugs, including generics we often use as medicine. Specialized manufacturing techniques are critical due to the complexity of the biologic's structure, which is sensitive to environmental conditions.

This means that painstaking attention is paid at every stage of developing and manufacturing a biosimilar.
The development processes for biologics and biosimilars are considerably more complex than the development process for small-molecule generics.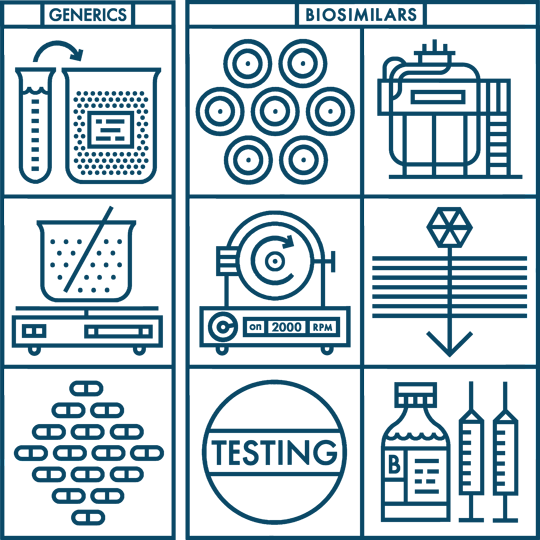 Biosimilar medicines are held to high regulatory approval standards. Pharmaceutical and research companies must demonstrate the biosimilar is highly similar to the reference product through state-of-the-art analytical testing, including comparative structural and functional characterization, followed by nonclinical, clinical pharmacology and other clinical studies.

Ultimately, the goal of these studies is to demonstrate that there are no clinically meaningful differences between the reference product and the biosimilar.
Biologics and biosimilars could help address numerous hard-to-treat diseases, including cancer.

Biosimilars could expand access to treatment for diseases such as:
Diabetes
Hematological diseases
Cancer
Immune-mediated diseases such as IBD and rheumatoid arthritis
Cardiovascular diseases
And more.
And they could make biologic medicines more affordable for health care systems.

Not only are major pharmaceutical and research companies required to produce quantifiable data showing that their biosimilar products are highly similar to the originator products, but typically they must also conduct clinical trials that evaluate their safety and efficacy.

The FDA and Congress acknowledge the potential of biosimilars. In 2010, the Biologics Price Competition and Innovation Act was passed by Congress, with the goal of reducing the cost of biologic medicine. Meanwhile, FDA commissioner Scott Gottlieb, MD, stated earlier this year that the FDA will "continue to work hard to ensure that biosimilar medications are brought to the market quickly, through a process that makes certain that these new medicines meet the FDA's rigorous gold standard for safety and effectiveness."

Biosimilar medicines may offer additional choices to patients who might otherwise be running out of options, and provide cost savings to health care systems around the world.