Women who ran for seats in the 116th
UNITED STATES CONGRESS
Updated
= Woman ran for seat
= No WOMAN RAN FOR SEAT
= Seat was not up for election
= Won
= Lost
Percentage of women in Congress
Number of Seats held by women in Congress
Party affiliation of female candidates in 2018
77%
23%
PEOPLE WHO THINK it's important that more women are elected to political office
SOURCE: CBS News Poll
Expand to Continue Reading ↓
What Happened? What's the Takeaway? And How Do Women Keep the Momentum Going?
We talk to Erin Loos Cutraro, founder of She Should Run, a nonprofit (and nonpartisan) organization working to build a national bench of female candidates, to get some answers.
In Partnership
with
You started your organization in 2011. What does She Should Run do exactly?
Often, when women are coming to us, it's because they're curious but not yet sold that they should run for office. We wanted to build a space that was focused on getting women from the place of 'no' or 'maybe' to a place of 'yes.' Much of our development and our [incubator] courses are centered on getting really clear on why a woman wants to run. Our goal is to get 250,000 women into elected offices by 2030.
Has there been any response yet to this year's candidates?
A lot of people are already encouraging the women around them. They're saying, You should run, you should run! Which is a little different from what we saw in 2016, when people were in a state of shock. There can be a sort of snowball effect: Okay, this worked. Look at everything we did. Now you should do this.
People were worried that the narrative after Election Day was going to be: Women failed. But in fact, the storyline seems to be: Women played a major role in helping Democrats flip the House. What's your take?
If you look at the big picture, it's really clear—women candidates smashed barriers, and they did so by rewriting the political playbook. This was a little bit of a test: Can women run as their true authentic selves? And will voters respond positively? The results showed us that the answer is yes. There is no one formula for women to be successful. That's evident not just in the number of women who won this year but by all the record-breaking firsts—and the list is long. Look at Sharice Davids, Ilhan Omar, and Rashida Tlaib. Or look at Alexandria Ocasio-Cortez. Or look at Veronica Escobar and Sylvia Garcia, who will become the first Latinas to represent Texas in Congress. I paused at that, when I saw the results. I was like, Wait, is that a first? In Texas?!
What about some of the Republican wins?
There were some big firsts there too. Marsha Blackburn will be the first female senator from Tennessee—and that race was called early—while Kristi Noem will be the first female governor of South Dakota. She drew on her background in farming and ranching, and she led with strength. Still, she says she's been called out publicly [for being a woman]—for not having the "right body part" to be governor. She responded, which is important. Back in the day, when women had to deal with this bullshit, their consultants and advisers would often say, Don't draw attention to it. Don't bite. But the reality is, if you don't respond, voters think less of you. [Noem] wasn't afraid to say, No way! And that will set the stage for those who want to run behind her.
What's the story of this election that everyone's missing?
There's an incredible story to be told about who made this change happen, I think. My gut tells me that, when we have the time to dig in, we're going to find that it was women who were out canvassing, making phone calls, and talking to neighbors—that they were the ones who showed up and did this.
Are there any strategic lessons future female candidates can learn from this election?
Yes. Authenticity. Voters want you to bring your full self to your election. They don't need you to hide your tattoos. I think you'll see younger candidates and more diverse candidates step forward too.
In your mind, what was the most shocking win? The biggest upset?
To me, Sharice Davids, who is openly gay and will be one of the first two Native American women in Congress, was the most shocking win. Defeating an incumbent is always difficult, and her win was an incredible sign of progress. My personal upset is Claire McCaskill. She's absolutely [been] acting as a moderate and is a veteran leader in the Senate. For her to not survive tells a really somber story about what's happening in politics in our country.
Now that the election is over, what can people do to support female candidates who lost?
We have to lift up the women who put themselves out there. So often, after a woman loses a race, we've moved on and gone, Okay, who's next? This was the first race for a lot of these women, and some of them were going to lose. Are they going to get back up? It matters to that woman that you congratulate her, publicly or privately, whatever the outcome of her election. But even more than that, it matters to other women who are thinking about running. You're sending a message that you'll be there for them too.
To that point, let's say a woman has been thinking about running. What are the next steps?
The biggest hurdle is stating the intention. You can always learn the skills, but we talk ourselves out of it too often. Start telling people, Look, I want to run for office someday. Who do I need to know? What do I need to do? That's the most important step. After that, it's about getting really clear on why you want to run. That doesn't mean you need the perfect speech. It means it's not easy. If you have a fire in your belly, you're going to want to get out of bed every day. If you're not totally clear on why you're running—if you're wavering—it's harder to commit the time. Just start by saying, You know what? I want to do this someday. Then see what comes.
Expand to Continue Reading ↓
What Can Real Politicians Learn
from

Claire Underwood?
More than you may think.
Let's start by saying that no candidate—male or female—should enact voter suppression tactics to win a race. Nor should a candidate poison a speechwriter/lover as a way to end a potentially career-crimping affair. And yet, with the release of the sixth season of House of Cards on Netflix, Claire Underwood, despite (or maybe because of) all of her grim human-chess-playing, now holds the highest office in the nation: our first female President.
In some ways, Claire is a throwback: a practitioner of old-school, hardball politics. But in her years-long climb to the Oval Office, she has faced a lot of the same challenges as real-life female politicians have, as an ambitious woman constantly wrestling with a kind of abject sexism that seems all too familiar.
Take how often Claire has been asked about her childlessness, for instance. Sometimes her interlocutor is a journalist. Other times it's a political opponent. But there's always subtext, an insinuation that her lack of maternal status makes her unfit for office. "Female candidates still deal with this," says Kelly Dittmar, assistant professor of political science at Rutgers University–Camden and a scholar at the Center for American Women and Politics (CAWP), adding that it's worth considering how both mothers and female candidates without children strategized differently this election cycle, when it came to messaging related to motherhood. By way of example, she mentions Georgia's Democratic gubernatorial candidate, who campaigned on the idea of kinship care, i.e., supporting grandparents and non-blood relatives who take care of young children. Even though she doesn't have kids of her own, that candidate was "still presenting some of what might be deemed family values," says Dittmar.
On the flip side, candidates who are moms have long had to fight the perception that they're either neglecting their kids or their campaigns. In these midterms, however, some women inverted that traditional script, upending the idea that being a mother is a political liability. Instead, they actively promoted their identities as mothers. "You [saw] many more women bringing their kids into ads and into their campaigns and using their motherhood as a way to communicate policy positions," says Dittmar. Claire similarly refuses to allow others to weaponize the issue against her. When the wife of a political opponent presses the topic of motherhood and Claire's possible regrets, for instance, Claire turns the tables, asking if the woman is bitter about being a mom.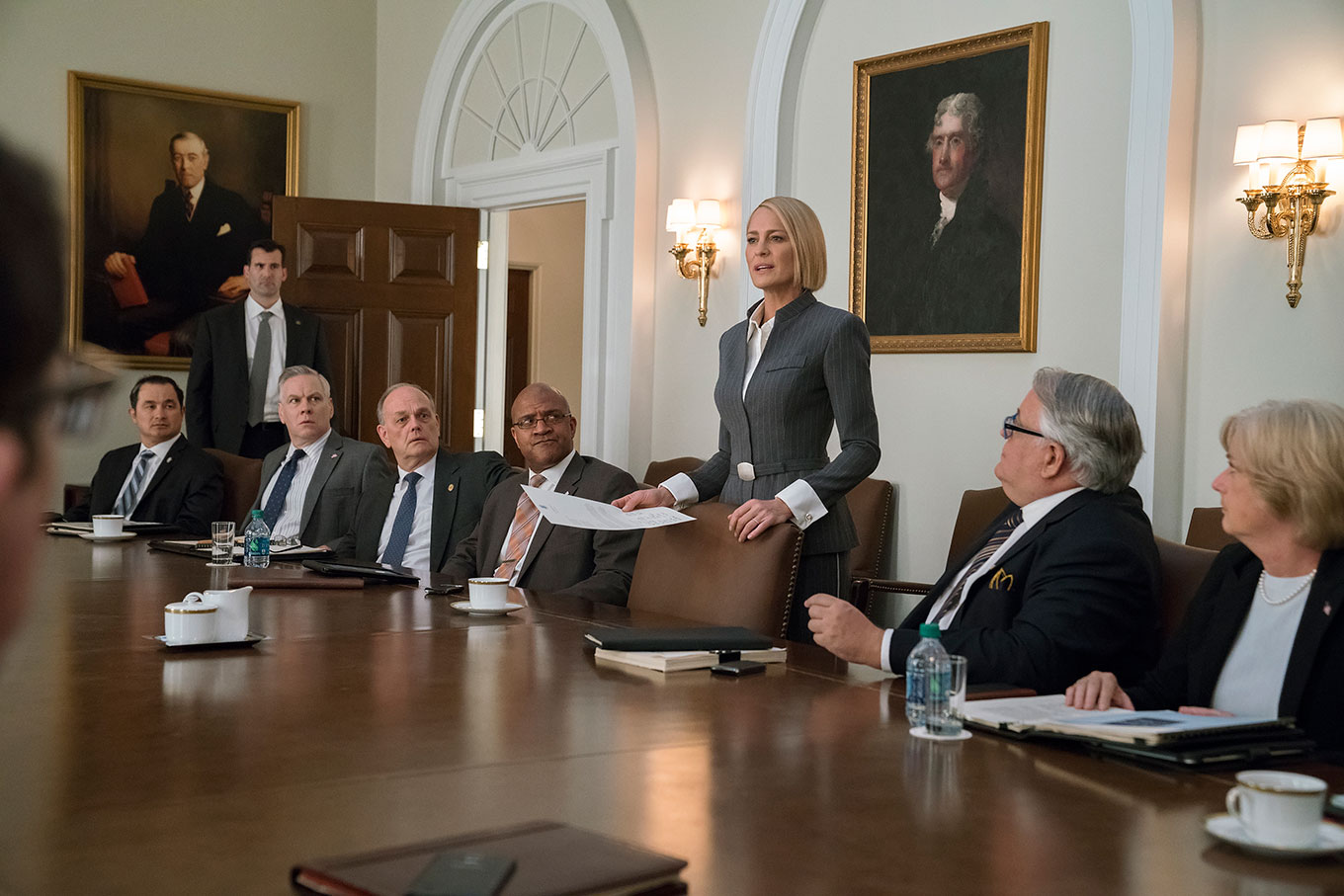 But even more than motherhood, Claire's career aspirations—combined with a utilitarian, get-things-done workstyle—seem to be what rankles so many men on the show. When a terrorist threat sends Claire and Frank to the White House bunker, for instance, Claire calmly and effectively handles the situation, even engaging in some savvy political gamesmanship, while Frank somewhat desperately tries (and fails) to maintain his air of authority. "Women are just better at getting things done," says Susan Del Percio, a Republican strategist and MSNBC political analyst.
What's more, it's nearly always men on the show who advise Claire to lower her ambitions, to be satisfied with what she has already achieved, and even to wait her turn, as the sitting Vice President suggests in season five, when he tells Claire he won't vote for her in the Senate to replace him. Her response? She goes somewhat nuclear on the old white man and then proceeds to become the Senate's pick for veep anyway—and later, the acting President.
The comparison may not be apples to apples, but Chris Jahnke, a veteran media trainer who's worked with female candidates, senators, and First Ladies, says these midterms appear to be a moment when women felt empowered to run for more high-profile offices, fully embracing their ambitions. This energy was fueled in part, she says, by anger over the current administration—but also, ironically, because of it. (The thought process going something like: If this guy can run, what the hell disqualifies me?) Jahnke cites a House candidate from Massachusetts who will become the first African-American woman elected to Congress from the state, as an example. "She ran against a white male incumbent who's very popular and ran without much establishment support, but she was a better candidate, and she had a better message, and she won big." Jahnke adds, "Women are not willing to wait their turn."
Still, Jahnke insists that if female politicians should learn anything from Claire, it's that this Madam President is cribbing from a dated playbook. "Claire Underwood, the character, is really a throwback," she says. "It's business as usual, right? Claire is hungry for power and that's what she's pursuing. The 2018 election cycle is historic in so many ways and on so many different levels. But that's one of the themes that really comes through with the candidates who are running now: They want to make a difference."
According to Debbie Walsh, director of CAWP, this election is historic not only because of the number of women in the running but also because of how they ran: They campaigned in a totally different way than past candidates, which seems revolutionary. "In the past, you had to pretty much be a male candidate in female garb," she says. "Women had a very narrow path, so you couldn't be transparent about your life, and you couldn't bring those experiences to the table because you weren't sure if they would be valued." Walsh points to a number of female candidates who spoke openly about student debt and campaigned on affordable higher education; who talked about their #MeToo moments; and who discussed mental health. "Women are being more authentic about their lives, and voters are looking for people who they can relate to and who understand the problems that they have," she says. So although modern female candidates likely can learn something from Claire's experiences, maybe she can learn something from them too.