Scroll to discover more about Britain's influence on American design, and learn about the people and places from the video.
WORK IN PROGRESSColophon FoundryRead →
RIGHT PLACE, RIGHT TIME Morag Myerscough Read →
"I think London is definitely hot at the moment for typography. There's a lot of smaller studios and outfits that are producing really interesting work and London's environment is a key catalyst for that to happen."– ANTHONY SHERET
BEGINNER'S GUIDE Typography 101Read →
IN CONVERSATIONDebbie Millman on Typography and DesignWatch →
FOLLOWING THE CROWDDesigning and Improving Public SpaceRead →
ONE OF A TYPEIconic British TypefacesRead →
ALL BY HANDPaul AntonioRead →
"Designers from the U.K. came to shift the way that typography developed in the United States. Suddenly the designer wasn't just designing with typography: The designer was designing the typography."– DEBBIE MILLMAN
THE ART OF WRITINGMastering CalligraphyRead →
"Different scripts generate different emotional responses. By watching the script being created, you have an even deeper connection with the emotional response."– PAUL ANTONIO
BIG PICTUREDesign Is About the WholeRead →
WORD PUZZLEThe Psychology of TypographyRead →
DRAWN OUTWatch the Process of CalligraphyWatch →
INTERNATIONAL LETTERSTransatlantic TypographyRead →
"The influence of the U.K. impact has helped the U.S. designers up their game and create a better level of design."– DEBBIE MILLMAN
THE NEW PRINTRevitalizing A MediumRead →

Go back to the video
Watch Part Three,
"Colophon Foundry and Typography"
WORK IN PROGRESS
Colophon Foundry
For the past seven years, Edd Harrington and Anthony Sheret have dedicated their time to designing and building typefaces. Now the rest of the world is paying attention.
Colophon Foundry recently posted a picture of an exhibition titled "Five Years." In the exhibition, 25 of Colophon's self-made typefaces are used in imaginary objects ranging from keys to ashtrays, in order to "highlight the paradoxical role of the type designer as a passive collaborator and disembodied author of others' designs and intentions." In other words, the work of typeface creators is to make faces and fonts, put them out into the world, and simply watch as they are used in places and for purposes over which the designers have no control.
The bright side for the likes of Harrington and Sheret, two of Colophon's founders, is that their work enjoys widespread visibility and distribution. "We could be walking down the street and see our typeface being used, even if it was never designed for that kind of use," Harrington says. "Seeing it entirely out of context or re-contextualized is really exciting for us. At the end of the day you're still involved with that project."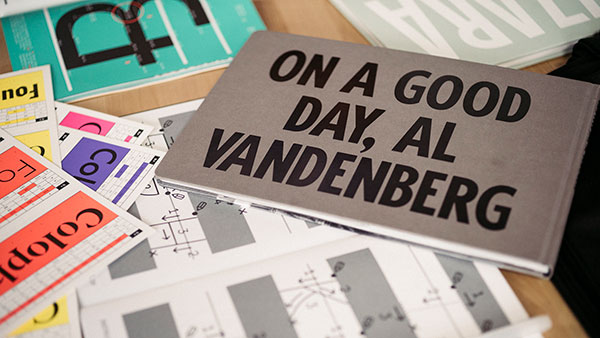 The "Five Years" exhibition speaks to the distance that Colophon Foundry has traveled since 2009, suggesting that they're established enough to have a retrospective, even if its point is tongue-in-cheek. Harrington and Sheret, who have been designing at Colophon for over seven years now, could not have expected such success: They have dozens of font families under their belt now, and they offer a striking array of merchandise, from tote bags to poster prints. One of their most well-known fonts, Aperçu, has been used by well-known clothing brands, museums, and more.
Their good fortune is a rare salute to the laborious business of designing a complete set of letters, numbers, accents, and punctuation marks, each one individually, and then each one all over again for every font–a process that takes many hundreds of hours.
"You're not just drawing A to Zed," Harrington says. "You're drawing so many more characters—sometimes up to 500 or a thousand per style—and you have to get really into the details. You can't just do one character and a computer does the rest for you. You have to do all the bits all together, and if you change one thing it changes 50 other things."
Colophon, which has offices in London as well as in Los Angeles, does both independent and commissioned work, making custom fonts for brands both local and international alongside their own work. Over the past few years, they've expanded their team and operations, as popular and corporate demand for unique typefaces increases.
"I think typography has become an ownable piece," Sheret says. "Brands have realized in the last couple of years that they can really own a typeface and a voice, and that really pushes what they're trying to communicate to their audience. It can increase brand awareness and add to brand purity. It's powerful." In other words, in a market where brands need all the distinction they can get, they're increasingly finding that customized typography appeals to audiences who respond to brands that feel personal and bespoke.
As a result, Harrington and Sheret are seeing a cottage industry rise in parallel with heightened awareness of and interest in typography. "London is a hotbed of design, and that includes type design," Harrington says. "It's such a big congregation of people that you start getting scenes…. You've got the big agencies here. But there are a lot more small, independent studios and foundries that really diversify things."
Whatever comes next, the members of Colophon Foundry are excited that the art form to which they've dedicated the past seven years is enjoying more visibility and appreciation than ever before. Type designers, calligraphers, and artists in general are growing large audiences on social media channels, particularly when it comes to videos and timelapses that showcase the tireless work that goes into creating a new font. "I think that what's enticing to people, and what I'm really excited about, is seeing the processes of making these typefaces or making these drawings and letters," Harrington says, "seeing how you make these decorative forms into something that all sits together harmoniously."
---
Photography by Tim Cole
Continue scrolling to return to video
↓

Go back to the video
Watch Part Three,
"Colophon Foundry and Typography"
RIGHT PLACE, RIGHT TIME
Morag Myerscough
Morag Myerscough is an artist, designer, architect, and more, but above all, she's a maker of places.
Morag Myerscough has some trouble deciding what occupation best describes hers. "Placemaker" comes closest, she says, though other people have used everything from "designer" to "street artist." What interests Myerscough most is the way a physical space can be designed to have an effect on people: how design can play a role in making people feel connected and at home.
"I think I sit in this area that's slightly newer," Myerscough says. "I'm not formally an 'artist' like a gallery artist, and I suppose some of my work is like street art, but I work in the public area. My name for myself is 'placemaker.'"
Her history with making places began at university, where she designed opera and theater sets. After she left, her experiences working with architects made her realize that she wanted to literally build narratives, creating buildings and spaces that engaged their users in stories and emotions. The realization led to Studio Myerscough in 1993, as well as Her House, the gallery space in east London that Myerscough co-founded. She's also a founder of Supergroup, a network of like-minded British artists that collaborate with Myerscough on large projects.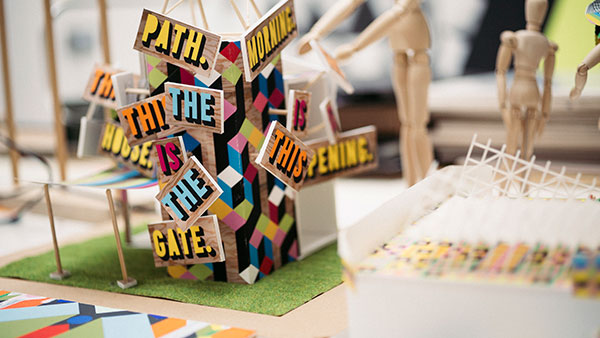 One of her best-known projects was the Temple of Agape, a vibrant, patterned, and brightly lit installation space that Myerscough and a Supergroup colleague designed for a summer festival in London. "It's about making the layers work," Myerscough says. "You can have instant gratification from [the space] when you just walk by, or you can go deeper in and find the deeper thinking that it comes from."
The temple incorporated bold typography printed on walls and ceilings: Myerscough uses type and lettering as tools to help build a profound, multi-layered experience. That hasn't always been well received. A city council tried to have one of her installations pulled down because it was too bright. She is optimistic that the civic attitude toward unconventional spaces and designs is changing.
Among other public spaces, she has revitalized children's wards in hospitals with playful, uplifting waiting areas and play spaces. She turned an abandoned train station into a beautiful cafe. She designed a huge camera obscura installation in Mexico City meant to encourage passersby to appreciate the sights and sounds of Zocalo Square, where she turned the walls and floors of maze-like buildings and complexes into colorful wayfinding systems.
"When you start putting things out there and people can see the value of it, the councils begin to think, 'This is important. You should let people do street art and installations,'" Myerscough says. "Particularly in London, what's really good is when there are big development sites that haven't had anything for a long time, where you can make an intervention and bring the focus back to a place that has been lost."
For her, there is always another layer of meaning to create and explore, there's always more than one way to interpret a work of art, always a variety of approaches available to her audiences. The camera obscura piece in Mexico was titled "Look and See," and Myerscough remembers watching its audience rethink their surroundings in real time. "There's a lot of difference between looking and seeing," she says. "Those two words are both very important."
Placemaking for Myerscough has everything to do with community, and she insists that her work be inclusive. That's why she ensures that her projects are, in general, temporary and flexible, prepared to be responsive to the desires and ideas of its community. "In a way, I set the scene and then people can add to it afterwards," she says. "If they want to repaint it, that's okay. You give the people something that they can work with, and then it belongs to them. I think that's the only way you can build community. We need that now."
---
Photography by Tim Cole
Continue scrolling to return to video
↓
Watch Part Three,
"Colophon Foundry and Typography"
BEGINNER'S GUIDE
Typography 101
The typefaces you see every day are the result of endless planning, measuring, and fine-tuning.
Whether or not you already know this, you interact with typography on a near-constant basis. You're engaging with it right now, as you read this. It was one of the first things you did this morning if you checked your phone when you woke up. You likely know some of the fundamentals, like the difference between sans and serif fonts, that Times New Roman is classic and Comic Sans humiliating.
Dive deeper, and you'll discover that every aspect of every letter you see is the result of careful planning, from its height and the thickness of its lines to the angles of its curves and the spacing between every two-letter combination in the alphabet. Just as there is in photography, graphic design, and every other visual art, there are best and worst practices in typography, an entire universe of principles and nuances. What follows is only a sample of all that goes into the way we communicate in writing with each other and the world.
The Point System
What does 12-pt font actually mean? One point is 1/72 of an inch, making 12 points 1/6 of an inch. That's the equivalent of one pica, six of which equal one inch. It's the standard measure of a font's height, while "set width" refers to the width of a letter, as well as the space it maintains before the following letter. Though it's easy to manipulate both these measures digitally, doing so risks distorting the design of the original font and affecting readability.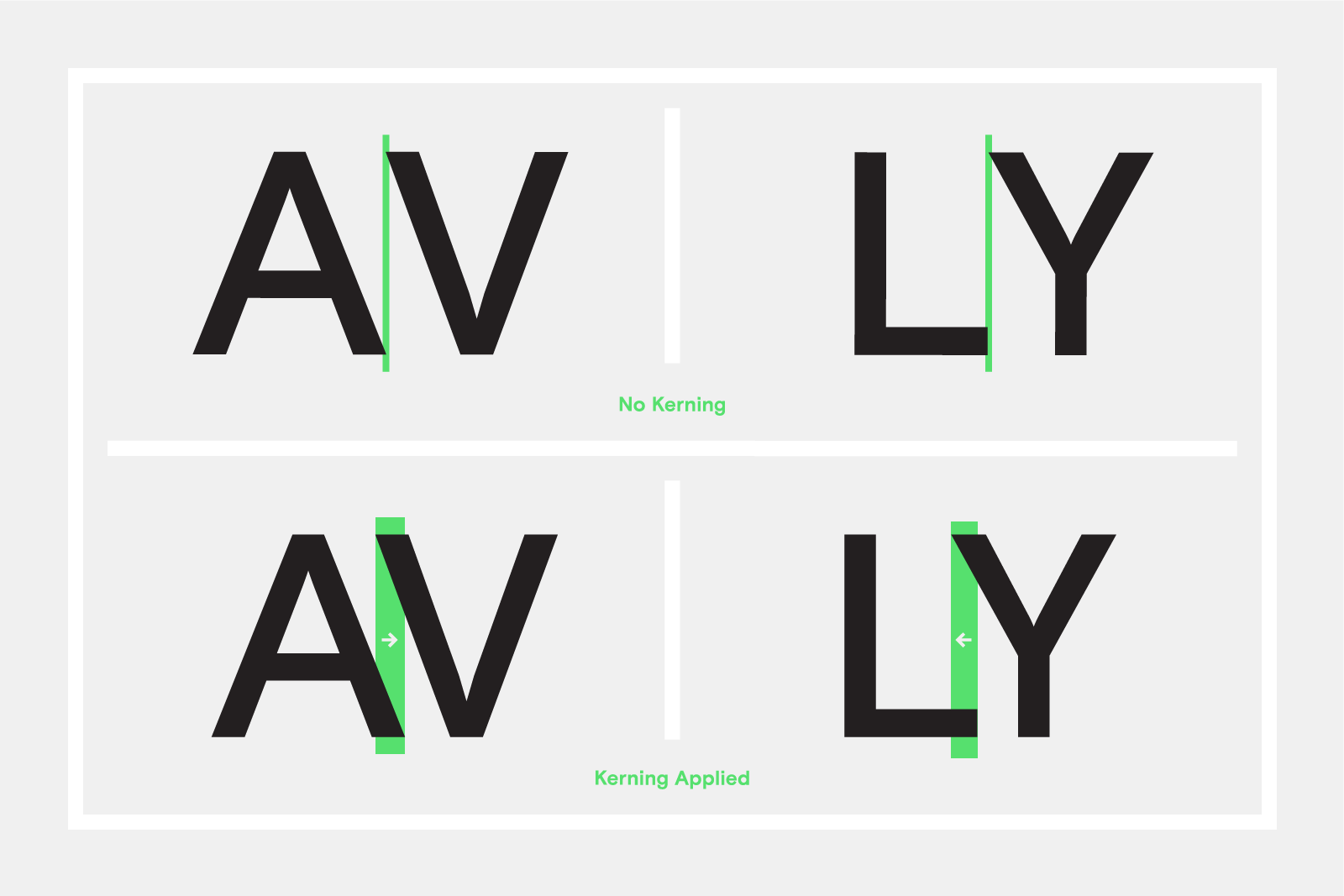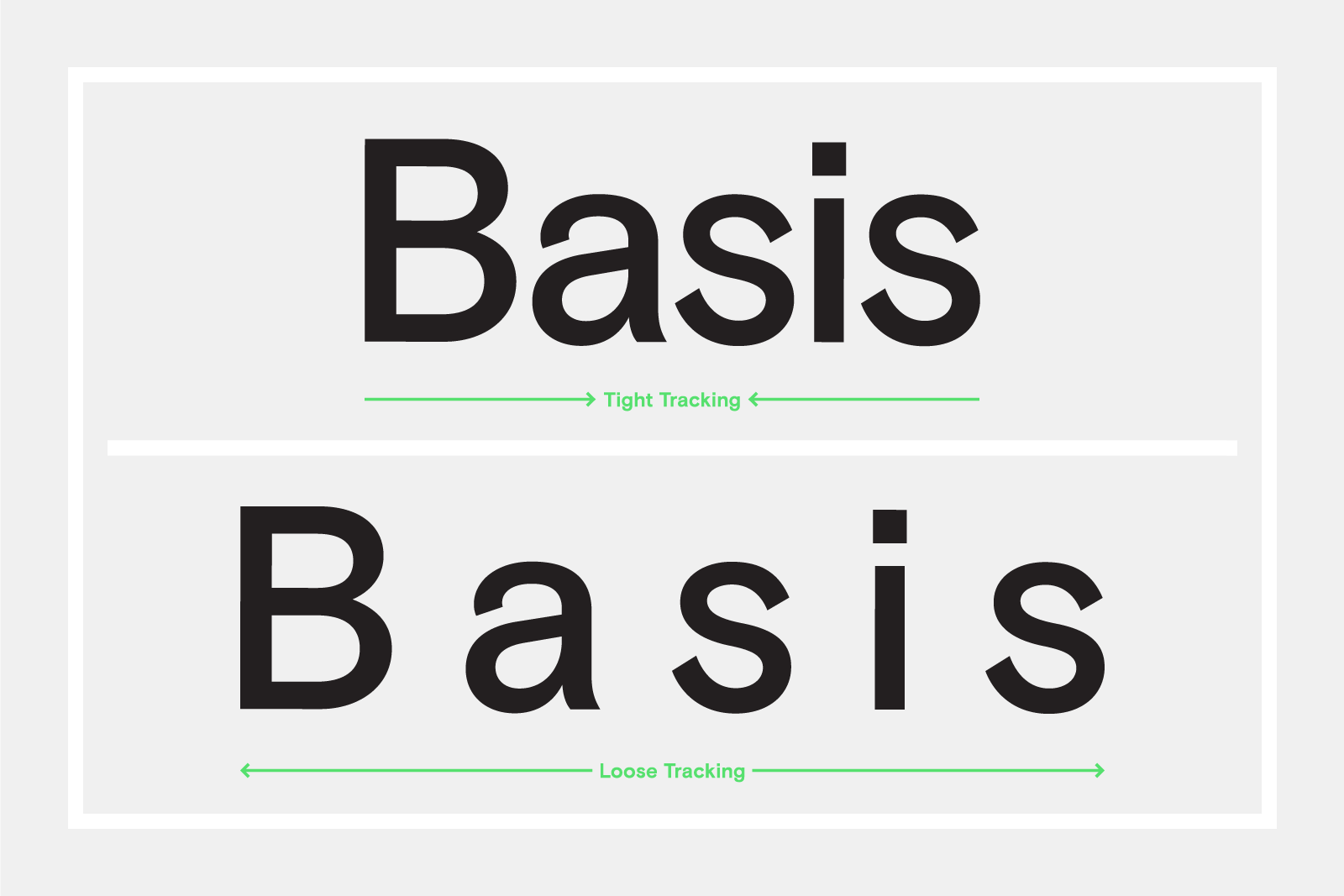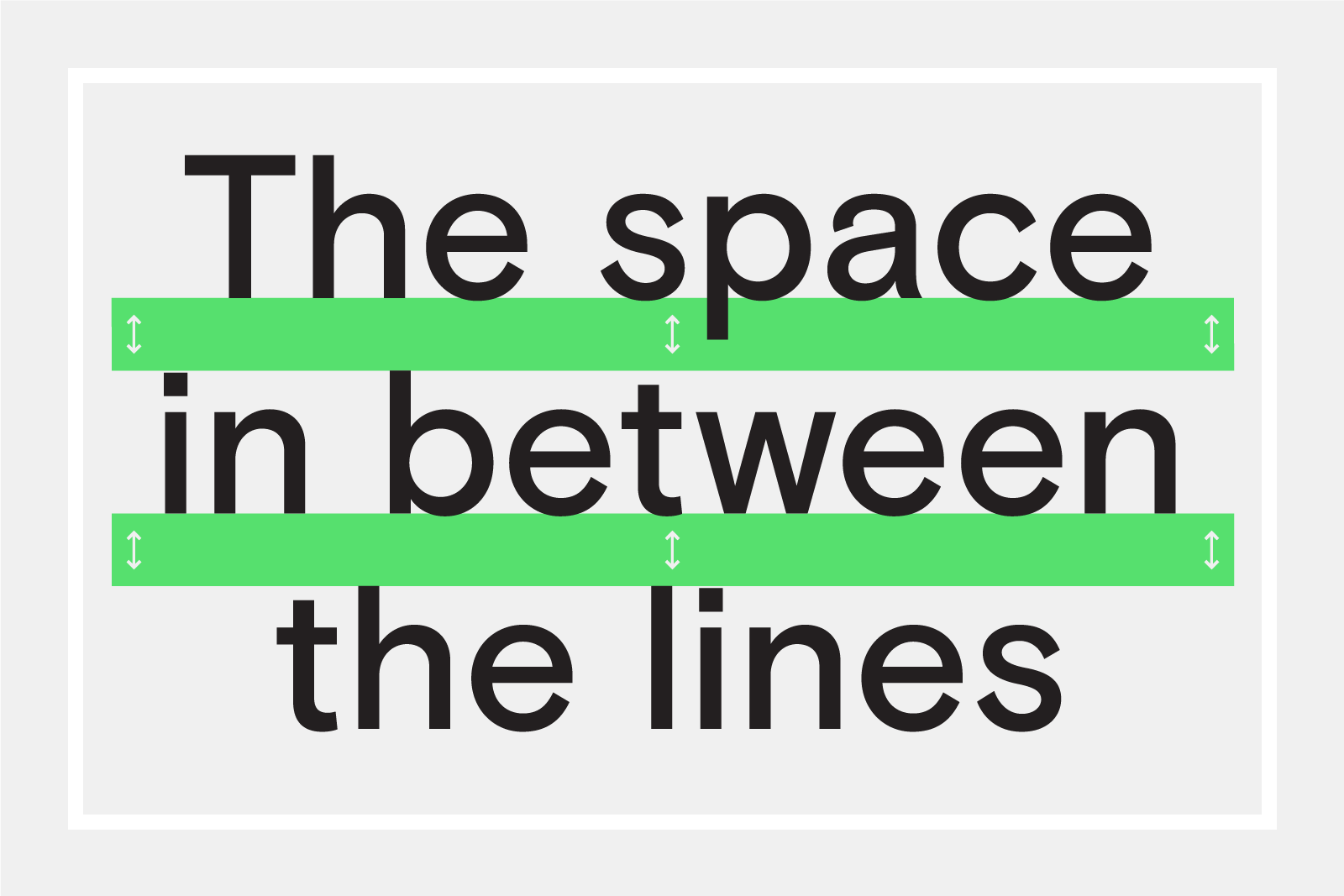 Laying It Out
A variety of measurements dictate how groups of letters and words appear on a page. Kerning refers to the space between two letters--special considerations have to be made for letters that are weighted more heavily on the top or bottom, like the capital T or Y. A too-small kerning will make the letters look suffocated; an overly wide one will make the text seem loose.
Line spacing, or the distance between the baseline of one line of text and the following one, helps organize text into sections, as well as compress or expand the space between the bottom of long letters (like a lowercase g or p) and the top of the letters in the line below.
The Serif Debate
Serifs, the small flourishes on the ends of letters that appear in fonts like Times and Baskerville, generally work better in print, since typography is clearer and more precise in print. Serif fonts create stronger visual connections between adjacent letters. Digital designers tend to opt for sans serif fonts, so that letters are easier to distinguish from each other no matter how close in or out a user zooms into the page.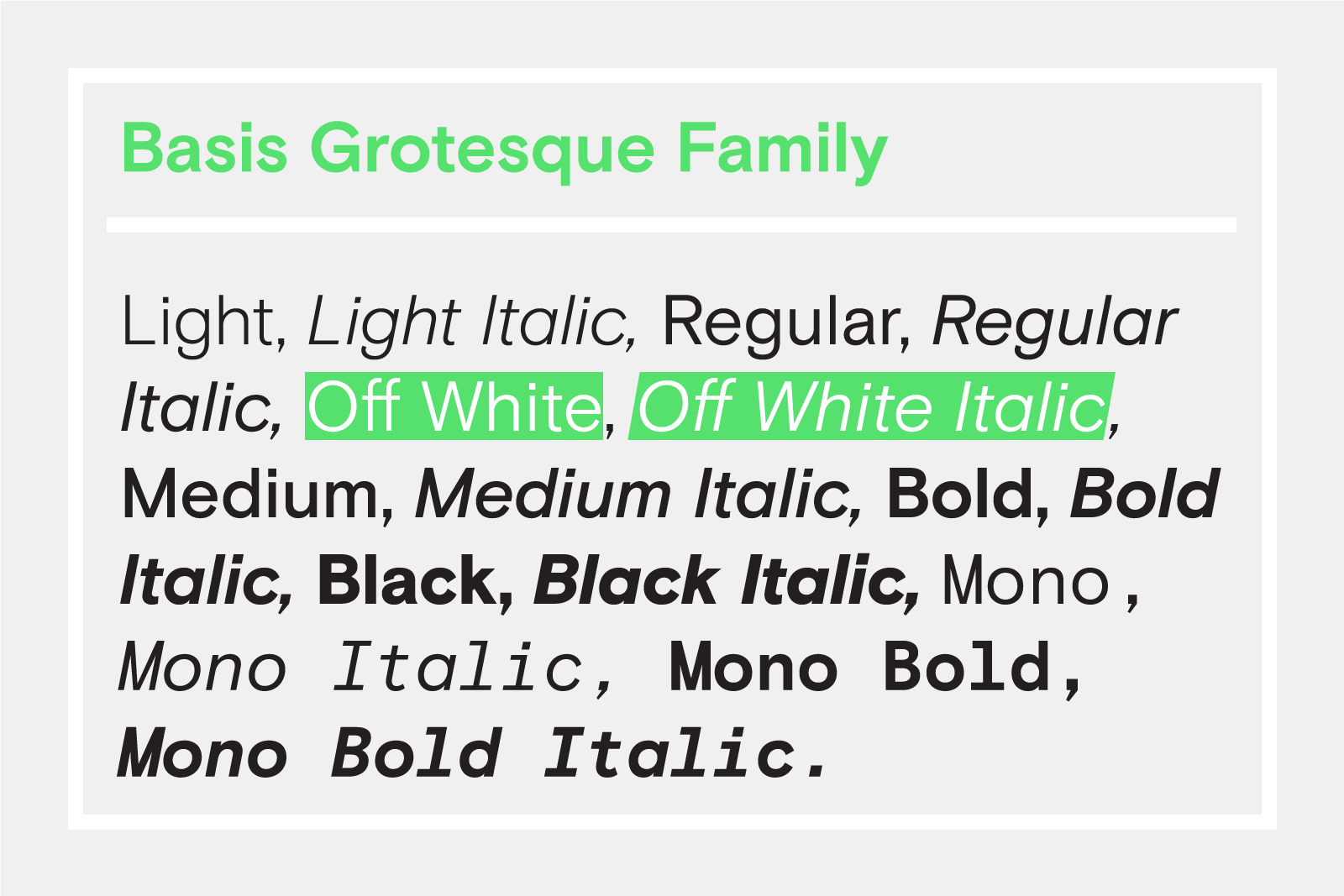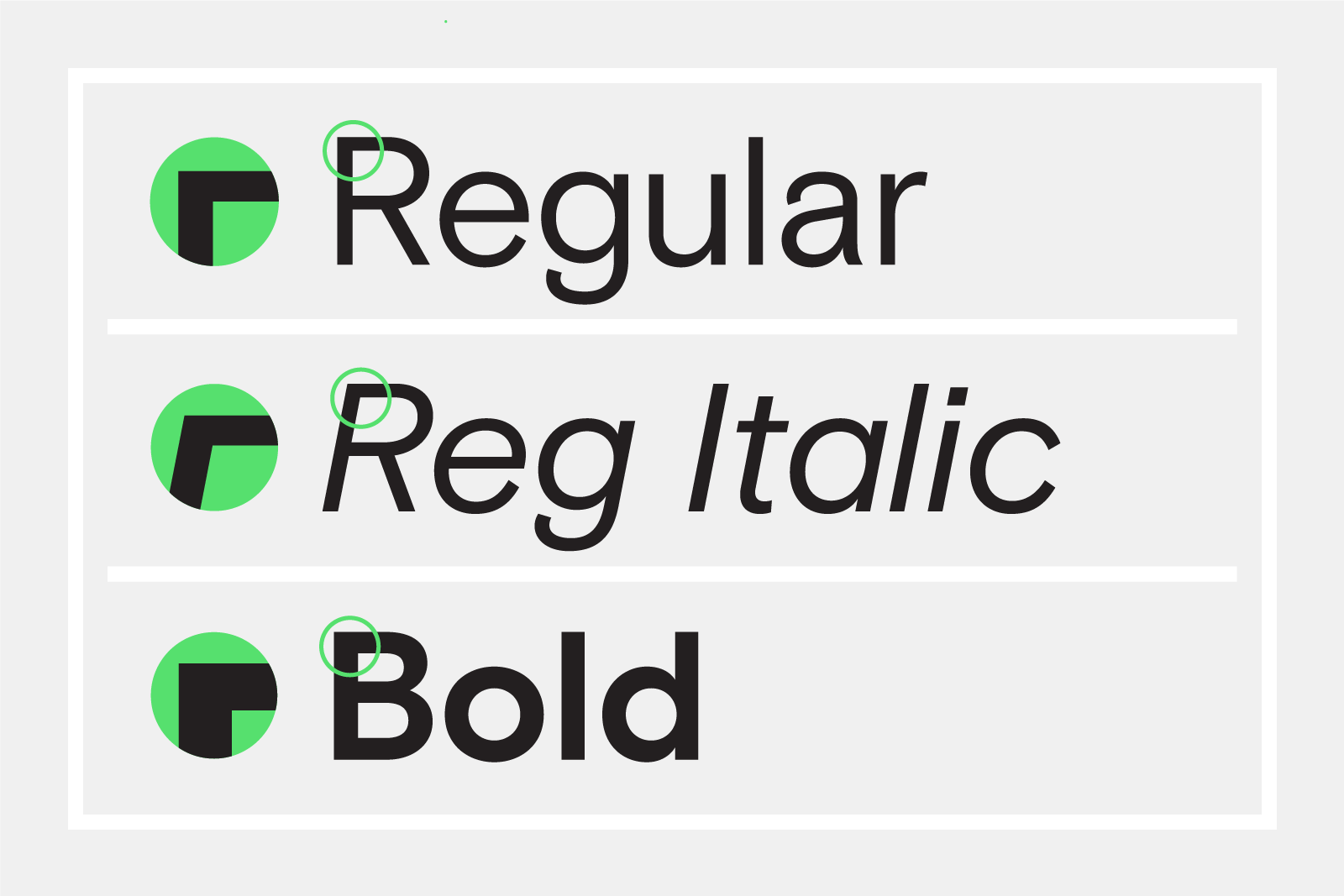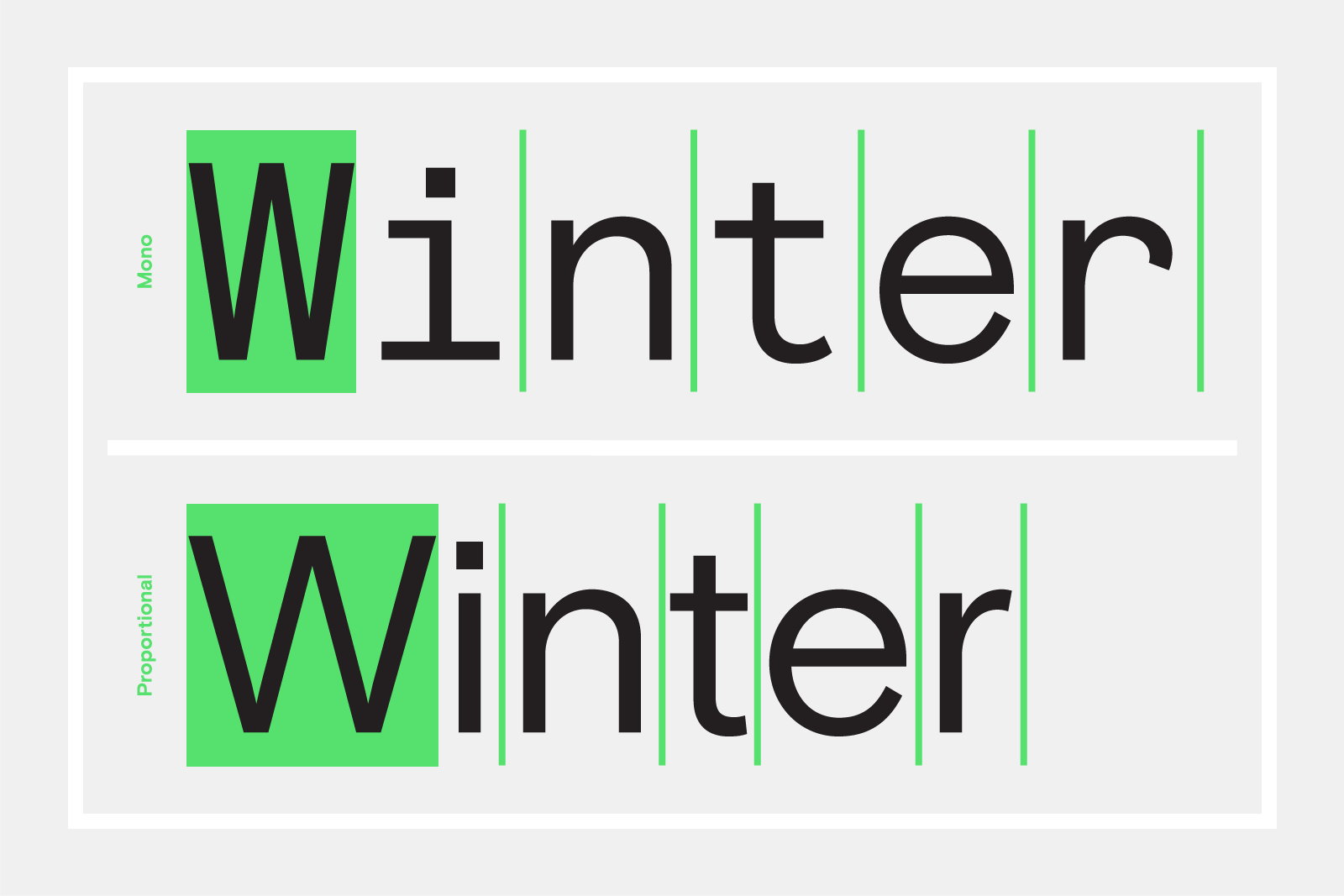 In The Family
The typical font family usually starts with the roman form, then the ones that serve to add emphasis or other distinction to text, such as bold and italic. Designers have to create distinct strokes, shapes, and styles that are unique to each font and letter.
Over time, other family members, such as semibold and small caps, have emerged as new ways to convey distinct meanings. Some fonts have an extensive library of various weights, or with serif and sans serif options, known as a superfamily. This allows users of the typeface to diversify the look of their text without losing a consistent aesthetic.
This only scratches the surface. Typography's history stretches back centuries, and the trends that have dominated the field have fluctuated over time and continue to do so. In the digital age, there's ever more opportunity to create new fonts and variations of old one, and even to give users the ability to alter them slightly to their own needs. Typography is a force in everything from graphic design, to advertising, to technology, and it has a vast literature of its own. What follows are some good places to start.
The Cavendish Gallery of Print and Typography →
---
Photography by Tim Cole
Typography illustrations by Colophon Foundry
Continue scrolling to return to video
↓
Go back to the video
Watch Part Three,
"Colophon Foundry and Typography"
IN CONVERSATION
Debbie Millman on Typography and Design
To understand design, Debbie Millman had to understand the universe.
Writer, artist, teacher, and designer Debbie Millman has been a leader in the design conversation since 2009, when she began hosting the first design-centric podcast Design Matters. On air, she has had conversations with everyone from high-profile fashion designers to writers and industrial designers; elsewhere, she blogs for publications, teaches, helps clients with branding, and more. Over her career, she has established herself as one of today's leading voices for an interdisciplinary understanding of design's central role and function in the world.
Continue scrolling to return to video
↓
Watch Part Three,
"Colophon Foundry and Typography"
FOLLOWING THE CROWD
Designing and Improving Public Space
How are the designers of landscapes, open city spaces, and parks around the world taking influence from Britain?
An irony of the urban environment is that natural space usually has to be manufactured. Both aesthetically and functionally, city centers benefit from the presence of green space and parks, the same way that backyards and lawns become selling points for houses and apartment buildings. "Green space" and its manifestations in cities and towns have evolved for hundreds of years ago, when they were hunting grounds and status symbols, to their current use as isolated havens in cities of concrete.
Frederick Law Olmsted is the best-known face of the American parks movement and the country's iconic green spaces, including New York City's Central Park, which he designed with the help of a British architect. Central Park is a paradigm of green space's ultimate purposes–as a place to gather, a neighborhood's point of pride, and a cultural space inviting to every citizen, regardless of social or economic standing.
Today, that egalitarianism purpose is being served by another populist approach: crowd-funding. In this way too, Britain has been an early adopter. As CityLab reported this year,the Greater London Authority has started an initiative that would reward crowd-funded public-space projects with government recognition, depending on the popular momentum those projects gain. Their best-performing projects range from the creation of public pools along the Thames to riverside community festivals that take advantage of unused, vacant space.
The idea of crowdsourcing ideas and feedback in urban planning and design isn't new, but homegrown projects can gain more momentum than ever before in the age of social media and chatter. Take, for example, the much-hyped, still-in-development project that would construct a lush, sprawling park space under the Lower East Side. After it surpassed its goal for raising public revenue online, the project's leaders received approval from the city to begin working on official plans. As CityLab has said, the U.S. has another opportunity here to take a cue from Britain, where sites that enable crowd-funding for public and civic projects "require that projects are fully-baked and then approved by the site's team before being added to the site."
One of the most influential landscape designers in history—Capability Brown, an 18th-century Brit—would likely approve. Brown was known for eliminating rules and regulations for how people used different parts of a park, believing in an "informal" approach to nature and parks. Experts still see his influence around the world today, especially in his prime directive: Let people enjoy their common spaces in their own ways and on their own terms.
Three centuries later, the British continue to reimagine what it means to involve stakeholders in designing the spaces they inhabit. Figuring out the use of green space doesn't have to be the field of an elite group, as the experts themselves say. Sometimes the crowd does know best.
Continue scrolling to return to video
↓
Watch Part Three,
"Colophon Foundry and Typography"
ONE OF A TYPE
Iconic British Typefaces
Today's standard typefaces, some of which are centuries old, have rich histories like any other art form.
Britain's rich academic and literary history inspired its long history in typography. Since the early 18th century, when British typographers began designing their own fonts rather than importing them from elsewhere in Europe, British font families have led the field. The most obvious example is Times New Roman, still the default for many purposes, which was commissioned by its namesake London newspaper in 1929.
British typefaces frequently appear in everything from advertising to academic journals, and the typefaces of many nations, including the U.S., can be traced back to British influence. What follows are the stories behind some of the fonts you probably see every day, some of which have been in use for hundreds of years.
---
The classic, academic Caslon font family is almost 300 years old, designed by former gunsmith William Caslon in 1722. Caslon, who had previously designed and carved the elaborate, flowery ornamentation that was once standard for firearms, helped found the British type design movement at a time when the industry was dominated by the Dutch.
Caslon is known for being an organic serif typeface—that is, it has the character of handwriting, with natural, modest curves and flourishes. During Caslon's lifetime, his typeface was ubiquitous, even in printings of the Declaration of Independence (Benjamin Franklin was a fan). Since then Caslon has proliferated in many variations, all of which are used widely and especially in the United States.
---
Thirty-five years after the release of Caslon, another Brit inspired by its success made another lasting contribution to typography. John Baskerville, an established book publisher, designed the font family in 1757 in Birmingham and used it for many of the works he printed, including Paradise Lost and a folio Bible.
Baskerville believed that he could perfect more organic types like Caslon by making his type family more regular, by sharpening the serifs, increasing contrasts between thicker and thinner lines, and making curves circular rather than ovular. This made Baskerville seem to stand out more crisply from the page than most of its contemporaries. Many academics regarded this as too radical at the time, but since then, Baskerville has been adopted as a standard face by everyone from the Canadian government to U.S. public schools.
---
The 1845 typeface became the first to be recognized as intellectual property when its designer Robert Besley won a patent for it. Though it was designed in London (where Besley went on to become Lord Mayor), Clarendon became best known for its use in Wild West posters, thanks to its attention-grabbing thick, distinctive strokes.
Clarendon is a slab-serif typeface, meaning its serifs take the form of bold, striking blocks. Typefaces like Clarendon are generally used as display rather than body type. That's why it became the font of choice for "Wanted" posters in the American West, and it is still in use by many brands and publications.
---
Inspired by Johnston, the typeface that became the official choice of public transportation in London, Gill Sans was designed by Johnston's mentee, Eric Gill. Released in 1928, Gill Sans was meant to be the British response to a collection of dominant German sans-serif typefaces, and it was immediately successful: Within a year, the London and North Eastern Railway selected Gill Sans as the font family for all its publicity materials and timetables.
Simple, clean, and striking, Gill Sans is still a prominent and widely-used typeface, often included with word processing software as a standard, and sometimes called the Helvetica of England. Classic serif sensibilities are blended with the characteristics of Roman inscriptions and the straightforward look of Johnston, giving Gill Sans a distinct combination of readability and drama.
---
Though Times New Roman feels like the most standard font choice possible today, its style was unprecedented when it was released in 1931. Since it was made for a print newspaper, it was designed to be dense, economic, and readable, with a solid, thick structure and an enhanced contrast between thick and thin strokes.
Though its aesthetic merit is still debated, the value of Times New Roman might be that it's so inoffensive that it never distracts from the message it communicates. That's part of the reason it remains the typeface of choice for legal documents and a number of publications. Reactions to Times New Roman likely have to do with differing perceptions of what typefaces are meant to do: serve the message, or serve themselves.
---
Photography by Tim Cole
Continue scrolling to return to video
↓
Go back to the video
Watch Part Three,
"Colophon Foundry and Typography"
ALL BY HAND
Paul Antonio
To the master calligrapher Paul Antonio, handwritten letters are both an art form and the foundation of his career.
Paul Antonio's resumé doesn't read quite like anyone else's. Born in Trinidad, he began practicing calligraphy when he was just nine years old, teaching himself to craft his own pen nibs from discarded feathers and customize his paper and ink, inspired by the handwritten script he saw on old maps and wildlife illustrations.
At 11, he got sidetracked by his discovery of Egyptian hieroglyphs. He went on to study archaeological illustration, specializing in ancient writing systems. He went on to study medieval heraldic script, contemporary Cyrillic, and, more recently, arabesque decorative forms. Now based in London, he heads a team of calligraphers, artists, and apprentices at his studio, Paul Antonio Scribe. His field drawings of Egyptian hieroglyphics are part of the excavation archives at the Metropolitan Museum of Art. He has worked with some of the most established jewelry retailers for decades, and he wrote the wedding invitations for the royal wedding in 2011.
In an age when almost everything can be done digitally and instantly, Antonio's work requires a slow, steady hand. As he writes, he enters a rhythm that aligns his breathing with his handwork. "It's all about slowing down," Antonio said as he demonstrated calligraphy. "I'm getting into the frame of mind of doing detailed, controlled work. I feel a little bit calmer, a little bit more centered…. Calligraphy is about rhythm, and as you saw just now, once you slow down enough, you can tackle some complex shapes."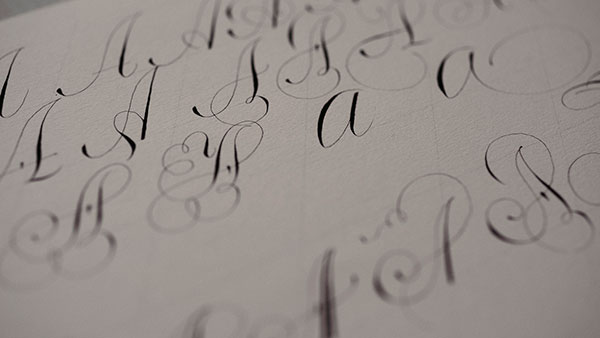 Clearly, Antonio's craft is not for everyone; it requires the patience and steadfastness to spend endless hours perfecting a written word and the ability to create a uniquely balanced, clean, beautiful script by hand. Antonio's lifetime devotion to the practice has allowed him to take on such disparate projects as reproducing a Masonic charter in ½ millimeter script and writing 8,000 placecards in a week. Like the sculptor who approaches his stone in order to liberate the shape already inside it, Antonio seems almost to credit the medium more than his own talent. "I have a really strong belief that the letters already exist," he says. "They exist on the page. The page is not blank. And I try and let the pen do what it wants to do. Of course, I'm controlling the tool, I have a rough idea of what I'm trying to do, but I'm also using it to get even karma."
The way that Antonio does calligraphy elevates the act of writing letters by hand to a painstaking, complex process. It requires him to know every technical specification of the paper that his client or partner asks him to use, to select the appropriate type of ink and tool for the job, to work on a single project for hours, days, and weeks, with only rare mistakes, while making sure that the ink dries before the paper is moved. But he firmly believes in the value of calligraphy over the less intimate nature of type. "Most people are aware of how a font works. They think, oh, you can just move stuff around on a computer," he says. "With calligraphy, you can't. It adds a level of difficulty to the work, it takes more time, and it can be a little bit more stressful. But that level of complexity also makes it so much more beautiful."
Antonio's impressive social media following is evidence of growing audience for that view which doesn't surprise him. Calligraphy's increased visibility in the age of the global internet is allowing people everywhere to rediscover an ancient art that has its roots in the human condition. "A lot of people are tired of sitting in front of their screens," he says. "You sit there, and you're typing away, looking at this box, and you want to use your hands in a way other than typing. I think the first thing that people equate with moving away from typing is handwriting."
He's optimistic about the future of calligraphy, even in an age dominated by the digital, since tools, resources, and knowledge are so easy to obtain now, and he hopes that modern typography will find ways to incorporate scripts that have been in existence for thousands of years to create something new.
"The slowness, the rhythm, the pace, the breathing, and the movement--all these things help you get in touch with yourself again," Antonio says. "When you get into that center of calmness, it's like you slip into meditation. And that meditation can help to dissipate stress and initiate healing."
The first word he remembers drawing as an act of calligraphy: minimum.
---
Photography by Tim Cole
Continue scrolling to return to video
↓
Watch Part Three,
"Colophon Foundry and Typography"
THE ART OF WRITING
Mastering Calligraphy
Starting out in calligraphy requires a few special tools, a lot of practice, and great patience.
One precious gift from the digital world, where everything from writing novels to designing skyscrapers can be done on a computer, is to give greater meaning to things made by hand. The difference between an email and a handwritten letter, for example, can be the difference between a notification and a keepsake. Calligraphy magnifies that difference, lending intimacy to everything from party invitations to high art. It is also something anyone can try, even people without good handwriting. The only requirements are a few tools and a willingness to spend time–a lot of time–practicing.
"Faux calligraphy" is one way to start: Using anything from a ballpoint pen to a Sharpie, write something in simple cursive, draw lines to outline thicker downstrokes, then fill them in. With this form of practice, you can get a feel for the look of calligraphic script and work on steadying your hand.
After that, you can jump into calligraphic tools and more advanced methods. As master calligrapher Paul Antonio reminds people interested in the craft, calligraphy is as much about mindset as physical skill.
What You'll Need
If you're just starting out, don't invest in expensive paper or tools just yet–it's more important to get accustomed to writing with a holder, nib, and loose ink first.
Holders are exactly that: pencil-shaped devices for holding the nib. They come in a range of angles, materials, and shapes. Cork holders tend to be easier on beginners' fingers, and straight holders with universal inserts (to keep the metal nib in the holder) are good first investments. As you get more advanced, oblique holders, which hold the nib at an angle from the holder, allow you to create shapes and flourishes that would be hard to achieve with a straight holder.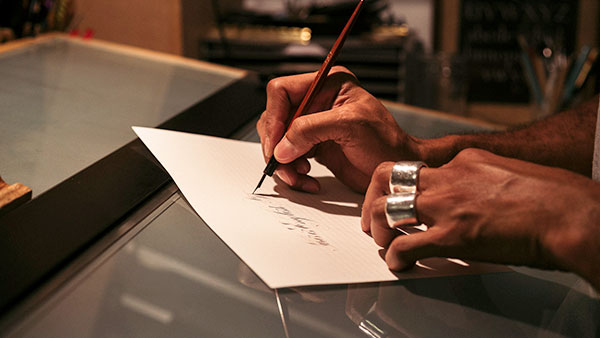 Nibs—the metal tips that hold the ink and touch the paper—come in a number of varities that create a range of textures and weights on paper. Some are more flexible than others, some hold more ink than others, and some last longer than others. Start with one with minimal flex that holds less ink at once. You'll have to re-dip the nib in ink more often, but you'll have more control over the shapes you're creating.
Whatever paper you use, it should be smooth and thick, otherwise the ink will bleed through or spread over more space than you'd like. Laserjet paper is an affordable starter option. You'll also need to invest in ink, and make sure you have small jars to hold it as you write.
Wash off your nibs after every use with soap and water, and make sure to dry them completely before putting them away again.
What You'll Need To Do
There is an entire library of styles and worksheets to use as practice. After you feel confident in the style and size of script you want to use, you can experiment with your own flourishes and ornamentation.
Take the holder in hand as you would typically hold a pen, at the base of the holder, close to where the nib begins. The nib should be opened downward as you write, the curved edge protruding up, away from your hand.
Most calligraphers ink their nibs up to the middle of the vent hole. The rate at which you have to re-ink will depend on the type of ink and nib you're using. Do it frequently enough that you're not forced to retrace your steps and go back over script that came out under-inked.
Hold the pen at roughly a 45-degree angle to the paper, ensuring that the ink flows smoothly. You'll likely need to press slightly harder on the downstrokes to make sure they come out thicker than the upstrokes, which should be relatively thin to create an effective contrast. If the ink starts coming out clumpy or you experience a blockage, just rinse out the tip of the nib with water and re-ink.
Move with the holder, not the nib. You'll have to experiment with different angles, pressures, and grips until you find what works for you, and what allows you to write without breaking off to re-adjust. According to Paul Antonio, finding your rhythm is the most important part of calligraphy. That most of all is what requires time and practice.
---
Photography by Tim Cole
Continue scrolling to return to video
↓
Watch Part Three,
"Colophon Foundry and Typography"
BIG PICTURE
Design Is About the Whole
Designers around the world are thinking globally in more than one sense: taking international influences and learning to design whole systems, not just items.
Before the Industrial Revolution, there wasn't much intellectual or aesthetic value in how, exactly, things were made. The manual labor was intensive, and the goal was to produce whatever needed to be produced. In the early 18th century, that usually meant crops, coal, or cloth.
But the advance of technology, which made work more efficient and workers more specialized, opened up new space to be creative. Market competition forced manufacturers to distinguish their products through ingenious design, to conceive of and produce goods in a way that would set them apart from rivals. The phenomenon was ultimately global, but it began in Europe as a result of the Industrial Revolution.
Three centuries later, Britain is still leading innovation in product design: This year, the UK earned more nominations in prestigious product-design awards than any other country. British expatriates lead the creative departments of American firms both big and small. British names are behind iconic products ranging from the minimalist, now-standard design of vacuum cleaners to the adjustable desk lamp.
Especially today, in a global and lightning-fast market, design is a fundamental consideration for virtually every product in every industry. No one knows this better than Richard Whitehall, managing partner at the design and consulting firm Smart Design, who started his career in London and has since transitioned to living and working in New York. "With today's technology, you've suddenly got to think about not just designing a thing, but designing the service and system behind it," he says.
In other words, effective, innovative product design is holistic, and often interdisciplinary. According to Whitehall, Britain's rich academic culture combined with a national appreciation of art fosters a one-of-a-kind perspective that helps the British lead in the realm of product design. "I actually studied engineering, but I went into the Royal College of Art," Whitehall says. "The College is wholly postgraduate, so it takes people that are already trained in something else and puts them in an incredibly creative environment. That was an amazing thing to me, as an engineer. I didn't know how to create things, but suddenly I saw people doing it all around me. I found that incredibly inspiring."
Whitehall sees that American designers are taking influence from the materials that British designers tend to favor, as he sees American products (especially iconic smartphones and tech pieces) moving towards glass, metal, and other products of the "crafts movement." But the guiding principles that drive good design don't vary much between continents. Whether they're based out of the U.K., the U.S., or anywhere else in the world, "products are now alive and have behaviors," Whitehall says. "They do things. You have to think about how a product is designed to look but also how something works."
Whitehall sees the new world of design as international, and at its best when it's collaborative and dynamic. "In design, a lot of companies like Smart were founded by Americans, and they then brought on an international creative force in the company who spins and evolves the American perspective," he says. "There's an influence that shuffles across the Atlantic."
Continue scrolling to return to video>
↓
Watch Part Three,
"Colophon Foundry and Typography"
WORD PUZZLE
The Psychology of Typography
How do we explain the different reactions readers have to different typefaces?
Why does everyone hate Comic Sans so much?
"It's ugly" is an easy answer, but why do most people above the age of 12 agree with this so automatically?
It's a childish-looking font, breaching the line between approachable and juvenile, mimicking handwritten print, with little sense of formality or regularity. Studies have shown that Comic Sans might make readers less willing to trust whatever it is they're reading, probably because it feels like they're reading a note written by a eight-year-old with a Sharpie.
On the other hand, fonts such as Times New Roman, Garamond, and Baskerville don't often provoke such a strong reaction. Studies and experiments generally find that classical, serif fonts like these communicate traditionalism and sincerity. Sans serif fonts such as Helvetica and Arial are perceived as more modern, clean, and objective. Script fonts that mimic handwritten cursive feel personal, formal, and meaningful, and display fonts (which are generally bolder and attention-grabbing) feel like they're shouting at a viewer.
Though much of this depends on personal preference, it also has to do with our transition from print material to digital reading. Websites and online material tend to favor sans serif fonts—they're less likely to look warped or illegible when a user decides to zoom in or out, and they stand out more crisply on screens since there's no risk of flourishes and serifs bleeding into one another. In print, serif seems to read more smoothly and seamlessly than sans serif because of the implied links that serifs create between letters. Particularly for older audiences, print and the serif fonts that go with it connote reliability more than those that come off as made for the internet.
As websites have become more responsive to zooming, resizing, and skim-reading, it's increasingly common to see serif fonts used as body text online. As long as the font doesn't distract from whatever is being read, font choices are no longer an either-or issue for designers, whether for online or in print. In some cases, it's been suggested that readers associate certain fonts with different tastes or smells—thick, blocky slab serifs with meat, for example, and rounded, bubbly fonts with sweetness.
It's hard to explain with certainty why we respond in various ways to individual typefaces and fonts, but it's clear that we do. Perhaps some adults have memories of getting primary-school homework in Comic Sans, which could definitely explain a wary reception. Times New Roman has been a default font in so many people's lives that it's seen as inoffensive and standard. When Helvetica received its own high-profile documentary, it stuck in people's minds as a contemporary, design-oriented typeface choice.
As typography gains traction and recognition as an art form, typefaces are increasingly chosen as much for expressivity as utility, and as the industry becomes increasingly diverse and global, so will people's typographical preferences. However the field is evolving, though, the typeface and font choices that designers make will continue to be driven by their context and function rather than aesthetics alone, a long-standing principle in the design and use of typography.
Continue scrolling to return to video
↓
Watch Part Three,
"Colophon Foundry and Typography"
DRAWN OUT
Watch the Process of Calligraphy
Hand-drawn calligraphy is about balancing control with creativity, as these videos of Paul Antonio's work in process prove.
Master scribe and calligrapher Paul Antonio has a dedicated social media following, thanks in large part to his up-close, detailed process videos. Not only do they showcase his range of expertise; they also offer an entry point into calligraphy for everyday viewers new to the art form. Below, Antonio writes "Thank You" in three different calligraphy styles.
---
Photography by Tim Cole
Videos by Paul Antonio
Continue scrolling to return to video
↓
Watch Part Three,
"Colophon Foundry and Typography"
INTERNATIONAL LETTERS
Transatlantic Typography
Transatlantic
Typography
American and British typography have their own distinct histories, but the guiding principles of type design translate across continents.
Typefaces, like other aspects of today's global, mobile network, can now be used anywhere in the world, whatever their nations of origin. That is not new. Even hundreds of years ago, typefaces moved across oceans and continents as printed material did, and publishers learned from what they saw.
Some regional differences remained, however. Judging by typefaces invented in Britain and designed in the States, the two cultures seem to favor distinctly different fonts. Britain's long head start explains its classical and European influences, which still inspire its liberal use of sans serif fonts even in print. When it debuted in 1916, the use of Johnston in the London Underground broke from that tradition, using a sans serif with natural, human curves. The result is a typeface that is eminently legible and simple. Like Gill Sans, another well-known British sans serif, it is characterized by contrasting thick and thin strokes and relatively wide spacing between letters and strokes, which makes it readable on screens as well as from a distance. Like other British types, it is rooted in clarity and utility.
Breaking free from Britain's centuries-long history with type, the U.S. developed relatively contemporary typefaces and fonts. American Typewriter, for example, designed in 1974 in New York, humanized typewriter text by making its characters proportional (not all of the same width and height) and is still used to communicate a sense of nostalgia or the old-fashioned—it's the typeface on every I ♥︎ NY t-shirt. Franklin Gothic, originally designed in 1903 as a realist sans serif typeface and named after Benjamin Franklin, changed common perceptions about the effect a sans serif could have on readers. It's a wildly popular choice for advertisements and display type and remains one of today's most visible typefaces.
British typography is also transcending its past. Anthony Sheret and Edd Harrington of the Colophon Foundry in London say a cottage industry has sprung up in the U.K., with a number of small, independent type foundries experimenting with type design without always being married to the demands of a brand.
These days U.S. and U.K. typography seem to be talking to each other. Sentinel, which was designed in the States and used prominently in political advertising, is a variation on the British typeface Clarendon. Mallory, a typeface dubbed the "Transatlantic Sans" takes British straightforwardness and dignity and merges it with American approachability.
This new world of typography is less a collection of disparate libraries than a conversation among influences and variations. Britain still pulls from its long history, and the U.S. still seems more willing to start afresh, but both are dedicated to the same mission for type: to communicate a message so artfully and so fit for its purpose that the typeface might go completely unnoticed.
Continue scrolling to return to video
↓
Watch Part Three,
"Colophon Foundry and Typography"
THE NEW PRINT
Revitalizing A Medium
How are typeface designers and artists in Britain and elsewhere responding to a changing graphics landscape?
According to a flood of think-pieces, trend reports, and disgruntled bloggers, print is dying. People are moving to e-books, reading their favorite publications online rather than subscribing, illustrating and drawing on their computers instead of paper, etc. Whether or not it's true that print is on the way out, there's no question that the media landscape is shifting, and that is shaking up the practice of graphic design.
At every stage of graphic design's evolution, from punk and zine influences in the '70s, to the movement to minimalism, to the incorporation of typography and stenciling, the U.K. was out in front. As early as the late 1800s, the Glasgow School brought together a group of British artists and designers around the use of symbolism in illustration and graphics. Britain was also first to incorporate elements of surrealism, cubism, and modernism into graphic design. But it was in post-war America that some of design's leading innovators emerged. Paul Rand, for example, whose influence can be seen in many of the corporate logos we still see today, brought a modernist sensibility in graphic design to the realm of advertising, corporate branding, the art world, and beyond.
The global practice of graphic design has also been reshaped by technology, as social media and other new distribution channels assert their influence on the messages they carry. As one design expert wrote in The Atlantic, in a piece titled "Can Posters Still Change the World?", "It would be easy to assume that posters have lost some of their impact in a hyper-connected landscape." The author, however, went on to argue the contrary: " [T]he rise of social media has given protest and advocacy posters a bigger audience than ever before."
By incorporating hashtags and handles, for example, calls to action in posters and graphics can lead viewers to a larger conversation about the issue or cause at hand. Images can animate and shift online, adding a layer of dynamism to what was previously a static marriage of ink and paper. This approach, sometimes called "the moving poster," is rapidly taking hold as a way for designers to deepen the significance of poster images and engage the viewer. Whether through inverting color schemes or completely altering the structure of images on the poster, animation can endow images and messages with new meaning and depth. Tech developers and programmers from Silicon Valley to New York are taking graphic design principles and applying them to user interfaces in apps and websites. But the tools and distribution channels enabled by technology have also made the industry more democratic, lowering financial barriers for designers who might not have the funds to spend on materials or printing.
There is, however, still demand for the traditional poster, as popular hubs, galleries, and exhibitions in London sell print posters from around the world (many of them by American designers). In the U.S., a survey of designers showed that 90 percent of them still incorporated print and considered the medium fundamental to their work. Graphic design hasn't been rendered obsolete by the digital age. If anything, the industry could be benefiting from an environment in which it has more room to animate, amplify, and carry on.
---
Photography by Tim Cole
Continue scrolling to return to video
↓