Jan Morgan has been her husband's primary caregiver for years, tending to his needs in their North Carolina home ever since a cluster of chronic illnesses paralyzed much of the left side of his body. She has embraced her role, just as he did when Jan battled cancer years ago.
But one day this spring, when Gene slipped in the tub and injured his good side, Jan thought she'd reached the end. She couldn't lift him up, and that drove a fear that she simply couldn't handle his care on her own anymore. She called 911, but when paramedics came, he wouldn't go to the hospital. When he still couldn't move from his bed the next morning, Jan called his doctor.
That call initiated a chain of professional services—from health care and beyond–that would change the Morgans' lives for the better. Gene's doctor was part of Mission Health Partners (MHP), an Accountable Care Organization (ACO) based in Asheville. And within hours, a care coordinator assigned to their case had launched a concentrated effort to care for both the patient and his wife. The work not only set Gene on the road to recovery, but focused on Jan's health and her ability to handle the significant burdens of caregiving—and it wound up saving thousands of dollars in health care spending in the process.
"I was totally incapable of handling this myself," says Jan. "I never could have arranged it, and all the complications, and government, and money… It's like some sort of magic thing they did. You need somebody with the skills that they have."
With 90,000 eligible patients across 18 rural counties, Mission Health Partners is the second-largest ACO in North Carolina. ACOs were created under the Affordable Care Act to incentivize high-quality, coordinated health care that lowers overall costs for patients who utilize Medicare and other insurance providers. The payment structure encourages health systems to manage patients' overall wellness, rather than simply treating them when they're sick or injured.
MHP does this by building a support system around its patients. Five care coordinators, two pharmacy technicians, one clinical pharmacist, and two social workers take referrals from hospitals, nearly 300 primary care physicians, and 800 specialists. Like many ACOs, MHP also analyzes Medicare and other insurance claims to identify patients who are incurring the most common, easily avoidable costs. Then, with referrals and data in hand, MHP goes further: As the directors developed their model, they felt success should also be measured by assessing broader issues that might be adversely affecting their patients' overall health. These social determinants of health include stable housing, family assistance, language-translation needs, medication assistance, and more. MHP monitors 16 of these potential contributors, providing yet more data. "If you just do standard claims data, you can get to about 60 to 65 percent predictability," explains Rob Fields, a primary care physician who is the medical director at MHP. "If you add social determinants on there, you can get to 90-plus percent predictability."
To identify each patient's challenges to overall health, MHP builds relationships, sending care coordinators and community partners to patients' homes to establish the sense of support that is vital to health. Overall, they're looking beyond any immediate health crisis to consider the long-term well-being of patients, and the barriers to their self-care.
"Eventually, we'll have built a platform, model, culture where we think like a community," says Fields. "And we'll have a system where the effect of any one resource is magnified by the effort of the community. Everyone will have a sense that they're connected around the patient."
In the case of the Morgans, building that sense of connection started with Gene's doctor. The doctor called MHP care coordinator Deb Beck, who immediately called Jan. At first, Jan wanted nothing to do with her. "I argued with Deb that I didn't need a paramedic, and she was determined to send out a paramedic," Jan recalls. "So finally, just to get her off the phone, I was like, 'Send whoever you want. I don't care.'" Beck, unperturbed, called Caramedic, a nonprofit community paramedic organization that provides care within the Asheville area. Less than two hours later, a paramedic was at the Morgans' house to assess Gene's injury. He had, in fact, fractured a fibula. The paramedic arranged for Gene to be transported to the hospital.  
In speaking to Jan, the paramedic realized that Jan needed care, too. She required mental and emotional support­—because if Jan had a breakdown, Gene would lose his crucial helper. He could easily become an inpatient at a long-term nursing facility, at a cost of tens of thousands of dollars to Medicare.
This was a nuanced prognosis: Jan's ability to care for Gene was an enormous factor in the eventual cost of his healing. The paramedic taught Jan a series of stress-management techniques, and stayed in close contact to make sure she was doing okay. Beck arranged for Gene to stay at a rehabilitation center, and connected him and Jan with an MHP pharmacy technologist who analyzed and simplified Gene's prescription medication protocol.
Ten days on, Gene was able to come home, and Jan was ready to welcome him. Gene returned to a house that was better suited to his medical needs. The tub in the bathroom, where he had repeatedly fallen, had been replaced. Wire that had been on the floor, a tripping hazard, had been rerouted. The changes meant a safer living space and, potentially, fewer medical emergencies and emergency room visits. This represented MHP's operating procedures at their best: a holistic approach to benefit the patient while preventing unnecessary hospitalizations and spending.
The plans Beck set in motion represent a different way of managing care for the most vulnerable populations. And at Mission Health Partners, it's driven by data.
"We're looking for insights and answering questions based on gut observations. [Dr. Fields] might think we have a spike in influenza claims, and ask, 'How many of those people actually got their vaccines?' It's answering those kinds of questions and trying to confirm assumptions that they have about our patient population."
Carl Cortright, a data architect at MHP, is tasked with making sense of the vast amount of data streaming in from various partners and claims. "Between all of our data sets, we're measuring in terabytes—prescription claims, medical claims… It's a huge hodgepodge of data," he says. In the aggregate, he adds, "we're looking for insights and answering questions based on gut observations. [Dr. Fields] might think we have a spike in influenza claims, and ask, 'How many of those people actually got their vaccines?' It's answering those kinds of questions and trying to confirm assumptions that they have about our patient population."
Through the athenahealth Population Health service, MHP is able to aggregate data from multiple sources and share it, in a meaningful way, with every provider who cares for that patient. Right now, the majority of that analysis is descriptive. In the long term, MHP hopes to have enough data to start getting into predictive analytics, anticipating complications and hospitalizations before a chronic condition develops. This vision is so far ahead of its time that the exact tools MHP needs do not yet exist­—but willing partners do. "Athenahealth was helpful in terms of building the framework and model," says Fields. "They were open to development, so they're helping us build the tools to match that. We're cobbling together the systems to do it, because it doesn't exist out there."
The end result, Fields says, will be a system that predicts and addresses some of the largest barriers to health, decreasing health care spending and improving patients' quality of life.
"What we find over and over again is that our highest cost patients… don't become high cost because they choose to be ill," he notes. "They often are high cost because their lives are so chaotic that they make choices that seem easier at the time to make, whether that's eating poorly or eating whatever they can get their hands on, or manipulating the system by going to the ER because they have no other access… If we can build that infrastructure around them, then we believe that we'll see improvements over time."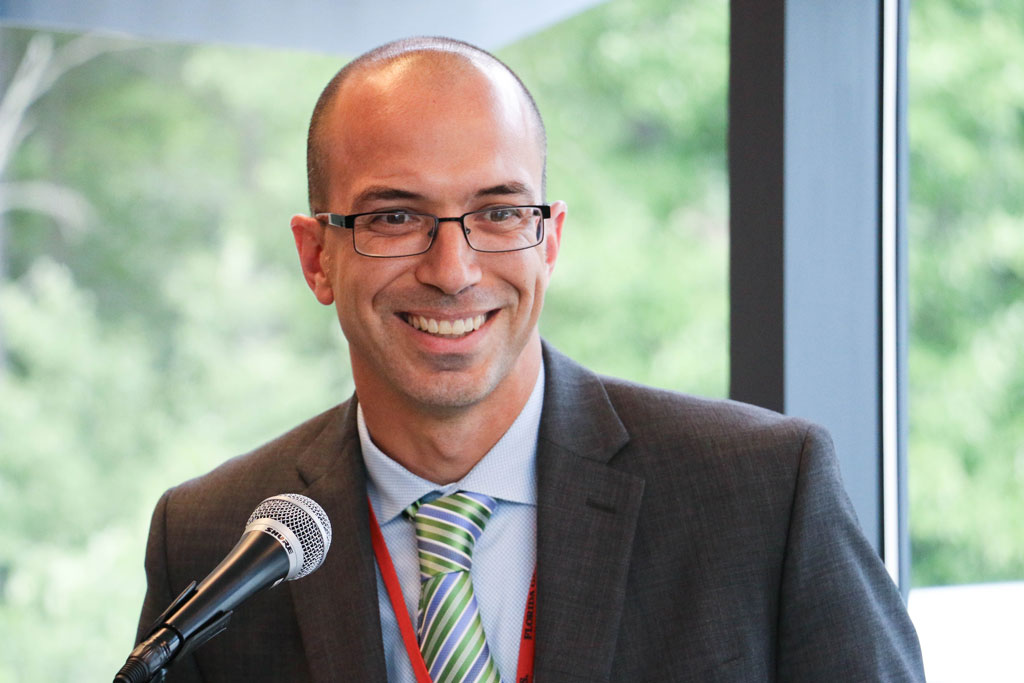 After visiting the Morgans, the paramedic put his findings into the athenahealth Population Health reporting service. Community partners do this after every patient visit, and the data from each case informs MHP's ongoing approach.
The Asheville Buncombe Institute of Parity Achievement (ABIPA) is another community partner. The organization, which started serving the city's poverty-stricken residents in 2006, is a collective of four health workers who reach about 3,000 community members each year via pop-up produce markets, health education courses, and other outreach. The group formed a partnership with MHP this year, and has so far answered some 70 calls, including a recent one on behalf of a bedridden 83-year-old grandmother. The woman's adult children were supportive and helping with her care, but they were not medical professionals. The woman visited the ER in August of 2016 and was admitted for dehydration and a urinary tract infection.
Those conditions would have been avoidable, health professionals say, with the right understanding of how to manage the diet of a bedridden adult. And a community health worker visiting the family to provide guidance would have been far less expensive than the ER visit. MHP, armed with the evidence of earlier cases in the community, called on ABIPA to visit the woman's home and work on a forward-thinking plan. Subsequent trips to the ER were avoided, and a comprehensive health care protocol that might yield better long-term results is now in place.
Another community partner working with MHP is Pisgah Legal Services, also based in Asheville. Pisgah's 20 attorneys work with clients to determine if legal aid might mitigate stress, which is associated with 60 percent of all human illness and disease, according to the American Institute of Stress. If a legal issue is causing a patient anxiety, and Pisgah can ameliorate the situation in large or small ways, the patient might be less likely to develop chronic illness. And without an illness to manage, his health care needs might decrease.
Nonprofits work with patients until issues have been resolved: the safety of a home is assured, a diabetic patient is brought up to speed on how to use a glucometer, a transportation issue is overcome.
It's a network, a web, a community. Nonprofits work with patients until issues have been resolved: the safety of a home is assured, a diabetic patient is brought up to speed on how to use a glucometer, a transportation issue is overcome. MHP performs like a baseball team's manager, considering the ninth inning, looking to the pinch hitters and the bullpen. The athenahealth Population Health service is upstairs, with binoculars. Its platform enables MHP administrators and community partners to see what the entire care team is doing, to avoid duplication of effort and coordinate good work. And MHP now has access to athenaWell, a tool that allows patients to input their own information, from medication adherence to physical fitness. That's still more data—and, likely, it will drive even better results.
MHP is one of more than 740 ACOs that have formed since 2011. Collectively, ACOs have generated an estimated $400 million in Medicare savings. If MHP spends less than the average cost of care for one of its high-risk patients in the region it serves–about $7,800 a year, per government benchmarks–it splits any cost savings 50-50 with Medicare.
But who benefits most?
Gene and Jan.
They still have health issues. They still have stress and fear and dozens of prescriptions. Data would categorize them as at risk. But data is their advocate, as well, lending insight into a network of caregivers, from Deb Beck to Dr. Fields to all of the community organizations in MHP's orbit. And when analyzed against a larger model–the population approach—it's a tool for improving the health of patients across an entire region.
"Our ultimate success," says Dr. Fields, "is how well we create sustainable, healthy communities for our highest-risk patients."