District of Columbia. Company E, 4th U.S. Colored Infantry, at Fort Lincoln Photo: Library of Congress
On the morning of September 29, 1864, as dawn broke over eastern Virginia, some 7001 black soldiers in the 4th and 6th regiments of the Union Army walked directly into enemy fire. The ultimate target of their assault was Richmond, the Confederate capital, just 15 miles north of where they stood. Success against the rebels' fortress, which had never been touched in four years of war, would be a knife in the heart of the Confederacy, which only partly explains the intrepid action that day by units of what were then called the United States Colored Troops (USCT).
The approximately 1,8002 soldiers arrayed against them were members of the Texas Confederacy, opponents of emancipation who were notorious for an especially sharp loathing of African Americans. When one of them saw the 4th and 6th approaching over the swampy terrain, he shouted, "n---ers, boys, n----ers," reveling in the prospect of what his unit called a "coon fight."3
Less than two hours later, almost half the members of the 4th and 6th were injured, missing, or dead. The white officers who led the charge had been the first to die, and the black troops who took over from them were next. After that battle, Sergeant Major Christian Fleetwood of the 4th Regiment wrote in his diary: "When the charge was started, our Color guard was full; two sergeants and ten corporals. Only one of the twelve came off that field on his own feet. Most of them are there still…. [It] was sheer madness."
The Union fell back, but only briefly. More than a thousand soldiers from three additional USCT regiments soon returned to finish the attack. And once again, as the white officers fell, says historian Noah Andre Trudeau, "it fell to black sergeants to keep the unit organized, keep it moving forward, keep it coherent. They were taking over the units under fire, with men falling all around them."
By the time the battle was won, at about 8:30 that morning, it had taken an estimated 800-plus Union casualties—some 130 black troops killed in action, approximately 660 wounded—and an estimated 45 others were missing in action.
News and official battle reports all testified to the courage, grit, and skill that the USCT troops showed under fire, settling any doubt of their fighting spirit. "They never halted or faltered," the New York Herald correspondent wrote, "though their ranks were sadly thinned by the charge, and the slashing was filled with the slain and wounded of their number."
No fewer than 14 African-American soldiers were awarded the Medal of Honor for heroism in what came to be known as the Battle of New Market Heights. Five of them were for leading the troops forward after their officers fell. Four were recognized for taking up their regimental flags from wounded or killed bearers, a job that turns a man into a clear, slow-moving target. One soldier, according to his Medal of Honor citation, urged his men forward as he managed to load and fire his weapon with only one arm, the other having been so badly mutilated it needed immediate amputation.
For all that, New Market Heights is little more than a footnote in Civil War history—a battle, scholars agree, that deserves better.
Its relative obscurity derives in part from lack of access to the site. Only the largest battlefields were acquired in the years just after the war. Later, given the racist Jim Crow laws enacted after Reconstruction, there would have been considerable resistance in the South to a celebration of black heroism. The land at New Market Heights is now divided into parcels and will remain that way until the National Park Service (NPS) can convince its owners to sell or donate it, which so far they have not agreed to do. In the meantime, the Civil War Trust has listed New Market Heights among its  "most endangered" sites4.
That lack of access inhibits both scholarly and public interest. "A key part of battlefield research, any battlefield research, is walking the ground and understanding the terrain and reaching deductions from that," says Robert Krick, a historian at the Richmond National Battlefield who has written several books on the Civil War. "The fact that there's been no preserved property at New Market Heights also prevents casual visitors from seeing it, appreciating it, getting enthusiastic about it. [It's] just not quite on their radar."
The Battle of New Market Heights is also obscured by the ten months of fighting for Richmond that followed. More battles were lost than won during that time, and New Market Heights, while critical, was not conclusive. "The New Market Heights operation was only one of several efforts to breach the lines at Petersburg and Richmond in the summer of 1864," says Pulitzer-Prize-winning Civil War historian James McPherson. "Most of them were not ultimately successful, so [New Market Heights] just didn't get the same kind of publicity."
Literally thousands of Medals of Honor were issued during the Civil War, almost a third of which were later rescinded due to fraud or lack of merit.5 But the 14 awarded for New Market Heights were never even questioned, and only four others were awarded to African Americans in the Union Army during the whole course of the war.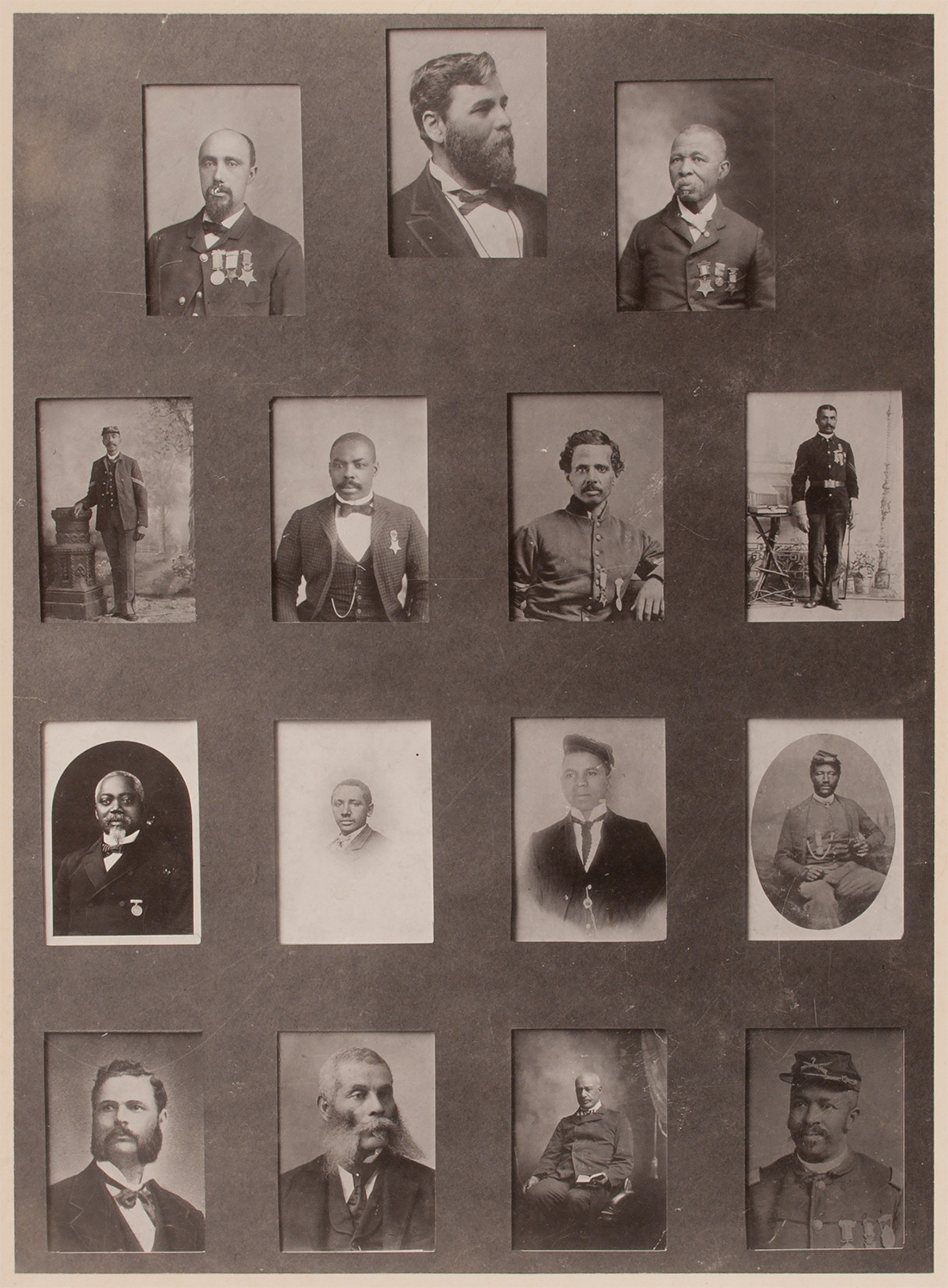 Civil War historians—McPherson included—cite contemporary reports to confirm that actions which rose "above and beyond the call of duty" at New Market Heights would have justified such medals in any of America's later wars. Captains and officers, almost all of whom were white, spoke of the black troops' bravery in their logs, reports, and correspondence. Major publications, including the New York Times and New York Herald6, covered the victories of the USCT, and news of the heroism shown at New Market Heights drew special notice. On October 5, a week after the battle, Civil War correspondent Thomas Morris Chester wrote that "the officers and men of these regiments…wiped out effectually the imputation against the fighting qualities of the colored troops."
Less than 20 years after the war ended, in the time of Jim Crow, that reputation for bravery was effectively withdrawn. But for later generations, the medals awarded for New Market Heights preserved the USCT's record for valor. In that respect, at least, they were more fortunate than the African-American soldiers who came after them.
In World War I, most black troops were relegated to strictly segregated units doing menial labor behind the lines.7 There were some significant exceptions, notably the "Harlem Hellfighters," a black regiment that gave no ground, lost no prisoners, and, having stayed on the front longer than any other U.S. unit in France, was first to cross the Rhine. But only two Medals of Honor were awarded to the 350,000 black soldiers of World War I—both of them posthumously—and none at all during World War II, in which more than 125,000 black soldiers served abroad. Almost half a century later, President Bill Clinton awarded the Medal of Honor to seven black soldiers whose bravery in World War II merited more than the Distinguished Service Crosses they had received. Only one was alive to receive it.
Historians hope that renewed interest in the Battle of New Market Heights could help rectify that imbalance. It might also help preserve the battlefield for posterity. New Market Heights is just a small part of the history of black soldiers' valor during America's wars, but no Civil War battle has a more compelling claim to a place in that history. Civil War historian Hari Jones calls New Market Heights "one of the best examples of our soldiers' bravery." To Jones, a former Marine, New Market Heights shows what "above and beyond the call of duty" actually means—"not only for African-American soldiers," he says, "but for all American soldiers."
1 Bryant, James K. The 36th Infantry United States Colored Troops in the Civil War: A History and Roster. Jefferson, NC: McFarland and,, 2012.
2 http://www.history.com/this-day-in-history/battle-of-new-market-heights-chaffins-farmfort-harrison
3 Price, James S. The Battle of New Market Heights: Freedom Will Be Theirs by the Sword. Charleston, SC: History, 2011.
4 http://www.civilwar.org/battlefields/new-market-heights.html
5 Owens, Ron. Medal of Honor: Historical Facts & Figures. Paducah, KY: Turner, 2004.
6 http://www.civilwar.org/battlefields/new-market-heights/new-market-heights-/battle-of-new-market-heights.html