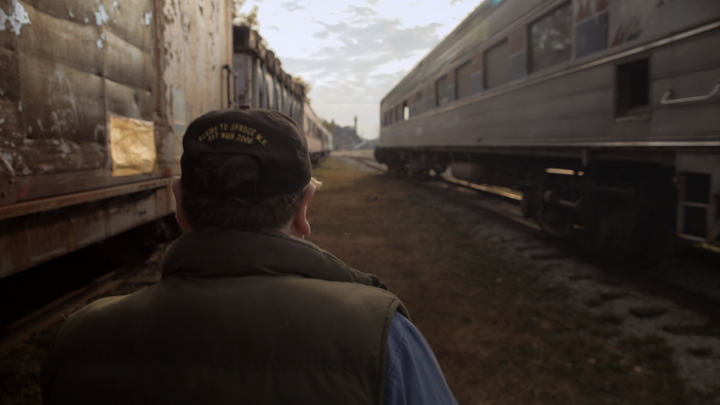 At Cleveland's historic B&O roundhouse, a group of train aficionados known as the Midwestern Railroad Preservation Society work to restore vintage railcars. Their passion was documented by filmmakers Jamie Thalman and Julien Lasseur, who discussed their short documentary with me over email. The interview has been edited and condensed for the sake of clarity. 
The Atlantic: How did you find Charlie Sedgley and the Midwestern Railroad Preservation Society?

Lasseur: I showed up in Cleveland and [associate producer John Petkovic] offered to give me a tour of his favorite local spots. One stop was a seemingly abandoned rail yard. We wandered past rows of train cars in different states of disrepair. We found an entrance into the old roundhouse and that's where we met Charlie. Charlie's unfiltered passion for his work made him immediately personable and so we spent the afternoon touring the grounds as he walked us through the individual histories of each train car. 
The Atlantic: Tell me about this series, From Under the Rust. What inspired you to start the project?

Thalman: I grew up during Cleveland's intense economic friction with the decline in manufacturing, the closure of steel mills and the growth of health services. Redevelopment and reemployment erupted as dominant parts of the Cleveland narrative. When [John Petkovic] brought us to the Preservation Society and we explored Charlie's story, we realized redevelopment doesn't need to take the form of large-scale developments. There are a wealth of untold stories about people working on a smaller scale in communities that have largely gone unnoticed.

Lasseur: It's a voice of people who make no promises about their cities changing overnight, or even that their cities will ever once again become what they were. These are people who are willing to work in their own unique ways for the survival of their homes, even if the eventual outcome isn't any more than just that: survival. Each short film in the series will explore stories of people living and working in the Rust Belt cities they call home.
The Atlantic: As filmmakers, how do you cover a subject like the decline of Rust Belt cities without romanticizing the economic difficulties of the region? How do you respectfully tell the stories of people from these places?

Thalman: This is a really important question, because it addresses our central goal with this project; that is, to tell these stories in a way that honors the reality of the region and the perspectives of its people. This goal is the impetus for the series as a whole.

Lasseur: When we find a subject to shoot, we prefer to approach them first and foremost as an interlocutor—one side of a dialogue between us and them, with our cameras as one of the many tools in the formula. We do our best to stay reactive, and follow wherever the conversation takes us. With this approach in mind, we hope that the stories we uncover speak for themselves. The challenge is as much about which stories we choose to tell as it is about how we tell them.
---
From Under the Rust is a documentary series created by Rustic. If you have a story idea for the series, you can contact the filmmakers at hi@rustic.la.
We want to hear what you think about this article. Submit a letter to the editor or write to letters@theatlantic.com.
Chris Heller
is a former senior associate editor at
The Atlantic.