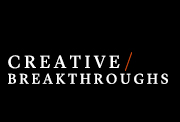 A series of interviews with leaders in media, tech, and the arts
See more
In 2008, Artist R. Luke Dubois joined online dating sites across the country to collect data about dating in America. He can tell you how many people in your zip code are "shy." He can tell you that online dating profiles made in New York City use "now" more frequently than any other city, and that Seattle's profiles are full of "heartbreak." He can show you America's soft side in a way the census can't; his art is "a way to explore the emotional impact of data," he said during an interview for Atlantic Video's Creative Breakthroughs series.
A professor at New York University, Dubois uses video, photography, music, and performance in his work, which has been shown at the Smithsonian, the Sundance Film Festival, the Democratic National Convention, and more. His projects have covered a wide range of topics, including the Iraq war, the American presidency, and, of course, online dating, all of which he discusses in the video above.
He sees this diversity as a central part of his art. "You should never wish for anything specific," he explained. "It's an artistically flawed, problematic way of thinking."
For more information on R. Luke Dubois, please visit http://theartofdata.org/artists/.
This interview was filmed at the 2013 Aspen Ideas Festival.
We want to hear what you think about this article. Submit a letter to the editor or write to letters@theatlantic.com.
Emma Green
is a staff writer at
The New Yorker
. Previously, she was a staff writer at
The Atlantic
, covering politics, policy, and religion.