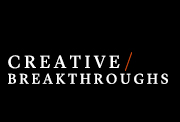 A series of interviews with leaders in media, tech, and the arts
See more
In 1985, when explorers finally discovered the remains of the Titanic resting on the ocean floor off the coast of Newfoundland, the world thought a long-standing mystery had finally been solved. But two and a half decades later, David Gallo, a scientist at the Woods Hole Oceanographic Institute, was not content.
"Many people said, 'We've already found Titanic, we've already been to Titanic,'" he said in an interview for Atlantic Video's Creative Breakthroughs series. In 2010, he led a team of archaeologists, oceanographers, and scientists on an expedition to map every inch of the wreckage, creating the first-ever virtual reconstruction of the ship.
"By doing this thing that was very routine – it's like mowing a lawn or plowing a field – by doing that… this image of the story emerged that's just fantastic," Gallo said. Hear more about his undersea adventures and advice for young explorers in the video above.
This interview was filmed at the 2013 Aspen Ideas Festival.
We want to hear what you think about this article. Submit a letter to the editor or write to letters@theatlantic.com.
Emma Green
is a staff writer at
The New Yorker
. Previously, she was a staff writer at
The Atlantic
, covering politics, policy, and religion.