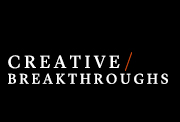 A series of interviews with leaders in media, tech, and the arts
See more
Fact: Reddit co-founder Alexis Ohanian originally dreamed of building an app for ordering takeout. Fresh out of college, he and a friend presented the idea to the heads of start-up incubator Y-Combinator. "I had my heart set on this for like a year – and we were told it sucked, basically," he laughs during an interview for Atlantic Video's Creative Breakthroughs series.
Ultimately, though, things worked out: This experience led Ohanian to start Reddit along with co-founder Steve Huffman. Hear Ohanian's advice, including bonus wisdom from his mom, in the video above.
This interview was filmed at the 2013 Aspen Ideas Festival.
We want to hear what you think about this article. Submit a letter to the editor or write to letters@theatlantic.com.
Emma Green
is a staff writer at
The New Yorker
. Previously, she was a staff writer at
The Atlantic
, covering politics, policy, and religion.