The designers behind the High Line want to revive this Washington D.C. museum for the 21st century. 
When Richard Koshalek, Director of the Hirshhorn Museum in Washington, D.C., started thinking about a unique space within the museum that could house a cultural think tank, he realized he would need some help thinking outside the box -- or, as the case may be, outside the rotunda. Koshalek wanted to rethink the museum's relationship to its audience, and the relationship between private and public space. In essence, he wanted to "democratize the building." To do this, he approached the acclaimed interdisciplinary design firm Diller Scofidio + Renfro, who are known for taking an unconventional approach to designing public spaces.
Diller Scofidio + Renfro (DSR) have made a name for themselves with high profile public projects like the High Line and the Lincoln Center in NYC, and the Institute of Contemporary Art (ICA) in Boston. Their unique conflation of outdoor and indoor space, coupled with a focus on creating spaces that would encourage discourse and a sense of cultural exchange, has set them apart on the international architecture and design scene.
For the Hirshhorn, DSR created what may be their most unusual project to date -- a 154 ft. tall inflatable structure that balloons over the Hirshhorn's open courtyard, providing a space the museum can utilize for educational programming in the spring and fall. The roofing gives the museum an additional 14,000 sq. feet of space that can accommodate up to 450 to 500 people for performing arts events, films, lectures, and art installations that will explore "important cross-disciplinary issues in media, technology, and contemporary culture."
"The future might be unknowable, but it's not unthinkable," says Koshalek in our video interview with him and architect Liz Diller (above). Watch the video to find out more about the collaboration and check out the architectural renderings of the new space below.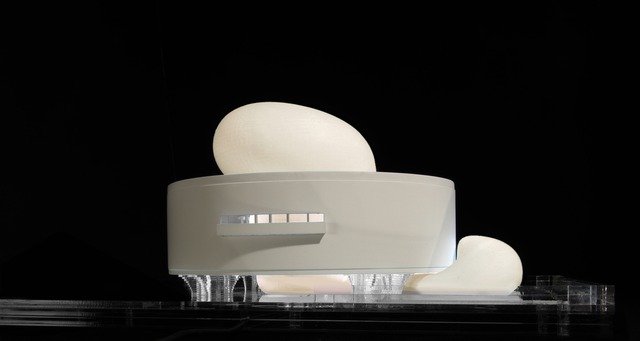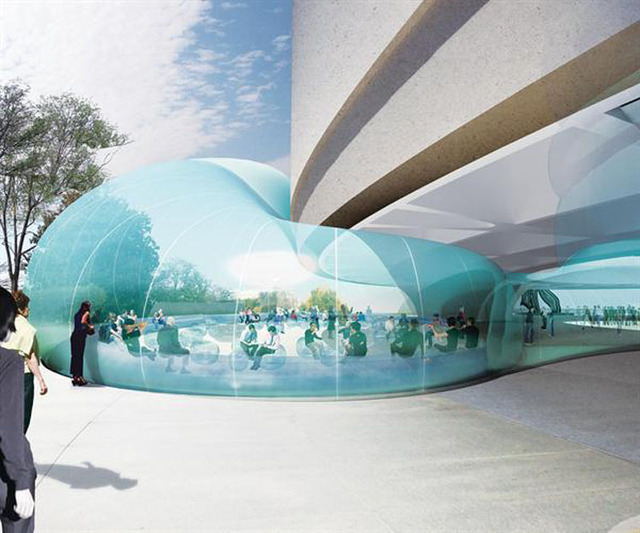 This post also appears on The Creators Project, an Atlantic partner site. 
We want to hear what you think about this article. Submit a letter to the editor or write to letters@theatlantic.com.
Julia Kaganskiy
is Global Editor of The Creators Project and organizes The Creators Project meetups in New York City.