The L.A Dance Project, an art collective founded by renowned choreographer Benjamin Millepied (whose work you might recognize from a little film called Black Swan), recently formed to celebrate both traditional, well-known productions and innovative, experimental new works.
Millepied invited Oscar-nominated director Alejandro G. Iñárritu (Biutiful (2010), Babel (2006)) to a rehearsal for the L.A Dance Project's premiere performance, and Iñárritu was so inspired, he decided to make a "video-exercise" to document the movement and dance in an experimental way, with a stream of consciousness narrative.
"Benjamin's choreography is both sensual and melancholic. The features of the dancers are unique and noble, as are their bodies. When I saw a rehearsal, I felt a sense of urgency, sex, and violent introspection. A long time ago I had this idea of somebody finding herself in an eternal loop, going down a hill. A kind of physiological limbo," says Iñárritu.
The result is the short film Naran Ja (One Act Orange Dance), which we're premiering above. The film, produced by The Amoveo Company, was shot outside of L.A. and features excerpts of the new choreography Millepied crafted for Moving Parts. The story takes place in a secluded, dusty landscape and centers around LADP dancer Julia Eichten who seems to be on an eternal search … for herself. "I just selected a few moments from his play that fit my purpose, and by editing and connecting them all, I was able to explore that old concept," explains Iñárritu.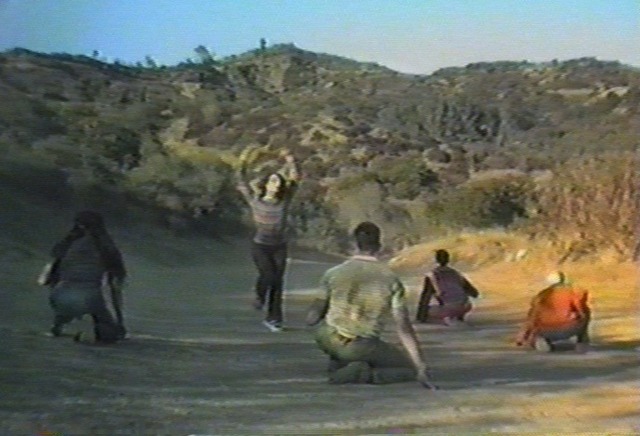 Iñárritu had to take a new filmmaking approach to tell a story that's more driven by movement than narrative. "Dance is a difficult subject to shoot. A lot is lost with just two dimensions. In dance everything is about rhythm, and rhythm is about flow. Flowing visually in one continuous shot was my objective and the only way I could have conceived this exercise. It has to do with the point of view and the mind of the protagonist. Here, it is the audio that tells us a parallel story. Shooting it was really enjoyable and extremely liberating," says Iñárritu.
Millepied let Iñárritu's creative vision take flight, "I wanted Alejandro to let his imagination run wild and not feel restricted or even pointed in a certain direction. I was interested in his take on the dance, in what he would come up with," says Millepied.
Iñárritu chose to shoot the film on VHS, which gives it a nostalgic, homemade feel. "VHS texture is for digital what grain used to be for film," he explains. "Digital and most film stock is so sleek now, that everything looks very plastic and unnatural. We have lost the skin of the images. Cameras reproduce reality much more sharply than my eyes can see and that's why it looks fake."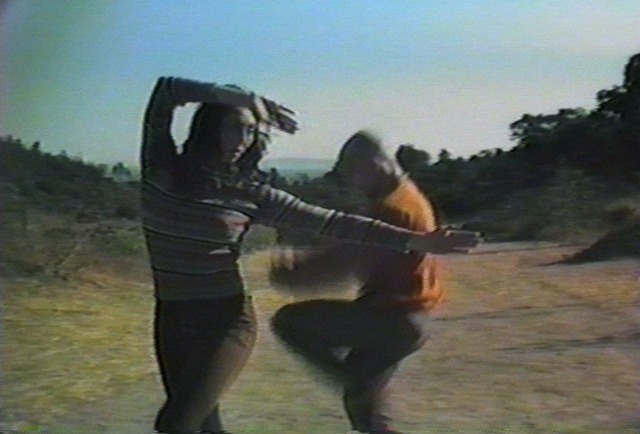 The glitchy effects and retro type style add to the overall aesthetic of the film, "I thought this $39 VHS camera reproduced and exquisite, moshy-moshy, beautiful, horrific greeny-yellowish skin that triggered my emotional memory of TV series from the '70s. I loved it," says Iñárritu. While on set, the film was completely digitized on site (due to the unreliable nature of VHS). The Mill LA put on the final finishing touches.
We spoke with the film's VFX supervisor, Phil Crowe, to find out more what the post-production process was like, and how they used high-tech tools to create a low-tech feel.
The Creators Project: It seems that no one really works with VHS anymore… does it make the post process more difficult?
Phil Crowe: Initially we did a test to work out the general principle of how to achieve the continuous feeling of the piece and general proof of concept, but also to work out which format to use. We originally thought that shooting HD then treating and degrading the footage to look like VHS would be the best route, as it would give us more reliability and be easier to work on. But when we saw the footage from the VHS camera, there was just something about it that you just can't replicate … yes it made it trickier, but more fun and more challenging.
The film is kind of a homage to '70s and '80s home videos. How much did you have (or want) to enhance or bring out that aesthetic?
We added the occasional glitch, but essentially it's is all from the camera.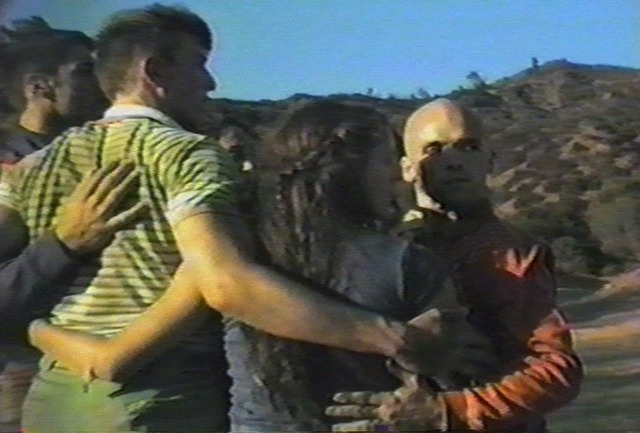 What effects were primarily used? Did you use any cool tech innovations?
The piece was worked on in Flame and Smoke. I would say that many old-school techniques came into play. The challenge and beauty of something like this is to try and give the director as much freedom as possible. This was all shot hand held. On set we didn't have any motion control, mix, or overlay because of our format. The DP Greig Fraser had marks to hit with his feet to keep him roughly in the same place on set. I'd follow him around with illuminous spray powder, and every time we stopped for a potential transition point, I'd spray around his feet.
As far as Millepied's new dance venture goes, the L.A Dance Project will continue to experiment with film and other unexpected formats. "For now more films is an important goal for me, the medium interests me personally. We also have an interesting installation in the works with sound designer John Gottlieb, Daniel Cloud, and Alex Israel."
This post also appears on The Creators Project, an Atlantic partner site. 
We want to hear what you think about this article. Submit a letter to the editor or write to letters@theatlantic.com.