When I decided to go to the Open Video Conference in Manhattan this weekend, I really had no idea what to expect. Open Video is an unusual cause, belonging to no specific interest group, in that we are all makers and/or consumers of web video (usually both). What other issue can bring together a diverse crowd of hackers, academics, filmmakers, human rights activists, and lawyers to gleefully design and debate the future of technology? The third annual Open Video Conference, held this past weekend at New York Law School, felt like a mini SXSW Interactive loosely dedicated to "making video more open." Topics of discussion included everything from "visual anonymity" to robot lawyers (seriously). Dozens of workshops provided enough food for thought to inspire another year of innovation, not just in technology and policy, but in modes of visual storytelling.


The Documentary Cloud
A central challenge of documentary filmmaking is wrangling the wealth of information and footage amassed in the process of researching and shooting into a three-act structure. The
Connected Documentary
workshop tackled, among many topics, how a documentary can live and grow online, beyond the boundaries of the feature format.
Amir Bar-Lev,
the director of
The Tillman Story,
explained how, like most documentaries, the story he was telling continued long after he finished the film. At the same time, he had amassed an archive of over 300 documents related to the Tillman case and countless interviews that would never fit the film, but were a powerful part of the story. So he decided to put them in the cloud. He used
Document Cloud
to make the documents available and is working on making an interactive version of the film so that viewers online can brows the supplementary content in synch with the film. This interactive layer (more on this in a second) lets you pin any kind of content that can live in a web page to specific sections in the film, so that the video becomes an entry point for a whole archive of information. A
"transmedia"
approach to filmmaking certainly isn't new, but the direct linking of content to a linear story, with opportunities for audience participation, is pretty exciting. 
Interactive Layering

We tend to think of video as a static block of content that has to be experienced in a linear manner, but this is increasingly not the case, as HTML5 developers work to integrate video more seamlessly with web pages. The workshop about Popcorn.js was an exuberant introduction to an open source tool that essentially allows you to synchronize non-video content to a video. Sounds simple, and Rick Waldron from Bocoup went out of his way to present it in terms that would feel intuitive to non-developers. Without going into too much detail, it's an HTML5 media framework that can link the behavior of a web page to time code (or any metadata) in the video. Remix artist and conference keynote speaker Jonathan McIntosh has an awesome example of how this can be used to add dynamic context to a video on his website. First, if you haven't seen it, check out his Donald Duck-meets-Glenn Beck remix, an artful edit of Disney footage and Beck's radio and television audio:
As McIntosh points out
on his site,
some of the subversive power of remix is in recontextualizing content, which can be amplified by letting an audience see the source material in its original context. There is also incredible value in being able to attribute each clip to its source, especially in a fair use case like this, where the creator is at risk of a
DMCA takedown notice
from a content owner (e.g. Disney or Fox). 
I've recently been exploring ways to contextually present the audiovisual sources, notes and references used in my remix videos. I'm especially interested in the exciting possibilities of the HTML5  video element combined with the Popcorn.js framework to visually annotate the metadata in my more complex remixing projects. With that in mind I've put together anHTML5 video demo which dynamically displays a layer of data referencing the original source materials as the video plays. I have long been an advocate for remixers to transparently cite their sources as part of promoting open video, claiming our fair-use rights and as a way to make it easier for others to remix the same material in alternative ways ...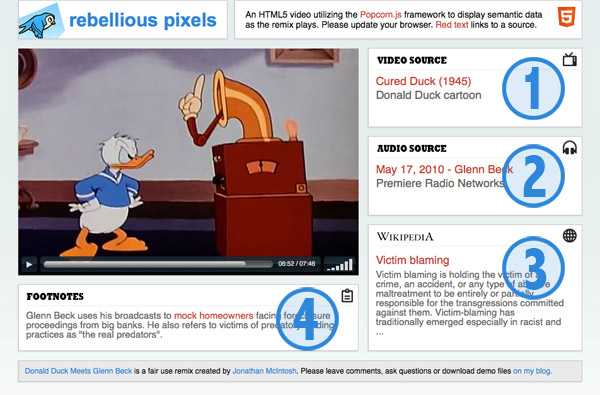 While watching the demo you will see related data dynamically appear in the boxes surrounding the remix, triggered by the video's time code. If you click on any red text it will link you back to source materials in their original context. (1) Displays the current visual clip info. (2) Displays the current audio clip info. (3) Displays relevant wikipedia articles. (4) Displays production and factual notes.
Back at the Popcorn workshop, discussion immediately took off as people jumped in with ideas for how it could be used to add supplementary text and graphics to educational videos, or integrated with geolocation in a mobile app, so that you can view a video in synch with an exploration of place. A mobile app could also allow for a synched two-screen experience in a theater or with a live television broadcast. We are increasingly chronic two-screen watchers, unable to sit through a movie without a laptop, iPad, or cellphone. We compulsively Google everything we encounter, and Popcorn allows filmmakers to meet that desire.
Multi-screen Experience
Interactivity isn't necessarily appropriate for all kinds of documentary filmmaking, though; members in the audience quickly acknowledged the challenges of integrating a stream of non-video content in a way that is engaging but not distracting. Rick Prelinger, founder of Prelinger Archive, put it best on twitter: "I still sense an uneasy mix between text-based and time-based media. Kind of an oil and water suspension."

Most video is made to demand 100% of your attention, so absorbing supplementary content really only works on a second viewing, as users scrub through the timeline to navigate the additional content. It's interesting to think about how one might design a video-based project to be absorbed in synch with written content, perhaps a hybrid video-article format for journalists who want to tell story in text and video, simultaneously.

Popcorn is still very new, but they are developing an interface called Butter to allow creators without programming experience to create that interactive layer for a video. They'd love to see more filmmakers try it out, and would love to hear from you if you need help with your project.

Video Everywhere

As video becomes more seamlessly integrated into the rest of the Internet, thanks to HTML5, and now Popcorn, we will start to consume video more like we read text online. Video will become porous, interactive, and blended with the rest of the rich media experience. It will link to social platforms, comment streams, and other sites, and vice versa. Like reading a blog post, watching a video will tempt us to digress, explore links, read notes, check the context of source material. Filmmakers, video journalists, and other content creators have a whole new dimension to work with. Paraphrasing filmmaker Nancy Schwartzman's tweet during the Connected Documentary session, a transmedia documentary team now demands a filmmaker, a designer, a participatory journalist, and a developer. The most exciting thing about the Open Video Conference, for me, was to see exactly those people in a room together, getting excited about the future of video.
I'm really just beginning to scratch the surface of the wealth of great ideas and projects from the conference, so if anyone wants to share their thoughts in the comments, that would be great. If you're interested in learning more about the conference check out their website and archived #ovc11 tweets. 
We want to hear what you think about this article. Submit a letter to the editor or write to letters@theatlantic.com.