Goodbye to the Dried Office Mangoes
Google is clawing back its famously lavish employee perks, sending a message that might be more symbolic than practical.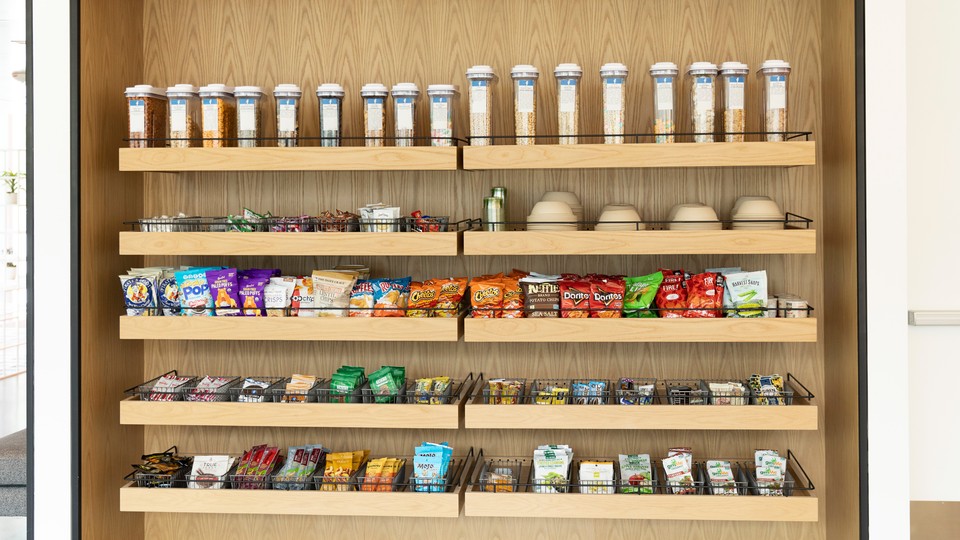 Even as the whole of Silicon Valley grapples with historic inflation, a bank crash, and mass layoffs, Google's woes stand apart. The explosion of ChatGPT and artificial intelligence more broadly has produced something of an existential crisis for the company, a "code red" moment for the business. "Am I concerned? Yes," Sundar Pichai, Google's CEO, told The New York Times. But Google employees are encountering another problem: "They took away the dried mango," says a project manager at Google's San Francisco office, whom I agreed not to name to protect the employee from reprisal. At least at that office, the project manager said, workers are seeing less of long-cherished food items—not just the mangoes, but also the Maui-onion chips and the fun-size bags of M&Ms.
Cost-cutting measures have gutted some of Google's famous perks. In a company-wide email last month, Chief Financial Officer Ruth Porat announced rollbacks on certain in-office amenities, including company-sponsored fitness classes, massages, and the availability of so-called microkitchens: pantries stocked with everything from low-calorie pork rinds to spicy Brazilian flower buds. These perks have long been an inextricable part of Google's culture, even in an industry flush with nap pods and coffee bars—a way to recruit top talent and keep coders happy during long days in the office. "The idea was 'We're going to make it so wonderful to be here that you never need to leave,'" Peter Cappelli, a professor of management at the University of Pennsylvania's Wharton School, told me. "Are they giving up on that idea?"
Google told me they're still committed to perks, and indeed, the free meals are still around. "As we've consistently said, we set a high bar for industry-leading perks, benefits and office amenities, and will continue that into the future," Google spokesperson Ryan Lamont said in an email. But the cutbacks are seemingly coming at an inopportune time: If there was ever a moment when Google needed to recruit top talent, it's now. Although overall demand for software engineers has slowed, money and jobs are still flocking to a buzzy new breed of generative AI. OpenAI, after all, makes a point of matching Google's daily meals and handing out "fresh-baked cookies." Google's new attitude toward perks may be an admission of what was true all along: Perks are perks—just expendable add-ons. They're nice to have in the good times but hardly essential in the bad.
The world of HR has long claimed that happy workers are productive workers, but Google treated that idea like a mantra, creating offices that were less like cubicle-packed grids and more like adult playgrounds (complete with in-office slides and rock-climbing walls). As part of what the company refers to as "Googley extras," it has given employees free yoga and Pilates classes, fully comped team trips, and even once-a-week eyebrow shaping. Other big companies, and even start-ups flush with venture-capital cash, realized that to have a shot at competing for talent, they'd need to start subsidizing the same sort of lifestyle. Massages and macchiatos were just the start: Apple has hosted private concerts with artists such as Stevie Wonder and Maroon 5; Dropcam, a start-up Google bought in 2014 (whose tech it has recently decided to phase out), reportedly offered each employee a free helicopter ride, piloted by the CEO, to a destination of their choosing. Others, such as WeWork, simply handed out tequila around the clock.
The Googley extras aren't gone, by any means, but they're no longer guaranteed. Google's infamous shuttle buses, known to clog San Francisco streets as they ferry employees to and from the office, are running less frequently, and traditional laptops have become a privilege reserved for employees in engineering roles. Everyone else must now make do with slightly wimpier netbooks. Part of this reduction in amenities has to do with the new reality of hybrid work, which has itself become a perk. It makes sense to trim the shuttle-bus schedule if fewer people are taking the bus to work every day. Same goes for the reported reduction in in-office muffins, although understanding the rationale behind the crackdown doesn't necessarily make it sting any less.
It's not just Google, either. "My sense is that [perks] are being pulled back broadly," Cappelli said. "So many public companies feel that they have to look like they're belt-tightening for investors." After just a year, Salesforce has abandoned its "Trailblazer Ranch," a 75-acre retreat meant to host guided nature walks, group cooking classes, sessions for meditation, and "art journaling." Over at Meta, already a year out from its decision to cancel free laundry and dry-cleaning services, employees are expressing similar frustrations over snacks.
Still, it all cuts a little deeper at Google. That's in part because Google has taken such care to cement its reputation as the best place in the world to work, the plushest employer in a sea of plush. As any Google employee will insist, the lunches were never as good at Apple or Microsoft. The message is perhaps symbolic as much as practical. Muffins are not a real financial concern for Alphabet, Google's $1.3 trillion parent company, which could very much still cash in on the new AI boom. But for the company's workers, it's not the muffins themselves, but their absence, that may end up having the greatest impact. "The way it is conveyed to people matters as much as the perks themselves," Cappelli said. If an abundance of perks signals care and intention, what might a lack of perks represent? "You're sending the opposite signal: 'We don't really care about you so much, and that's why we're taking it away.'"
Flashy perks helped produce an illusion of safety that couldn't last. Surface-level penny-pinching is ultimately about assuring investors that costs are under control; employees' annoyance is just part of the bargain. You'll know your employer really means business when it lays off your whole team. And if Google is willing to cut down on some of its most visible perks just as generative AI threatens to upend its business, then maybe it's not too concerned about OpenAI outdoing it in the snack department. The end of muffins and dried-mango slices amounts to a gesture more than anything else—a way of reminding current employees that these are lean times, and they should start acting like it.