The Tech Giants Want What the NFL Has
Amazon and Google are ushering in a new era of America's biggest sports league.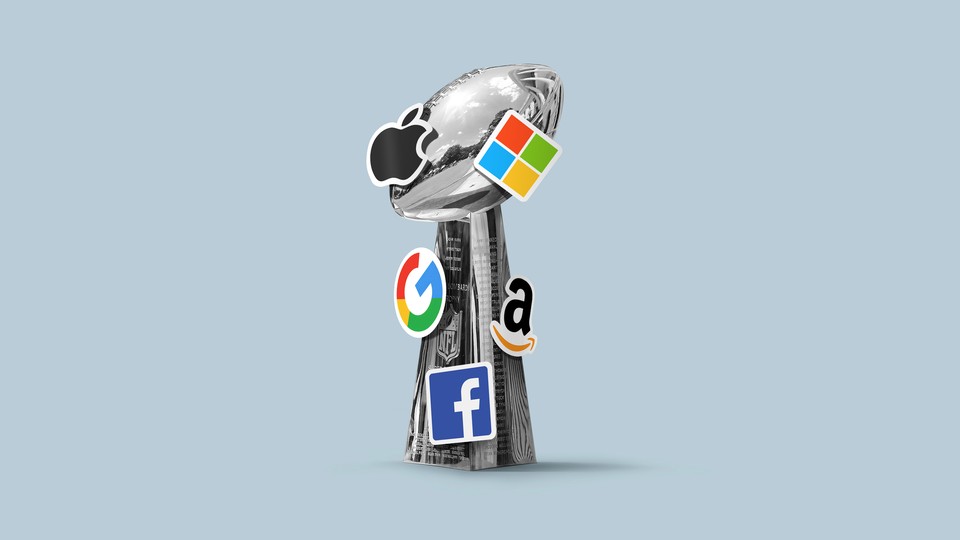 When Rihanna walks, or is raised, or is lowered onto the Super Bowl stage on Sunday, she will not merely be kicking off the game's halftime show. She will be culminating Rihanna's Road to Halftime, presented by Apple Music. The world's most valuable company is in the first year of a reported five-year, $250 million deal to sponsor one of the most watched live-music performances anywhere, which happens to fit between two halves of a game between the Kansas City Chiefs and the Philadelphia Eagles. For $50 million a year, a tech behemoth does not just want a good show. It also wants a music video with fans of all 32 NFL teams singing Rihanna's hit "Stay." It wants a 10-part streaming-radio series about the greatest Super Bowl halftime shows ever. And it wants to curate an "official collection of 32 playlists featuring the top songs that each NFL team listens to in the locker room, the weight room, and on game day."
This is a big partnership for Apple and the NFL—and it probably feels like a disappointing consolation prize for Tim Cook and Co. Last year, Apple reportedly vied for the rights to NFL Sunday Ticket, the league's enormously popular viewing package that lets fans watch their hometown team from far away. The company that beat it out was Google, which in December agreed to spend about $2 billion a year for the rights to Sunday Ticket. But Amazon, not Google, became the first company to put the NFL behind a streaming paywall, coughing up about $1 billion a year to air one Thursday Night Football game a week on Prime Video starting this season.
Big Tech, somewhat suddenly, wants in on the NFL in a way that it hasn't before. Silicon Valley has long had partnerships with the league and its broadcast partners; perhaps the most famous ad ever run by Apple, its commercial introducing the Macintosh, first aired during the 1984 Super Bowl. More recently, Microsoft has sprung to be the league's official tablet provider, and its blue Surface tablets are inescapable when the camera pans to the sideline on Sundays. But the connections between the league and tech companies have become much deeper in the past two years, even as tech has hemorrhaged jobs lately. The world's largest companies and America's most popular sports league have hit a symbiotic stride. Each is now a unique provider of what the other wants: immense scale and cultural relevance for the tech companies, big money and endless access to technological advances for the league. If anything feels weird, it's that the match didn't happen sooner.
The NFL has courted corporate partners for many decades, but the ones to latch on most closely haven't historically been tech companies. Just think about last year's Super Bowl, which featured its fair share of tech ads, especially from crypto companies: Still, the halftime show was sponsored by Pepsi, and some of the best ads came from companies such as GM, Hellman's, and Rocket Mortgage. "If you look at who likes to be associated with the NFL, it's consumer-goods companies, whether that's beer, cars, whatever," Bob Thompson, a former Fox Sports Networks president, told me. "And then media companies," such as Disney or DirecTV, which might advertise in addition to airing games.
In the simplest sense, what has changed is that the tech giants are now media companies themselves, with big streaming services they are eager to grow. The rise of Amazon Prime Video, Apple TV+, and YouTube TV has made the tech-NFL relationship far more natural than when Apple was only selling expensive hardware and Amazon was only selling physical things out of warehouses. Amazon, for example, has some of the same interest in the NFL that a big movie studio might have while advertising a blockbuster, or that a retailer such as Taco Bell or TurboTax might have in using the NFL to sell a range of consumer goods.
Buying game rights ratchets up the companies' platform to sell us things, in part because the very thing we're watching on is something they're selling us. Google could use the very existence of Sunday Ticket to plug YouTube TV subscriptions: After all, everyone knows Google, but not everyone might know YouTube TV. "Now, believe me, they're gonna know YouTube TV, and they're gonna be searching for it because of that access to the Sunday Ticket," Hank Boyd, a marketing professor at the University of Maryland's business school who has previously consulted with both the NFL and companies that work with it, told me. And while Google can't replace national commercials during games that broadcast networks still produce, it will have what would normally be local advertising slots to sell, which it can use to boost all kinds of Google products.
No deal is risk free, but one between a company the size of Apple, Google, or Amazon and the NFL is close enough. The tech firms "recognize the fact that if you want to aggregate a very large audience and be pretty much guaranteed that it's going to be there, there's no better property than the NFL," Thompson said. The NFL is not the most valuable business in America. The tech companies throwing millions and billions of dollars into it are. But if one measure of power is the ability to hold eyeballs on demand, the NFL is the most powerful force in our entire culture, miles ahead of the organizations behind prestige streaming dramas, big-budget movies, and the State of the Union address or anything else in politics. Of the 100 most watched American TV broadcasts of 2022, 82—and 19 of the top 20—were NFL games. Particularly for a move like Apple's $50 million halftime show, it would likely take an enormous failure—"like if we had a Janet Jackson–Justin Timberlake episode," Thompson said—for Apple to feel like this investment was not a success.
The NFL's cultural clout is unrivaled, and the league has become so big and full of so much money that Silicon Valley is part of only a tiny group of businesses that are immune from sticker shock. In the Super Bowl ad market, some 30-second commercials cost an all-time high of $7 million. Even classic consumer brands such as Anheuser-Busch, Skechers, and Burger King have balked at buying spots in the past few years. And when it comes to ballooning broadcast-rights fees, traditional companies such as Disney will eventually meet their limits, and even a cash-splashing streamer such as Netflix has decided to sit this one out. "We're not anti-sports. We're just pro-profit," the company's co-CEO Ted Sarandos said recently.
But the league also makes a perfect stage for a tech company to advertise new toys that are much different from what traditional broadcasters can offer. Amazon powers an entire NFL advanced-stats platform that becomes an advertisement for Amazon's cloud-computing and machine-learning prowess. During Thursday Night Football, Prime streams a second telecast with Amazon-generated stats plastered all over the screen. When Google starts selling Sunday Ticket packages, the subscription could become a billboard for lots of Google tech. Given the AI wars now playing out, don't be surprised if the newest advances soon make their way to an NFL broadcast.
But if Big Tech craves the NFL, the NFL craves Big Tech too. The league is perpetually intent on not falling behind or finding itself frozen out of someone else's big breakthrough. In the past, Thompson and Boyd both noted, this line of thinking has pushed the NFL to do simultaneous deals with every big broadcast network (CBS, Fox, NBC, and ABC/ESPN) rather than leaving one out. By partnering with so many of the biggest tech firms, the NFL is hedging to ensure it won't miss the next quantum leap in streaming tech, player tracking, advanced stats, real-time sports betting, or something else. Which company will come up with it? Who knows, but probably an NFL partner.
The marriage between the NFL and Big Tech feels like destiny. They are, after all, the two most inescapable dynasties in America, a point now being typed out in Google Docs on a MacBook Pro as my phone buzzes with an ESPN alert about Sunday's game. Each suits the other in nearly perfect ways, and their unmatched sizes box out almost everybody else who might want in. "I've kind of been like, 'Well, what took you so long?'" Thompson said. "Maybe the NFL wasn't ready, and maybe [the tech companies] weren't ready, and now that time has come." The result is a historically sharp and sudden shift in how we consume the NFL. The league's Big Tech era is just beginning, and no one knows where it might take us.
On Sunday night, when Rihanna launches into the chorus of "Umbrella," "Diamonds," or whatever else she may bless the audience with from the big stage, a lot of eyeballs will encounter Apple's branding. But viewers will tune in on Fox, not on Apple TV+. Cupertino now has its own tiny slice of the NFL. How long until Apple is hungry for more?