Trump and Facebook's Mutual Decay
At least the platform finally added a user.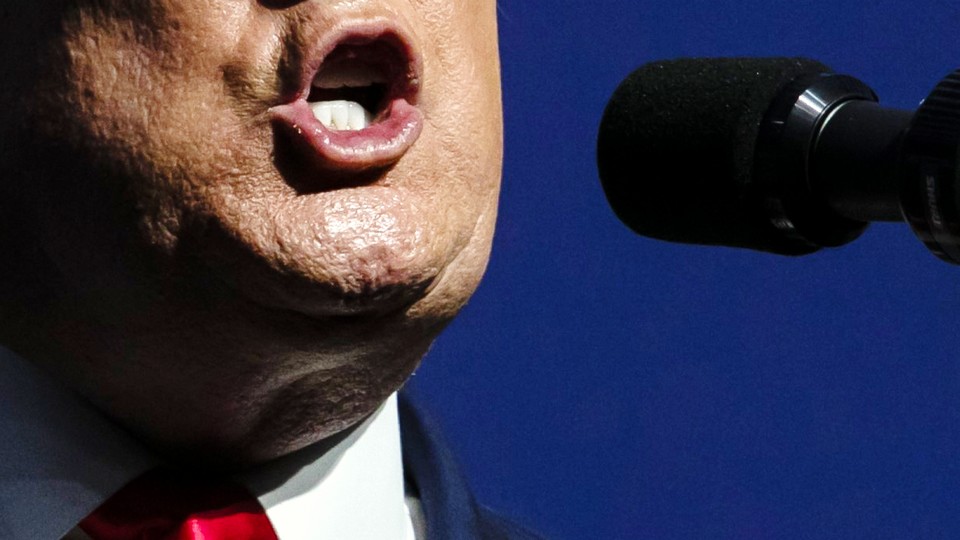 This afternoon, Meta announced that it will soon reinstate Donald Trump's account after a two-year suspension from Facebook and Instagram. The former president was deplatformed after his posts were deemed to have incited, or at the very least encouraged, the January 6 insurrection. But according to Nick Clegg, the company's president of global affairs, the public-safety risk that triggered the punishment "has sufficiently receded." The poster in chief can post once again.
Any story that involves Facebook, Donald Trump, and the context of a failed coup attempt is, by nature, controversial. Giving Trump this megaphone back for his 2024 campaign is particularly thorny: The former president has offered zero evidence that he changed during his social-media exile. He may still use Facebook and Instagram to lie for reasons big and small, as well as to whip up partisan resentment and even violence, should it suit his needs. If anything, his posts on his own network, Truth Social, seem to suggest a man whose online engagement has become more erratic, angry, and conspiratorial; one report shows that he has amplified QAnon-promoting accounts more than 400 times since launching the platform.
And yet there is something underwhelming—stale, even—about the news. The story of Trump's deplatforming feels cryogenically frozen, a 2020 narrative that seems to have lost part of its relevance now that it's thawed out. This is partly because close observers of the story anticipated today's development: In 2021, after a ruling from its independent Oversight Board, Facebook announced that Trump's suspension would be lifted after two years, "external factors" permitting. (The company said at the time that it would assess "instances of violence, restrictions on peaceful assembly and other markers of civil unrest.") And some of the thunder was stolen by Twitter, which reinstated his account late last year, although Trump hasn't resumed posting there.
There is also the mutual decay of both Trump and Facebook. Each thrives by hijacking attention and monetizing outrage, and they've benefited each other: The Trump campaign spent millions of dollars on more than 289,000 Facebook ads over the span of just a few months in 2020, according to an analysis by The Markup. But lately, both appear to have lost the juice. Many people still support Trump, and many people still use Facebook products, but the shine is gone—and that matters.
Facebook's ad business was kneecapped last year by changes Apple made to limit tracking on its devices. It faces steep competition from insurgent apps such as TikTok. And there is a sense, looking at the company's transparency reports, which detail the most popular content on its platform, that Facebook has become a vast wasteland of recycled memes and scammy, spammy clickbait.
Meanwhile, Trump's 2024 campaign has been, to date, almost nonexistent. His kickoff announcement was roundly mocked as "low energy," and some cable news networks didn't bother to air it in full. Trump and his team have been sloppy and clearly grasping for relevance. And although I wouldn't downplay the former president's chances in the 2024 contest, he certainly doesn't appear as invincible in primary politics as he once did. In December, ​​Florida Governor Ron DeSantis beat Trump 52 to 38 percent in a hypothetical matchup among likely Republican voters. Electoral uncertainties aside, there's the plain fact that some around Trump have suggested the man is diminished. "He has retreated to the golf course and to Mar-a-Lago … His world has gotten much smaller. His world is so, so small," one Trump adviser told New York magazine in December.
None of this negates the possibility that Trump could return to Facebook and Instagram and abuse his power by posting QAnon conspiracy theories and attempting to sow chaos. Trump's unpredictability has always been part of his power, and the wild swings of the tech industry over the past several months mean everyone should brace for the unexpected. Far-right extremism is still a threat across the internet. But it's not clear that this reinstatement will matter much: In his announcement, Clegg argued that the risk to public safety has changed in recent years. He's right, but not just because Trump doesn't have executive power anymore. What Clegg can't admit is that there is a second reason the risk profile has changed: Facebook's own influence and reputation have receded as well.