Cottagecore Was Just the Beginning
Aesthetics Wiki is the internet's one-stop shop for figuring out whether your vibe is more "cactuscore" or "synthwave" or "pastel goth."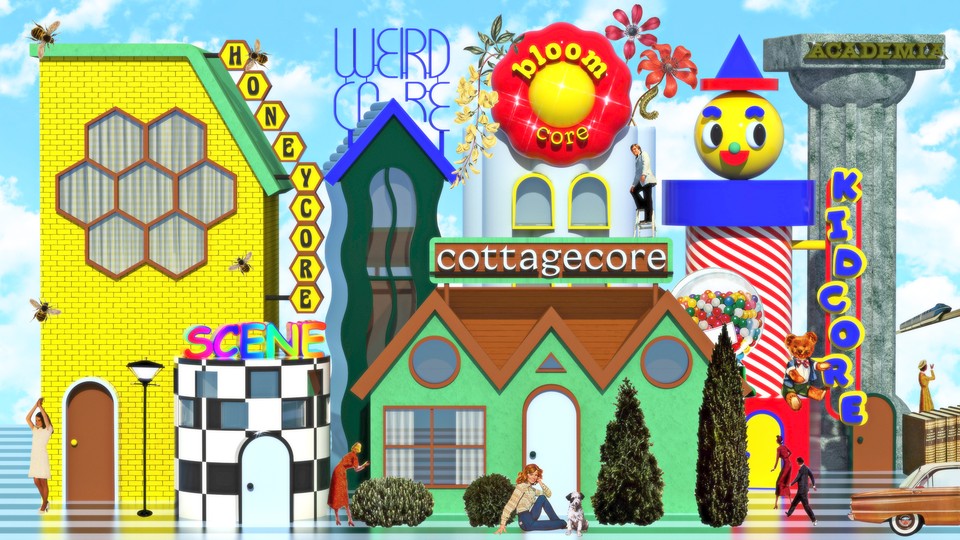 Cottagecore was a natural fit for a pandemic year. The subculture is all about pretending to live an idyllic life in the woods, and in 2020 was embraced as a sweet attempt to make the best of a bad situation. Teenagers and 20-somethings have been cosplaying online, posting as if solitude and wildflowers and ever-growing piles of homemade bread were enough to live on. By mid-March, cottagecore was more popular on Tumblr than Harry Styles or Marvel. By the summer, it was unavoidable on TikTok—just clip after clip of dressmaking tutorials and muffins with fresh berries. By the end of last year, it was widely considered one of the biggest online phenomena of an extremely online year.
Once cottagecore blew up, it started to mutate. A group of volunteer contributors started tracking its many niches and nooks on Aesthetics Wiki—an online encyclopedia of "visual schema." The major cottagecore subgenres, the page notes, include "bloomcore" (mostly flowers), "honeycore" (mostly bees), "Southwest cottagecore" (succulents and lizards), and "cottagegore" (the creepy version). There is also a list of cottagecore's 27 "related aesthetics," which include "grandparentcore," "cabincore," "prariecore," "warmcore," and "woodland goth"—not to be confused with "forestpunk." The same list includes "ravencore" and "crowcore" as separate entries. On Discord, the chat platform popular among online communities, contributors to the Wiki even dreamed up "vaporcottage" as a bit of a joke and added to the page: "what you'd see after ingesting mushroom soup laced with Xanax."
Cottagecore and its many offshoots are only one corner of the Aesthetics Wiki. Enormously popular subcultures such as steampunk and cybergoth have their own pages too (and those pages have related pages). The level of detail on these pages isn't quite as high or rigorously fact-checked as what's on Wikipedia, but much of the information is still immediately useful: Most pages have galleries of images to show the nuances of each subculture or to help a casual viewer realize that they have seen "weirdcore" before; they just didn't know what it was called.
The impulse for classification is a staple of internet life—tag yourself; add your interests; pick your favorite croissant, and we'll tell you the Taylor Swift song that sums up your life. "People love identifying themselves," Amanda Brennan, Tumblr's head of editorial, says. "They want to [label] themselves in such a way where it's like, These exact people are going to get it." The Aesthetics Wiki functions like a huge mall, a place to go shopping for a new set of characteristics and a firmer self-definition. You might not know exactly who you are yet, but you can say which hyper-specific collection of images best approximates who you'd like to be.
---
The Aesthetics Wiki is organized by suffix: "Wave" has 17 main pages; "Goth" has 14; "Core" has 125. There are also 27 pages dedicated to the various subgenres of "academia," which can be dark, light, chaotic, romantic, pastel, or darkest, among other qualifiers. Some of the most popular "cores" at the moment—according to the Wiki's "trending pages" list—are cottage and goblin and trauma and angel. If the last one sounds appealing, you can participate by eating more meringues and buying a pet dove.
The Wiki is hosted on Fandom, a for-profit site that uses Wikipedia's open-source code, and anybody can contribute. Though it was created in 2018, it was only intermittently edited before the pandemic, by fewer than 20 contributors, according to a Fandom spokesperson. Traffic grew by 9,974 percent in 2020, and January 2021 was its strongest traffic month yet: Aesthetics Wiki's pages were viewed close to 4 million times. Today, 258 contributors make about 60 additions a day, and 57 percent of the site's users are between the ages of 18 and 24, according to Fandom.
"We [have] the goal of being a one-stop place to learn about different aspects of human culture and civilization throughout the years," says Shawn, a prolific Wiki contributor who asked to be identified by only his first name out of fear of harassment. It's important to him that the Wiki's pages include information on the ways that individual aesthetics have been wrapped up in conflict or controversy, or deployed for political ends. On the cottagecore page, for instance, you'll learn that cottagecore has been particularly popular in queer and anti-capitalist communities, while it has also seen growth with reactionary "tradwives," who long for traditional gender roles and make coded references to white supremacy.
Shawn suspects that the site's pandemic spike came from people hearing about cottagecore on social media and then coming to the Wiki to learn about what other options they might have if they wished to revamp their online life. The "Cottagecore" page, in all of its meticulous detail, is what he calls "the gold standard" for a Wiki entry, and he told me it helps people realize that "there's a whole world out there of people with different tastes ranging from the serene and natural to the weird and surreal and everything in between." (He specializes in techy aesthetics such as synthwave, vaporwave, and Y2K.)
At all hours of the day and night, changes to the Wiki are discussed on Discord. There, Shawn talks about the most accurate and politically sensitive way to describe "fashwave," a variation on vaporwave that has often been used to make the alt-right appear more whimsical and current. There, it is decided that "sleepycore" is not really a distinct thing—and neither is "cactuscore" or "buttercore." "Lighthousecore" is just part of "nauticalcore." An image of a grand old house that's been left to rot and full of junk is dropped in the chat: Is there a good term for this? Calling it "hoardercore" would be insensitive, but it's not quite "moldcore." A few "vandals" are reported and dealt with swiftly—their contributions undone and their usernames blocked. (One had tried to make a page called "Schizocore.") Personal questions along the lines of "What aesthetic am I?" are dealt with patiently in a separate Discord channel—I stumbled into one in which a person was torn between a combination of things that I had mostly never heard of, including "lostcore," "gloomcore," "bunnycore," "mooncore," "mushroomcore," and "milk."
If it seems like anyone can name anything an aesthetic at any time, that's because that's exactly what's going on. "Endcore," also known as "blisscore," a new aesthetic listed on the Wiki as a subgenre of "weirdcore," seems to be the invention and practice of just one person on Tumblr, who has posted about nothing else. It's apparently centered on the feeling of looking at the Windows XP wallpaper "Bliss." Really, I challenge you to think of anything you've ever seen. There's almost certainly an aesthetic listed for it on Aesthetics Wiki. "Intel Core": an aesthetic for people who really like the look of early-aughts desktop processors. "Bubblegum bitch": an aesthetic for people who feel a spiritual kinship with Bratz dolls and the rude women who use cherry emoji in their Twitter usernames. "Cleancore:" an aesthetic for people who have experienced a global pandemic and now feel deep pleasure looking at spotless surfaces and full bottles of soap.
---
At this point, the word aesthetic is totally divorced from its academic origins. While Tumblr users mainstreamed it years ago, many teenagers use aesthetic as an all-purpose adjective—"that's so aesthetic" as a shorthand for "that's so aesthetically pleasing to me." But in broader internet parlance, it now means a collection of signifiers or, more precisely, a "vibe."
Maybe unsurprisingly, at the moment, the most popular aesthetics are wildly different but united in an expression of deep nostalgia. Often, teens and 20-somethings are styling themselves in the image of past subcultures they may or may not ever have participated in. A Windows 95 culture is bubbling up on Tumblr now, Brennan told me, as is "scene" culture, a return to the pop-punk days of MySpace and Warped Tour. There's even an aesthetic based in nostalgia for Tumblr culture of the early 2010s, when American Apparel and indie pop were still ascendant—a high point for physical touch in crowded spaces.
Online, figuring out who you are entails a constant search for "inspo," as well as an accurate assessment of one's ideal look and attitude, which is habitually pursued by taking BuzzFeed quizzes, scrolling through feeds, compiling mood boards, and bookmarking color schemes. Morgan, the 20-year-old creator of a honeycore Tumblr, explained "an aesthetic" to me as "something you find beautiful that you want to incorporate and embody within your own life." (She asked to be referred to by her first name for fear of professional repercussions.) Asked how she practices this in daily life, she told me that mostly she buys yellow clothes and body wash, and "strives to be kind and warm."
It's easy to dismiss aesthetics, particularly some of the wackier ones, as superficial and frivolous. But Alexander Cho, a digital-media researcher at UC Santa Barbara, told me that they can be "really important, especially for young adults in terms of creating or fashioning a self." If you have a hunch about who you are, it's incredibly easy now to search for images and ideas that help you refine that sense of self. Seeking out nameable aesthetics helps you present that image clearly to the world, and to find people who identify similarly. In adolescence and young adulthood, there's "a strong drive to articulate one's identity," Cho said, and in the social-media age, a natural and significant way of doing that is through choosing and arranging images.
Under bleak circumstances, when many of us are alone and wired constantly into the internet, young people are sifting through the archives and remixing what they find. Their platforms are places for them to browse and select new identities—often very literally, which is likely why, according to an Aesthetics Wiki contributor, the highest traffic day of 2021 so far was New Year's Day. The site's visitors are narrowing in on the question of who they are, a little bit at a time, as they decide between pastelgoth and vaporwave, cottages and seascapes, ravens and crows.