Parler's Rise Was Also Its Downfall
The app that stoked the insurrection is gone, but something else is destined to replace it.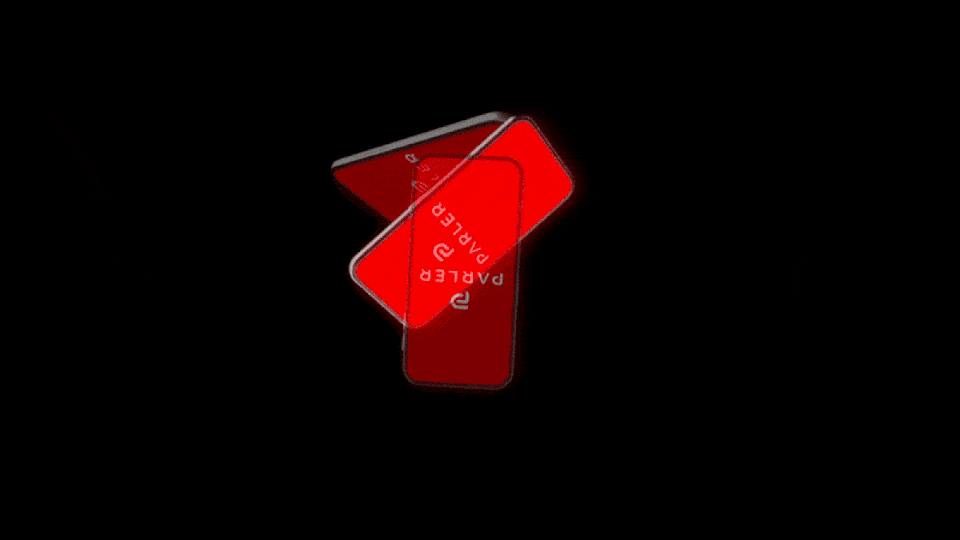 On the last day of Parler, the vibe was electric.
It was the weekend after supporters of President Donald Trump had stormed the Capitol in an attempt to disrupt the certification of the election. With just more than a 24-hour warning, the "free speech social network" and aspiring Twitter alternative was being cut off by its cloud-hosting provider, Amazon Web Services. There were all-caps claims that "antifa" was actively taking over New York City, dressed in riot gear. There was rampant speculation about whether Trump had invoked the Insurrection Act, for reasons unclear. There was discussion of how Parler's removal from the internet might be an event proving the validity of the QAnon conspiracy theory, the beginning of a mythical "10 days of darkness," to precede the violent denouement of a global satanic plot. The company's CEO, John Matze, posted frenzied promises: "I believe Amazon, Google, Apple worked together to try and ensure they don't have any competition. They will NOT win!" he wrote. "We are the world's last hope for free speech and free information."
Then, at 11:59 p.m. on Sunday, January 10, the site went down. After the riot, tech giants were pushed to act, and act they did—representing the broadest admission yet, from the industry itself, that online platforms are culpable for the offline violence they tacitly cultivate. First, Facebook CEO Mark Zuckerberg announced that Trump would be locked out of his account "indefinitely," then Twitter permanently banned him. Images and videos shared from the riot were removed from Facebook, and more than 70,000 QAnon accounts disappeared from Twitter. Amazon's move to cut off Parler was part of this wave, and it was nearly unprecedented—the last major Amazon Web Services deplatforming was of WikiLeaks in 2010.
Ultimately, what led to Parler's rise is what destroyed it. Parler launched in September 2018, but it attracted mainstream attention only after the 2020 election, when it entered the spotlight as the de facto home of the #StopTheSteal movement, a co-mingling of QAnon conspiracy theorists, MAGA diehards, and Republican elected officials. By December, COO Jeffrey Wernick told me the site had 11 million registered users, roughly doubling its user base in just a few weeks. By the time the site went down a month later, it reportedly had 15 million users. In just more than two years, Parler went from a small, spammy Twitter clone to the site that helped foment an insurrection. Leading up to the riot, discussions of civil war and firing squads were common, and sometimes named specific targets for violence. "The comments on Parler were like comments I have never seen before, outside of looking at [the organizing of] ardent white-supremacist groups," says Joan Donovan, the research director at the Shorenstein Center on Media, Politics and Public Policy and a contributor to The Atlantic.
Parler is planning to return, but it will have a very hard time getting back online. For a fleeting few months, however, it was the broadest and most popular alternative social-media platform for conservatives, putting senators and Proud Boy leaders into one feed. The site was doing the not-so-subtle work of building a bridge between one internet and another, and in the process proved that there really is a demand for something like it. The mainstream and the radical fringe—the dissatisfied Facebook and Twitter users and those banned from them long ago—could, for the most part, coexist on one platform. And as Republicans become even more vehemently anti-Twitter and anti-Facebook, and mainstream conservatives hold the downfall of Parler up as a cautionary tale about mass censorship, the market for a new no-rules app is only expanding. Parler is gone, but another Parler will almost certainly replace it.
---
I visited Parler near-daily for three months before it shut down. From a functionality and design perspective, it was messy and disorienting. It looked like Twitter, except tweets were called "parleys," and upvotes were called "echoes," an apparent joke about echo chambers. Parler had no recommendation system to provide new members with a starter social circle or content to look at, so setting up a new account felt like wandering aimlessly around a state fair at which a not-insignificant percentage of the barkers were screaming non sequiturs about civil war.
Spam levels were high, and much of the content would be unappealing no matter who you were. I once came across a horrible photo of a bowl of soup, tagged, among other things, #cuteanimegirls, #trump2020, #patriots, and #Iran. The holiday season on Parler was both boring and alarming: In the weeks leading up to Christmas, the far-right activist Laura Loomer, who was banned from Twitter in 2018 and later handcuffed herself to the front door of the company's New York headquarters in protest, promoted a #StopTheBias baseball cap from her merch store as a perfect holiday gift. Infowars, also banned from Twitter in 2018, encouraged last-minute shoppers to support its work by gifting Arrest Fauci & Gates! T-shirts. Tulsi Gabbard, the former Democratic representative of Hawaii, was posting about baking sourdough bread.
The site's self-image—as a free-speech, pro-privacy, anti-data-mining utopia—was riddled with contradictions. It had a privacy policy sparser than Facebook's, yet the people who ran it were confident that the site was soon to receive a privacy accolade from Apple. It had no automatic system for preventing the distribution of child pornography or any other kind of illegal content, yet it was planning to introduce a live-streaming feature in 2021. It was the "free speech social network," yet the CEO tweeted over the summer that nobody would be allowed to set their username as "CumDumpster."
What Parler wanted to be is as important to remember as what it was: It aspired to free-speech absolutism that would bring all kinds of disillusioned Twitter users together, for better or worse, united by a shared grievance. Unlike Gab, the slightly older anti-Twitter platform that was fairly open about its desire to be a home for white nationalists and other alt-right groups, Parler was not publicly interested in that association. Even as it provided a new home for figures such as Milo Yiannopoulos and Gavin McInnes—both banned from Twitter years ago—as well as dozens of regional Proud Boy militia groups, Parler rejected classification as a reactionary platform for "right-wing rage," Wernick, the COO, told me when we spoke in November. The presence of prominent Republicans, including at least 32 members of Congress by July, helped bolster the site's image. And Parler was actively courting Democrats as well, at one point offering a $20,000 "progressive bounty" to the first major liberal pundit to join.
Still, on any given day, conversation centered on how to #StopTheSteal—led by the coalition that Parler was best suited to bring together and soon appealed to openly. In a press release sent out two weeks after the election was called for Joe Biden, Parler insisted that "a premature coronation would be contributing to the spread of misinformation." Trending tags were about "fraud" and the "deep state" and the "Biden crime family" and impending battles between good and evil. In early December, a crowd of Trump loyalists fixated on an individual poll worker who they believed, without evidence, had committed mass voter fraud, and started demanding that she be arrested or hanged. "Start flipping on your fellow rats," one wrote. "Do the right thing for once, and maybe you'll be spared the firing squad."
#StopTheSteal turned Parler into a meeting place for regular internet users and the radical fringe, which could sometimes produce friction. Fox News links were often dismissed as unpatriotic tripe, despite the Fox anchor Maria Bartiromo's embrace of the platform. In December, commenters berated the former UN ambassador Nikki Haley as a "globalist shill" for her post congratulating the president on the approval of the first COVID-19 vaccine. But these conflicts were spats, not schisms, and they proved the possibility of something like Parler: Mainstream conservatism wasn't exactly welcome, but mainstream conservatives weren't scared away.
---
After the riot, Parler kept growing. Major social-media companies clamped down on QAnon and faced pressure to deplatform the president, but on January 8, the app was downloaded 182,000 times, up 355 percent from the day before.
That's when things turned. Apple emailed Parler on the morning of the 8th, saying that its app would be removed from the App Store in 24 hours if the company couldn't come up with a "moderation improvement plan." That night, Google suspended Parler from the Play store, and the following night Apple followed through on its warning. These were devastating blows for Parler's business, but the death knell came late on January 9, when Amazon notified Parler that it would be removed from its cloud-hosting service if it could not prove its willingness and ability to moderate content. (More so than the decisions made by social-media platforms or even the app stores, this drastic and uncommon move was worrisome to many who are supportive of moderation but wary of infrastructure-level takedowns.) Soon after, services to Parler were also suspended by the identity-verification tool Okta, the password-protection service Twilio, and the customer-support platform Zendesk. In an interview with Fox News, Matze said even the company's lawyers had "ditched" it.
After the site went down, Matze made the argument that much of the logistical organizing of the Capitol protest and subsequent riot happened in Facebook Groups, pointing out that Parler didn't even have a Groups-style feature. But the apps were used in tandem—go on Parler to get riled up by conspiracy theories, then go on Facebook to find your riled-up neighbors and ask which hotel they're booking. (Parler planned to introduce a Facebook Groups–like feature called "Dens" in 2021.)
Wernick declined to comment on Parler's current prospects, but the company seems intent on trying to get back online. Parler's best remaining option is likely to become self-hosted, which both Gab and CloutHub, another "free speech" Twitter lookalike, claim to be, at least in part. In a lawsuit Parler filed against Amazon Web Services on Monday, the company wrote that it had been unable to find another hosting company because Amazon "made Parler a pariah." Parler has already re-registered its domain name with Epik, a company that has been friendly to far-right sites. But moving the rest of its platform and all of its data—whether from one cloud provider to another, or to a few hundred servers that Parler purchases itself—will be expensive, complicated, and time-consuming. Etsy recently spent two years migrating from its own servers to Google's cloud. "These are very hard problems, and with every other company going through this kind of transition, there's an entire ecosystem of people willing to help, third-party companies that will make things easier," says Corey Quinn, the chief cloud economist at the Duckbill Group, a consulting firm. "All of those companies are now saying, 'Go to hell.'"
Though Parler was funded by the billionaire Mercer family, and the app's investor Dan Bongino has vowed to "go bankrupt and destitute" to keep it alive, money is helpful only up to a certain point. No matter what Parler's investors are willing to shell out, these are time-intensive problems. "By the time [Parler] comes back up, there is a near certainty that it will not be relevant," Quinn told me.
If it does get back online, Parler will have to work hard to regain user trust. Nobody wants to use a site that could disappear at any moment. And although Parler made a point of declaring itself a defender of privacy, hackers were able to scrape almost every public post from Parler. "These are the original, unprocessed, raw files as uploaded to Parler with all associated metadata," a hacker who goes by @donk_enby told Gizmodo. That means that images and videos shared on Parler could easily be tied to a geographic location. For those who might have been present at the Capitol riot, that is not just an annoying security failure, but potentially incriminating evidence.
---
On Parler's last day—for now, but possibly forever—much of the feed comprised fond farewells and invitations to other platforms. Some, such as the QAnon influencer "The Praying Medic" and the former Arkansas Governor Mike Huckabee, directed followers to sign up for their personal newsletters to keep in touch. "Text 'FREEDOM' to 98078," wrote Representative Devin Nunes of California. "This will allow me to send you text updates." L. Lin Wood, a lawyer who led Trump's efforts to overturn the election, announced that he would move to CloutHub. Joy Villa, a popular right-wing performer, told me she was excited to move to Gab, and added, "All shutting down Parler did was add to the anger and frustration that Trump supporters have felt towards the media, such as yourselves." Another chunk of the exodus—its most extreme faction—was to the instant-messaging app Telegram. The Proud Boys leader, Enrique Tarrio, set up a group there specifically "so we can coordinate while [Parler] gets back up."
For the people who loved Parler, what comes next? Parler was sometimes ridiculed as the "boomer 4chan," a messy-but-accessible connecting piece between mainstream right-wing Facebook and the darker fringes of the internet. But in a short time, it really did become the core of the "alt-tech" ecosystem, and its downfall has enraged many on the right who were already in an uproar about limitations on online speech. No existing platform is perfectly set up to replace Parler, but it's only a matter of time before someone steps up to build one. Donald Trump Jr. has publicly appealed to Elon Musk to "design a social network that isn't biased." In a quickly removed tweet from the @POTUS account posted shortly after his ban, Donald Trump wrote that he was even considering "building out our own platform," which is not the silliest idea, given that many of his supporters would join him there.
And if he doesn't follow through on that, he will likely pick some social-media platform to use. Wherever he lands could become the next big thing. "The alt-tech space may be poised to develop into a significant and influential part of the media ecosystem, especially if Trump is forced into it," researchers recently wrote on a blog hosted by the Knight Institute, Columbia University's First Amendment–defense nonprofit. Gab, for one, has put serious effort into courting Trump, even going so far as to "reserve" an account for him. "Millions of people from around the world are migrating to Gab because we are all sick and tired of being treated like serfs on the Silicon Valley plantation," Andrew Torba, Gab's CEO, told me in an email.
There was a demand for Parler, and now the demand is stronger. It will likely be met with something nicer-looking, more secure, and longer-lived. Over the past year, well-known conservative figures validated Parler's mission to a broad audience. Ted Cruz, who joined Parler in June, debuted his account with an announcement video in which he decried the "left-wing Silicon Valley billionaires" who were using their power "to silence conservatives." When Parler users explained to me why they joined the platform, they usually referenced this same unfounded conviction, as well as Twitter's decision to start adding fact-checking labels on high-stakes misinformation. "If some whack-job scientist says coronavirus is a myth, I don't know that [Twitter] should remove that," Terri Ray, a 61-year-old Parler user from Florida, told me in December. "I think normal, freethinking people would say, Who is this whack job?" She joined Parler "solely" because of "the censorship issue."
The next version of a free-speech-absolutist app will face an uphill battle getting online after the past two weeks. But the persecution of Parler has all but guaranteed a sizable user base for the next company that wants to enter the space. Parler changed the internet with its three months of fame and its unexpected demise: There's a void now waiting to be filled, and plenty of anger to help get things started.