Why K-pop Fans Are No Longer Posting About K-pop
Twitter fan accounts are organizing to support the protests, often before the celebrities they love say a word.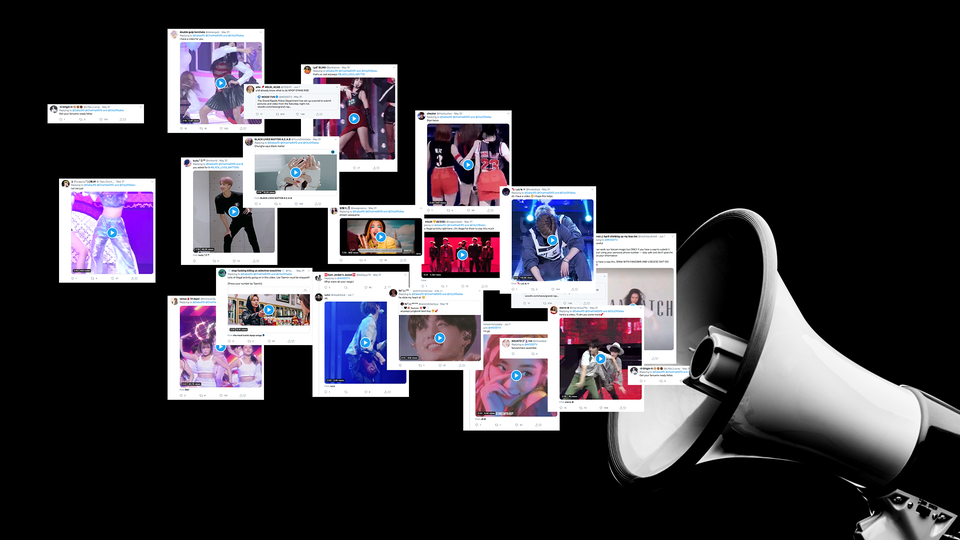 Updated at 8:48 p.m. ET on June 7, 2020.
On early Sunday morning, when the Dallas Police Department tweeted asking people to submit videos of "illegal activity" at protests to its iWatch Dallas app, K-pop fans were ready.
"I wanted to do something to stop or slow [the police] down," a 16-year-old Houston girl who goes by @YGSHIT on Twitter told me. She was one of many South Korean–pop fans who quickly realized that their lightning-fast coordination and prodigious spamming abilities could be repurposed for what she considers a righteous cause. Concerned that video clips submitted to the police app might be used to identify and possibly arrest peaceful protesters, K-pop fans improvised. They submitted, over and over, their collections of "fancams"—short clips of concerts or promotional footage, usually zoomed in to focus on a favorite performer.
@YGSHIT, who asked to remain anonymous for fear of retaliation from the police, selected a clip from a recent music video by the boy band BTS, which she submitted four or five times. Then she did the same for a clip of Dahyun, a member of the girl group Twice. The same for a clip of Ryujin, a member of the girl group ITZY. And for a live clip of the girl group Red Velvet.
Within hours, the police app had crashed. The Dallas Police Department announced the next day that the cause of the "interruption" was "still being determined," and a spokesperson declined to provide further information, telling me that none was available.
On Twitter, fan accounts with large followings continued to mobilize. When the FBI tweeted asking for images of "individuals inciting violence" at protests, the call came almost immediately: "kpop stans"—internet slang for extremely invested fans—"you know what to do." When the police department in Grand Rapids, Michigan, created an online portal for images and videos of "unrest," @YGSHIT tweeted, "y'all already know what to do KPOP STANS RISE."
Over the past week, as protests against police brutality have erupted nationwide, online fandoms of K-pop, Harry Styles, and others established a clear course of action: They would not use any of their normal promotional hashtags to boost their favorite music, instead keeping themselves and the platform focused on the message of Black Lives Matter. They would repurpose accounts that normally track chart positions and celebrity Instagram posts to instead disseminate information about how to support the protests. They would clog up every police department's digital efforts. They would flood racist hashtags like #whitelivesmatter and #alllivesmatter with more concert footage to render them useless.
Many of them did this before hearing anything from the idols whose faces they use as their avatars, and several of them told me they did it because they felt a "responsibility" to use their technological savvy and their interconnected global network for more than just sharing memes. More and more fandoms are now realizing that they have substantial organizing and amplification capabilities of their own, and that they don't need to wait for the stars they adore to commit to their chosen cause.
Laila, a 20-year-old BTS fan who lives in France, helped coordinate the fandom's efforts to crash police apps, and requested to go by her first name out of concern about retaliation. "The fandom wants [BTS] to speak [up about police brutality]. They really want that," Laila told me. "But we are already working together." Laila is part of three K-pop group chats on Twitter that have pivoted to activism in the past week: one that raises money for Black Lives Matter organizations by selling fan art, another that tracks new hashtags to spam with fancams, and a third that spreads information about how to stay safe at protests. Most recently, Laila said, fans have been filling up #maga and #bluelivesmatter hashtags on Instagram with photos of K-pop stars. They've also publicly instructed other fans not to tweet in honor of BTS's seventh anniversary next week, in order to keep the focus on Black Lives Matter.
Because K-pop fans are spread across the world, many of them are seriously interested in global politics. Sometimes they champion causes that are outwardly goofy—as when BTS fans threatened to sue Ivanka Trump for using the hashtag "BTS" in the caption of a photo from the White House. But in December, the Chilean government identified K-pop fandom as one of the more powerful forces driving human-rights protests across the country; in 2018, BTS fans supported student protests in Bangladesh.
"[These] are people who are used to tuning into developments in another part of the world and coordinating in response to events there," says Miranda Ruth Larsen, a doctoral candidate at the University of Tokyo who studies K-pop.
With all this speed and enthusiasm, these fans look like a united front—but that isn't exactly true. K-pop fans have a long and complicated history with cultural appropriation and antiblack racism. "While, yes, the response has been overwhelmingly positive, within the fandom there has been pushback," says Zina, a 29-year-old K-pop-fandom critic and blogger from South Florida who asked to be identified only by her first name for professional reasons.
Some of their actions have been less considered and effective than others—flooding #WhiteLivesMatter with K-pop videos just ended up pushing it into Twitter's Trending Topics sidebar. "You [go on the site and] see 'Trending in K-Pop: White Lives Matter,'" Zina told me. "As a black fan who's seen over the years that anti-blackness is literally everywhere, including in fandom spaces, the first thought [when you see that] isn't Oh yes, these are my peers tweeting to mess up this tag, it's Oh shit, what just happened."
But tactics can be tweaked, and the spontaneity of the effort is still exciting: Much of this activism is led by black fans, and its happening even without any catalyst from the K-pop stars who are the reason for the fandom in the first place, Zina said. Many popular K-pop groups and artists have yet to say anything at all about the protests, and others waited a long time. On Thursday—nearly a week after the protests spread across the country—an official BTS Twitter account shared a supportive statement. And on Saturday, the group and its label Big Hit Entertainment revealed a $1 million donation to Black Lives Matter.
"The fandom has been moving, the fandom has been donating, the fans have been protesting," Zina said. "Then the groups have shown support. The fandom paved the way for the groups."
---
At this point, fans don't really need celebrities to speak for them.
Fandoms have trained themselves for years to understand how attention works on social media and how to funnel it to things they care about. They easily can reach millions of people in a day—albeit with slightly more complicated methods than a major pop group like BTS, which can speak to all of its 26 million followers at once—and they know it.
This is a fairly recent realization. In 2015, Lady Gaga was credited with using social media to encourage her fans to be more engaged with LGBTQ activism—in part by giving them the nickname "Little Monsters" and bringing them together under her mentorship. But by 2018, young Harry Styles fans were exerting pressure from the bottom-up: They started bringing Black Lives Matter flags to his concerts and urging him on Twitter to recognize the cause, wrote Allyson Gross, a PhD student at the University of Wisconsin at Madison, in a recent paper on how fans identify with celebrities and view them as representatives for their values. They were guiding him toward action, hoping "to mobilize his image for their own political purpose," she argued. (The pressure campaign was largely successful.)
Now fans are moving beyond asking pop stars if they can borrow their influence. When they're seeking attention for a cause, "the audience is no longer our stars, but ourselves," Gross told me in an email. The pandemic has laid bare the limits of celebrities, she suggested, and the current protests have an urgency that supersedes a fandom's desire to hear feel-good messages from someone they admire. When Styles, who is white, showed up at a protest in Los Angeles on Tuesday, many fans discouraged one another from sharing the images, arguing that he shouldn't be the focus of a Black Lives Matter event and that white fans shouldn't need to see him there before deciding to care about the movement themselves.
Fans still think celebrities have an obligation to support certain causes, but right now they're more interested in seeing a mass movement come from the fandom itself. And they're well equipped to create one. "Fandoms are dispersed, often digital, and already organized, all of which aid and support their using their platforms to shift the locus of attention," Gross told me.
"I've seen stan Twitter come together more than ever during this," says Gabrielle Foster, a 19-year-old Styles fan from Virginia who runs the Twitter account Black Harries Matter. "A lot of us have been going out to march ourselves, and since we already have a big social-media presence in general, it's helped a lot in spreading news about what's happening at the protests and how we can help from home or from another state."
Fans have always been real people with various identities, but right now we're hearing much more about their political stances and their personal stakes in issues than we are about which bops they're listening to. Many are changing their avatars from photos of pop stars to illustrations of the Black Lives Matter fist. And the lines between fandoms that normally have nothing to do with each other—or are even actively hostile toward each other—are also temporarily blurring, as fans of Ariana Grande or Taylor Swift or Beyoncé or Blackpink find common cause.
"I love that they're on our side," Elul Adoda, a 21-year-old Harry Styles fan from Minneapolis said of the K-pop fandoms' various efforts. "I feel like they're half the world's population." She's not a K-pop fan—in fact, she actively dislikes some of the fandoms' usual social-media presence—but she's delighted to see them putting their skills to new use. "Stan Twitter is using its platform."