Pandemic Organizers Are Co-opting Productivity Software
Mutual-aid groups are distributing groceries and spare air conditioners via tools designed to turn labor into money as efficiently as possible.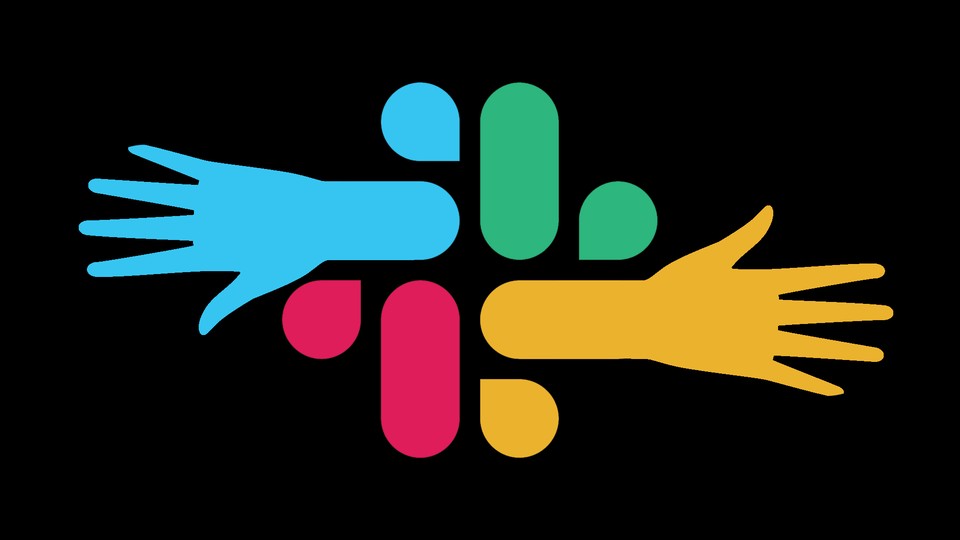 The workplace chat app Slack is where you go to do any number of things throughout the day: announce "I am busy"; pop into a conversation to clarify "I am paying attention"; submit a photo of your cat to the #cats channel to declare allegiance to your office's cat people, for whatever reason. All the stuff of work, and of updating others on your work, and of taking short, performative breaks from work to look at a funny tweet and then get back to the grind.
In 2017, Slack published a paid post on the New York Times website about how it was reinventing the office-worker experience, mostly by bending "time, space and knowledge for the better." The company was valued at $23 billion when it went public last year. In March, it reported a record number of new sign-ups for paid versions of the software, as more and more offices reoriented around remote work. "The week of March 9 was the most productive in our company's history," Slack's CEO, Stewart Butterfield, told MarketWatch.
Meanwhile, the week that the United States reported its first 1,000 coronavirus cases, Slack was also being used for the exact opposite of what the start-up world might call productivity: not for optimizing time and human capital to create more money for businesses, but for redistributing resources, with no profit goal.
Community organizers in Columbus, Ohio, signed up for a free trial of Slack's enterprise software to coordinate with musicians who wanted to play free concerts outside the windows of isolated seniors. A group in Bed-Stuy, a neighborhood in Brooklyn, held Slack tutorials to teach people who had never used the software in a work setting how to use it to volunteer time and money. In the Flatbush United Mutual Aid group, which I joined in mid-April to "pitch in" as a member of my Brooklyn neighborhood for the first time ever, neighbors were using Slack to find babysitters and offer up spare air conditioners.
Mutual-aid groups—community-level organizations coordinating to deliver groceries, pick up prescriptions, and find financial support for people affected by the pandemic—have been springing up all over the country in the past two months, necessarily online, and often using productivity tools. There are community Facebook groups for exchanging information, Airtable forms for requesting help, open databases about how to seek various forms of aid from the government or nonprofits. QueerCare, a network based in the United Kingdom, published a detailed Wiki for community groups, including protocols for how to walk a dog owned by a person who is immunocompromised and how to run a Zoom meeting for volunteers.
Social movements have been organized on commercial platforms before—in the U.S., most notably Black Lives Matter and Occupy Wall Street. As a consequence, these movements have always, eventually, had to grapple with the contrast between their values and the incentives of the companies that host them: Viral posts and events with hundreds of RSVPs and thousands of comments work well on Twitter and Facebook, respectively, but they are challenging to translate into coordinated, real-world action. Now, at a time when millions of Americans can't work, can't participate in the economic sphere, and are searching for entirely new ways to use their skills and time, the productivity culture nurtured by companies such as Slack and Google is at odds with what people currently need. Still, these office-optimization companies are the best options we have for caring for one another at scale and from afar—a new type of productivity that they weren't built for, but can serve in a pinch.
---
According to a list compiled by the activist and writer Cindy Milstein, mutual-aid groups have been started in at least 44 states and Washington, D.C., in response to the coronavirus. Most of these groups are technologically sophisticated and make use of a range of productivity tools, in unexpected ways.
Airtable, a platform that simplifies creating complex databases and spreadsheets, was valued at $1.1 billion after its latest funding round, in 2018. Like Slack, its purpose is productivity—getting work done faster, and tracking it better. To make money! But in March, Chris Dancy, a health technologist and author based in Houston, created a simple COVID-19 community-organizing tool for Airtable and made it public. So far, it's been copied and repurposed more than 340 times, according to the company, which recently announced that all COVID-19 initiatives will be able to use the pro version of its software for free forever.
Astoria Mutual Aid, based in a neighborhood of Queens, has used a variety of productivity tools. Initially, the group was using Google Forms to collect requests from neighbors in need of help, but it was concerned about Google's history of collaborating with immigration authorities. So it recruited Peter Valdez, a 28-year-old cloud-infrastructure consultant, and a team of volunteers to create a new system. Now requests are submitted in Airtable and then sent to dispatchers in private Slack channels, based on geography and triaged by urgency, using a custom-made Slack bot built on open-source code from GitHub.
Other systems, such as the one used by the Bronx Mutual Aid Network, still rely on Google's G Suite of productivity tools. That network was founded in early April by the community organizer Thahitun Mariam, "out of necessity," she told me, because the Bronx is being disproportionately affected by the coronavirus. In parts of the borough, one out of every 25 residents has tested positive for the virus. So far, the group has completed hundreds of grocery deliveries, using Google Forms to collect requests and Google Sheets to sort them by location. Delivery shifts are assigned to a pool of 100 volunteers in a WhatsApp group. The network's primary security measure is never collecting sensitive information about immigration status or health conditions. "We're careful about these aspects of the work," Mariam said. "We're trying to keep operations as simple and direct as possible."
Storing the bare minimum of personal information is in line with the recommendations put forth recently by the Electronic Frontier Foundation, a digital-privacy and free-speech nonprofit that has published detailed guides to organizing securely. These guides serve, generally, as a reminder: Even if you're not using Slack or G Suite for profit, they are still commercial platforms, and their bread and butter is still your data.
Gennie Gebhart, the organization's associate director of research, has warned activist groups about some of the pitfalls of using Slack for organizing before. The biggest problem, in her mind, is that any group using the free version of Slack is limited to 10,000 messages—this means old messages past that cap can't be accessed on the user end but still exist on Slack's servers, and can't be deleted. That makes the archives needlessly vulnerable to hacks, leaks, and government subpoenas, she argues.
"The fix that Slack could make would be giving free users some option," Gebhart told me. "It would not have to be elaborate retention settings. It could just be 'Delete messages once I pass the 10,000-message mark.'" A Slack spokesperson said that COVID-19 aid groups using complimentary software upgrades do have access to paid-plan retention settings while their trials last, and that the free version of the software allows customers to delete messages manually.
The mutual-aid group in my neighborhood is currently on a free trial of Slack's standard plan that is set to expire on July 10, long before it is imaginable that New York City will have recovered from being an epicenter of the pandemic. Valdez, of Astoria Mutual Aid, is worried about his group's free trial running out as well. "Given that this is going on longer than pretty much anyone expected, hopefully they'll give out maybe a few more months," he told me. "We've just started to collect donations, but that's going straight into food assistance, not into tech infrastructure. Who's going to pay the $1,000 Slack bill?"
---
Any digital movement raises questions about whether commercial platforms can sustain political activity or coordinated altruism long-term—and whether the owners of these platforms even want that to happen. Slack, as Gebhart pointed out, "is built for an office-business setting. It was not built for mutual-aid networks. But those people came."
Butterfield, Slack's CEO, has been making the rounds with finance and tech publications to talk about how the pandemic is reshaping work culture and how his product is more vital than ever before. "This was our moment," he told Recode Decode host Kara Swisher in April. A Slack spokesperson told me that Butterfield was not available to discuss mutual-aid activity for this article, but provided a company statement on whether Slack would re-up free trials for such groups: "We are monitoring the COVID-19 situation closely as it continues to evolve. We are actively considering how best to continue supporting our non-profit customers during this time, and will reach out directly to users when we have an update to share."
This is where the irony of using productivity software for mutual aid becomes something other than just a little bit funny, and starts to become awkward—even problematic.
The awkwardness isn't just about fees. Nathan Schneider, a media researcher who studies collectivism and technology, points out that platforms like Slack are useful but "designed in some respects for businesses to surveil the activities of their workers. And that's a very different set of motivations than what an activist group might want."
Schneider saw a similar mismatch with Occupy Wall Street, which was organized largely on Facebook and Twitter in the early 2010s. This worked very well for mobilizing people quickly and disseminating information, but very poorly for creating a lasting movement. Neither platform provided organizers with a consistent list of participants or an easy way to stay in contact with them. Both limit the ways in which users can interact, largely with threads, which are algorithmically banished as soon as they stop drawing high engagement. The good news, Schneider told me, is that when activists realize the shortcomings of mainstream tools for their needs, these "can be incredibly generative moments for building new kinds of tools that are better suited to the tasks at hand."
One possible solution is for communities to create their own platforms, which people could then contribute to as they would any other collective resource. But that kind of self-hosting is expensive and difficult. There are also the in-between options: activism-specific (but not cause-specific) tools and open-source versions of commercial software. Loomio, the decision-making tool that my mutual-aid group has been using, was built by Occupy activists in New Zealand. Already, coronavirus organizing is leading to new tools of its own: Meet, a cooperatively owned videoconferencing platform, was built explicitly as an open-source alternative to Zoom.
By this time next year, mutual aid might still be organized online. But perhaps it'll be happening on a platform designed according to a different standard of productivity. Productivity, by its current definition, has been referred to as a "cult" for some time now, and cultish thinking is notoriously difficult to unravel. "Our very idea of productivity is premised on the idea of producing something new," Jenny Odell, the author of How to Do Nothing, wrote in 2017. "We do not tend to see maintenance and care as productive in the same way."
Start-up culture made productivity sound like it means money and movement, but pandemic culture could mutate that idea. No one is disrupting; we're all being disrupted. Hardly anyone is coming out ahead financially, no matter how hard they hustle. The optimize-everything attitude of Silicon Valley was already coming under scrutiny before states started shutting down, but it feels impossible now—in the context of my daily routine of cooking meals for one and sitting on a fire escape for fresh air, it's simply nonsense. When I manage to put in extra effort, it's not to make more money or otherwise improve myself, but to participate in activities that Odell would likely categorize as "maintenance and care": talking and listening, lending and borrowing.
The term mutual aid is attributed to Peter Kropotkin, a Russian biologist and anarchist whose 1902 essay collection has long been a favorite of grassroots political movements. Mutual aid, he argued, is "the surest means for giving to each and to all the greatest safety, the best guarantee of existence." Productivity could mean something like that too.