Prom at Home Is Sad, but Sweet
The pandemic has canceled proms nationwide, but teens are still re-creating the joy of them on TikTok.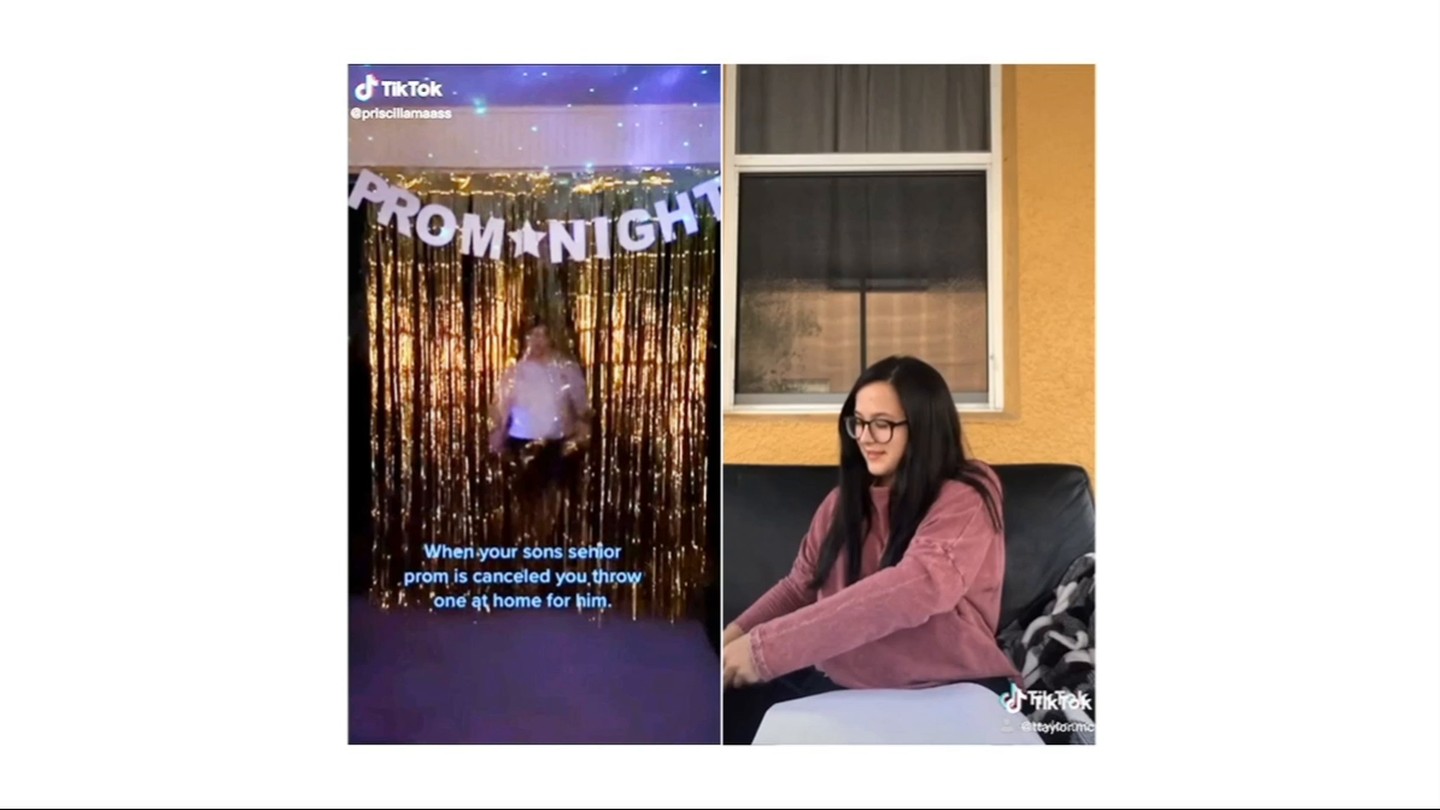 "I'm sitting here, crying in my prom dress," is the chorus of a low-fi, hand-clappy track by the singer mxmtoon—and now a hyper-literal anthem for American teenagers. On TikTok, teens are sitting there, in their prom dresses, talking to a camera, feeling very sad.
This is what prom night looks like in 2020. Rather than spending a night out dancing with friends, teenagers have been shoved back inside with their parents because of the pandemic. Americans have celebrated prom since the late 19th century, even during depressions and world wars. Families tend to spend many hundreds of dollars on the event, and its place in popular culture as a high-school rite of passage has been romanticized by just about every teen movie ever made. The idea of forgoing it would be ludicrous for many teens in any other year, and awkward little two-person quarantine proms with decorations-by-dad were once the stuff of apocalyptic fiction. But now, this is prom.
The teens of America are getting through it by posting. And bless them: Their dances are goofy and their song choices are good and their outfits are fun to look at—so fun, in fact, that I nearly ordered a heavily discounted prom dress from Macy's, just to have for home. Teens are doing all they can to re-create the joy of prom online, but these videos are yet another test of how well the internet can be used to hold on to life as we knew it. Does coordinating with friends over iMessage to edit together a TikTok video feel anything like a prom?
On Long Island, a teen wearing a prom dress does dance challenges in her kitchen. In Arizona, a girl attends prom in her aunt's backyard with only her girlfriend. In California, an Italian exchange student gets to experience her canceled American prom in an at-home photo shoot. In South Dakota, some quick editing makes it look as though seven girls in seven different bedrooms are magically changing into prom dresses found in garment bags that they toss from screen to screen. For quite possibly the first time, prom night involves entering the clunky virtual world of Club Penguin, or wrangling a group of friends to join a Zoom call.
Celebrities and brands are trying to organize their own virtual proms in lieu of the real thing. This week, TikTok announced the official #TikTokProm: It's not so much a prom as it is a week-long series of suggested hashtags (#PromLook, #PromPlaylist, etc.), and videos from famous people. On Saturday night, the DJ Diplo will play a live set, and viewers can submit song requests. "This is the big night every high schooler has been dreaming about since their freshman year," the press release reads, as if anyone has been waiting to spend prom night on the internet scrolling through a hashtag with a bunch of strangers—not draping their arms around anyone, not having "zero beers, I swear."
The actor John Krasinski hosted a virtual prom last week on his YouTube show, "Some Good News." His former Office co-star Rainn Wilson, Chance the Rapper, and Billie Eilish phoned in on grainy video calls and Krasinski spent much of the time shouting and playing TikTok clips of teenagers dancing in front of televisions on which his shouting face was also visible. (It was "the weirdest, craziest prom" ever, according to him.)
Outside of awkward, celebrity-laden virtual proms, teens are also re-creating some elements of prom on their own. "Promposal" season is an annual tradition on the internet, but despite having nothing to propose attendance to, some high schoolers are still pursuing the specialness of making garish posters for each other that say Prom? Taylor Clayton, a 16-year-old who lives in Orlando, Florida, posted a TikTok promposal for her best friend set to the song from the Hannah Montana series finale. Her friend was so sad about the cancellation of prom, she said, it was the only thing she could think of to cheer her up. (It made her cry more.) She also hosted a Zoom call for their group of friends, and asked that everyone put on their dresses and listen to music and hang out.
"Of course, it isn't exactly like prom," she told me. "It was definitely not the same, because we couldn't be together. But we just tried to stay positive and do the best we could to remake prom at our homes."
It takes a lot of trying—and, sometimes, help from parents. In Jacksonville, Florida, Priscilla and Asa Maass threw a prom for their 18-year-old son Isaiah and made a TikTok of him dancing to Megan Thee Stallion's "Savage." They bought Prom Night signs for the front yard, ordered decorations on Amazon, picked up cupcakes in his school colors from a baker friend's porch, and played a Spotify prom playlist on the patio. In the video, he looks happy and game, and his father says he was, even though it's ultimately pretty depressing to spend prom with your parents and your little sister.
"We got dressed up as a family, which is kind of weird, but fun at the same time," Asa told me. "It wasn't a replacement for prom. It's more the gesture than anything, and I think he appreciated that. We don't give our kids enough credit."
Losing prom is losing a communal experience—but the loss itself is something that teenagers all over the country can share. TikTok is the platform of choice for these dispatches from prom-at-home because it puts each video into a centralized feed, in front of a larger audience than it would have on a personal Instagram account. If you watch one prom video, and hit "Like," the algorithm will probably show you more teenagers pulling off their own creative tricks for getting around the soberness of the moment.
Every TikTok prom is bittersweet—a chin-up flash of novelty that doesn't quite cancel out how hard it is to lose what many consider an irreplaceable experience. Alondra Orozco, a 17-year-old from Sacramento, California, captioned the TikTok slideshow of her senior prom "prom: six feet apart edition." It happened in her house, and the DJ was the Just Dance video game on a Nintendo Wii. She already had her dress when stay-at-home orders were announced in the state, but her boyfriend borrowed a tuxedo from his grandfather. She printed out official-looking prom tickets, and they posed for photos in medical masks in a local park. "It feels like everything is getting taken away. It's really sad," she says. "Right now, I'm just trying to put things into perspective and realize that the virus is taking stuff away from everyone, not just me."
Putting on your prom dress and sitting in your house alone is not going to prom. Posting it is not going to prom. FaceTiming is not going to prom. A TikTok video is not prom. But they still have the gesture of prom, which comes with huge expectations and so often involves disappointment anyway. People cried in prom dresses before the pandemic, and they will after it too.