Women Are Buying 'Essential AF' Shirts, Candles, and Wine Glasses
The strangest pandemic souvenir is Etsy merch with sassy slogans about essential workers.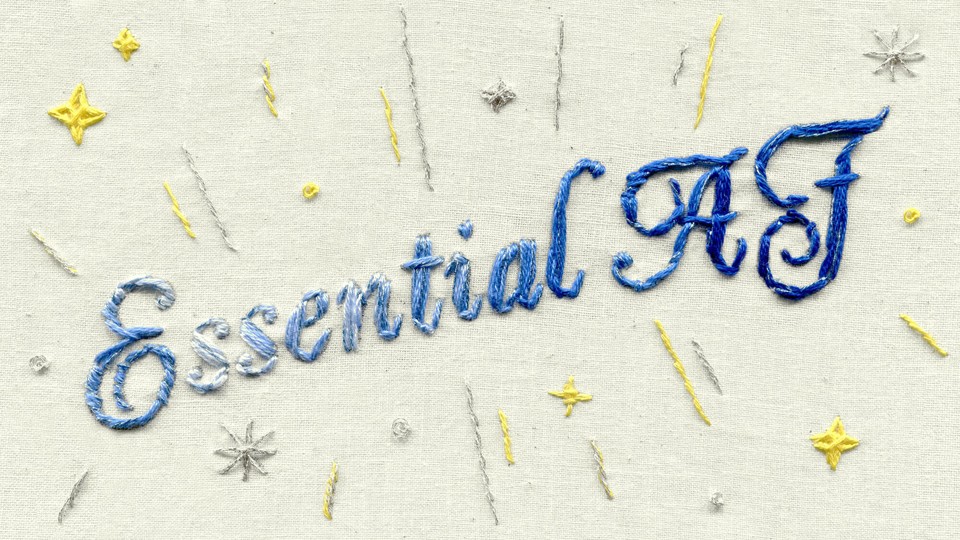 Spread love, not germs, reads the label on a hand-poured soy candle listed on Etsy for $24.95. Light after a long day of being essential, reads another. A third, recommended as a gift for a health-care worker, uses a curlicue font to declare whoever lights it Essential AF. ("Essential as fuck," but coy!)
The coronavirus pandemic has separated American workers into "essential" and "nonessential" categories, and in recent weeks, the language has started appearing on all kinds of Etsy products, in the typical playful and colorful aesthetic of the online craft marketplace. There are Essential AF engraved wine glasses and Essential AF purple T-shirts. There are shirts for essential employees printed with I'll Be There for You, and a reworked Friends logo. Shirts reading I'm Essential; I Am Freaking Essential; and Essential: Like a Regular Employee, But Important are all tagged as best sellers. An Etsy search for "essential worker" turned up about 11,000 results when I checked yesterday; "quarantine" turned up 98,000.
The dissonance between the gravity of the moment and the whimsy of cheaply made merch is startling, but not entirely inexplicable. Etsy's sellers are predominantly women, and they're making this merch predominantly for other women, who are looking for something that stylizes risking your life during a pandemic as a trait to flaunt. Essential AF shirts are selling like crazy, and their popularity speaks to the slightly twisted ways in which we are struggling to boost our own morale during a once-in-a-century plague.
Before all of this, you could do worse than Etsy slogan trends if you were looking to read the mood of the average American shopper. Now that mood is being shouted, politely, in your face—curse words relegated to acronyms, but there nonetheless.
Etsy sellers were a bit surprised by the demand for quarantine merch, but adapted to it quickly. "We always had a shirt that said staying In is the New Going Out," Heather Fortes, an Etsy seller from Rhode Island, told me. "We noticed that really started selling more about a month ago." So she leaned into it with all kinds of pandemic-related merch: Her store now has a "Quarantine" section with 29 items, including T-shirt-and-sweatpant sets tagged as "quarantine outfits." A "Government says I'm essential" design is one of her best sellers, and business has been so good that she's been able to rehire employees she laid off at the start of the pandemic.
Essential-worker merch is "selling like hot cakes," says Trisha Woods, an Etsy seller from Grand Rapids, Michigan. "My Etsy account is so out of control right now. I've never sold this much stuff ever." Woods first made her first Essential T-shirt for her husband, a distributor for Pepperidge Farm. Then she posted it to her Etsy shop and sold about 100 of them in the first two weeks. Her shop is generally a side hobby, but as the usual contracts for her screen-printing business dry up, it's become a far more significant part of her income.
Leaning into the strangeness of the moment has also helped Deana Cain, who runs a screen-printing business in Ava, Missouri, stay afloat. Inspired by her husband's "essential" designation—he works in a factory making medical-grade stainless steel—she's been going in to work by herself, locking the door and spending the day making quarantine-themed T-shirts for Etsy. Without school sports or spring Little League contracts, her business is taking a huge hit, but she's sold more than 100 Yup, I'm Essential shirts in the last month. "If I can sell enough to pay my electric bill for the month," she told me, "I'm tickled to death."
Every popular slogan that seems to be selling well quickly gets copied by dozens of shops, but Woods says there's more than enough business to go around. She recently received an order for 12 Essential shirts that she guesses were for a group of co-workers—that's about the total number of items she used to sell in a day. She speculates that some people are buying the shirts to wear when they go outside, to identify themselves as essential workers who should be out and about.
But many purchases are presents. Jamie Mammarelli, who mostly sells wine glasses on Etsy, says that her "Essential AF" design is her most popular right now, and that the glasses are "definitely being given as gifts." Laura Colleran, a T-shirt maker based in Casper, Wyoming, says that many of her customers are buying four or five I'm Essential shirts at a time, likely to give to employees or colleagues. And on Instagram, essential workers are posing in essential AF shirts and thanking the friends who gifted them.
"Some of the stories are hard to hear," Fortes said, recalling that one customer from Florida had ordered a shirt for his wife—a nurse who was staying in a hotel in New York City and working at a hospital there to help with the city's medical staffing shortage.
But essential workers are also buying the shirts for themselves as souvenirs of a bizarre time. Lacy Sweeney, a 29-year-old patient-care technician in Erie, Pennsylvania, told me that she bought an Essential AF shirt for at-home wear only—the AF part wouldn't go over well with her bosses.
Not all of the pandemic-related products are aimed at brightening a dark situation. Woods told me she thought about selling a shirt that had a Corona beer bottle on it and read Coronavirus: Made in China, after seeing someone else post a similar design to Facebook. She isn't personally bothered by the anti-China rhetoric, Woods said, but she backed out after Facebook commenters blasted it as offensive. She also made a shirt that said I Survived the Coronavirus, which was removed by Etsy for violating a policy prohibiting "items that attempt to exploit natural disasters or human tragedies." (Another shirt was removed because Woods added coronavirus as a search tag on the listing, according to an Etsy spokesperson.)
"Essential AF" is one of the darker Etsy trends in recent memory—one that deliberately calls to mind the lockdowns and deaths that necessitate the term—but the most popular phrases on Etsy tend to have a whisper of something dark even in non-pandemic times. Last year, The New Yorker's Jia Tolentino wrote about Etsy's "sassy mom merch," pulling out the bleakness of so many women professing to run on "coffee, wine, and Amazon Prime." And because the catchphrases on the site are almost always written in bouncing bridesmaid font and available in a range of trendy pastels, it's common to stumble on products that are tonally bizarre. I once came across listings for wine glasses with "Drink Your Juice, Shelby" written on them in a curling script—a reference to a scene in the 1989 film Steel Magnolias during which Julia Roberts's character is encouraged to drink some orange juice in order to stop a hypoglycemic attack caused by the severe diabetes that eventually leads to her death.
There are lines, of course, but Etsy's dominant mode could be described as morbid and cute and generally indifferent to taste—one T-shirt I saw on the site had the words drinking alone crossed out and replaced with social distancing, in handwritten cursive. The tone is oddly perfect for a moment in which the national mood seemingly careens between despair and a manic can-do attitude every hour.
Eighty-seven percent of Etsy sellers are women. The overall essential workforce is also majority women, who make up 77 percent of all health-care workers, 90 percent of nurses and nursing assistants, and two-thirds of grocery-store and fast-food employees. Essential AF, jarring as it is as a phrase, can be read as a rueful wink and a clear-eyed brag—a statement on cheap cotton that the wearer's life has been chosen as one to be risked and that she is making the best of a horrible situation.
"I think it will be an interesting memento," Sweeney said. "Hopefully, I never work during another pandemic."