The Risky Dream of the Fast-Food Franchise
Americans have long pinned economic hopes on fast-food chains. And where there are hopes, there are scams.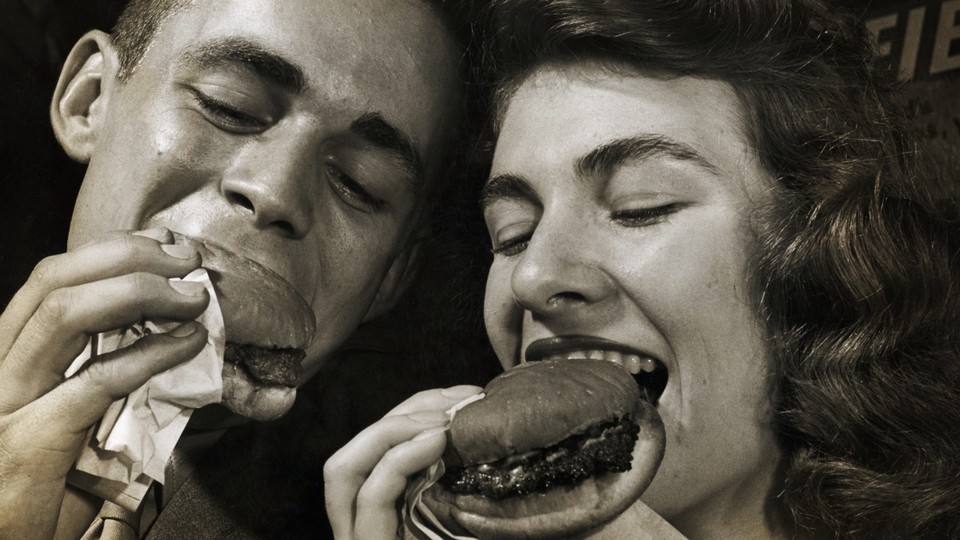 Burgerim had all the ingredients for fast-food-franchise fame: a novel concept (sliders); a modern logo evocative of an emoji; and a celebrity connection, in the form of Kim Kardashian West's confidante Jonathan Cheban, who legally changed his name to his Instagram handle, Foodgod.
By promising high returns on investment and ensuring that Americans would love its signature lamb sliders, Burgerim, which opened its first American location in 2016, enrolled nearly 1,200 new franchisees and oversaw the opening of more than 200 locations in just a few years. The company billed itself as America's "fastest growing burger franchise" of 2019.
Then, last month, the trade magazine Restaurant Business detailed explosive allegations suggesting that the company just might be a Ponzi scheme. Burgerim sold franchises, pulling in tens of thousands of dollars from each would-be restaurant owner, but then, for reasons that remain unclear, did not collect ongoing royalties. This set up a nearly unprecedented and clearly unsustainable situation, the magazine reported. Burgerim needed to recruit ever more people to stay afloat, and the company's alleged inconsistencies, false promises, and acceptance of inexperienced, cash-strapped franchisees caught up with it. "If this was a stock, everyone would be in jail," Keith Miller, a fast-food-franchise consultant, told the trade publication. Dozens of franchisees lost their life savings. Others reportedly filed for bankruptcy. The company's new CEO, Michel Buchbut, admitted mistakes but defended the company to Restaurant Business, saying, "I cannot call it a Ponzi … It was not exactly a Ponzi." On Wednesday, Senator Diane Feinstein called on the Federal Trade Commission to investigate the chain.
Stories of start-up fails are commonplace in the 21st century. Investors vie to be the first to pour dollars into vague ideas. The environment is rich for scamming. Some observers are characterizing Burgerim's fall as historic or unprecedented. But the franchise has always been a way to buy a tiny piece of the capitalist dream—and where you find hopes, you find people exploiting them.
The United States is the land of franchise opportunity, home to more than 190,000 quick-service restaurants. Although most American consumers associate franchising with fast food, the model has been used to make business ownership possible across other sectors—from oil-change centers to day-care centers. In a nutshell, a franchisee pays for the right to run a business outlet, follow all their rules, and assume most of their liabilities, in hopes of squeezing out some profits. In fast-food franchises, you can become pretty wealthy if you are able to maintain the bottom line for top earners like McDonald's. While conducting research for my most recent book, Franchise: The Golden Arches in Black America, I learned that for African Americans, franchising isn't just about making individuals rich. In fact, African Americans have used the wealth generated from franchising to help close the racial employment gap by providing jobs in their communities, and they've shared their dollars with historically black colleges and universities and partnered with storied civil-rights groups, like the NAACP. Even today, black franchise owners often see themselves as torchbearers of Martin Luther King Jr.'s dream, although they often forget about his wish to see organized labor and his critiques of capitalism. But franchising is all about dreams—and sometimes fantasies—about building wealth without leveraging your entire future.
The reality is far more stark. As I reviewed the pages of trade magazines and the prospectuses of companies long gone, like Muhammad Ali's ChampBurger—yes, that Muhammad Ali—I found many examples of concepts that spectacularly collapsed. When a roast-beef-sandwich stand or fried-fish shack franchise dissolved, it often left eager, first-time businesspeople deeply disappointed and in debt. If a closure happened in a black community, it often meant that a youth jobs program had fewer assignments. It forced people to wonder if blacks could actually get a piece of the capitalist pie, because of the systematic denial of African Americans to pursue business ownership and experience economic mobility.
Perhaps the most striking example of the racialized boom-and-bust of franchise restaurants arose in Tennessee, the center of the fried-chicken industry in the 1960s. (Even Kentucky Fried Chicken moved its headquarters to Nashville in 1963.) Inspired by the growth of KFC, the local lawyers John Jay Hooker and Henry Hooker decided to get in on the action in 1967. With no experience in restaurants but with a keen sense of marketing and connections to the city's political and business elite—particularly the ways in which markets were segmented across racial lines—the brothers established one fried-chicken company with two high-powered brand ambassadors and namesakes from the music industry.  For white customers, there was Minnie Pearl's; for black consumers, there was Mahalia Jackson's.
Minnie Pearl's was named for the white Opryland comedian who played a country bumpkin character famous for wearing a hat accessorized with a still-affixed retail tag. Mahalia Jackson was a black gospel singer known as "the Negro songbird," and her stores would be designed to look like a church. She appealed to black community groups looking to use franchising as an economic-development tool. John Jay summed up something advertisers said in a far more delicate way in an article in the black newspaper Atlanta Daily World: "Why should Black people have to buy chicken from [a] white face?"
The similarities and divergences in the two chicken restaurants created by the lawyers foreground the varied ways in which African Americans and whites shaped their expectations for what a business was to do. Minnie Pearl's sold a sense of down-home domesticity in a changing world; think of Pearl as the influencer who wears gingham dresses with cowboy boots and takes lots of filtered pictures in front of barns. Mahalia Jackson's sold black empowerment; her brand would be more aligned with today's Black Restaurant Week. Minnie and Mahalia's recipes were identical, and both chains set a goal of 500 stores within three years. The two restaurants rarely opened in the same communities, and few in the business cared to discuss their ties.
Doing business across racial lines in such an intentional way required a differentiated strategy. The effort to bring Minnie's to America relied on the Hookers' well-connected friends, wealthy investors, and franchisees able to take a risk in the restaurant business. During the last six months of 1967, the company attracted franchisees in Nashville and Atlanta, and by the year's close, they had dozens of signed contracts extending from Florida to California. Unlike the larger companies, the charismatic brothers only asked franchisees for security deposits. They collected the rest of the cost upon turning over the keys to a completed restaurant. The Hookers signed up southern businessmen, University of Tennessee football alumni, and local politicians to purchase 50-cent and $1 shares in their company.
Meanwhile, Jackson and her associates were reaching out to black America in their own way. Mahalia's Glori-Fried Chicken announced itself in Memphis in 1968, in the summer after MLK was assassinated in the city. Flanked by the future NAACP head Judge Benjamin Hooks and the civil-rights lawyer A. W. Willis, who fought to desegregate the University of Mississippi, Jackson may have believed that she was bringing a bit of hope to black America by describing her franchise as providing an economic uplift. With every cardboard box of golden fried chicken or platter of cornmeal-crusted catfish purchased, the restaurant was allowing customers to "buy black," an imperative in an era where black capitalism captured the attention of black radicals and Republicans alike. Mahalia's Glori-Fried, as an ostensibly black-owned business, ensured that managing a franchise was dignified and important work for the black community. The chain offered training courses in franchise management that were punctuated by formal graduation ceremonies. After enjoying a bit of success in majority-black neighborhoods, like Chicago's South Side, Mahalia's was able to ink a deal for a takeout concept connected to Gulf Oil stations. By partnering with the chicken chain, Gulf could signal that it understood and appreciated long-neglected and -disrespected black consumers. In black America, a franchise wasn't just a franchise; it was a marker of hope and a way for corporations to add a layer of gravitas in their search for profits. Gulf gushed to the Chicago Defender that "since Mahalia Jackson's System is black-owned, -managed, and -staffed, and is hiring in the communities in which it operates, Gulf hopes it is helping to provide black business and employment opportunities."
Mahalia's was providing jobs, but was it really growing black wealth? With the Hookers out of the sight of the Black Power diners who thought they were buying black when they ordered hand pies, these restaurants—like many franchises—were offering a mirage. Mahalia's was a name leased to a concept, and franchising, regardless of the race of the franchise owner, could never revolutionize an economy that left blacks vulnerable to the excesses of racial capitalism.
Defining Jackson's business was quite difficult, because it was a subsidiary of the Hookers' franchising entity, but it needed to maintain the impression that it was a quasi-philanthropic, black-owned endeavor. Willis described it as a "partnership with equal rights and opportunities for both parties. Ours will be a distinctive product, tailored to the taste of our market." Willis was not clear about who the partners actually were and what parties meant. Willis connected Glori-Fried to the conversation about black capitalism delivering solutions to the day's problems. "Recent urban unrest has resulted in a desire for economic development and independence within the black community," he said, promising that "most of the profits … will be directed toward this new economic development." Hooks explained that the Minnie Pearl's system-management team would serve as a "consultant" to the new effort and help "speed up" the training necessary to open new stores. "The urban black ghetto is a virtually untapped market for an intelligent fast food franchise business, and we know our market," Hooks said. "We think that's a perfect partnership."
Like many get-rich-quick schemes, the Hooker brothers' chicken racket enjoyed a boom before the inevitable bust. In the spring of 1968, Minnie Pearl's stock went public, and its initial offering of $20 a share doubled by the end of the day. They were soaring—or so it seemed. But the expansion was expensive, and it's quite possible that the brothers did not know how to run a restaurant chain. Eventually, the blazing-hot enterprise became the subject of a Securities and Exchange Commission investigation. With all the brothers' far-flung plans and development enterprises, "there was almost no way to actually figure out how much money was being spent," the Nashville historian Bill Carey noted. When the financial instability became clear to investors, the stock plummeted to $10 a share. Soon, a chain that seemed destined to become not just one but two household names was worth almost nothing.
John Jay Hooker never succeeded with Minnie Pearl's chicken, but he never left public life, and he emerged from the meltdown as the CEO of another company. When a chain fails, the franchisees suffer the most. They often have to pay back loans for businesses that are shuttered, and if the franchisor doesn't pay their bills, vendors and contractors come knocking on the franchisee's door. Even for the folks who didn't invest in the brothers' restaurants, there were hard feelings. Some of Mahalia's fans were shocked to learn that she didn't own the restaurants that piped in her music in the dining rooms.
The notion of leading an economic civil-rights movement by opening one chicken restaurant at a time didn't quite materialize. Rather, a small cohort of black businesspeople were able to become wealthy by working with mainstream companies like McDonald's and Burger King, and they did their part for black communities, but their wealth did not translate into economic liberation for the vast majority of African Americans.
Perhaps Burgerim's new recruits were as hopeful as the franchisees who signed up to join Mahalia's capitalist choir. As in the aftermath of the industry-shaking collapses, 50 years ago, it seems like there won't be any reforms or changes to the industry as a result of what happened to Burgerim. Meanwhile, Burgerim franchisees are learning how little recourse they have when the parent company goes bust. There will be months of meetings with attorneys, attempts to break leases, and fire sales on restaurant equipment, but if the past is an indicator, we also know that the franchising dream won't be liquidated with this latest round of scandal.