The New Ticket Scalpers Are Young, Unashamed, and Very Online
Hanging out on Discord with today's teen-idol ticket scalpers—average guys, no bots​​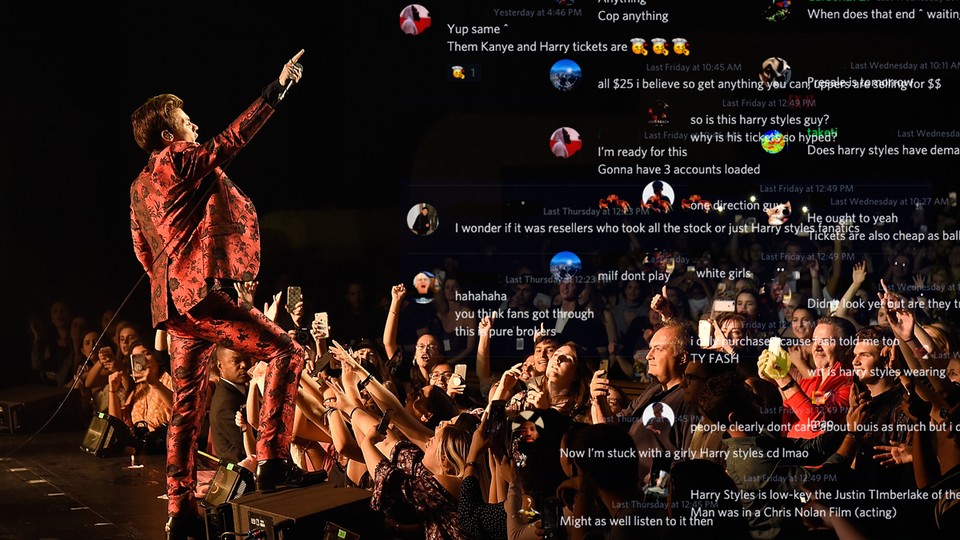 The moment that Harry Styles announced he would play a one-night-only album-release show at Los Angeles' historic venue The Forum this December, the question was obvious: Would anyone survive the emotional turmoil of attempting to purchase a ticket to this concert?
Admission would be a mere $25, a gesture of goodwill to Styles's fans. But to get into the show's presale—the best chance of getting a ticket—fans would also have to buy merch or preorder a physical copy of Styles's upcoming album, wait for a unique code, and jockey for a spot in a digital line of thousands of people, without any real clue as to how the order of the line was decided.
Preparing to pull off an improbable feat, Styles's fans were crushingly supportive of one another, praying in public for their "mutuals" to get good spots on the floor of the arena, offering motivational speeches on Twitter, and blessing the timeline with rings of emoji candles, summoning good energy and a little of Harry's magic. But when the sale ended, many were left empty-handed, horrified by "the real evil" of scalpers buying tickets out from under the people whose attachment is purer than a business pursuit. They weren't surprised—this happens every time.
In this case, the scalpers were anonymous, but not that mysterious. They tweeted about themselves. Many of them came from pay-walled ticket-resale-coordination groups on Discord—the chat site originally popular with gaming communities—and were particularly excited about the one-night-only show, an event with an aura of specialness that would make it far more lucrative than any individual date on a later world tour.
"If you don't go for Harry Styles today u so washed," announced one of the longtime members (designated by the channel owner as "staff") in a channel called Book of Resell on the day of the sale. "You're a fool if you didn't cop a code," another member offered. Then, 20 minutes after the show sold out completely: "Damn bro, this dude just made $550 off of $50 Harry tickets."
"Harry looks like a cook," one member posted excitedly, as soon as the sale ended. General-admission tickets were already going for more than $300 on resale.
This is how the boys talk—with the same energy as fans, but with a mercantile mind-set and the language of sneakerheads. Cook is a noun and a verb; you can "cook" and you can nab a "cook"—an in-demand item that will sell at a high markup. If Styles is a cook, that means he's worth money. (His fans would remind you that he's actually a baker!)
Later, another member bemoaned his bad luck: "Fuck, y'all cooked with Harry today." He got through the digital queue after 35 minutes, when there was nothing good left, he added with a frowning emoticon. "You cook too much," someone assured him. "The ticket gods balanced it out."
---
Book of Resell was founded last year by a 25-year-old from Colorado who goes by Fashioninsta. (He asked to be identified by his username because that's how he's known professionally, but said most people do know his first name, Ben.) He charges $50 a month for membership, a small price to pay for proximity to his encyclopedic knowledge of the music industry and of fans' fluctuating emotional attachments. He's memorized all of the country's arenas and their most desirable seating sections, as well as the many particularities of how to "flip" a ticket to pay your rent.
His channel is mostly men aged 18 to 25, he told me in a phone call, though it also has "moms and dads" and all kinds of people who are "willing to put in the work."
As frenzied as fan conversations about the best way to buy tickets can be, the advice in Book of Resell makes them look downright legible. Various strategies include: using five different credit cards tied to different email addresses to get five different presale codes from five different merch purchases; borrowing a handful of phones with a handful of Ticketmaster accounts from a handful of siblings; buying $10 burner phones on eBay and setting them up with ultra-cheap phone plans; timing the burner phones as they move through less competitive ticket queues to see if one happens to be, for whatever reason, a little faster.
hi luvs. tickets for harry go on sale very soon so i decided to do a good luck spell, not just for me but for anyone that sees these. rt to cast, love u all <3 pic.twitter.com/DElfo3qT08

— 𝐬𝐨𝐩𝐡𝐢𝐞 (@ftdt70s) November 16, 2019
Some members opt out of the actual ticket-buying fray but make a faster, smaller profit just selling presale codes to others who have forgotten to get theirs in time. (Harry Styles codes went for as much as $50.) Debates over which seats and which venues are "hottest" for resale simmer and overlap, intercut with discussions of upcoming Elton John and Camila Cabello dates—could those be something?
Fashioninsta, who also goes by Fashion for short, or Fash when commenters are in a real hurry, is online by 7 a.m. every day. He's taking computer-science classes and making all his income from the work he does in Book of Resell—mostly from the hundreds of membership fees he collects automatically every month through his website. He says his parents are proud of his entrepreneurial drive—"I made this from the ground up with zero help and [am] making more than most top college grads, so no complaints there," he told me. This is his busiest time of the year, because many big tours are announced just before the holiday-shopping season.
His typical workday is more than 12 hours long, he said: He spends the morning helping everyone through the day's ticket sales, and the rest of the day looking for price errors or weird deals across the internet, maintaining his social media, and doing his finances. (Staff members are paid on commission, based on how active they are in providing advice to the members during a given week. On a good week, Fashion said, he'll pay someone $1,500.) Then he does research. Cardi B tickets: pretty good. Taylor Swift tickets: even better. Katy Perry tickets: hit a peak years ago—who is Katy Perry?
"Really you just have to keep track of who's hot. It's more than just saying, Oh, did this person have a good song?" he said. "No, you got to be looking: Do they have a really dedicated fan base? You have to look at analytics for past concerts, seeing how big the venue is, looking at predictions for their next album. Fans' opinions change really in a snap for even a lot of higher-tier artists."
He's not a Harry Styles fan, personally, but he is genuinely impressed by his selling power. "The general sale was absolutely chaos," he told me. "I saw 20,000-plus queues, which is absurd. It was a very hard ticket to get. A very in-demand concert. Only some people are going to be able to get through, whether it's a broker or a real fan."
---
The ticket resellers of Discord came to the trade mostly from the ridiculously well-documented world of streetwear-and-sneaker resale, an industry notorious for the use of bots, which can enter an online sale and buy out coveted releases in less than a second—so far not illegal, as they are for tickets. (Anybody can buy any one of a number of bots online, which is why the field is so saturated.)
"Sneakers got bigger and bigger, so the past few years it's been harder and harder to get them," a 20-year-old Book of Resell staff member who lives near Seattle and goes by Sous-Chef told me. (He asked for anonymity so as not to attract attention from any brands.) "People moved into other means of making money." He recently bought four general-admission tickets to a Billie Eilish concert and sold them at a $150 markup.
He's getting a two-year degree at a community college and works part-time as a waiter, and said the money he makes flipping tickets will help him transfer to a four-year university without taking out student loans.
Although Sous-Chef doesn't make a salary as a staff member in Book of Resell, Fashion lets him sell memberships and pocket the money when he needs extra cash. A spot in the channel is treated as a commodity like any other, "restocked" seemingly at random to keep demand high. At the end of a "restock"—an arbitrary window of time during which an arbitrary number of memberships are made available to newcomers—the unlucky take to Instagram or Twitter to complain, and Sous-Chef will message them privately and charge them $100 for a subscription link.
The number of casual ticket resellers appears to be on the rise, Fashion said, and it's his business to know. "It's pretty chill if you think about it: You get to get a ticket for 20 bucks and then you sell it for 200 bucks, so you get 18 hours of work within 10 minutes." Facilitating that, in his view, is somewhat altruistic. "I see people go from dead broke—there have actually been members who are really low on rent, trying to pay tuition with no parents' help, all these things, and having a little side hobby like ticket-selling can really help them do it. At the end of the day, we're using no means of getting it any easier than the fans. They're doing it just the same way we are. It's just a little more luck and skill."
And, yeah, sometimes deceit—which Fashion doesn't personally encourage, but it comes up in the group chat regularly. For the free shows that Kanye West has been performing in support of his latest album, StubHub won't allow resale at all, so members have to sign up for tickets on a "burner" Ticketmaster account and then sell the entire thing. That's riskier, because it violates the rules. Some make multiple accounts so that they can get around ticket limits. (Also against the rules.) Sous-Chef told me some members also use proxies to disguise their IP address, or a Chrome extension called SessionBox to reset their browser cookies so that they can open multiple versions of the ticket queue at once, without Ticketmaster detecting that it's the same user holding multiple places in the same line. (Also against the rules, and Fashion disputes that it even works.) But all of these rules that are being broken are Ticketmaster's; they're not the law.
"I think it's actually great that ticket bots are illegal," Fashion said. "I don't think it's cool for one person to wipe an entire venue."
---
Five years ago, a group like his wouldn't have existed. In part because Discord didn't exist, but mostly because bots were regularly dominating every sale on Ticketmaster. In 2013, the company estimated that 60 percent of all tickets on the site were purchased by bots. In 2016, New York State criminalized the use of ticket-scalping bots; the federal government followed suit, passing the BOTS Act, which imposes heavy civil penalties (up to $16,000 a ticket). Ticketmaster introduced its somewhat opaque Verified Fan program in 2017—which uses proprietary software to filter people by how likely they are to actually use the tickets they buy—and says that 95 percent of tickets purchased through it are not resold.
The complexity of scalping in 2019 is what makes the private groups seem worth it. Access to most Discord ticket-scalping channels run from $25 a month on the low end to $50 on average (and $100 at the very top), but there are several pricier options for would-be resellers who like a clean interface and don't care for gamer chat. Ticket Flipping offers a $99 premium subscription that comes with online courses and access to a private Slack. The very professional-looking Ticket Resale Team charges $199 a month for access to a proprietary data and pricing tool, as well as a 24/7 "expert broker chat."
But Discord groups are more visible and deliberately more intriguing. Members are encouraged to tweet about their successes—not just individual ticket cops, but also end-of-month payout totals on their StubHub accounts—and tag the group that helped them get there. ("Shoutout bro thank you for the easy money today with Harry Styles tickets made $2000!!!" one says. "Love you man thanks for the easiest money ever!") Resell Calendar, which has 26,000 followers on a private Twitter account, currently has 430 patrons on Patreon paying $75 a month for specialized advice and little else. Memberships are "sold out" on the Patreon page, and the group's Twitter mentions are full of people asking for a way in.
The visibility cuts both ways. Will, who also lives near Seattle, goes by s7arbuck in Book of Resell. He invited me to the channel after we exchanged Twitter messages and told me he received about 50 personal messages from fans after tweeting about his spare tickets to the Forum show. "There are a fair amount of angry people who are asking me to die, etc." he said. "I see both sides of it." He's felt the sting of being a fan and getting extorted by it: He originally signed up for the Discord channel after he paid $130 resale for the Urban Outfitters version of Lana Del Rey's Ultraviolence vinyl, he said. "I knew I couldn't beat them, so I joined them."
As an actual fan of Harry Styles, he was one of the first in the group to realize that the concert would be a big deal. ("A few people in the channel laughed at me.") Two of the tickets he bought were for personal use.
Before he asked Fashion to add me to Book of Resell, he warned me that some of the chitchat is not something he personally finds palatable. The group can be Reddit-vicious when a newbie asks what they consider a dumb question, and though none of the staff members participate in it themselves, there are users who will pop up to comment on "harry gay styles" or the "Starbucks girls" who are obsessed with him.
Will's participation in the group is just a hobby, he said. He's 28, married, with two dogs; he has a career, and asked to be called by his first name so his employer doesn't think he's spending an extreme amount of time on Discord. He typically uses the profit on a ticket he scalps to pay for his own ticket, and sometimes uses the advice he reads to help his friends.
i'm telling fafsa you sold your harry styles ticket for $1,000+

— sam! (@samcsch) November 7, 2019
The advent of this kind of fan-to-fan transaction was predicted almost three years ago by Ken Lowson, the most famous ticket scalper of all time. Known as "the man who broke Ticketmaster," Lowson founded a huge scalping operation in the late '90s called Wiseguy; from 2001 to 2010, the company made more than $25 million on about 1.5 million tickets, according to the FBI. When the Wild West days of bots were over—and Lowson had paid his fines—he started a new company called TixFan, which pays real fans to get Verified Fan codes from Ticketmaster and go shopping on behalf of wealthy customers or brokers.
"If you are [a fan] making $50,000 a year and you have two tickets that are worth your next paycheck, who do you think the next scalper is?" he asked in an interview with Amplify magazine in 2017. "The ticket business is a lot more equitable now," he told me in a phone call. "The big guys, the big brokers really got hurt." He refers to everybody who works for him as "fans" because everyone is a fan of something. Maybe they're using their profits from wrangling Billy Joel tickets to buy their own tickets to Taylor Swift, he suggested. Who knows?
David Marcus, head of music at Ticketmaster, told me the company's first priority is fans. But if a fan buys four tickets and sells two, what does he care? The second priority—which is much more tangible and in some ways easier to live by than the first—is making sure that everyone adheres to ticket limits. For Styles's show, the limit was four. "The bad behavior is using any tools to circumvent those ticket limits," he said, and Ticketmaster still combats millions of bots every year. But buying four tickets and flipping them counts, in most cases, as playing by the rules.
While fans and scalpers might not have any particular love for one another, the real hate is always reserved for the big guy. When error codes pop up or carts glitch, fans and scalpers alike feel burned. "Fuck Ticketmaster" is a common refrain on Twitter, as timeless as the angry airline tweet. The incentives and systems are confusing, the manipulation of fan emotions obvious: Ticketmaster doesn't talk about how its Verified Fan software works, and won't describe the metrics by which it determines who is a "fan." (Plenty of people in the Discord channel who'd never heard of Harry Styles managed to get fan codes; I'm literally writing a book about One Direction and got wait-listed. It's fine!)
Ken Lowson refers to fans as "the biggest demographic in the world," as though all fans are one group, and Verified Fan seems to consider a fan any person who is not a piece of software.
---
The day of the Harry Styles presale, a ticket reseller who uses the handle @a_a_r0nn tweeted that scalpers "are better fans of harry styles tbh. If these girls liked him enough don't you think THEY would've been the ones purchasing[?]"
It's a rude question, but highlights the fact that many of today's scalpers are not much different from the fans: They're young and enthusiastic and coordinated. They hang out in group chats. They post about what they're doing on Twitter and Instagram. They chattered about Harry Styles for days, maybe not going so far as witchcraft on his behalf, but certainly going far enough with other things. Being a fan at a certain level becomes an education in the music industry, and being a scalper is the same from the other side. And scalpers, held in proximity to the fandoms they lean on for money, often see things they don't expect.
Dozens of Harry Styles fans who knew they wouldn't be able to travel to California for the Forum show tweeted that they would like to give away the presale codes that came with the merch they were going to buy anyway, hoping to help fans who lived closer. A member of the Discord channel took one of them up on it, doubting that they were serious, not understanding why they would be, and then came back to the group in surprise: "Damn i replied to someone's tweet about the code and they DM-ed me their code."