Is Anyone Going to Get Rich off of Email Newsletters?
Venture capital has finally come for the least sexy communication style.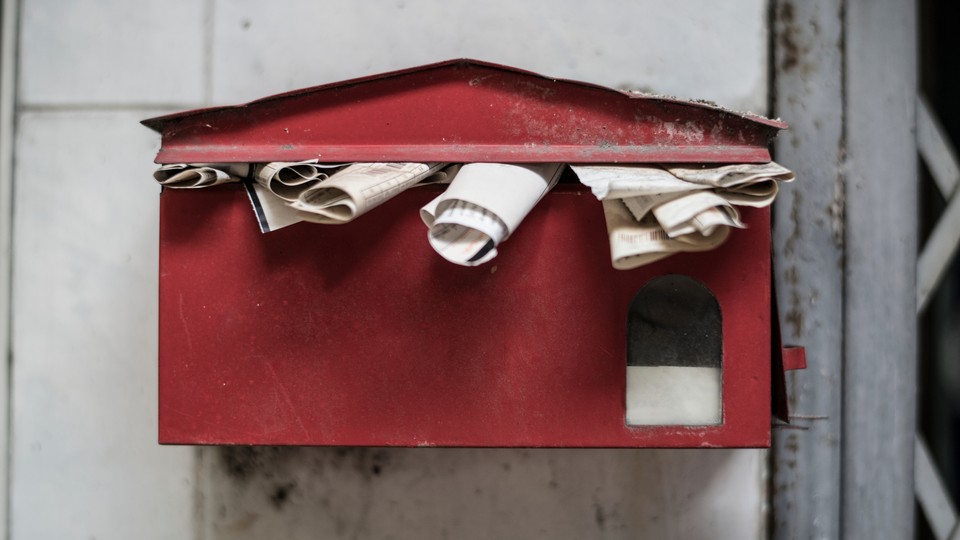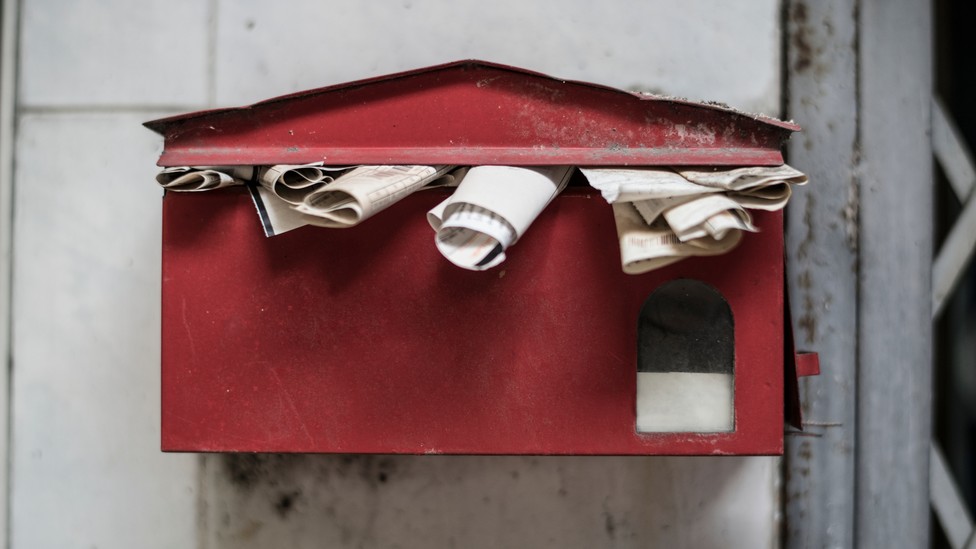 It's unclear to me whether anyone has ever fallen in love over email, but it's true that the only friendship I've ever succeeded in initiating via the internet started in my inbox.
Peppermint oil, face spackle, Glossier girls, the physical indignities of "William DeBlasio's New York"—these were the subjects of Claire Carusillo's email newsletter, My Second or Third Skin, later renamed That Wet Look. It was half "off-label" product advice, half an absurdist performance of the type of consumerism practiced by upwardly mobile Manhattan white ladies.
The TinyLetter had a recurring yogurt-review segment done solely in GIFs and called, for reasons I don't think were ever explained, "Bear Bear's Big Skyr Country." Carusillo would share sincere-ish thoughts on whether to shell out $20 for some buzzy new lip gloss and then give herself a facial with pimento cheese; the emails had subject lines like "Vaseline my teeth up," "Water made exciting," and "an amazing story please click i'm laughing to myself so much." It was deeply weird, and obviously meant for a niche audience.
"I've never really been hoping for mass appeal, and whether that's disingenuous for me to say … I'd probably have to examine that further," she told me. "I joke that my dream job is to be an E! News correspondent."
Carusillo is, like Taylor Swift, a keen observer of the human condition and a shrewd businesswoman. I read her newsletter, I sent her a message on Twitter, and soon enough we were friends—I wrote about her in my newsletter and she wrote about me in hers, which is called synergy. I did not hesitate to fork over $5 a month when she migrated "That Wet Look" over from TinyLetter's free service to the short-lived platform Double Bounce (founded by her brother Alex Carusillo) in 2017, beholden as I was by extreme loyalty. I would have paid $50!
I'm making it sound like I have portraits of her tattooed on my thighs and talk to them every night before I go to bed, but only to make a point: This is the type of relationship that newsletter innovators cherish, want to see multiply, and need to encourage if they are to pay back investors.
Substack, founded in 2017 by Chris Best (former chief technology officer of the Canadian messaging app Kik) and developer Jairaj Sethi, as well as the former journalist and Tesla alum Hamish McKenzie, is at the head of a pack of new email-newsletter start-ups—a surprising sentence mostly because it's hard to think of anything less thrilling, from a venture-capital perspective, than email, a decades-old technology that essentially everyone is accustomed to using for free, all the time, rarely for fun.
But Andreessen Horowitz led a $15.3 million round of funding for the company this summer, with general partner Andrew Chen taking a seat on the board. We're living in "a pivotal time in the history of mass communication," Chen wrote on his firm's blog at the time. "The golden age of new media." Substack, and its intimacy-leveraging subscription model, he argued, was the future.
Buttondown, which also launched in 2017, charges newsletter writers nothing until they reach 1,000 subscribers, and $5 a month per thousand subscribers after that. Revue, which has a sophisticated suite of editing tools, and is aimed more at publishing teams or "thought leaders," is free up to 50 subscribers and then charges a variable fee based on audience size ($5 a month up to 200, $8 up to 750, $10 up to 2,000, and so on). It raised an angel round of €300,000 in 2016, is currently profitable thanks to subscription revenue from its 60,000 registered users, and plans to fundraise again at the beginning of 2020.
Substack works on commission, taking 10 percent whenever a writer starts charging her audience a monthly or yearly subscription fee. Though anyone can use the product entirely for free and charge their readers nothing, Best, who is the CEO, told me the company considers free newsletters something like "lead generation." When people are new to the platform, they'll start out publishing for free, but that's ideally an "incubation period" before they start converting their audience. The site has a dedicated discovery section where top newsletters are ranked, then promoted based on "internet points," and the founders often emphasize their personal investment in helping writers grow their subscriber lists.
"The internet broke a lot of things that were working," Best said in a phone call. "Craigslist broke classifieds, which killed newspapers. Facebook and Google have taken over internet advertising. There's a descent into madness a little bit, where the incentive structure of ad-supported social media creates a lot of bad outcomes. It's broken on a personal level, for consumers of media."
With newsletters, he argued, writers are directly supported by the people who want to read them."You're not giving someone your cultural output for free."
"Direct subscriptions are a better business model for culture," according to the Substack "about" page. Best said more than 50,000 people are paying to read at least one newsletter on Substack, and about 20 percent of publishers charge something for what they write (the platform's minimum is $5 a month). Once a publisher has built up a following, he said, and flips the switch from free to paid, there's a roughly 10 percent conversion rate.
All of that is great, and it's nice to feel that we are moving away from a mode of thinking in which people who put out creative work on the internet should mostly do so without getting paid. It's also, not really, the whole story. Arguably, it's another example of money and prestige coming for an internet-age creative format that was better when it was a hush-hush community activity—non-remunerative, an anti-discovery algorithm, full of in-speak, artistically strange (see: podcasts, blogs, fan fiction, memes). And ambivalent, like women online have to be.
On Substack's website, a history of the email newsletter runs through the stories of seven men—including the famous conservative political columnist Andrew Sullivan, the business analyst Ben Thompson, the gaming critic Jim Sterling, and the podcast-industry commentator Nick Quah—as well as one woman, Jessica Lessin, who founded the subscription-based tech publication The Information in 2013.
It's fairly similar, actually, to a recent New York Times trend piece by the tech reporter Mike Isaac ("The New Social Network That Isn't New At All"), which features quotes from several men whose newsletters Isaac subscribes to, all of which involve a subscriber fee. (Isaac, for his part, has a free newsletter on Substack called "Brain Dump," which is a weekly collection of what he calls "garbage" that falls out of his head.)
On Twitter, readers were quick to point out how strange it was not to interview a single woman for a story about newsletters, a form that was championed and, arguably, perfected by women years ago. Isaac apologized quickly for the mistake, but it's easy to see why he made it.
"[Newsletters have] been a thing," says Ann Friedman, who has written a weekly newsletter since 2013, has 40,000 subscribers, and is widely recognized as one of the leaders of the first newsletter boom, which happened mostly among women and on TinyLetter, which had no monetization mechanism. "The reason you have a tech reporter at The New York Times saying it's a thing now is because people with money, most of them male, are newly interested in the medium writ large. Men with money are betting on people wanting to continue to consume this medium."
---
In the interest of disclosure: I was both a TinyLetter writer and an early adopter of Substack. Substack is a really nice-looking and easy-to-use platform; I really enjoy sending emails on it. It's a good idea, and I'm glad it exists.
It does seem, however, that it can only thrive in a world where newsletters have no past, and can be declared a hot new alternative medium. Silicon Valley has always preferred a revolution to a "cleaner version of an existing service." TinyLetter, which was founded in 2010, didn't invent email newsletters either. They were a popular way of organizing offline communities or creating snowball-style pen-pal chains long before that, and the form took on a new allure when the briefly buzzy community Listserve started in 2012. The following year, Miranda July turned emails into performance art, The Skimm's first "easy breezy" daily news roundup for women went out, and Ann Friedman got started. Even then, she told me, the field seemed saturated.
"I have some Gchat receipts from the time, talking to friends and being like Have we hit peak newsletter?" Friedman said. "I wrote a column in 2013 that was like email newsletters, everybody's got one!"
In 2015, Meredith Haggerty produced an episode on TinyLetter and women's writing for her WNYC internet-culture show, TLDR. In it, Haggerty quoted the essay "The Laugh of the Medusa," published by the French feminist scholar Hélène Cixous in 1976. "Women must write her self: must write about women and bring women to writing, from which they have been driven away as violently as from their bodies," Cixous argues, going on to explain that the only way women can make up for their absence from recorded history is to write themselves in now, super fast, with lots of detail and energy.
This, Haggerty argued, is what women were doing with TinyLetter, and what many of the best newsletters are doing now. In her newsletter Like This, the writer Meaghan O'Connell documented in gory and personal detail the experience of giving birth. Starting in 2014, the writer Charlotte Shane published a serialized memoir about her experiences as a sex worker in a TinyLetter called Prostitute Laundry. It was later adapted into a book, but as she was publishing the newsletter, she kept no public archive: You had to subscribe, and whatever you'd already missed was lost to the wind.
Shane never sold subscriptions. "I guess once I had thousands of subscribers it seemed obvious that I could monetize it if I wanted, and I didn't want to do that," she told me. "I didn't want to feel beholden to anyone."
Carrie Frye, a founding editor of The Awl and author of a "writerly advice" TinyLetter called Black Cardigan, described the moment in retrospect to The New Yorker, recalling how "writers—particularly female writers—had said, O.K., I'm going to make an Internet on which my essays go out in pneumatic tubes to just who I want them to go to, and no one else."
Take the writer Helena Fitzgerald's newsletter "Griefbacon" (formerly on TinyLetter, now on Substack). This June, she wrote an installment about a concert I'd also been at, for a popular indie dad-rock band that she loves, and that I love, too. She mocked them a little, saying things like, "Their whole onstage persona is that of a man eternally one drink away from starting every sentence with my wife." And that the lead singer seems "caught up in his sexuality like a sea lion tangled in a microphone cord."
This is not an essay you can imagine being received the same way on a mainstream music blog, especially one read by men who worship indie rockers, or people who don't already know Fitzgerald's style. And as she goes on, she pulls out the personal part, which is that these weird and funny bits of psychoanalysis of strange older men is part of her own sexual history with "dads" and people who radiate, as she calls it, "big divorce energy."
She's kidding, but it's serious; the arguments are playful, and then they're meticulous; it's a several-thousand-word piece of cultural criticism, but it's also just an email. The ambivalence of the format is what makes it special, and the privacy is what makes that possible.
"It's actually documented and verified if you go back to the earliest things being written about TinyLetter, [that] it was mostly women writing them or creating them," Shane said. "But I think it's just convenient to ignore it and act like this is something that a few enterprising men and Silicon Valley guys realized, cut out this period where women were popularizing it and using it in very particular ways, and be like, Oh yeah, look at this thing we found."
---
But intimacy and weirdness and specificity don't tend to be compatible with making money, at least not at Silicon Valley scale. Double Bounce, the weird internet-inspired TinyLetter spin-off developed by my friend Claire's brother, allowed writers to charge subscription fees but kept the same underground feel. There was no discovery section; you could only subscribe to new newsletters if someone sent you the URL directly. ("You get people who come in and have 12 people sign up and the 12 people never unsubscribe and they read every single thing … We all don't need to be internet megastars, in fact I think we'd all be better if we weren't all trying to be internet megastars," Alex Carusillo said shortly after he launched the site.) Writers could also charge whatever fees they wanted, and most chose fairly low ones.
The platform was out of business within a year, and Substack, started by acquaintances of Alex Carusillo, arrived shortly after.
The BuzzFeed News journalist Anne Helen Petersen writes another of the more popular newsletters on Substack, and calls herself an early convert. "TinyLetter is a piece of shit and you can quote me on that. [Mailchimp has] consciously decided they're going to let it die on the vine," she speculates. (Contacted for this story, a Mailchimp spokesperson said, "There are no immediate plans to sunset TinyLetter, but Mailchimp plans to integrate it into the main Mailchimp platform in the future.")
Mailchimp, which acquired TinyLetter in 2011, announced in January 2018 that it would be migrating the smaller app into its main product, though that has not yet happened.
"To give [TinyLetter] credit, they sort of were the first ones that built the tool for these kinds of newsletters," says Martijn de Kuijper, CEO of the Substack competitor Revue. But he didn't know the service existed until after he'd started his company. "It's not being developed anymore and it will stop existing at a certain point. That's what I know about TinyLetter."
Because writers can't charge money on TinyLetter, it's basically irrelevant to conversations about the best newsletter business model. According to BuzzFeed News, the top 12 writers on Substack make an average of more than $160,000, and "some" writers on Revue are making up to $1,500 a month. The newsletter is profitable. But is it, as Best has predicted, "the seed of a model that will become a dominant model in media"? Or, as many of the women who pioneered the personal-newsletter form tell me, a bubble waiting to burst?
Clover Letter, the super-popular email newsletter for preteen and teen girls acquired by AwesomenessTV in May 2018 no longer exists. Neither does Lenny Letter, Lena Dunham's pet publishing project that quite simply ran out of people who wanted to invest in it. (Alisha Ramos, founder of the newsletter company Girls' Night In—which makes its money from affiliate links and branded content and raised $500,000 of outside funding last September—is an outlier, as was The Skimm six years ago.)
In 2016, Ann Friedman started charging $5 a year for her emails. The subscriber list had gotten too big for TinyLetter, and if she was going to have to pay to use Mailchimp, she was going to have to make some money too. She says she has 4,000 paying subscribers today, and that makes up an important, while not substantial, portion of her income. Part of her aversion to Substack is its 10 percent fee, and another is its requirement that paid newsletters cost at least $5 a month.
"I don't think a newsletter should cost that much," she said. "This feels kind of like private equity in media: Let's juice it for the most we can, as opposed to looking at what's actually sustainable."
Petersen has kept her Substack newsletter free for the same reason. "They have continually tried to make me or encourage me to go to a subscription model. They want people starting as a free newsletter, but you've got to convert it." She says she'd consider charging $1 a month—what she thinks it's worth—but her conversations with the company haven't led to them implementing that as an option. It's a question of sustainability for her too.
"If there's another recession, what are people going to cut out of their budgets first?" she asks.
But Chris Best defends the $5 minimum. "We wanted people to have an amount where individual credit-card fees weren't going to be obscene," he said. "More importantly, we wanted to give people the idea that good writing is valuable. We hear, 'I spend this on Netflix; am I going to spend $5 on one writer?' But if people really value what you're doing, it doesn't especially matter."
It's nice! It's not even bad logic. Jared Friedman, a partner at Y Combinator, the start-up accelerator that provided Substack's seed funding, believes in the model too, and like everyone else, cites the success of Ben Thompson's newsletter Stratechery, which costs $10 a month, or $100 a year.
"Substack [gives] newsletter authors a business model," he wrote to me in an email. "This incentivizes authors to write content that audiences are willing to pay for, which creates much better incentive alignment between readers and authors." It could be a "huge shift" in the way media works, he predicted. (The company has also recently started giving publishers the option of offering limited-time discounts to entice more subscribers. Best called it a "simple sales tactic" that has been very effective.)
"It makes me kind of mad," Ann Friedman told me, referring to the $5 requirement. "I know that someone made a business model for them that said [$5 a month] was the right figure. But I feel pretty strongly. I do provide a service and original writing, but $50 a year is what it costs to subscribe to real magazines. Five dollars a year feels right for what I'm doing. I'm pricing it where I think the market should be, not at what I think my superfans could possibly pay."
"It's almost like going to a Tupperware party. I have to buy your Tupperware so you come buy leggings at my [multilevel marketing] party in two weeks." Friedman said. "It feels like selling journalists to each other."
No platform can expect to meet the exact needs of every single person who might consider using it, but it's notable how few of the people who know newsletters best and care about them the most are willing to say that they're the future of media. There are plenty of reasons not to be a writer who works alone and makes all of her income from self-publishing, one of which is that most people actually do need editors. (And legal protections provided by organizations. And health care.)
It's trendy now to suggest alternatives to the crush of information on the big social networks; it was only a matter of time before the people with money caught up. That doesn't mean there's an easy solution. Dragging the private world of the newsletter into the spotlight is its own attention-economy crime. Carusillo made $800 a month for four months after she started charging for That Wet Look, but then she quit. "In no way did I feel tech culture raining down on me. There was no one up top who was like Claire, put out product, baby," she said. "But I did think, If I skip a week, people are paying for this product, and they'll be mad at me. I started to get nervous that people, now that they were paying for this product, were not happy with the quality of it."
"I do not think that a couple of people being able to pay their rent with their newsletters represents a sea change in the industry," Friedman said. "I actually see it as a continuation of a trend that has already been very prominent, which is that you can only shore up your financial success if you're really well known." You have to leverage your personality for profit the same way you do on Twitter or Instagram. The new (old) social network has come along to disrupt the old (new) social networks.
Newsletters were a private world, a club so thoroughly feminine it was forgotten. Now they're the next big thing.