The People Who Love to Watch Other People Clean
The world is a mess. "Cleanfluencers" are here to help.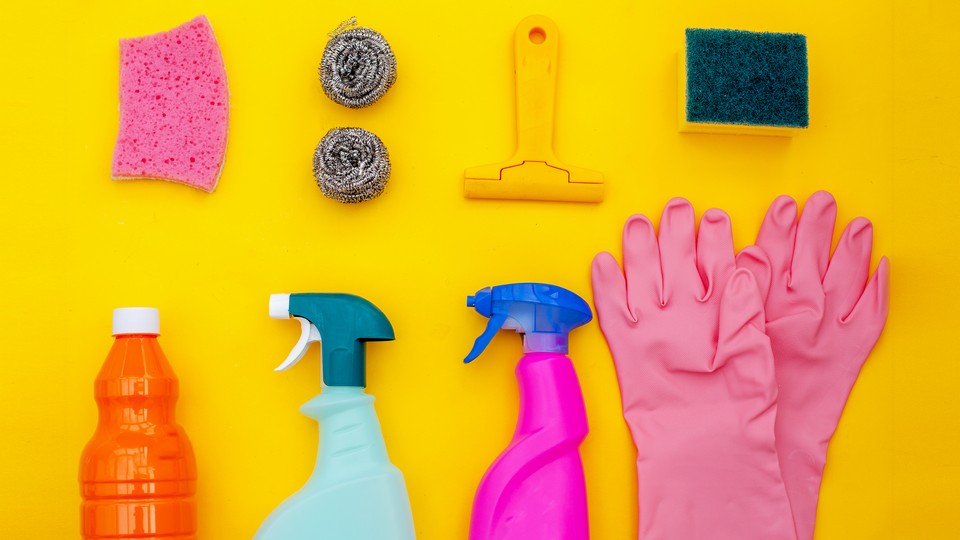 Shelly Hendy was at home, recovering from a miscarriage, and depressed. When a few friends suggested that she watch cleaning videos to relax, Hendy thought the idea was "ridiculous," she told me recently. But then she started watching videos posted by Sophie Hinchliffe, who has more than 2 million Instagram followers. Soon enough, she was hooked.
Hinchcliffe, better known as Mrs. Hinch, is perhaps the best-known of the "cleanfluencers," a class of mostly female social-media stars known for posting videos of themselves cleaning their homes. They've emerged over the past few years as a niche within the larger trend of lifestyle and wellness gurus, and some of the most popular ones attract millions of video views, leading to book deals and product lines. One cleanfluencer, Megan Hickman, says she was able to purchase a 4,500-square-foot house in Savannah, Georgia, thanks to the income she's generated from her YouTube channel, Love Meg.
In the United States and Canada, cleanfluencers tend to find their audience on YouTube, where they post time-lapse videos with titles such as "Clean With Me" or "Extreme Cleaning" that last anywhere from 10 to 25 minutes. They usually include calm play-by-play commentary sharing tips and providing glimpses of the person's home life, as the kind of non-offensive music you'd expect to hear in a doctor's-office waiting room plays in the background. Over in the United Kingdom, the cleaning community largely clusters on Instagram, where cleanfluencers post cleaning updates to their Instagram Stories, and product recommendations and inspirational quotes on their grids.
All told, it's inoffensive and unflashy, which is part of the appeal. Cleanfluencers wear the kind of clothing you'd expect anyone to dress in to do chores, making it easier for viewers to see themselves in the footage. And unlike the makeup and clothing-haul videos other influencers post, cleanfluencers recommend cleaning products that are cheap, so most people can afford them. Comments on cleanfluencer posts are friendly, complimentary, and apolitical. And, of course, each cleaning video has a happy ending: a home that's spick and span.
Influencers of many genres have built followings by letting the internet into their lives and seeing them do the innocuous. Yet these cleaning videos have a much more profound significance for many people, such as Hendy. "When I was in such a bad place and I was so depressed, I found it hard to have the motivation to get up and do anything," she explained. "But watching someone else cleaning—it's an achievable thing."
Social media are often the highlight reels of people's lives, Hendy said, and her Instagram feed made her feel worse after the miscarriage. Scrolling through her feed as she sat at home in Hertfordshire, north of London, she'd see pregnancy announcements, pictures from Friday nights out in the city, dispatches from fancy trips to Dubai—things Hendy aspired to but couldn't do at the time. But in the cleanfluencer community, she found a place where people took refuge from the chaos of the world in the simple and universal act of doing chores. Hendy became excited to try new cleaning products. She began recording short videos of herself scrubbing around the house for her own new Instagram account, @MissHendyHome. Within weeks, she had hundreds of followers, and now she has thousands. With this supportive community—and taking a cue from cleanfluencers such as @Mancleany and @cleaning_my_anxiety_away, who talk about their anxiety—Hendy also feels comfortable discussing her own mental health on her account, and why she turned to cleaning as a relief from stress.
"You can't control everything in your life," Hendy said. "You might have a very stressful job, but you can make your bed. You can at least be on top of that aspect of your life and sort of feel like you have your shit together."
Kiera Inzana, a 20-year-old in York, Pennsylvania, told me that if she has trouble falling asleep, the time-lapse cleaning videos on YouTube help relax her. "With anxiety comes fear of what's next and of lack of control in life," she said. "Watching people clean their rooms and controlling their personal space makes my head stop rushing around for a bit." A 19-year-old in South Carolina named Karen Mims says she's watched these videos for a few years and feels better about herself when she sees that other people have messier rooms than she does. Lexi Jones, a 25-year-old in Pittsburgh, says she "gets extreme satisfaction out of cleaning my own house," and she finds it soothing to watch someone else's clutter disappear little by little in a time-lapse. "I think there's a lot of aspects to our daily life that seem chaotic, so watching something in a state of order is relaxing," says Sahar Shahidi, a 24-year-old fan of cleaning videos who lives in Ottawa, Canada.
Part of the appeal is atavistic: Humans have evolved to develop tendencies that are good for us, explains Sam Gosling, a social psychologist at the University of Texas at Austin. Cleaning gets rid of germs and other substances that could make us sick, Gosling says. But, of course, "for 99 percent of our evolutionary history there wasn't a medium for representing it."
"The rise of cleaning influencers is fundamentally about order," says Stephanie Baker, who teaches sociology at the City University of London, and who wrote a book on lifestyle gurus. "It is about more than having a clean home. It is about creating a structured environment in which to flourish."
Research has found that women who feel their home is chaotic or messy have higher levels of the stress hormone cortisol, and that people with clean homes tend to live more healthily overall. But Reid Wilson, a psychologist in North Carolina who has written a book about dealing with worry, says it makes sense that people can find a similar sense of anxiety relief through simply observing others cleaning. He explains that watching a time-lapse video of something mundane and attempting to track all the changes can help curb anxiety by simply taking up more space in a person's working memory. "There's very little room left for the worries," Wilson says. "Less worries lead to less anxiety."
Brooke Erin Duffy, a Cornell University communications professor who wrote a book about women in the social-media economy, says cleanfluencers remind her of the women's magazines that flourished throughout the 20th century. Cleanfluencers, she says, similarly take "something that is typically invisible and typically in the private space into the public realm."
The majority of cleanfluencers are female, and while the trend could be seen as fitting into conservative mores of women taking care of the home, a number of the creators make a point of their feminism and appeal to independent working women. Several, such as Melissa Maker of Clean My Space, also feature their husband or partner, and note that chore duties are evenly split off camera.
Maker originally created cleaning videos to draw attention to her cleaning business in Toronto. Around 2013, she noticed her channel starting to take off. She started receiving emails from fans: widowers who felt lost because their late spouse had taken care of the cleaning; mothers whose children had severe ADHD and had benefited from Maker's videos. A video on emotional clutter inspired messages from viewers who said they didn't know what to do with stuff left behind by parents who had recently died.
"We get emails like this every single day. It is unbelievable," Maker says. "We've helped people get through depression. We've helped people with mobility issues." The personal and emotional connection viewers have to the cleaning videos may help explain why the comments and interactions between cleanfluencers and fans are almost universally positive. "People just appreciate that you're trying to help," Maker says. "Even though I hate cleaning, I really, really love the impact that this has had on people."