Instagram Wants Memers to Like It Again
After a series of account purges, meme pages are at war with their platform. Now Instagram is trying to smooth things over.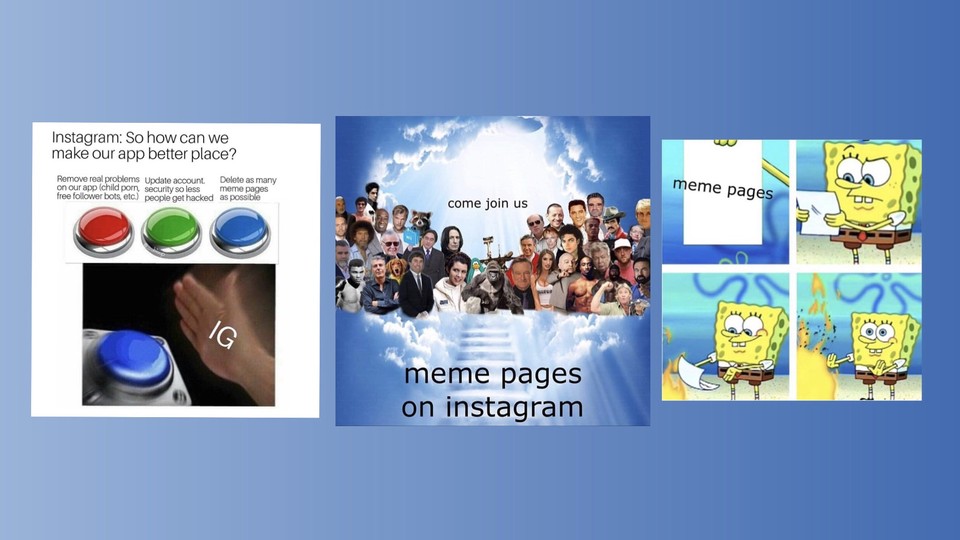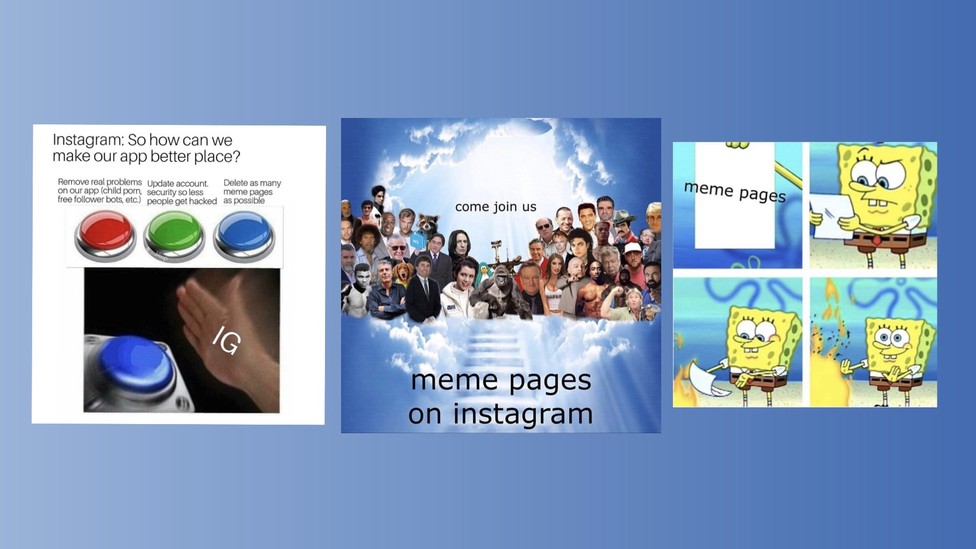 For nearly three years, 15-year-old Rowan Winch has been building a modern media empire out of his bedroom. The Pennsylvania high-schooler has founded several meme and humor pages that have collectively generated tens of millions of likes on Instagram, boosting the platform's overall engagement numbers and helping keep its most prized users, teenagers, heavily addicted to the app.
In order to support his burgeoning company, Winch has applied for an LLC, hired a designer to create custom branding and illustrations for his account avatars, and has spent money through Instagram's official ad network to promote his pages. To pay for all this he, like the people behind most large meme pages, posts advertising.
But a week and a half ago, Winch's largest account, @Zuccccccccccc, which had more than 1.2 million followers, was disabled overnight. On July 26, Instagram wiped more than 142 memers' accounts, with no explanation or recourse, as part of a purge. Winch tried to appeal, but he says so far he has had no luck. A spokesperson for Instagram told The Atlantic, "These accounts were disabled following violations of our policies, including attempted abuse of our internal processes." Winch disputes these allegations, saying that he has never abused Instagram's internal processes. He hasn't ever even spoken to anyone at Instagram or Facebook.
July's mass deactivation was just the most recent flare-up between Instagram and the unruly, lucrative meme community it created. Last Christmas, Instagram conducted a similar mass deletion, prompting a hashtag campaign that resulted in no changes to the system. The recent ban sparked 11 different Change.org petitions, each asking for all accounts deleted in the latest purge to be reinstated. "These waves of attacks … are not only affecting the repost accounts who have made a living off of posting memes, but they also are affecting the creators who have spent years of their lives organically growing a following from original content," the creator of one petition wrote. "Every email or notification from Instagram support is bland and vague, explaining that the details aren't to be disclosed, but we want answers. We want change. And most importantly, we want our accounts back."
For the first time, Instagram seems to be listening. Today, the company is announcing that it's looking to hire its first-ever strategic-partnerships manager specifically to focus on meme accounts and what the company calls "digital publishers," social-based media companies including @TheShadeRoom, @OverheardLA, @CommentsbyCelebs, and @Betches. According to Lila King, Instagram's head of news and publishing partnerships, the person will work within Instagram's partnerships division to identify important new formats and trends while also serving memers already on the platform, including large and well-established meme accounts like @FuckJerry, @KaleSalad, and @Daquan, as well as the rapidly growing next generation of accounts run by mostly teenagers such as Winch.
That sucks. A lot of them are kids who were making a great living running those pages. Worked their ass off too. It's not easy running a successful meme page as silly as it may sound.

— Roberto Nickson (@rpnickson) July 27, 2019
The role is in part an attempt to placate one of the platform's most vibrant communities: According to a statistic provided by Instagram, meme content gets shared seven times more than non-meme content on the app. More meme accounts than ever are monetizing, and memes have become the default way many young people consume news information on the platform.
"We've seen, through the course of our work with publishers and creators, that the meme community has become really influential," King says. "Memes are a format that you're starting to see traditional media companies adopt more and more … We think if we can get to know and understand [the meme community] there is a lot to learn that can influence the more traditional media companies." BuzzFeed's @World posts breaking news headlines in a memelike format to more than 783,000 followers, and publishers such as @Bustle have gone from posting curated lifestyle content to filling their feeds with screenshotted tweets.
Whoever Instagram hires will have to navigate a tricky set of unofficial mores and ever-shifting politics. "We've never gone out to this community and given best practices," says Charles Porch, Instagram's head of global creative partnerships. For example, many Instagram meme accounts post images and videos without credit—technically a violation of one of Instagram's core community guidelines, which says that users should "share only photos and videos that you've taken or have the right to share." That guideline has been very unevenly enforced, and King said she sympathizes with people who have lost their accounts, many of whom try to stay on the right side of the company, but still inadvertently violate guidelines.
Many of the biggest teen-run meme pages today post a mix of content ripped from TikTok, YouTube, and Twitter, often without noting where it came from. Part of that is a reflection of changing conventions around intellectual property, and part of it is because proper credit is often not easy to give. Videos are stolen from Twitter, re-uploaded on TikTok, then shared on Reddit and Discord before making their way onto meme pages, whose owners sometimes swap content with each other in group chats. Some teen-run pages post up to 100 times per day to their feed—more if you include Instagram Stories. The people running them don't have the time or the means to check where all that content comes from.
King and Porch both told me that they recognize that expectations around credit are changing, and King emphasized that she sees "inherent value in curation in addition to creation." "Curation is a kind of creation. Within the right bounds, there can be a lot of value in finding gems and sharing them," she said. The company hopes that hiring a meme liaison will help the platform evolve with those changes—and stop memers from viewing Instagram as the enemy. "It will be so important for a person in this role to connect more deeply with the teen accounts and other accounts we're not aware of," King said. Porch agreed. "I want to spend as much time on the big classic memers as the next generation memers," he said. "They're the one who decide where this industry goes and we want to be part of that with them."
To those saying they just repost others work, the same can be said of a TV news outlet. Yes I could spend all day on the internet looking for memes, but I don't, I rely on a few IG's to curate for me. These pages are a huge part of IG culture, sad to see them go

— Jaden Harris (@JadenHarris95) July 27, 2019
Teenagers are skeptical. Lewis Weed, a 16-year-old who lost more than 1 million collective followers across several accounts in the latest purge, told me that an Instagram meme liaison would be worthwhile only if the person could act as a direct line of support for him and others like him. "All we ask is that Instagram tries to talk with us in some way instead of blowing us off and ignoring us," he said. "It's frustrating. If you're going to destroy and take away someone's hard work (for some, years of work) at least provide some reason for doing so instead of grouping us in with people who did something wrong just to punish us all, [a] huge majority of which have done nothing."
Cam, the 16-year-old creator of @moonmemes.v1, which had more than half a million followers before it got disabled, told me that the closest thing he has ever seen in terms of direct support was the meme union, a loose collective of memers who have banded together to attempt to collectively negotiate with the company. But the union doesn't have a direct line to Instagram. He suggested that Instagram create some sort of "influencer panel" that anyone with a certain number of followers can use to speak directly to a Facebook representative who specializes in meme pages. "It is important that Facebook and Instagram acknowledges the teen meme community, because we are the future," said Cam, who asked to be referred to by his first name only so as not to have his full name in a permanent news story.
Winch said that no matter what, he just hopes the person Instagram hires doesn't have outdated notions about the internet. "They should hire a younger person between ages 18–25 that has been involved with the internet/meme community," Winch said, as opposed to someone who doesn't have a sense of the unique challenges of memers.
Instagram, for its part, agrees. "Ideally we'd find someone who is equally fluent in the language of memes and the business of digital publishing. Like all good partnerships people you need someone who is a strong communicator, good community builder," King said. "A unicorn, basically."