TikTok Stars Are Preparing to Take Over the Internet
A new wave of online creators is here.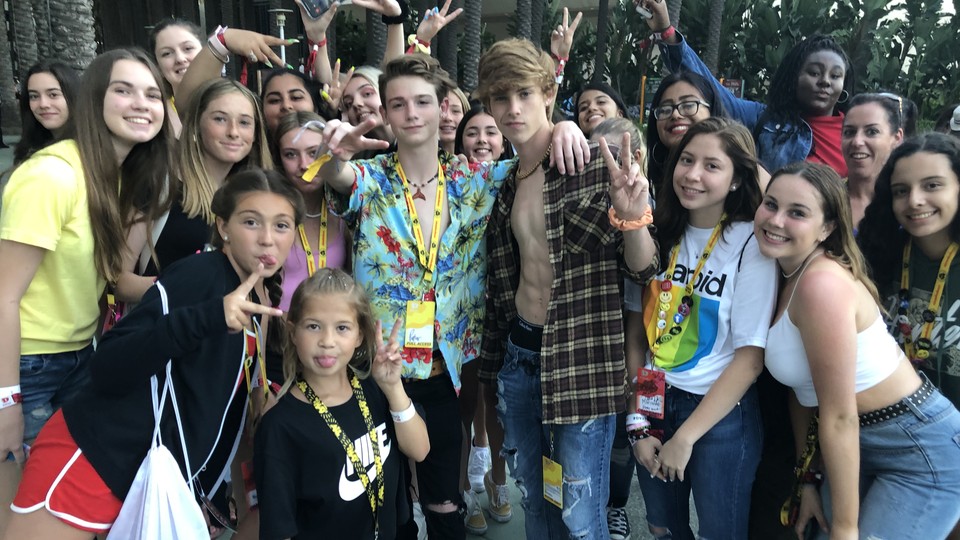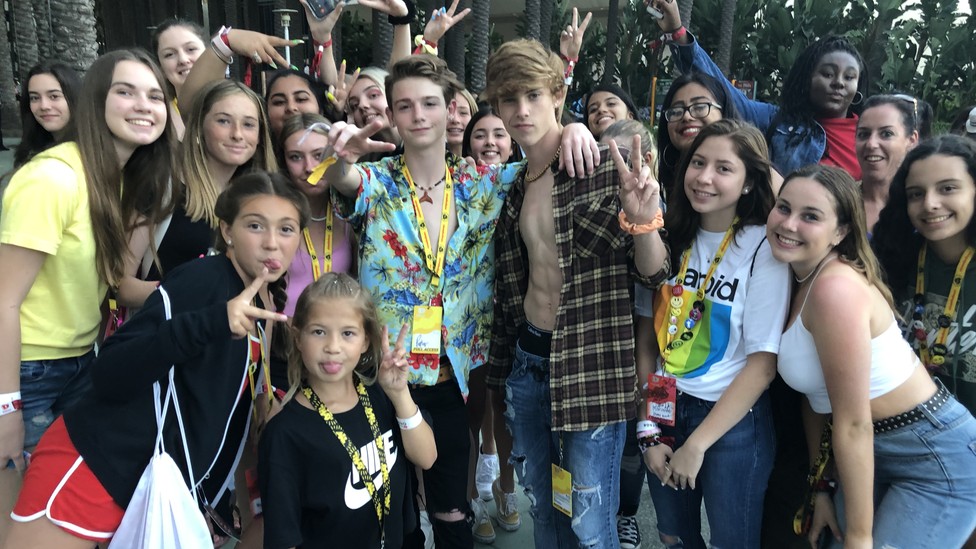 Anaheim, Calif.—Last night, YouTube hosted its annual VidCon party, in one of the Anaheim Convention Center's large halls, and YouTube executives, top influencers, and industry professionals mingled about the cavernous space, sipping beer and eating vegetable skewers and salad in cups as a DJ on a large circular platform in the center blasted pop hits. The party felt like a generic corporate-sponsored event. Probably because the real party was 1.9 miles down the road, at a private event hosted by TikTok.
Unlike YouTube's event, TikTok's party, at Bowlmor Lanes, was for creators only. Marketers and fans were not invited, but everyone still wanted in. Nearly an hour before the event was set to start, people began congregating outside. By 8:15 p.m., 15 minutes after the party had started, it was so packed that hundreds of TikTok creators were left standing outside. Sam Ko, who has more than 300,000 followers on the short-form video platform, initially lined up for the party at 7:45. By 10, she was still stuck waiting to enter. "I'm annoyed. We drove all the way here from Santa Monica," she said. "I see other huge creators here, too, and they're still waiting in line." Micky Nolan, an 18-year-old with 220,000 followers on the app, says he couldn't believe the mob scene. By 9:45, security guards were shouting at people to step back or they'd shut the whole party down.
Despite the mayhem, the event inside was worth the wait, according to attendees. Creators did backflips on the dance floor while the hip-hop singer Ty Dolla Sign performed live. Attendees noshed on finger food such as mozzarella sticks and mini burgers, then greasily attempted to win prizes at the free arcade. Groups crowded into an "Old Town Road"–themed photo area complete with cowboy hats and other props. Above them, giant screens displayed trending TikToks on loop. Between the bowling lanes, thousands of gummy bears had been erected in patterns, a reference to the Haribo challenge, a meme that went viral on TikTok over the winter.
Vincent Marcus, who has 1 million followers on TikTok, and his girlfriend say the party is the highlight of their VidCon so far. "Every famous TikToker and lots of famous YouTubers were all there having a great time," says Colin Marais, a 17-year-old whose cat has 1.3 million followers on TikTok. "There were all these lights, people jumping in the air. You almost didn't want to leave." And when creators did exit, they were accosted by fans: Though the doors officially closed shortly after 10:15, crowds of fans hung around outside long afterward, hoping for a selfie with their favorite star.
---
Every year, thousands of influencers, agents, managers, industry executives, and screaming teenage fans descend on the Anaheim Convention Center in search of the next big internet star. VidCon was founded 10 years ago by YouTubers to highlight the platform's content creators, and over the past decade, many of them have seen their careers transformed by the event. It's where brand deals are negotiated and crucial collaborations are planned. But this year, the platform everyone is talking about isn't YouTube—it's TikTok.
TikTok, which boomed in China before entering the U.S. market in August, allows users to upload and edit 15-second videos, usually set to catchy music or voice-overs. The videos are fun and silly, and watching them feels like taking a break from the broader, toxic world of social media. In one video, a teen does a viral dance with traffic cones fitted to his legs. In another, a stream of puppies tumble over one another to the beat of an EDM song. Less than a year after its U.S. launch, the platform is poised to dominate the American social-media landscape and upend the creator ecosystem.
Nowhere is that more apparent than at VidCon. Vanessa Pappas, the general manager for TikTok, spoke with industry executives at a fireside chat yesterday that was so popular, many people couldn't get in; later, big TikTok stars held a meet and greet that was packed to capacity. Outside the primary entrance to the convention center, teenagers swarmed TikTok creators, shouting their names as they shot dance videos.
None of this is by accident. All those mozzarella sticks and gummy bears didn't come from nowhere: TikTok reportedly spent nearly $1 billion on advertising alone last year, and has aggressively courted YouTube's biggest creators. According to The Wall Street Journal, TikTok paid one influencer $1 million for a single 15-second video. TikTok was the third-most-installed app worldwide in the first quarter of 2019, behind WhatsApp and Facebook Messenger. It boasts 1.2 billion monthly users globally, making it potentially bigger than Instagram, which reported 1 billion monthly users in 2018, and a viable competitor to YouTube (1.9 billion monthly users) and Facebook (more than 2 billion).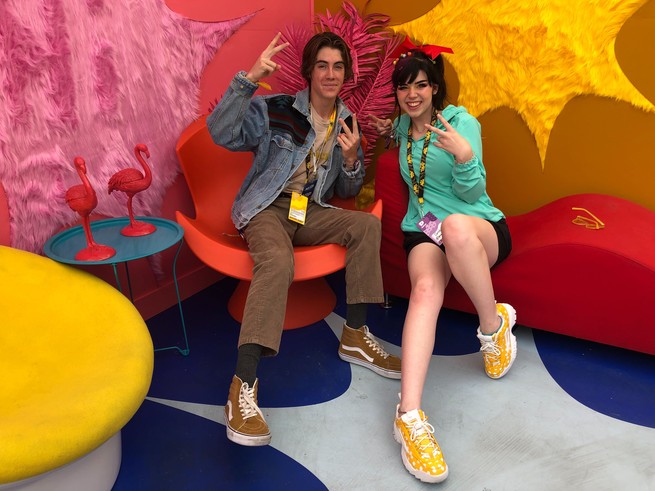 But VidCon is the first time TikTok has asserted its dominance in the wider creator culture. It is also the first time top U.S. influencers on the platform have all come together in one space. Many TikTokers arrived at VidCon bent on seizing this moment: They preplanned collaborations via group chat before arriving, and on Wednesday afternoon, before the conference even officially started, some of the platform's stars stood outside the convention center making videos together and giving one another shout-outs.
Wherever TikTok stars go, they are surrounded by fans. Yesterday evening, an ever-replenishing stream of teenage girls inundated Joe Waud, a 16-year-old with 1.1 million followers on the platform, and Payton Moormeier (15; 3.3 million followers) with requests, and Waud and Moormeier happily obliged. They talked to fans' mothers, took selfies, signed notebooks, posed for videos, and recorded skits for fans' personal Instagram and Snapchat accounts. At one point, Waud crouched down on the ground and tied a girl's shoe as she gleefully recorded it on Snapchat.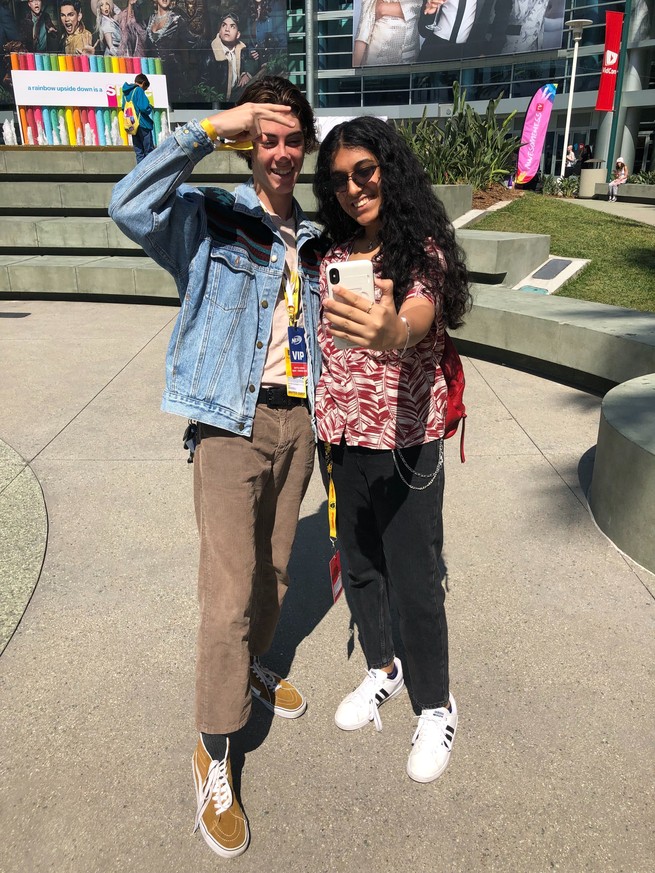 Several teenagers said they came to VidCon specifically to see big TikTokers. The 14-year-old Grace Weikel traveled all the way from St. Louis to meet her favorites. "I think more people came here for TikTok people than YouTube people," says Kate Thomas, a 13-year-old from Laguna Beach, California. Her friend Gigi Trimarche, also 13, agrees. "Big YouTubers get ahead of themselves," she says. "They have too much confidence to the point where they think they're too good to be around their lower fans." She says she was hardly able to see YouTubers aside from onstage, but had numerous interactions with her favorite TikTokers. "I got on a couple of their backs," she says. "I ran and jumped into Payton's arms … We took TikToks with some big people, like Mychaelade."
Part of the separation between fans and YouTube's biggest stars is by design. After disorganization in past years, VidCon has become a well-oiled machine. Security is tight, and featured creators are prevented from going out and greeting the public, lest they cause a scene. Top influencers are instead shuttled between events in black SUVs. Fans can't even approach them during dedicated Q&A sessions. Instead, members of the audience are asked to submit questions via Twitter. But because TikTok stars are so new, they don't have as many restrictions. They're able to leverage VidCon as a massive meet and greet, the way many YouTubers did before they got too famous.
"The older generation doesn't realize how important TikTok is yet," says B. Dave, a 21-year-old who has 40,000 followers on TikTok. "But the younger kids are all on it; they're looking for people to follow." Lee McCall, who has 2.2 million followers, agrees. "There's so much hype. It's so different than any other app right now," she says. While YouTube and Instagram are heavily saturated with influencers, TikTok is fertile ground for would-be social-media stars looking to build an audience. "The David Dobriks out there are untouchable," says Piff Peterson (1.5 million followers), referring to a popular YouTuber. TikTok stars "are still on the come-up."
One segment of the adult population that does seem to realize the importance of TikTok is brand marketers. At an industry event on Wednesday night, a group of advertisers discussed the ways brands are using the app with enthusiasm, touting the connections they had made within the company.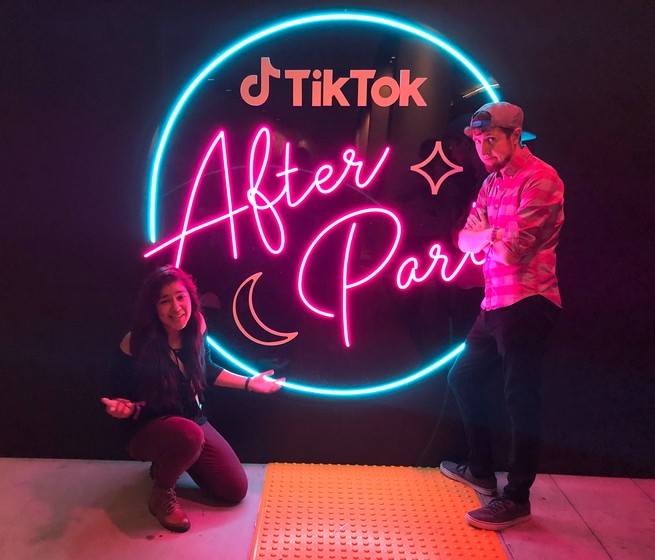 "TikTok is certainly the most buzz-worthy platform out there," Tressie Lieberman, the vice president of digital marketing for Chipotle, told me yesterday. "I think they're hitting culture at the right moment." Chipotle recently launched a sponsored "challenge" encouraging users to flip the lid of their burrito bowl. For it, the brand partnered with 15 TikTok creators in addition to Dobrik, who used the campaign to launch his own TikTok account; the challenge generated 200 million total views. Lieberman said that TikTok provides a fresh place for brands to be experimental and make an impact, unlike other social networks that are already saturated with ads. "The fact that every single person who opened TikTok saw David Dobrik flipping a Chipotle lid—you can't do that on any other platform," Lieberman said.
Of course, many other social apps have launched to great fanfare, only to fade out in a year or two. To remain successful, TikTok will also have to provide scalable ways for influencers to make money on the platform. That could mean paying creators directly for content, helping them negotiate brand deals (such as the Chipotle integration), or adding e-commerce capabilities, as Instagram recently did. And while teenagers can help solidify a platform's space in the culture, young people are notoriously fickle and quick to abandon apps when a new platform comes along.
TikTok is also not the only Chinese company interested in entering the Western market. On Wednesday, the Qingteng Club, a group affiliated with the social-media and gaming company Tencent, hosted the East-West Forum. The private event, which was not part of VidCon, was targeted toward Chinese tech execs looking to enter the American market. The agenda for the event, obtained by The Atlantic, featured talks with titles such as "What Can U.S. and China's Digital Industry Learn From Each Other."
"It was mostly people from Chinese companies trying to learn from Americans; they wanted to know what problems we could have here so they could take those learnings back to China," said one attendee, who asked to remain anonymous because the event was off the record. "Chinese execs were basically like, Tell us everything wrong with your platforms."
The fame TikTok has generated for its top stars has already begun to impact the creator landscape in America. Joy Jefferson, a TikTok star with 340,000 followers, posted to YouTube for two years but struggled to gain an audience of more than 1,000 followers. Frustrated, he quit posting to YouTube and decided to just use TikTok. Now he's part of what he calls the "new wave" of influencers. "TikTok has made me more willing to pursue the career of being a social influencer," he says. "The fact that everything happened the way it did on TikTok has opened my eyes to what I can be."