A Wikipedia for Generation Z
Famous Birthdays has become a go-to database of teen culture—and is ushering in a whole new generation of stars.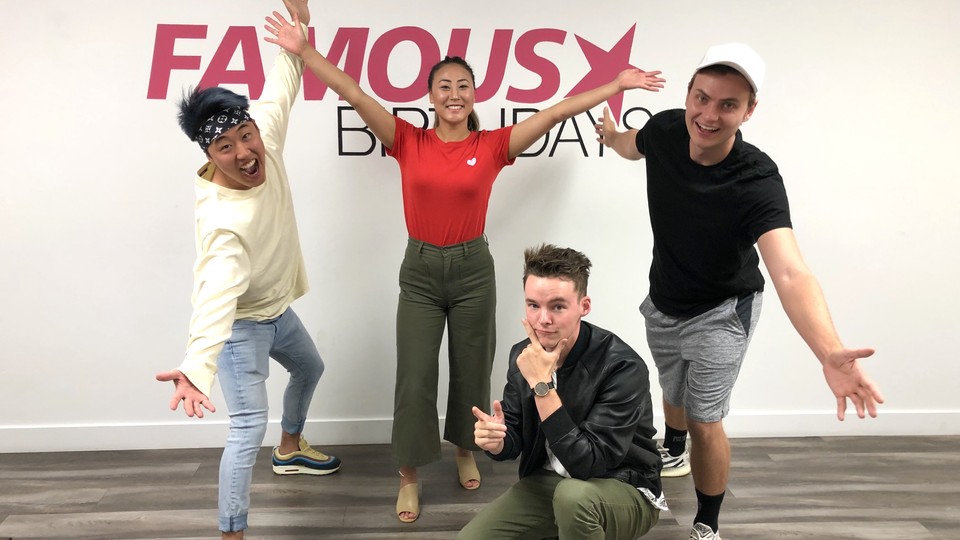 If you want to know who the biggest TikTok star is right now, who is in Emma Chamberlain's squad, or where Baby Ariel grew up, only one website will give you the answers: Famous Birthdays.
Despite its name, the site contains more than just birthdays—it's more like a constantly updated, highly detailed map of who matters to the teen internet, featuring a mix of biographical information, photos, videos, rankings, and detailed statistics on every social-media star you could think of. And to teenagers, it's a bible. "They have everything you want to know about everyone who is important," says Grace, a 14-year-old in St. Louis.
Charles Porch, the head of global creative partnerships at Instagram, says that Famous Birthdays is like the younger generation's Tiger Beat. "You might know about Famous Birthdays if you're a parent," Porch says. "But you definitely know about it if you're a kid, and you definitely know about it if you're a creator. Is it adult mainstream yet? No, but that doesn't matter." The site has 20 million unique visitors a month—more than a million more than Entertainment Weekly, and four times as many as Teen Vogue.
The site's founder, Evan Britton, never set out to build such a site. Back in 2012, he saw the shift to digital beginning and recognized an opportunity to build a mobile-first celebrity encyclopedia that could be easily read on a phone. At the time, Wikipedia pages were clunky and poorly formatted, packed with low-quality photos and too much information. So Britton built a simple site and populated it with easy-to-skim stats on stars such as Rihanna, Tom Hanks, and Jennifer Lawrence, hoping the site would become a respectable home for information on A-listers. After about a year, Britton told me, Famous Birthdays reached "1 or 2 million users." He thought it had peaked.
But then something strange happened. An increasing number of people weren't searching for old-guard Hollywood stars. They were navigating to the Famous Birthdays search bar and typing in names like Cameron Dallas and Nash Grier. At first, Britton and his team thought it must be spam. "We were like, Who are these people?" he said. But they looked into it and realized that they all had huge followings on platforms like YouTube, Vine, and Tumblr. "I realized there was a big gap between who the industry thought was famous and who really had the fame," Britton said.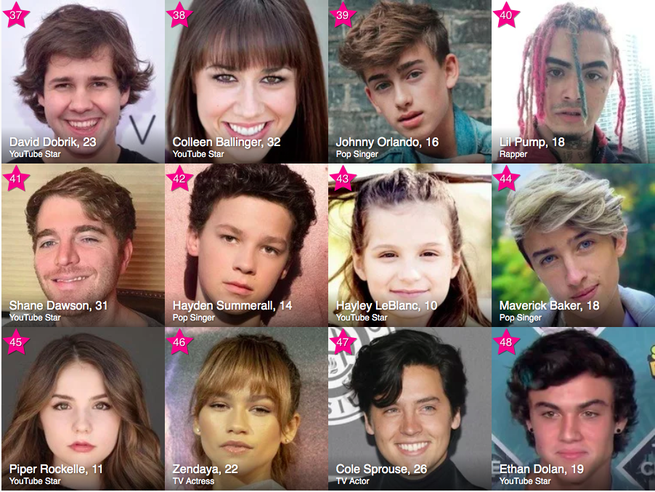 Britton and his small team slowly began building profiles for these new internet stars, often relying on information from the stars themselves—unlike traditional celebrities, influencers were easy to track down. Britton worked with them to set up profiles on Famous Birthdays, complete with preapproved pictures and fact-checked info. The more people he added, the more traffic grew. Teenage fans were happy to finally have a place to get reliable information on their favorite celebrities, and the influencers "were thrilled," Britton said. "It was a status symbol for them. It was another way to be verified, because these people weren't on Wikipedia."
Britton is thoughtful, earnest, and eager to hear feedback about his site. When we met in his Santa Monica office recently, I was struck by how removed he seems from the flashy world of online influencers. He's unfazed by the steady stream of stars that visit the office (about three a day), and can talk at length about optimizing for page-load time and the benefits of programmatic ad networks (the primary way Famous Birthdays monetizes). Framed behind his standing desk is an article about user experience and mobile-site design. His personal Instagram account has barely 200 followers and is set to private. "I get about 20 likes per post," he joked. "I don't want to be famous. Famous Birthdays is not about me … I don't need to be here when the celebs come in; I need to make sure the website is fast. I started the website because I'm passionate about [user experience], not celebrity culture."
Britton has never employed advertising, marketing, or PR staff, nor has he taken outside funding. But by 2015, Famous Birthdays was so well known in the industry that when Britton brought his 18-person team to VidCon, an annual convention for online-video creators, teenage fans and YouTubers alike kept mentioning the company at events and panels; one of his employees was even accosted by fans while wearing a Famous Birthdays T-shirt in line. The company also began to get flooded with submissions. Because making it on Famous Birthdays was now a badge of honor, fans campaigned hard to get their favorite YouTubers or Instagrammers represented.
Part of Famous Birthdays' appeal, aside from the reliable biographical information it provides, is its sophisticated ranking system. Users can contribute to trending or most popular rankings by hitting a "boost" button on their favorite star's profile, or they can see how their favorite stars stack up in various categories. (YouTuber Emma Chamberlain, for instance, is currently the 33rd-most-popular star on the site, but the second-most-popular 18-year-old, third-most-popular Gemini, fifth-most-popular star born in California, eighth-most-popular YouTuber, and first-most-popular person born on May 22nd.) Teenage fans are highly invested in these rankings and will swarm an influencer's page with boosts if their favorite star is slipping. Boost Tana Mongeau on Famous Birthdays, one teen scrawled on a wall. "Everyone go on famous birthdays & type in Weston Koury and click the 'boost' button!!" another teen tweeted about the 17-year-old Instagram influencer.
boy from my school went tiktok famous and is now asking everyone to boost his famous birthdays 😭😭😭

— #SUHWANSOLO (@ihatefromis) July 16, 2019
Famous Birthdays is regularly inundated with fans begging for their favorite Instagrammers, YouTubers, and TikTokers to be added to the site, or for their favorite influencers' profiles to be updated. To ensure that every piece of information about a celebrity is accurate, staffers comb through thousands of tips a day, fact-checking news about stars like MattyB breaking up with a girlfriend, or Annie LeBlanc launching a new show. Because the site maintains such close relationships with the influencers featured, staff can often confirm information directly to ensure accuracy.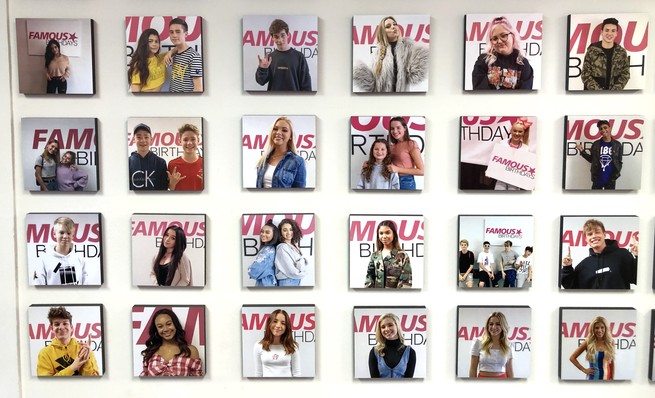 Because of its reliability, managers, agents, and entertainment-industry executives have also come to consider it a crucial resource. "Famous Birthdays has become a valuable tool for our team helping to discover new talent," says Rob Fishman, the founder of Brat, a Gen Z–focused entertainment company. Britton said that the moment he felt he had made it was when he walked into a meeting with an influencer marketing company that had just been purchased by Disney's Maker Studios, a multichannel network, and all 10 employees had Famous Birthdays tabs open, scouting talent. When I asked Britton his goal, he said, "I want Famous Birthdays to be a pillar of the internet, where if it goes down, it matters."
Part of becoming an essential resource means constantly adapting the product to suit his young users' needs. Three years ago, Famous Birthdays expanded to cover not just individual celebrities, but musical artists, TV shows, web series, and nonhuman celebrities; pet pages include the same rankings as any other star's, as well as information about the animal's social graph (who they regularly collaborate with on Instagram or YouTube). The internet-famous Pomeranian JiffPom, for example, is the 14th-most-famous 9-year-old on the site. (The Dance Moms star Clara Lukasiak is No. 1.)
And of course, the company has expanded into video. Famous Birthdays' Santa Monica office is outfitted with a studio where top influencers come in to film Q&As and challenge videos for the Famous Birthdays YouTube channel, which currently has more than 420,000 subscribers. "My goal now is to take Famous Birthdays and spread it wherever we can," Britton said. "We are awesome on the web. Our iOS and Android app is great. Now we're on YouTube, Instagram. As we see other platforms rise, we will see where we can add value."
"[Teenagers today], they live on these platforms," Britton said. "TikTok, YouTube, and Instagram, it's like their ABC, CBS, and MTV."