Emma Chamberlain Is the Most Important YouTuber Today
Teens are abandoning hyper-produced personalities for people who seem just like them.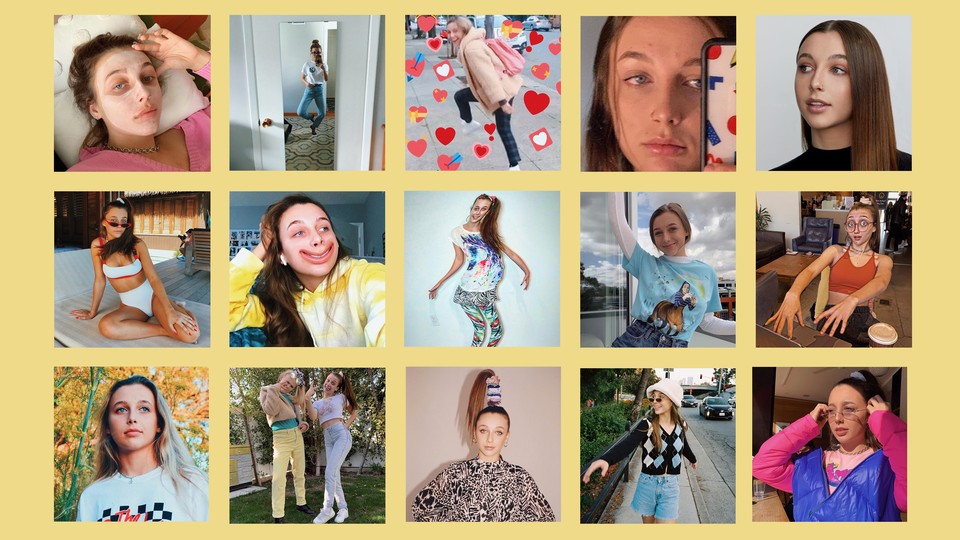 The most talked-about teen influencer in the world doesn't airbrush her photos. She doesn't have a team of editors and photographers following her around and taking aspirational "plandids." In fact, she doesn't make her life seem very aspirational at all: In many of her videos, she looks like she just rolled out of bed. Emma Chamberlain shuns makeup, sometimes skips a shower, and doesn't seem to care if she looks weird or if her camera is poised at an unflattering angle. While other YouTube stars—like Jake and Logan Paul, Bethany Mota, and Lele Pons—rely on hyper-produced, staged videos with bright thumbnails and clickbait titles, Chamberlain posts lo-fi vlogs using default fonts, clashing color schemes, and lowercase titles that never overpromise.
All of this has gained the 18-year-old some 8 million YouTube subscribers and 7.7 million Instagram followers in less than two years; her YouTube channel is one of the fastest growing in the U.S., according to the company. The analytics site SocialBlade estimates Chamberlain may be earning nearly $2 million in ad revenue on her YouTube videos alone. In the past year, she launched a podcast that promptly hit No. 1 on podcast charts in 50 countries, introduced a line of self-branded merchandise, and attended Paris Fashion Week, where she was seated in the front row at the Louis Vuitton show. "Her growth has been so fucking insane," says Mai Linh Nguyen, a producer and YouTube strategist who has worked for many top YouTubers.
Even if you haven't seen one of Chamberlain's videos, you've likely seen traces of her influence all over the internet. She's the closest thing to an overnight success YouTube has had in years, and represents a dramatic shift in what young audiences want from the platform and its top creators: videos that feel authentic.
Many modern YouTube stars first got big on other platforms, like Vine or Instagram, or appeared in collaborations with other, more famous stars, which built their audience over time. Chamberlain, on the other hand, is sui generis, which is surely part of her appeal. She started out editing cheerleading videos and dance routines with friends and posting them to Instagram before moving to YouTube; by all accounts, the platform wasn't a place to launch an entertainment career, but rather just another place to express herself, via low-production-value fashion videos and vlogs about daily tribulations of teenage life, like taking her driving test and why she needed a fidget spinner. Her first subscriber was her dad.
Most of Chamberlain's early videos netted about 1,000 viewers each, but on July 27, 2017, she uploaded a video that would change her life, a dollar-store "haul." "That was apparently a YouTube trend at the time, and it ended up working in my favor," she told W magazine last month. (Chamberlain wasn't available for an interview with The Atlantic). Haul videos were indeed cresting then, but most featured smiling beauty or fashion vloggers carefully displaying all the amazing products they'd purchased for the camera. Chamberlain's version was irreverent, weird, and slightly demented—a half-ironic, half-earnest cataloging of all the Frozen-themed Q-tips and fur-covered pens her allowance could buy. It got half a million views. After that, she began gaining tens of thousands of subscribers a month. Teen girls couldn't get enough.
Aesthetically, Chamberlain's style is fast, jumpy, and very funny; she favors quick cuts, facial distortions, unaligned fonts, goofy music, and effects similar to the Superzoom feature on Instagram Stories. Throughout her vlogs she intersperses reaction shots of herself while she's editing, or old clips of herself, giving voice to what the audience might be thinking as they watch. "She has stuff going on every four seconds," says Sara Dietschy, a YouTuber with more than half a million subscribers. "It makes it so that a 17-minute video seems like you just blinked."
"It's a very memey editing style," Nguyen says. She formerly worked as a videographer for Jake Paul, a job that included editing footage and photos for social media. "I'd take photos on a Monday night at 6 p.m., and they'd be ready to go at 10 p.m. that night to be posted that morning," she told me. "If [Chamberlain] is taking a photo at 4 p.m. on a Saturday, it's up five minutes later with no editing."
The shift away from hyper-posed, overedited content has been happening on Instagram for a while. But Chamberlain is credited with being the one who popularized it on YouTube, and her popularity growth is very much a reaction to the traditional influencer-style content that had become so pervasive before her. Chamberlain is relatable, her fans say: Unlike those other YouTubers living in mansions with perfect hair and expensive clothes, she's just an average teen. Sure, she lives in L.A. herself now and is undoubtedly a multimillionaire, but the point is, she doesn't care. She doesn't take herself so seriously.
"The thing that feels so notable is that [Chamberlain's videos] are the first generation of reaction against things that were established in this medium," says Kevin Allocca, the head of culture and trends at YouTube. "You have this creative counterculture that counters a culture we were just getting used to."
Fans call the style "slacker YouTube" or "relatable YouTube," and Chamberlain is no longer its only high-profile practitioner. Joana Ceddia, an 18-year-old YouTuber, gained more than 107,000 subscribers in less than 48 hours last fall and has since racked up more than 2.3 million in less than a year by posting quirky videos of her life as an average teen. Others include Summer McKeen, Hannah Meloche, Hailey Sani, Ellie Thuman, and Haley Pham. "I've been on the platform for over 10 years," says Alisha Marie, a YouTuber with more than 8 million subscribers, "but I feel like there's this new wave."
The aesthetic has made its way to pop music too. The 17-year-old musician Billie Eilish has one of the best-selling records in the country right now, and an Instagram full of unposed photos of herself in baggy clothing. Ariana Grande recently put out a music video for her song Monopoly that features a Chamberlain-esque jumble of low-quality video, bouncing JPEGs, and sped-up sequences. Even brands are trying to trying to cash in: Chamberlain has now done ads for Curology, Hollister, and Audible.
It's a big shift for a platform that was, until recently, "a super-high-production place where you were buying these expensive tools to make your videos seem high value," Abby Adesanya, the head of talent and influencers for Bustle Digital Group told me. "If you look at beauty-vlogger videos, some of their most popular videos are 'what is my setup,' and you'll see these big-box lights, a DSLR camera. That's what YouTube was. Then Emma came along with her iPhone, laying in bed editing with food on her chest and was like, 'I'm not going to curate myself like that.' And people just loved it."
Making a video look casual, however, is still an enormous amount of work. Chamberlain reportedly spends 20 to 30 hours editing each video and does all the work herself. "I've cried multiple times after posting a video," she told W. "So much work goes into each video that I don't know how I'm still alive." Summer McKeen, a 20-year-old with more than 2.3 million subscribers on YouTube, also spends hours on each of her videos. "It's the same amount of work as the old way," she told me. "It's just a more casual feel to the video."
Of course, "relatable" is relative. In one video called "The Relatable White Girl Trend," a young black vlogger who goes by AsToldByKenya on YouTube skewers the style: "You have to be pretty; you have to be funny. You have to curse but not curse too much that you're seen as vulgar, but you still have to curse to be seen as relatable. You have to have cute outfits. Your outfits have to be from Urban Outfitters, honey … You have to be attractive to boys, but not actually come across like you're attractive to boys." In another video, titled "I Was a Relatable Youtuber for a Day! *cough* Emma Chamberlain," Don Bbw, a young black YouTuber, says, "I actually don't know what's relatable, because what's relatable to you might not be relatable to me," before joking that he "forgot the most relatable part of being a relatable YouTuber, having a pimple."
"I feel like that [Emma Chamberlain] aesthetic trend is definitely a suburban white girl trend," said Adesanya, adding that the look is something YouTubers of color mostly don't have access to. "These YouTubers of color, their whole vibe is received so differently than the Summers and the Hannahs and the Emmas." (Chamberlain has not been particularly outspoken about race, but did cut ties with a partner, Dote, after black influencers accused the clothing brand of segregating them from white influencers at the brand's Coachella house.)
While Chamberlain's particular style may not feel accessible to all, the broader shift toward messier, less filtered content is bigger than one star or one look. "Millennials are so curated, and Gen Z is very not," said Adesanya. "Millennials used social media as a highlight reel … Gen Z is like, 'Hey, this is what I'm doing right now, this is what I look like right now.'"
And for many young creators, Chamberlain's style is simply the default way to vlog. "I don't feel like I need to put on a different face or put on an act when I'm filming," said McKeen, who has been vlogging since she was 13. "I just feel like I'm hanging out with my friends. My camera is my friend. It's always been that way."