There's Nothing Wrong With Posing for Photos at Chernobyl
Influencer-style pictures are simply the way we document our lives now.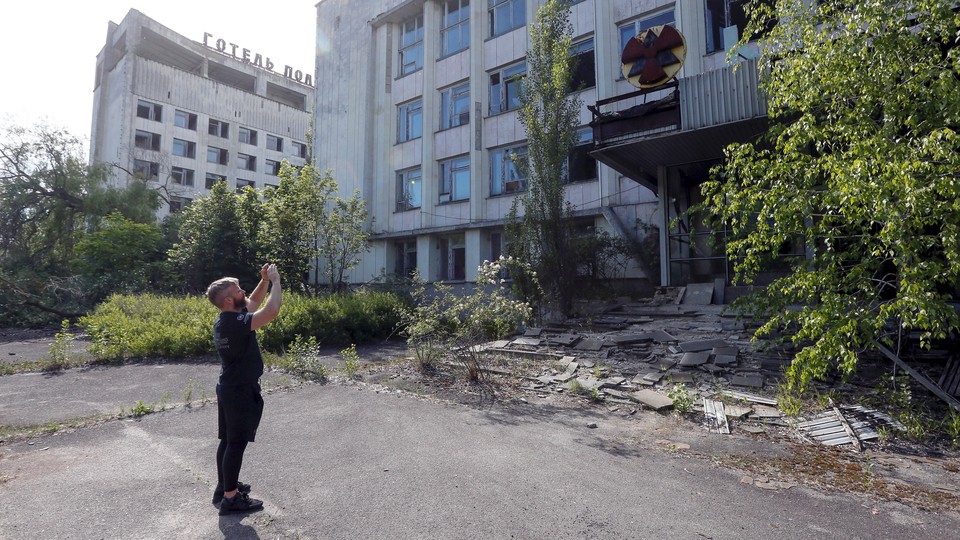 On Sunday morning a Twitter user named Bruno Zupan posted screenshots of four Instagram photos: a man's hand holding a Geiger counter. A woman posing near a burned-out bus. A woman in a hard hat and face mask. And, most disturbingly, a woman pulling down a hazmat suit to reveal her white thong. All were geo-tagged Pripyat, Ukraine, the ghost city left in shambles after the disastrous nuclear accident at the Chernobyl power plant in 1986. "Meanwhile in Chernobyl," Zupan wrote, "Instagram influencers flocking to the site of the disaster."
By yesterday evening, Zupan's tweet had been collectively shared tens of thousands of times. Even Chrissy Teigen retweeted it to her 11.2 million followers. But the viral tweet's claim is false, and its premise—that photos at sites of tragedy are inherently self-serving and in poor taste—is misleading.
While the area surrounding the destroyed reactor has undeniably morphed into a tourist destination, and interest in the disaster has spiked since the premiere of HBO's miniseries Chernobyl, the Instagram geo-tag offers zero evidence of any uptick in lifestyle influencers visiting the site. Three of the four people that Zupan chose to highlight in his tweet aren't influencers at all.
Irene Vivch, a 19-year-old student, had just 204 followers when she posted the photo of herself by the bus as part of a larger gallery of images. "I do not consider myself a 'full-time influencer,'" she told me over Instagram direct message. "Chernobyl made a massive impression on me ... So I made a big Instagram post about it describing my feelings." Vivch was born in Ukraine and is deeply familiar with the history of the disaster. Her caption, which Zupan cropped out, was a paragraphs-long reflection on the event that called Chernobyl "an eternal monument to the horrid cruelty of the Soviet regime."
The Geiger-counter post is actually a photo that has made the rounds on image-sharing platforms and blogs since 2010. The man who posted it under the handle @Kenji_Vaio_ had just over 1,000 followers at the time of Zupan's tweet, and there's no proof that he is the man featured in the picture or has even visited Chernobyl.
The woman who posted the most egregious photo, of herself in a thong, uses the handle @nz.nik. She isn't an influencer at all: She had just over 1,500 followers at the time of her post.
The one influencer who was referenced in Zupan's tweet is Julia Baessler, the woman who posted the photo of herself wearing a hard hat. Baessler included a somber message with her post: "Yesterday I had the chance to visit one of the most fascinating but also most terrible places on earth ... Standing there is just indescribable, it's shocking and something I will never forget." Over Instagram direct message, she told me that the HBO show had nothing to do with her decision to visit the site. "There was no photographer and no lighting team," she said. "Because of the engineering work of my boyfriend, we were able to get a special admission to go inside control room 4, which is actually not accessible for visitors. I wanted to share these stories with the world because they are full of information of a place where usually only scientists get access to."
But for thousands of people who retweeted and responded to Zupan's tweet, the subtext was clear: Look at these vapid influencers, fishing for likes when they should be respecting the tragic nature of the site. Craig Mazin, the writer and producer of the HBO miniseries, responded to the controversy on Twitter. "It's wonderful that #ChernobylHBO has inspired a wave of tourism to the Zone of Exclusion. But yes, I've seen the photos going around," he wrote. "If you visit, please remember that a terrible tragedy occurred there. Comport yourselves with respect for all who suffered and sacrificed."
Instagram, with more than 1 billion active users, has become the default way for many, especially young people, to share and document their lives. But people still struggle with how to best format their posts from solemn places. A crying photo will get you ridiculed for being inauthentic or cringey. Present yourself too seriously and you'll look like you're "posing for a rap album cover amid the abandoned buildings," as BuzzFeed put it.
You could, as some seem to wish, not share anything at all. But as Natalie Shure, who researches history for TruTV, notes, "Most people do it specifically because they want to remember the site and what it meant to them. Those goals are in line with those of public history projects, not antithetical to them."
Before social media, remembering tragedies through personal photos was a private act. I can remember, just months after 9/11, visiting Ground Zero with my mother and asking her to snap a photo of me in front of it with my disposable camera. I wanted to remember not just what it looked like, but that I had been there. I kept the photo in my desk for years. It's not inconceivable that had I been born 15 years later, I might have posted it to Instagram.
What makes photos posted to Instagram so awkward is that they're inherently formatted for consumption rather than reflection. Not long after the app first launched, simply running photos of the site of a tragedy through Instagram's default filtering tools was seen as gauche. Some people believed posting images of Auschwitz to the app at all crossed a line. It seemed wrong to reformat horror in an aesthetically pleasing way, then hope people engaged with it by tapping a Like button.
But as Instagram grew, it transformed into users' default camera. The app was soon less about beautiful photography and more about documenting your life. 2014 ushered in the era of the selfie, a format that was initially seen as frivolous and self-absorbed. When a recent high-school graduate from Alabama posted a selfie from Auschwitz-Birkenau to Twitter in 2014, she faced mass backlash. To many, it seemed crass for all the same reasons that posting filtered photos had been years earlier. It was still interpreted as garish.
In 2019, everyone takes selfies. Meanwhile, influencers, a class of users who have been gaining increasing prominence on Instagram, have ushered in a new era on the platform. "At some point Instagram switched its culture from 'pictures you took' to 'picture of you,'" the technologist Nicole He recently noted on Twitter. As influencer culture trickles down and more average users attempt to emulate it, new norms have emerged. Posed photos are standard, particularly among younger users.
These staged, full-body shots are sometimes criticized as attention grabs, and a few undeniably are. But as my colleague Alexis Madrigal noted to me, part of the reason people get so angry at images like the ones in Zupan's tweet is because of a perceived gap between where attention should be aimed (the tragedy of Chernobyl) and what viewers interpret to be the focus of the photo (a person posing for the camera).
Blatantly rude and disrespectful behavior, such as mocking deaths or climbing on the property of a historical site, is inexcusable. But a brief search of the Pripyat geo-tag reveals a stream of people who have simply posed for photos throughout the site. Instagram Stories tagged there include videos of visitors goofing off on a tour, a woman smiling on a swing, a man making funny faces into his front-facing lens. When removed from the context of Instagram, they're jarring. But ultimately, "plandids" from Chernobyl say less about any imagined wave of rude influencers "flocking" to the site and more about the shifting norms around how people document their lives and experiences on Instagram. While some critics might still view the posts as distasteful and insensitive, most of these users are all trying to say the same thing: I was here.